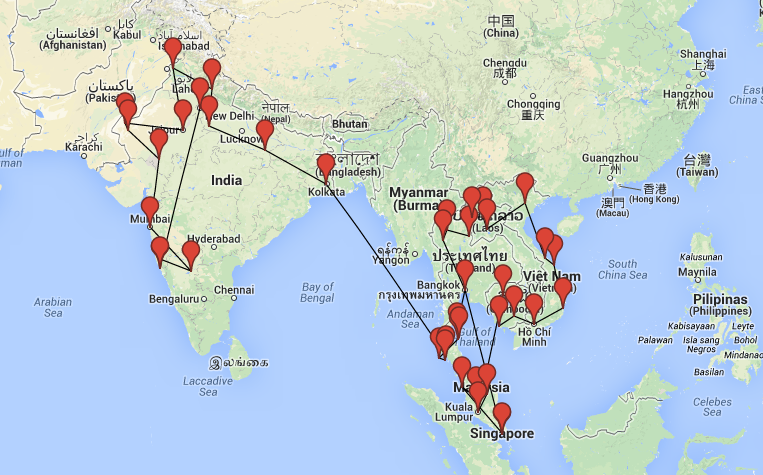 Planned route:
India: Delhi → Goa → Mumbai → Gujarat → Saurashtra → Pushkar → Jaipur → Delhi → Agra → Varanasi → Kolkata
Thailand: Krabi → Koh Lanta → Koh Phi Phi → Patong → Phuket → Koh Samui → Koh Phangan → Koh Tao → Hua Hin → Pattaya → Bangkok → Chiang Mai → Mae Hong Son → Chiang Rai → Chiang Khong
Laos: Luang Prabang → Vang Vieng → Khammouane → Vientiane
Cambodia: Siem Reap (2 weeks of volunteer work) Battambang → Koh Kong → Kompang Son → Kampot/Kep → Koh Thonsay → Phnom Penh
Vietnam: Saigon → Nha Trang → Hoi An → Hue → Hanoi → Sa Pa
Final route:
India: Delhi → Vagator → Arambol → Hampi → Mumbai → Udaipur → Jaisalmer → Jaipur → Amritsar → Rishikesh → Agra → Varanasi → Kolkata
Thailand: Krabi → Koh Phi Phi → Patong → Koh Samui → Koh Phangan → Koh Tao
↓
Myanmar: Kawthaung
↓
Thailand:
Chumpon → Bangkok → Chiang Mai → Pai → Chiang Mai → Chiang Rai → Chiang Khong
Laos: Pakbeng → Luang Prabang → Vang Vieng → Vientiane
Vietnam: Hanoi → Hue → Hoi An → Nha Trang → Saigon
Cambodia: Phnom Penh → Sihanoukville → Siem reap
Malaysia: Kuala Lumpur →  Taman Negara →  Cameron Highlands →  Georgetown
Singapore: Singapore
Thailand: Bangkok
When I started planning for this trip, I was in a bad place. Dumped by a boy. Stuck, both in school and in general, desperate to get it overwith so I could escape. I think my trip was just that – an escape.
I so desperately want to find my passion in life, be ambitious about something, but how could I possibly do that without knowing myself? To be honest, I have always felt that I was in between every personality trait – shy but social, smart but dumb, trusting but cynical. One thing I always knew for sure, was that I am selfish and dependent, and I hoped that this trip would force me to throw that away with my extra luggage.
In some way I guess this would be an Eat, Pray, Love-kind of experience. And by that, I mean I would deal with my issues, develop some strong personality traits and gain more confidence. Then I would discover my passion in life, and go back to accomplish something.
While this all sounds very unlikely, it was what had helped me in the past. Everytime I have been away from home since my parents divorce 4 years ago, I've become a little more independent, a little less shy, and a little more sure what I wanted to do in life: travel. Being away for 4 months however, was something I had never done until now, and it didn't feel right as soon as I actually left. Maybe it was our choices of countries (where people could sometimes be rude, the food awful, and the cities dirty and loud), but it could also be because my travel partner and I turned out to be incompatible.
Of course, this all just sounds so negative, and of course this experience hasn't been at all. I've gotten to see amazing places – many that I want to return to – and met some great people, and that is what I wanted all along. I finally got over the guy who dumped me, which gave me a lot fewer lonely nights and fits of anger.
Basically, I had some great highs and awful lows that made me see things only a tiny bit clearer, but I am on my way. I learned that I enjoy the simple things in life, like a sunset or a little kid waving at me, because deep down, there is a war in me, and I never know which side will win. Some days, I think I am a fun and outgoing person, always seeing the best in people. Other days, I don't dare talk to people, and I think I am destined to live a life of sadness and loneliness. That is why I rely on the only ones that understand, my best friends. Away from them, I felt hopeless and less "free", and I know that this is something that I have to get used to as we start to move in different directions.
This post will probably forever be a mess, like my feelings about my trip. There is so much I want to say, yet nothing I can think of. It was the experiene, but not the time of my life – at least not as often as I wanted it to be.
113 days away from home
18 things crossed off my bucket list
13 books read
7 countries traveled (if you don't count Burma)
Not nearly enough hangovers.