Manila, the Philippines: a failed attempt at going anywhere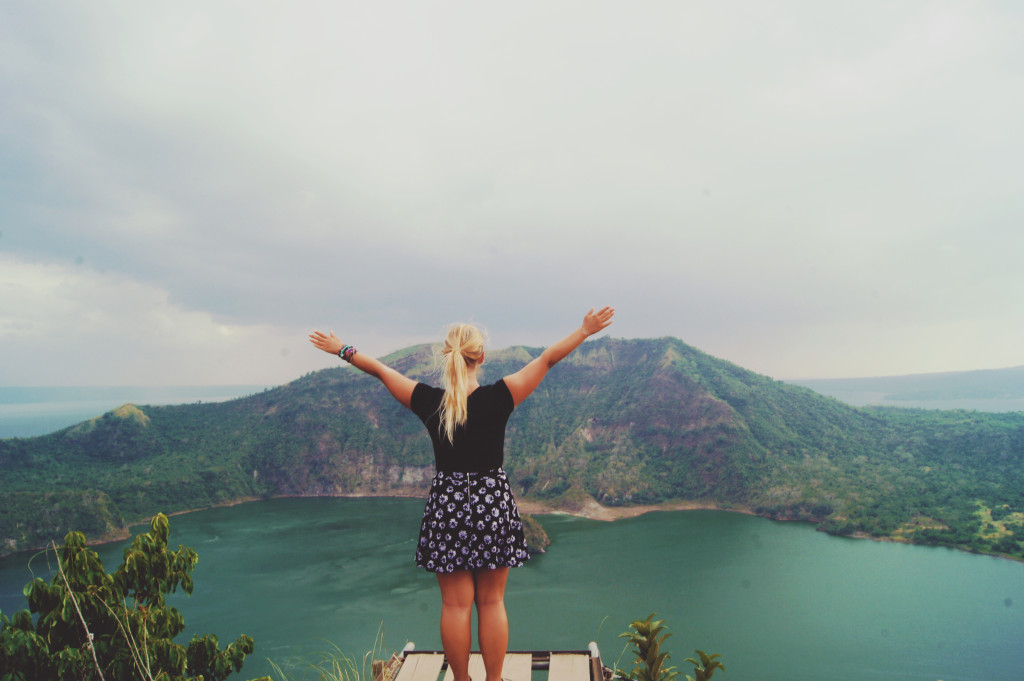 So, let's talk about another annoying day on the road! We fly to Manila and from there, we have to get a bus from a certain terminal and then we'll be on a 12-hour bus to Sagada, which is way up North. There, you can see the hanging coffins and zipline over the rice terraces, and on the way, you can find Mount Clitoris. I am excited about both things.
Buuut….
We wait for a metered taxi, which takes a while. Someone sings You're Beautiful by James Blunt to us for the second time today as we get in the car. Our driver doesn't know where the bus terminal is,so we drive around for a good 2 hours, our driver stopping to ask locals for direction every now and then.
We drive around a dangerous neighborhood and the driver asks us to lock the doors, so when we find a bus terminal in the neighborhood, we decide we don't want to get out and wait for our bus there for the next 3 hours. So we ask him to take us to Lion's Den Hostel. Of course we don't have the address, since this is a spontaneous decision, but the driver keeps asking us anyway. Eventually, after another hour in traffic, we see a McDonald's and ask him to drop us off so we can eat and find the address using their WiFi. It is around 7 PM by then. We walk into the busy place, the only Caucasian people around, with all of our luggage, so it's safe to say all eyes are on us. After some food and getting the address, we walk outside and try to get a cab. Just like 20 other people.
Eventually, a trike stops and says he'll take us to a taxi terminal. 5 minutes and 50 pesos later, he drops us off at a bridge and tells us to cross it. What a rip-off. So we basically end up just outside one of the airport terminals, where there is a lot of traffic, but no empty taxis. I am surrounded by begging children, and then two police officers come to our aid and hail us a cab. We try two drivers before one says he can take us to MNL Hostel – yes, like the one in Boracay – and one hour later, we arrive. It is basically opposite Our Melting Pot, which we stayed at when we first arrived in Manila, almost a month ago. We are put in a female dorm and pass out not too long after.
The next day, we head to Glorietta Mall and find an H&M – it's one of those places I just love to go, because it's familiar. Also, I need a new purse, since my other one got stolen back in Cebu, remember?
After buying a purse, we go to Forever 21 and I get a skater dress like the ones I used to wear at home, before packing all my stuff down and putting them in storage. I feel like me again! Even though I am not wearing any make-up for the first time in 10 years. I also buy a book, Gone Girl, because I miss my Kindle so much.
At night, we go to the street market, where they have stall after stall with chicken blood, intestines and liver on a stick. This was the reason why we never ate here a month ago, but the second time around, we notice some good fried chicken and STREET PAD THAI. YESS!! So we have that and we're full and happy and we go to 7-11 and buy some alcohol and end up attracting a group of fellow backpackers and a staff worker back at the hostel. Sophie and I sing Let It Go with an Irish guy joining in, a Dutch guy tries to teach us how to dance to EDM, and then we're off to go see midget boxing. Exciting.
The midget boxing happens at a bar on the Red Light District called Ringside. I think. I am pretty drunk by the time we get there. A few girls in bikinis are dancing like they hate their lives in the ring, and we sit there sipping on our overpriced beers, when Irish guy runs into the ring and starts dancing. Awesome.
I have a dance-off with a girl working in the bar right in the ring, and then everyone joins in and dance until the midgets start fighting. Then it gets kind of sad. For some reason, it just looks exploitative to us, so we get out not too long after that. Meanwhile, the weird American roommate from Bohol is staying at MNL as well, and he decides to show up at our table, so while we work out the bill, he and another American from our hostel are motorboating prostitutes. Classy and awesome.
I buy a hot dog at 7-11 and fall asleep by 2 AM. I wake up pretty hungover the next morning. We're going to climb a volcano today.
Staff guy from last night, Rafael, Lucie, who was also drinking with us, and two English ladies, Susie and Toni get on a jeepney, a bus and a boat, and around two hours later, we're on Luzon island where the Taal volcano is.
We walk through a small village full of tree huts and people playing basketball or staring at us, eyes full of curiosity. An old lady sells us the kind of face mask you always see people wearing in Japan or Vietnam.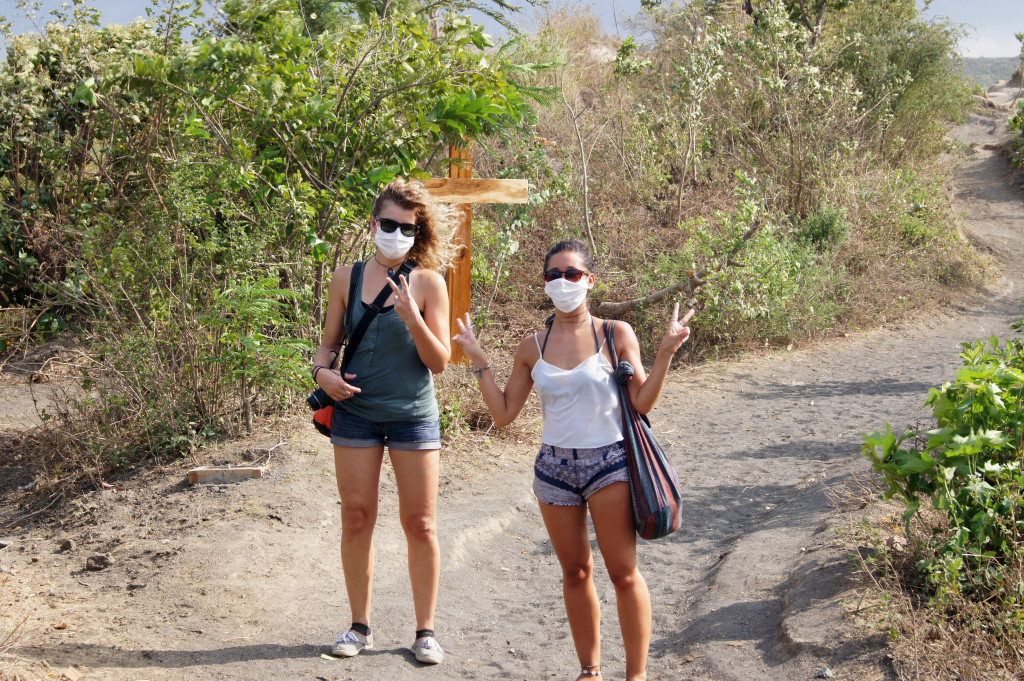 We do a 45-ish minute walk up a steep, dusty hill until we reach the top of the volcano, looking down into the lake right in the middle. We take some embarrassing pictures and just enjoy this amazing view. Plus, we're kind of scared of walking down this steep hill.
Of course, we aren't back until 8 PM, when we were supposed to be back at 6. We go to a falafel place nearby and have an amazing dinner with the girls. This is my second time eating falafel ever, and the first time was in Boracay! I am getting hooked. Anyway, full and ready to go to Lion's Den, where we have a booking, we look for a cab that knows where it is. So we have to wait quite a while. Eventually, a guy takes us to the area, which is a gated community full of fancy villas(!), and he asks a few people for directions. We arrive, tired, full and just ready to go to sleep.
Our last day together, Sophie and I sit out by the pool and get some sun. I read half of Gone Girl, I'm so interested in what happens next. We get lost trying to find an ATM – the first and only one in the neighborhood rejects my very last credit card and I almost cry – and then we buy food at a supermarket. It's very odd walking around a giant, very rich neighborhood after passing by so many tree huts and seeing so much poverty around. Back at the hostel, we watch Maleficent on TV at night and then we go to sleep.
I have a full day by myself, since my flight is at midnight. I just sit on the balcony of my room, eating mangos and writing this blog post and itching to get back to my book. Must. Not. Read. Before. Departure. I have an 8 hour flight ahead of me and nothing else to keep me entertained.
So, now that I am leaving the Philippines after almost a month, I should probably once again include my observations about this country.
First off, this country is much bigger than I expected. Looking at a map, I thought all these islands were relatively small and that they all had great ferry connections. I forgot this isn't Thailand. I am sorry. Sophie and I did the thing you are never supposed to do when backpacking: pre-book the first few destinations. Hostelworld made all the hostels look like they were almost booked out, so we decided to book flights and hostels up until Boracay. We didn't know the island of Palawan was that big – 6 hours from Puerto Princesa to El Nido! It messed up our plans a bit, since we needed to cancel a night in El Nido in favor of a night bus back to Puerto Princesa so we would make our flight.
Secondly, I have had the hardest time eating healthy (and cheap at the same time) here. McDonald's, Jollibee, Burger King, KFC, they're everywhere. Elgin, who we met in Boracay did tell us that the local fast food places, like Andok's and Mang Inasal, had the best chicken. There is fried chicken everywhere, by the way. I even saw a poster outside of KFC of a hotdog (they love those, too) with fried chicken instead of a bun. I wonder how the locals keep fit, but of course there are healthier options. The salads are at expensive Western restaurants, and there are sketchy-looking street kitchens everywhere. I know those are usually great in SE Asia, but when the finished food is just lying on a silver tray all day with the cooks just shooing away the flies and scooping up a portion for you, buffet style, it doesn't look too promising – or sanitary.
The locals are friendly and quite the opposite of shy. Not only did almost all of them greet me, even if I just passed by them, they also break into song. A lot. They really love karaoke and pop songs: Shakira, One Direction and so on. All the time. They are definitely curious about tourists, and I would say that even though some parts are very touristy, it still seems to be a kind of undiscovered country. I give it ten years though, and it will be the new Thailand.
Traveling with Sophie, whom I met through TravelBuddy, was fun! I am glad it worked out so well, and would definitely do something like that again if I am in a similar situation. It's odd saying goodbye after a month together, because even though you have been clinging to each other for so long, there are still so many things you don't know about each other, and you don't know if you'll ever see the person again. Saying goodbye was definitely weird for me. Luckily, I won't be alone for long :-)
I did expect the Philippines to be Paradise on Earth, but I was too much around dirt and poverty and skyscrapers and giant malls to feel like I was in Paradise. I will say that nature is quite stunning, as long as you get far away from civilization. Trash, the sounds from a nearby cock fight, pollution and other things kind of ruin the surroundings, but as soon as you get on a boat to see islands around El Nido, or swim with Whale sharks, you forget the dirt and the noise and just enjoy this place. I know I did. Salamat, Pilipinas, from this redface!