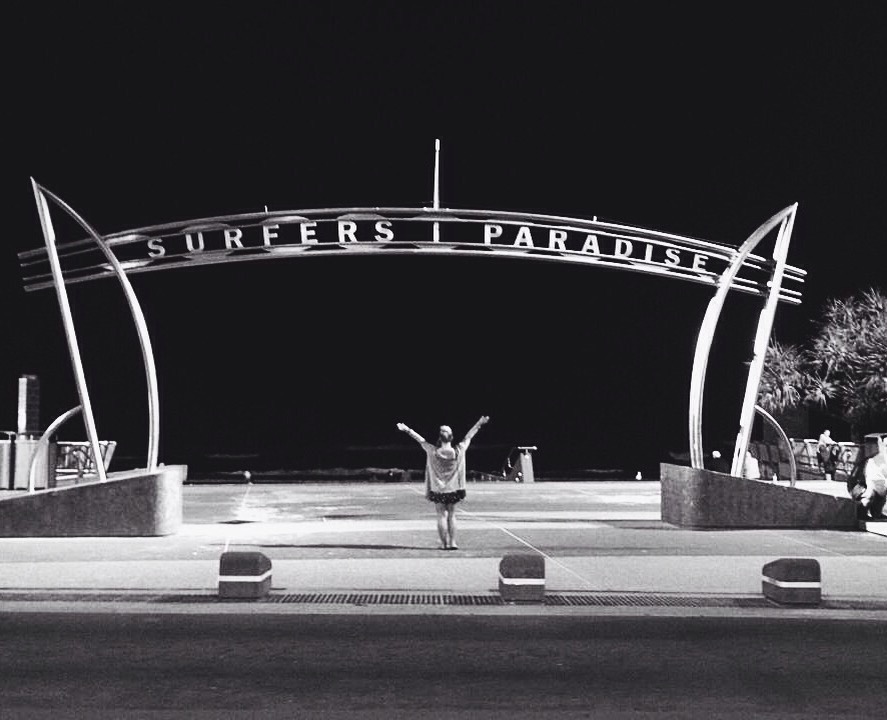 Surfer's Paradise and Gold Coast, Australia: I'm drunk
Coming from a small hippie town where everyone wear tie-dye dresses and no shoes (Byron Bay) and going to Surfer's Paradise with skyscrapers and Macca's is just what we need. We are staying at The Islander, which is very close to the main strip that leads to the beach. Since we arrive in the evening, we go to an Irish pub on the strip for dinner and some beers, when our friend Jay calls us.
Jay was a guest at The Pink Palace back in 2013, and what a legend. Always wearing Budgy Smugglers and singing Disney songs, he was one of those people you remember very well. We've all kept in touch, and he's invited us to stay at his parents' house in a few days. And right now, he is out with a friend, drunk, and wants to meet up.
Sharon and I quickly finish a few beers and then meet Jay and his friend Veronica. We go to The Avenue, where we all spend at least $100 each on drinks and dance to the live music. We're having a great time, when I spot a guy from Boracay that Sophie and I desperately tried to avoid. So what do I do? I go over to him and say hi of course! After that, we go to Orporto for a late night snack, before Sharon and I go back to the hostel and crash.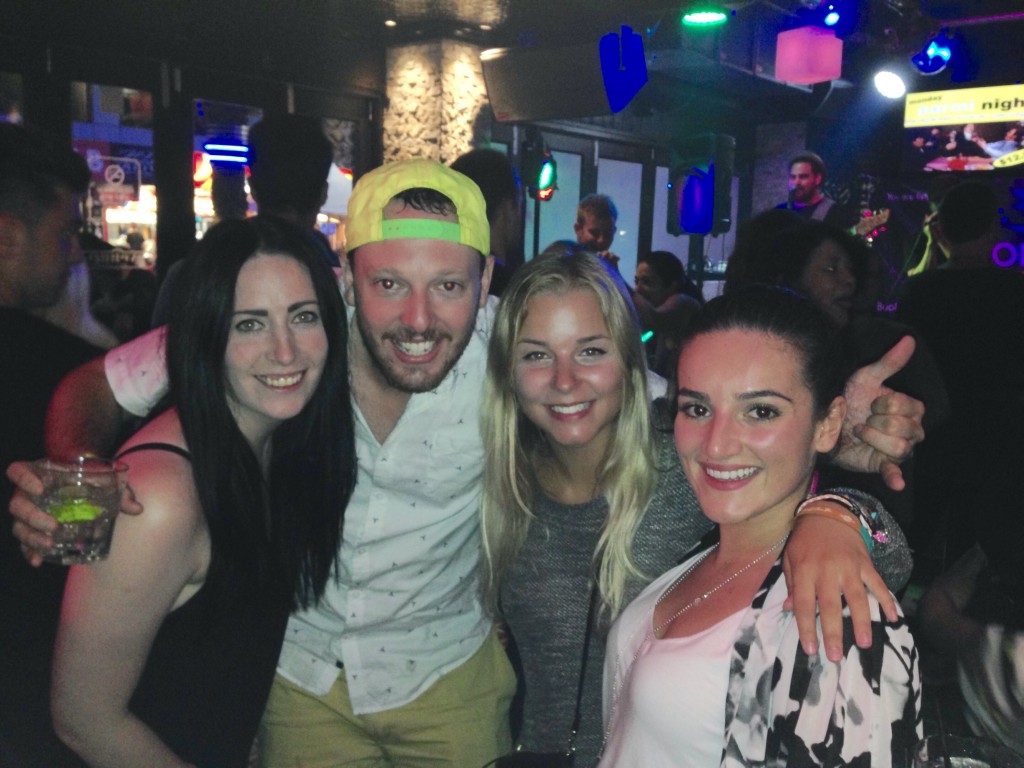 The following day, we go to a Vodafone store to sort out a plan. We are told we need our passports, so we go back to the hostel to get them. When we come back, we are told we need a list of transactions from our Australian bank account. We go to the bank to get them, but their printer is not working. We go buy lunch at Woolies, when the bank calls us to inform us the printer is working again. We get the lists, go to Vodafone and then I realize I need to go get my Westpac card, instead of my Danish card, so I run back to the hostel again. When I get back, we finally get things sorted out. We eat our lunch back at the hostel, but it's nowhere near filling, so we run to McDonald's, where we order on touch screens (!). We treat ourselves to a nap after our trying day, and for dinner, we have Mexican food and frozen sangria. We're mentally and physically preparing ourselves for the mayhem that is hanging out with Jay.
We check out in the morning and go to Ripleys Believe it or Not!, which is an interesting experience. Kinda shit, really.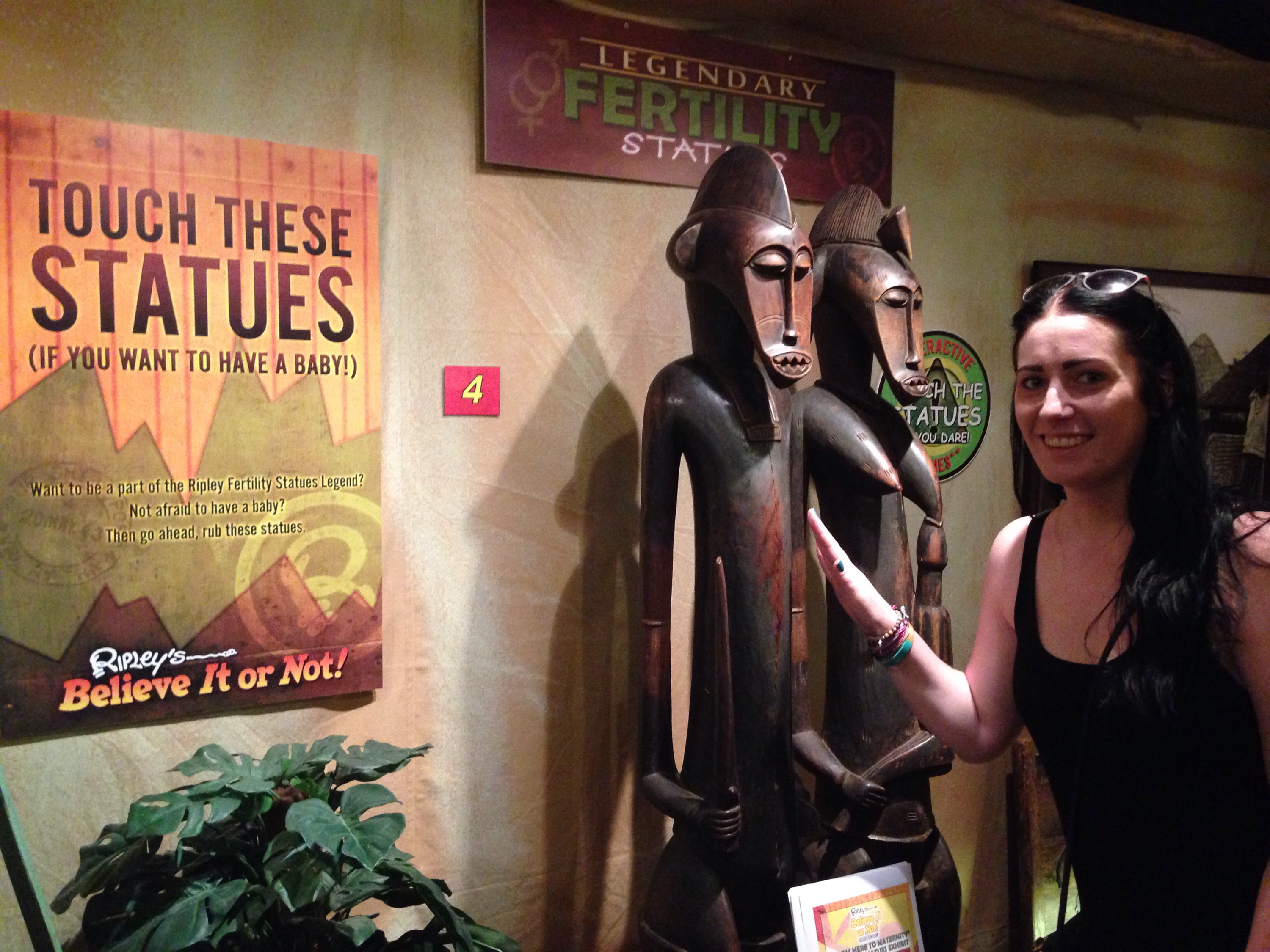 We then go sit on the beach for a while. It's a beautiful day, but we didn't bring our bathing suits, so we just sit on a staircase in the sun and look at the bright blue sea, when Jay calls. He is on his way to pick us up, so we head back to the hostel to pick up our backpacks. We drive for a while before we reach Sanctuary Cove, a gated community on the Gold Coast. We are staying with Jay's parents, Cathy and Ian, in their beautiful 4 bedroom (I think?) house – or should I say mansion!? I have never stayed in a nicer house, and it's full of life – the parents of another Pink Palace guest are also staying, as well as Jay's sister, Nikki.

I jokingly ask Jay about kangaroos and whether there are any around here, since there is a big golf course in their backyard. He asks Nikki and Cathy as if I'm crazy, which makes me regret it – until Cathy takes us in her golf buggy to see a big mob of them! A few of the females are carrying joeys, and they let us get pretty close to them, before jumping away. Such a great experience.
Jay is heading to work at the Cove, and we sit back at the house for a while, watching TV with Nikki. Around dinnertime, Nikki drives us to the Cove so we can get some food and drinks while watching Jay work. It's a Tuesday, which is usually pretty quiet, but as soon as we arrive, it gets quite busy. We have a few beers and one of Jay's homemade drinks, which gets me pretty drunk. After Jay gets off work at around 10 PM, we go back and watch Aladdin in the TV room. After that, we watch Pawn Stars and I am so intrigued that I fall asleep and start snoring. Loudly. We go back into the room and have an amazing nights sleep in the most comfortable bed I've been in in ages.
The next morning, Jay gets up early to play golf with his dad, while we sleep in. Around 11, we finally get up and lazily starts dressing before trying to sort out bank stuff. It's proving to be very difficult. Nikki knocks on our door an hour later to let us know they're heading out for the day, and then Jay gets back and takes us to his workplace, where we get some food – we've only eaten a banana all day. At night, Jay is working again, and the whole family is going out, so they show us how to drive the golf buggy – and that's how I drove my first golf buggy!!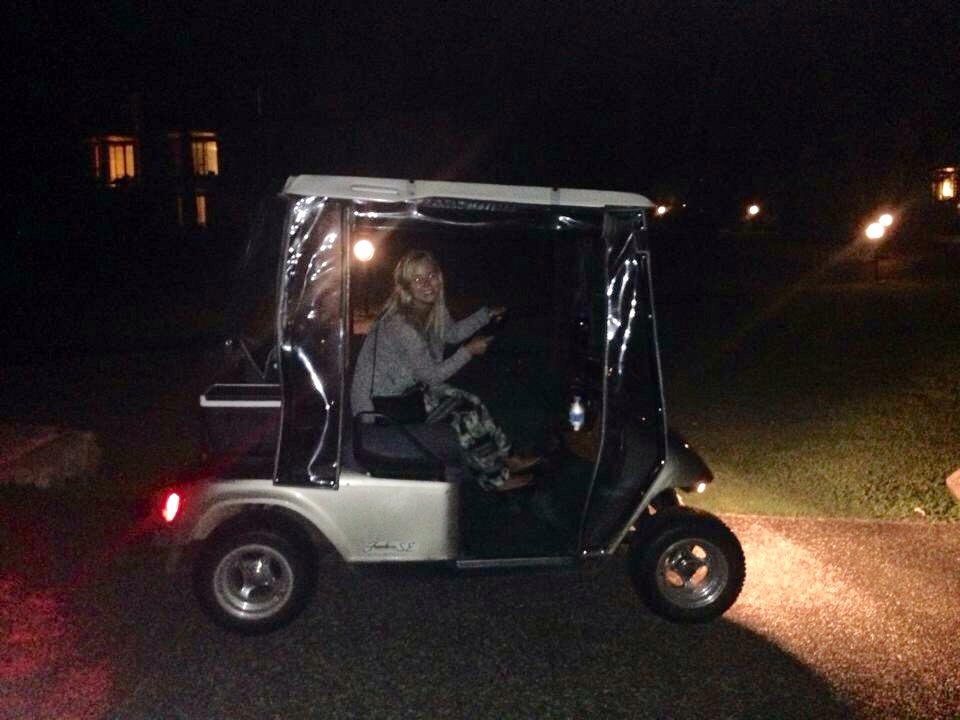 Scared shitless about driving on the left side in the dark, I manage to get us to the Cove, where it is completely hectic, with an hour long wait for food. We try a sparkling wine called Innocent Bystander, just because of the name, and it proves to be amazing. A few of those later, we are driving home behind Jay. It turns into a bit of a witch hunt, Jay being the witch who's driving with his lights off.
The next day, we sleep in yet again, and since Jay has a few stuff to sort out, he drives us to Main beach. We lay out there for a while, before we decide to walk 3 km to Surfer's Paradise for lunch. We accidentally end up on a crazy shopping spree, buying jewelry, blue hairdye, clothes and whatnot. Before we know it, it's almost 5 PM and Jay is on his way to pick us up.

We go to the Cove for dinner again, and then we pre-drink at Jay's house, before going out in Surfer's. First up, we go to Waxies for beers, then Avenue for more drinks, and then Orporto for late night snacks, before being picked up by an Uber driver.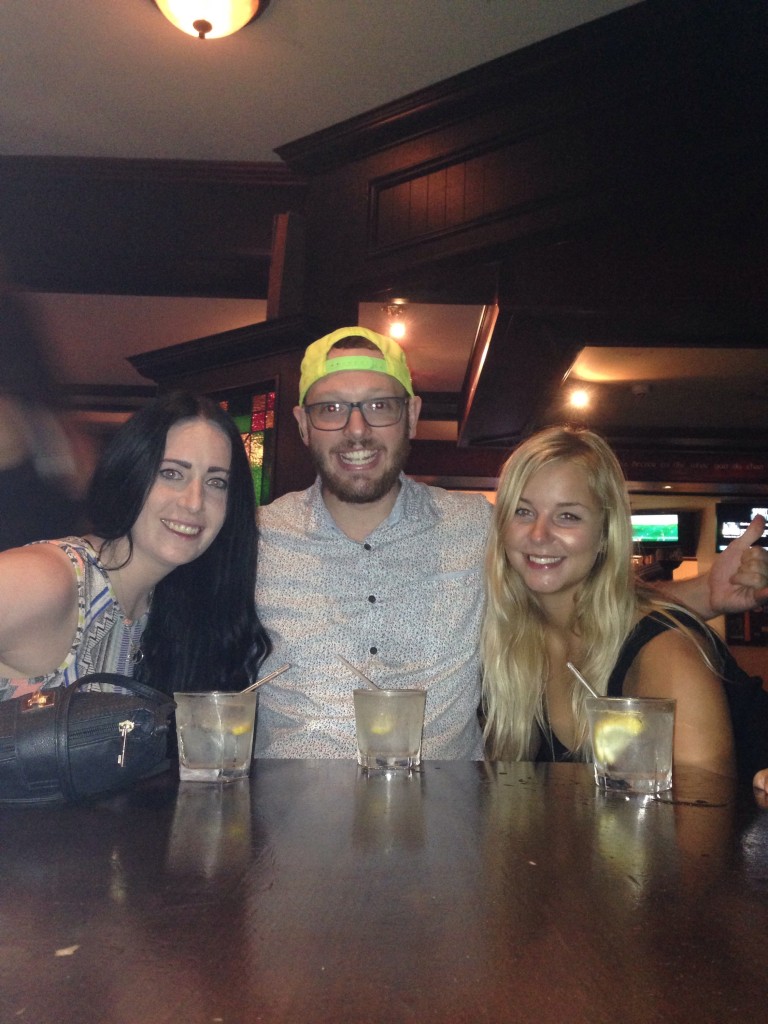 On our last full day with Jay, we go to the mall to buy some stuff, and some beer and champagne for his parents as a thank you for letting us stay with them. We have a quick nap before sitting down with everyone for a great dinner and a chat about our countries educations systems and how we can extend our stay in Australia. Jay and Kimberly (the mom of the other PP guest) have a great discussion about equality. Kimberly brings up hand jobs. We are almost on the floor, laughing.
We start pre-drinking, taking turns introducing each other to good music, when our Uber driver arrives a bit too early. We hurry outside and go to Surfer's yet again. At Waxies, we meet up with a couple of Jay's girlfriends, joking about how Jay has so many girls sitting around him, and yet he's still watching the sports game on TV. We move on to Melba's, a nightclub full of creeps grabbing us for a dance every now and then. Jay follows one of the girls home, as she is "too drunk", so Sharon and I grab his keys, go to Orporto, and then get an Uber driver back to Sanctuary Cove.
In the morning, Jay calls me and asks me to unlock the front door. He then goes to sleep, while we start packing very slowly. I am feeling hungover for the first time in ages, but thank God it's not too hard to be alive today. We go to Macca's for brunch, before Jay drives us all the way to Brisbane, which is so sweet of him. We're going to miss him so much!