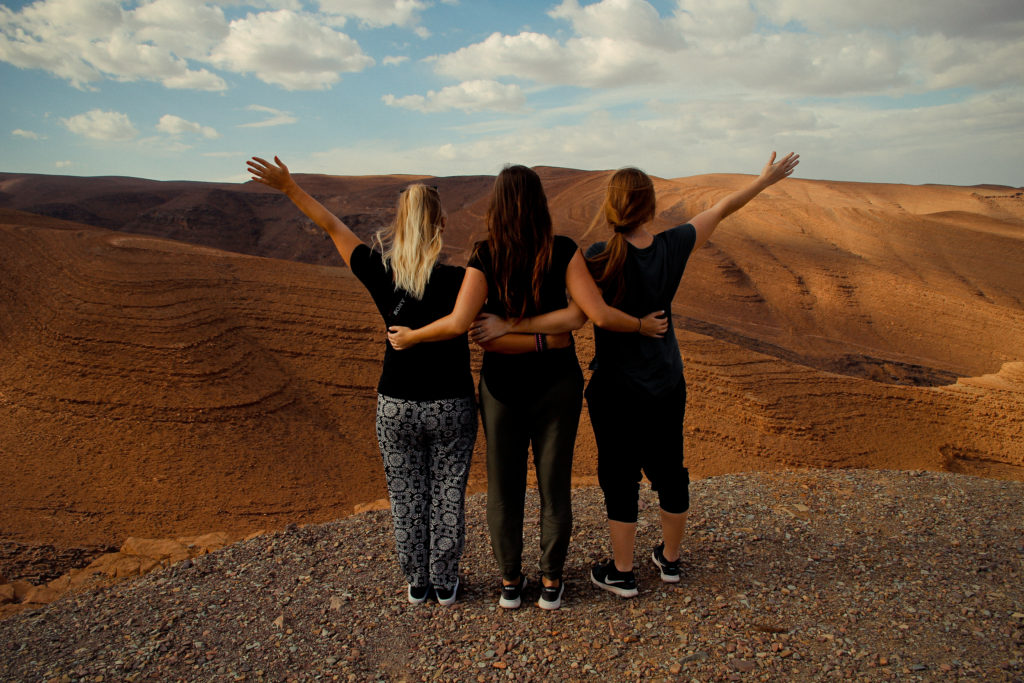 Marrakech, Zagora and Ouzoud, Morocco: I bless the rains down in Africa 
So it's finally my turn to visit the land of Argan oil and pretty blue-tiled pools, but unlike everyone else, that's not the kind of thing you'll see on my Instagram. Although I am arguably a bit of a flashpacker, dinner and drinks at luxurious roof top restaurants and sleeping in a bed without a ladder isn't really my thing – neither personally or budget-wise. Terese, Aga and I got together to decide on destination for a little getaway, and I kind of voted against Morocco at first. Being unemployed, I'm running out of funds to spend on lavish things such as flights to Africa. Besides, haven't I gotten my dose of harem pants and desert in India?
So here I lie, on the floor of the cold departure hall in Stansted Airport. I guess I budged. We have about 7 hours until our flight to Morocco and about 4 until we can go through security. The only thing keeping me warm is the fading buzz from the traditional pre-vacay beers we had in Billund Airport.
After the standard boring flight, passport control and transporting ourselves to our accommodation, we have arrived in the middle of the busy Medina of Marrakech. Salim, the sweet guy who works at our Riad, greets us and leads us to Marrakech Rouge when our car can't take us any further into the narrow alley of the Medina. Side note – you know you're getting old, when you say things like "he's so cute, I just wanna adopt him", rather than "bone him".
Marrakech Rouge has a cozy common room, a roof top with turtles crawling around, and nice and helpful staff. We are given a delicious mint tea – or berber whiskey – upon arrival, and chat to a stereotypical travel guy whom is forever known as Scorpio. Why, do you ask? Well, while we're sipping our tea and waiting for our dorm to be ready, he guesses our zodiac signs (correctly) and turns it into a lengthy conversation. He says very informative things like:
"I'm a water sign, so I'm really attracted to the ocean and pools"
"Earth signs are really down to earth"
You don't say.
We get our room, change into more suitable clothes, and then head out to get lost.
The souqs are overwhelming at first, to say the least. Trying to navigate through a maze where all the shops seem identical is difficult enough, but how it's possible to fit so many people, scooters and stray cats in a narrow alley is beyond me. It's busy, loud, colorful and my heart is pounding fast. Is it fear, or is it excitement?
With the help of an offline map, we are able to locate Henna Café, whose roof top is the perfect place to get some peace and quiet, as well as lunch. It's a cool little place with nice food and talented henna artists – and they provide free education to locals, so it's definitely worth a guilt-free visit. We order some hummus, avocado halves filled with Moroccan salad and a falafel sandwich that we share between us, as well as some more berber whiskey.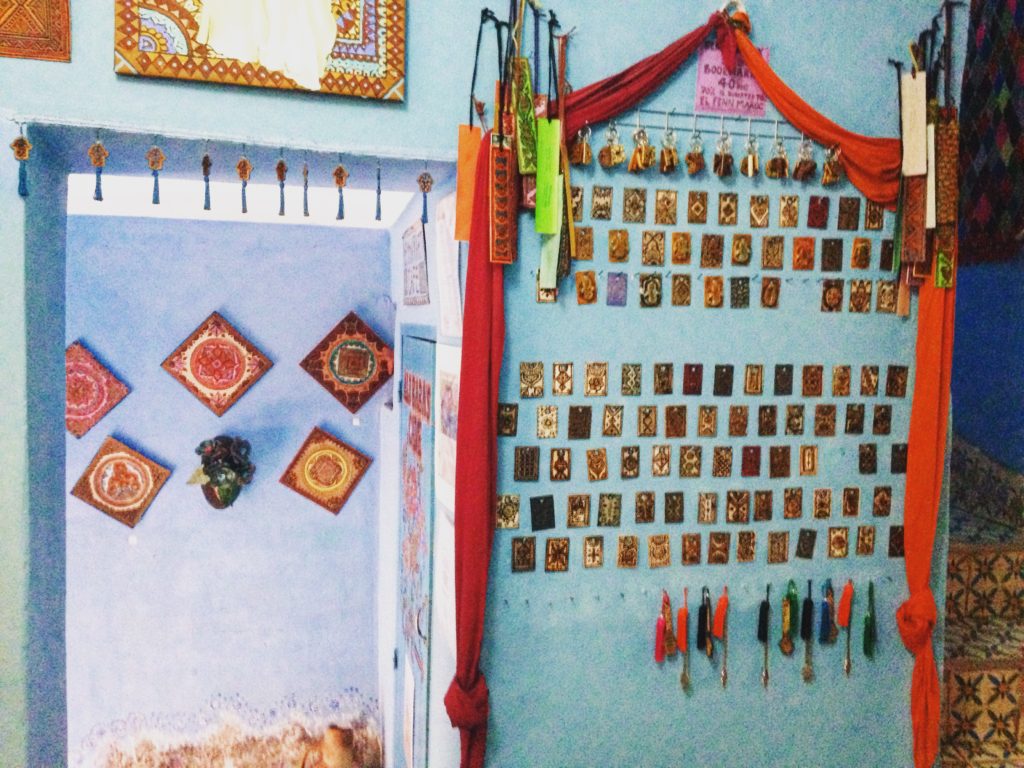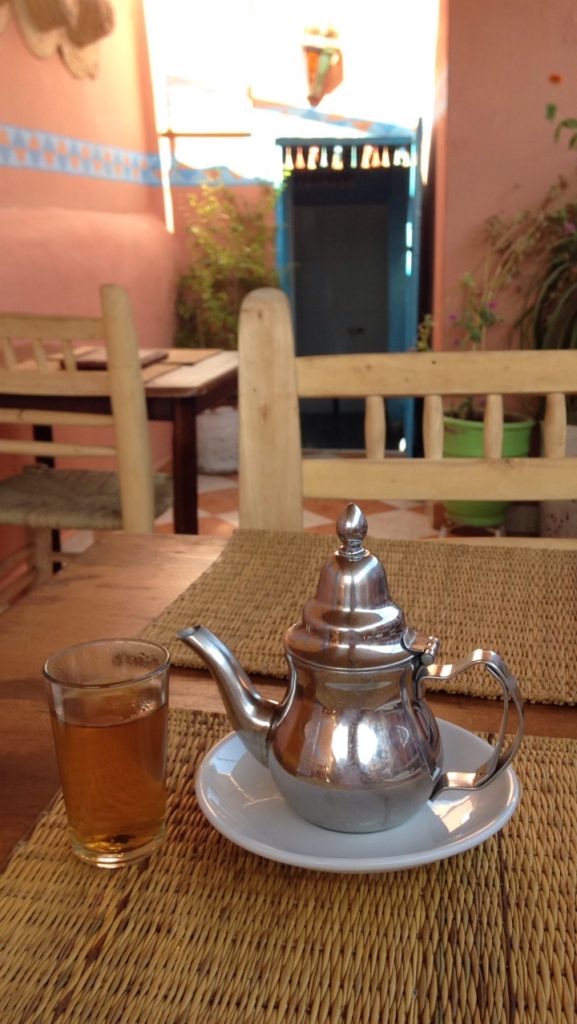 Once we are full and have had enough of the hot sun, we move downstairs to get some henna artwork done by two very talented women at around 150 dirham each. We are lucky to start just before the place gets busy, so we only have to wait for each other to have our turn and for the henna to dry, while everyone else is walking around impatiently. 
We've barely made it out of the café and walked to the city square, Jemaa El-Fnaa, before the "street artists" start to chat us up and grab Terese by the arm to do some unsolicited henna tattoo that they try to charge her for. Avoid them at all costs. The man with the chained up monkey also almost manages to trap Terese by getting the monkey to jump onto her shoulder, which he can then demand money for. Avoid him at all costs. Actually, just avoid anyone in the square. That's my advice for visiting Jemaa El-Fnaa and for life in general.
At the end of the square stands Koutoubia Mosque, which we snap a few pictures of, before we get lost while trying find Ben Youssef Madrasa. A sign points us to go straight, which we do, and it takes us through alleys of locals pointing us the wrong ways until we reach a part that definitely hasn't been seen by many foreigners. We turn back, and finally find the Madrasa, which we had apparently walked right by. A college built in the mid 1500's, it consists of dorm cells and a beautiful courtyard decorated with colorful geometric tiles and Islamic calligraphy.
By now, we are boiling in the 36 degree heat – I know that's not the actual boiling point – and we're dying for shade and a beer, although we quickly realize that's almost impossible in the Medina. Thirsty and having tired feet, we get a bit grumpy and settle for a small shared pizza and cold cokes back at the square.
Once we've found our way back to the hostel, which takes us a little while, we book a two-day trip to the Zagora desert, thinking that it's safer to book through their company, Rouge Travels, rather than the aggressive travel guides in the souqs. The staff also tells us how to get alcohol: a quick taxi ride or 25 minute walk to a supermarket that will close in about 40 minutes. It's raining and we get lost in the souqs, ending up towards the Madrasa, rather than Jemaa El Fna, which cuts some of our time. Once we finally reach the square, getting a taxi with a meter is impossible, even though the staff said we should make sure the drivers wouldn't scam us. Finally we just decide to walk, using an offline map. We reach the Carrefour market 5 minutes to closing time, but they won't sell us alcohol. Luckily, we passed a restaurant that serves alcohol on the way there, so we sit down for a Casablanca beer and get another one for the road. We take a taxi back, since we're being lazy and aren't sure if it's safe being out pretty late, and get back to a shisha, courtesy of the hostel. Nice.
I wake up in a lazy mood, so I skip the shower and put my hair in a bun and we head down to eat the complimentary breakfast, which is basically all carbs, some butter and something that looks like honey but tastes kinda like marmalade. I slather it on my Moroccan crepes.
First stop of the day is the Bahia Palace. While we know where it is, we end up passing the unassuming gate and walk all the way to Jemaa El-Fnaa, so an awkward U-turn it is.
The Bahia palace is absolutely stunning with its many courtyards and gardens, and we spend a lot of time taking pictures and enjoying the colorful tiles and quiet atmosphere, despite the amount of visitors.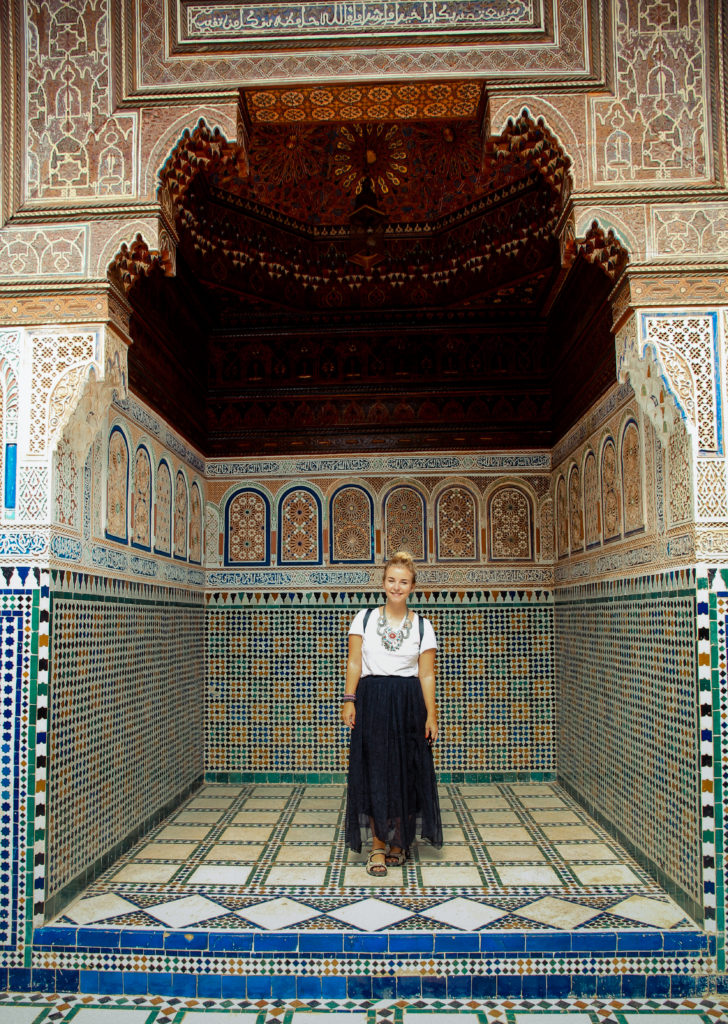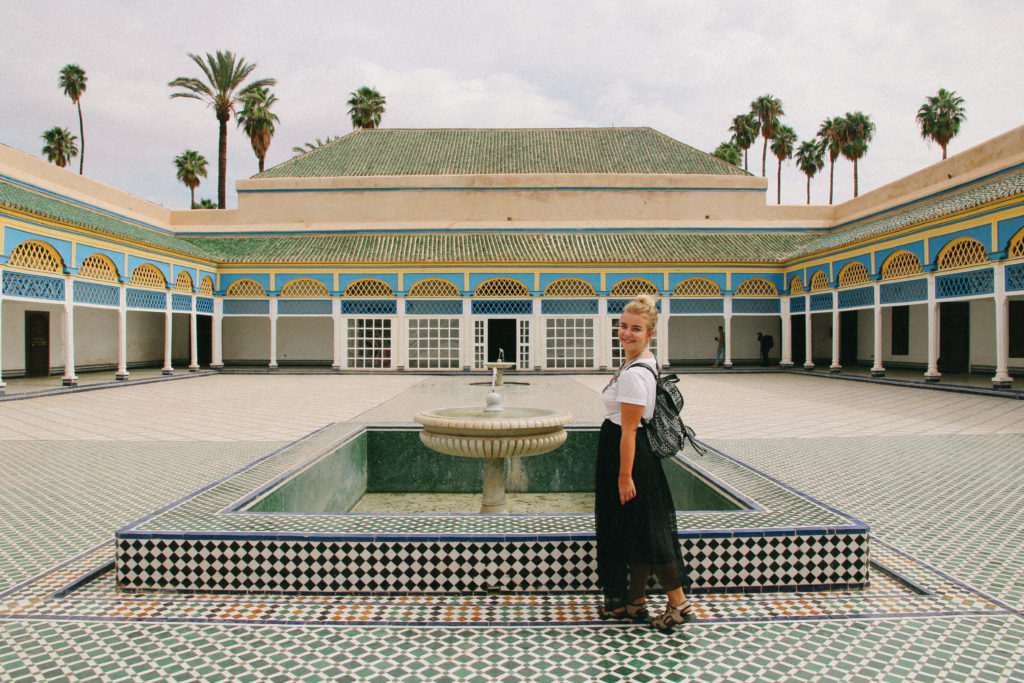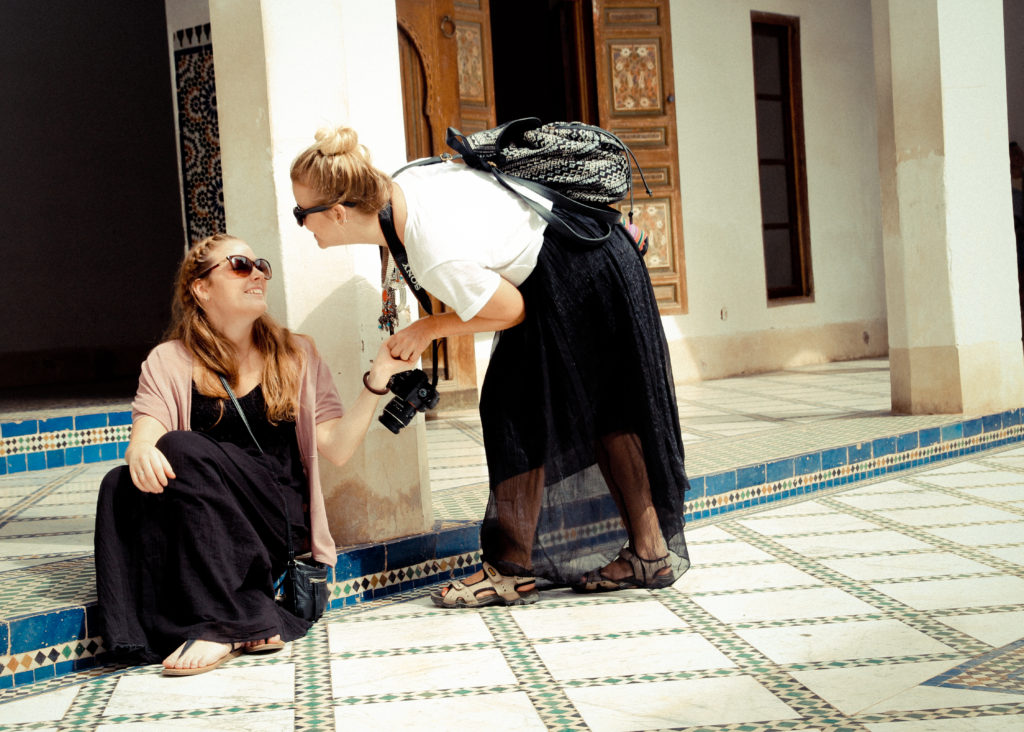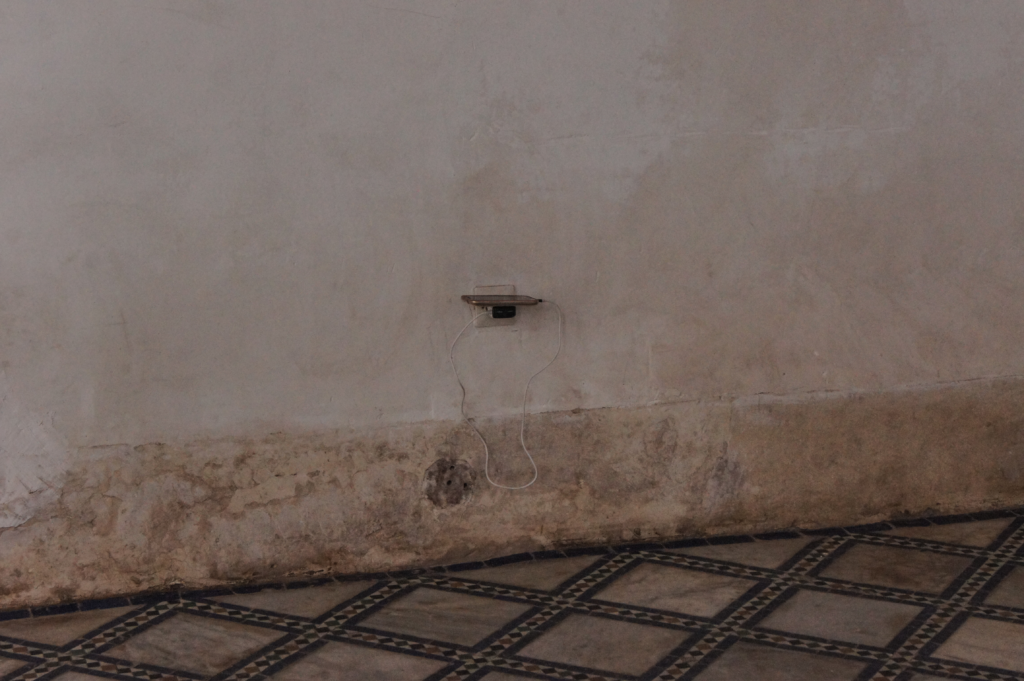 A tourist place that allows you to charge your phone? Evolutionary.
We then take quite the walk to New Town to visit Café Du Livre for lunch. We have tapas and cocktails, which is a lot easier to find outside of the Medina. Feeling buzzed, we head to The Majorelle Garden, where the former owner Yves Saint Laurent's ashes are scattered. The garden's beautiful, but I would give the museum a miss next time.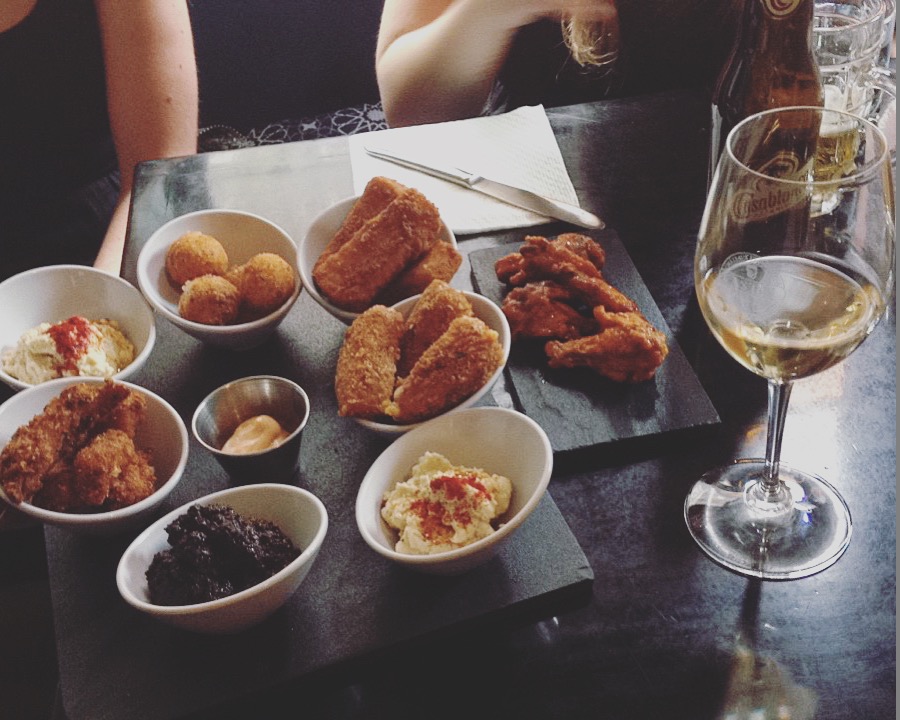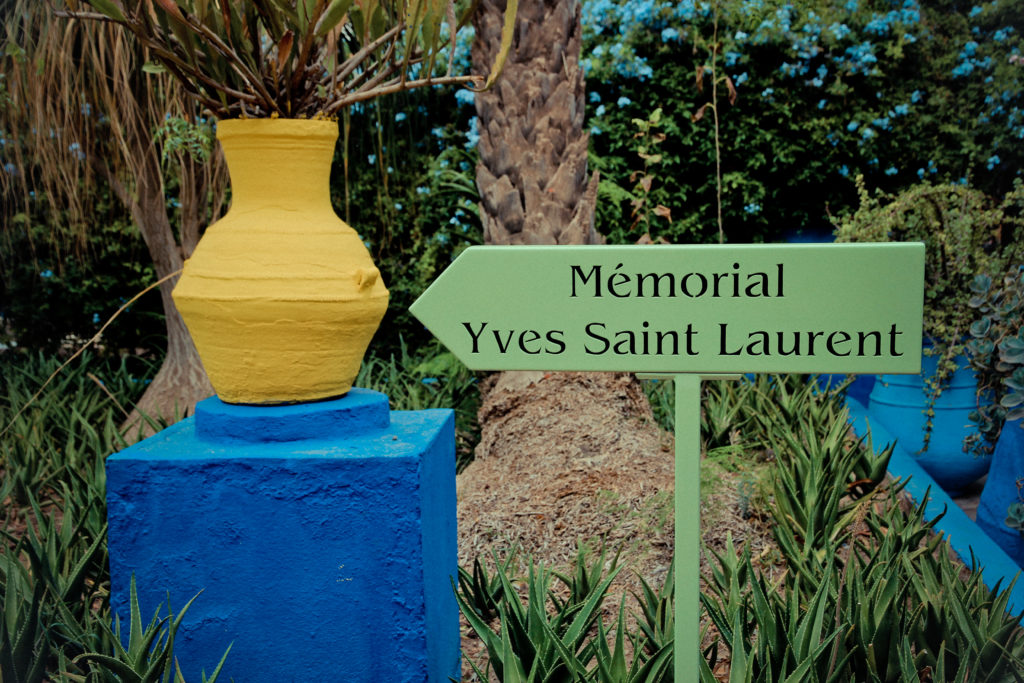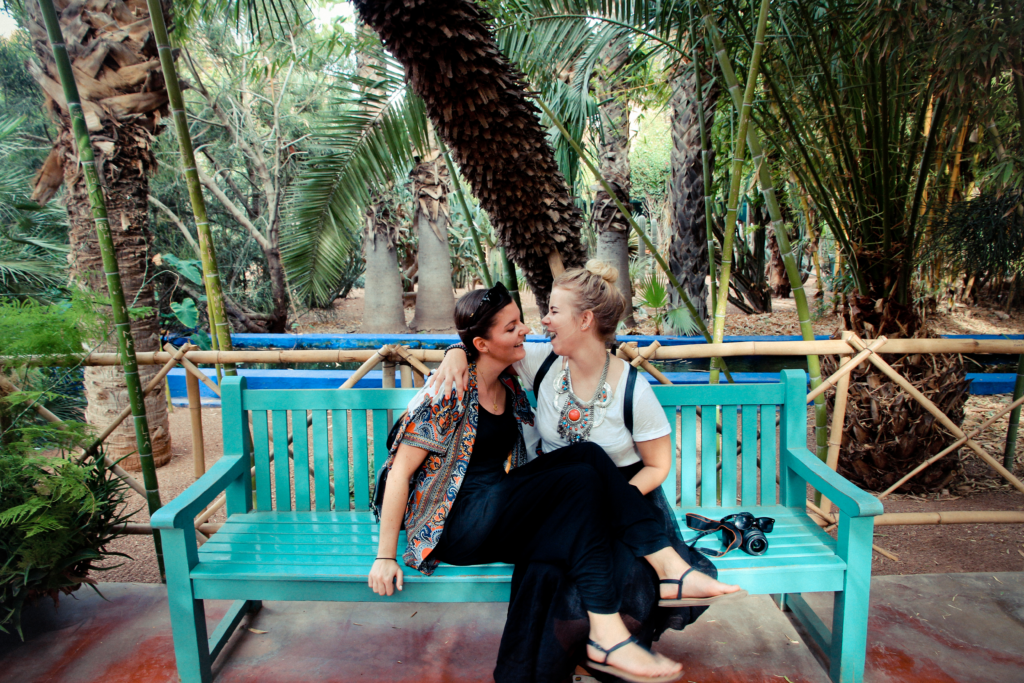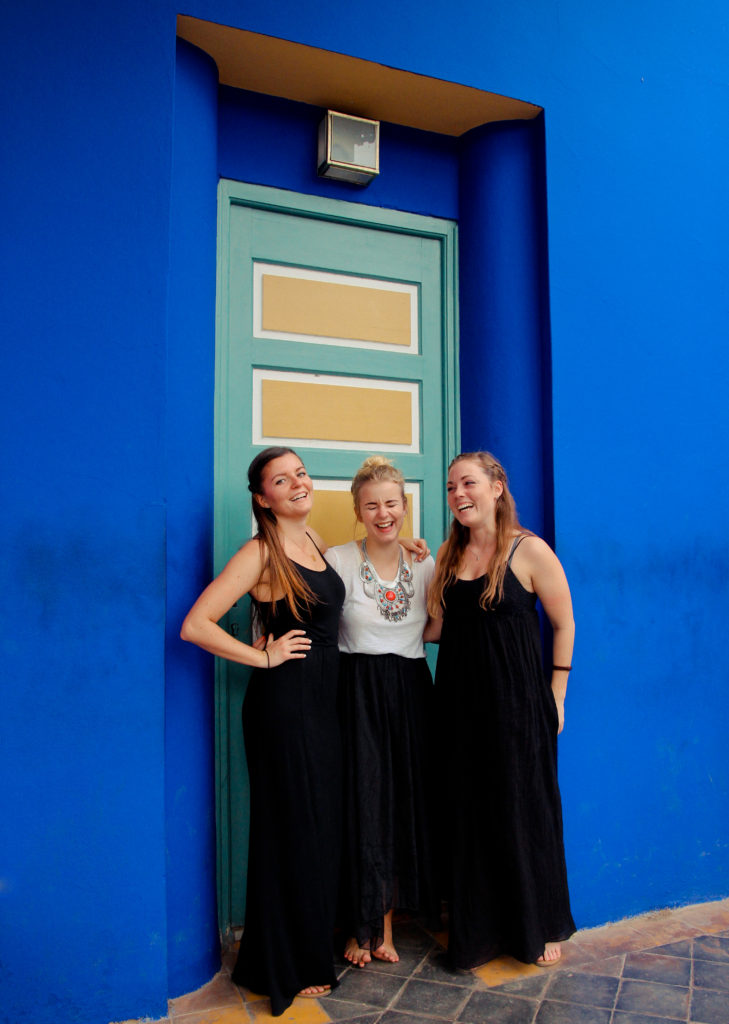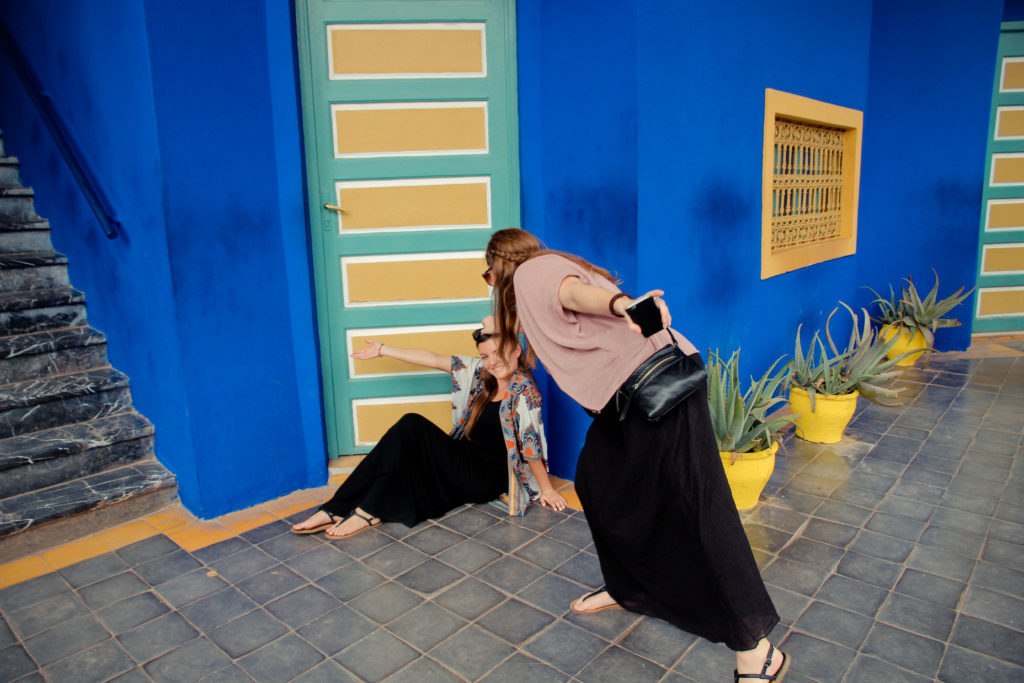 Terese isn't really into photography, but she makes a great photoshoot assistant!
On the way back to Old Town, we stop by the supermarket to buy some beers and a bottle of wine, which we keep in my trusty old water bottle pouch. At the roof top of Café Kessabine we have mint tea and tajine – a dish slowly cooked in pottery over coals. Since the menu is in French – which it is in a lot of places – I just ask for the most appetizing thing that the waiter mentions: beef and vegetables. I'm pretty disappointed and confused that my dinner tastes like apples and cinnamon. Not a fan of this particular version of the dish, but the view is pretty great. The square beneath us is lit up by street kitchens, lanterns for sale and the shops and restaurants around.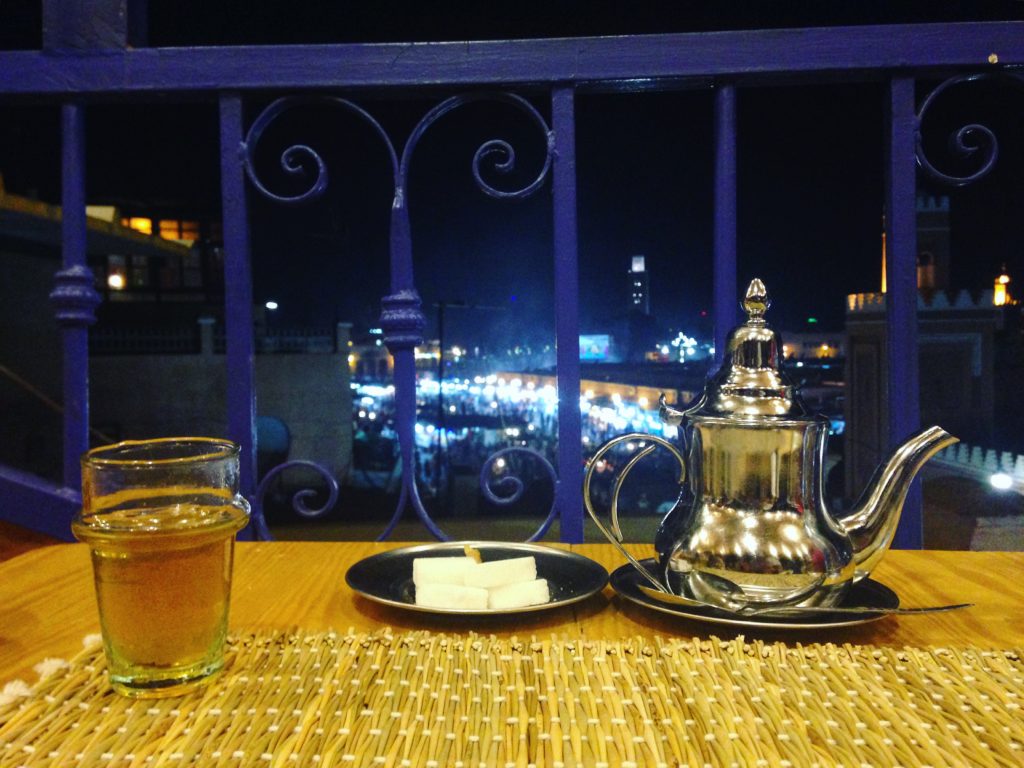 Once we've finished dinner, we go on a hunt for a mustard-coloured scarf for Aga. Finding plain pieces of fabric turns out the be a challenge, but more so finding the right colour. We ask one seller, who takes us to another seller, who takes us to a third. Everyone presents bright yellow or peach-coloured scarves, until we sort of give up. That's when we find the scarf we've been looking for all along, seemingly the only mustard-coloured scarf in all of Marrakech. Aga blows it with the negotiating by starting with a price so low, the seller is offended. Luckily, the shop on the corner ends up getting it for us after we've looked through all of their stuff and telling them about the scarf we've just seen, but couldn't get. One of the sellers runs down and buys it, then brings it back for Aga to buy at a slightly cheaper rate.
Back at the hostel we run into Scorpio again. While we have one of our beers, he asks us to proof-read his latest blog post, which is a task I take on. Scorpio likes to talk about his travels a lot, which makes it hard to concentrate on the job, so I eventually give up and just let him show me his pictures of booze cruises and whatnot while he's seemingly negging me. The girls head up for a shower, and I am sat with him and a drunk Danish lady in the common room until they come down to get me at 1 AM. While I don't feel like going to bed with a buzz on, I need a shower, some sleep and less talk about zodiac signs. Apparently, being a fire sign means that I like to cook.
Despite having three bunk beds in the room, we only have one room mate: Alexander from Tunisia, who's here for work, which means he gets up before sunrise. Of course, he is delighted that we go to bed after midnight everyday, and I'm sure he loves the fact that we are getting up at 6 am this morning to pack for our desert trip. The hostel staff seems to be sleeping in today, as the breakfast that supposedly starts at 6.45 hasn't been served by the time we are picked up at 7.15. We get in a minivan with 10 other people and begin the long drive through the Atlas mountains, which of course makes me super car sick.
After 3+ hours, we reach Kasbah Ait Benhaddou in Ouarzazate, or The Door of the Desert. This Kasbah can be seen in Gladiator, The Mummy, Prince of Persia and Game of Thrones. We chat up two Italian girls from our bus, Silvia and Clelia, and end up sitting with them for lunch. We have salad, cous cous with meat, a plate of fruit and great conversation.
Back in the minivan, we are in much better spirits, except for Silvia, who is about to throw up her lunch. The next three hours are spent singing songs to the annoyance of the other passengers. We then reach the Zagora desert and our camels, which are actually dromedaries. I name mine Camela Anderson, while some of the others are now known as Dune Carter, Sandee, Camel toe and Adam Brody. Silvia asks for a camel with Wi-Fi, which becomes a running joke.
My favourite thing about India was definitely the night I spent in the Thar desert, but I have no desire to get back on a "camel" again. Yet here I am, getting the most intense wedgie and inner thigh rubbing I've had in ages. We turtle our way deeper into the "desert", which has trafficked roads close by while the sun is setting. By the time we've reached camp, the Milky Way can clearly be seen over our heads. Despite the burning sensation in my nether regions, I feel very much at peace. This is Sa(ha)randipity.
The camp is basically a big circle of tents, with the middle being covered by carpets. We sit down to have Berber whiskey, then we all lie down and look at the stars for a while.
Dinner is being served in the big tent, where other groups also join us. We have vegetable soup, an amazing turkey and potato tajine, and then some more fruit. Back out on the carpets, we watch the staff light a fire and play drums, to which we clap enthusiastically, before we end up dancing and trying to get all the others to join. No such luck. A group of like 5 Danish girls sit on their phones, far away from the fire, because of course they do. We are the last ones to go to bed, just laying out and looking at the shooting stars. I hope my wish comes true.
The next morning, we get up before sunrise and find a dune to sit on. Our butts are in a lot of pain, but we can't avoid sitting. Since it's freezing, we bring blankets from our tent, which the staff will later scold us for. Whoops. We play The Circle of Life on repeat while rolling down the sand dunes and taking pictures of camels and donkies and having our slice of buttered pita and Berber whiskey for breakfast. Then we get back on our camels, very displeased because of how much pain we're in. Luckily, the trip back is much shorter, and less than half an hour later we are back in our mini van.
With only a few stops to get some fresh air and lunch, the  ~7 hour car ride back to Marrakech is just as nauseating as it was the day before.
All in all, we are pretty satisfied with the experience, mainly because we've had so much fun with Clelia and Silvia. While we've paid €55 for the trip, it didn't include the Kasbah Ait Benhaddou guide (25 dirham) and our lunch (around 150 dirham both days). We learn that people in the group have paid very different amounts, us getting the better deal. If anyone ever considers a trip like this, make sure you don't pay too much, and have plenty of money with you for the hidden costs.
Being the smart alcoholics that we are, we request being dropped off by the market to pick up more booze, and then we walk back to the hostel for a shower. Sweet Salim takes Terese to a tobacco shop on the back of his scooter so we can smoke shisha later, and then we go for pizza at a restaurant right across from the hostel. We claim the shisha three times and drink almost all of our booze and it's just what we need after the trip. Room mate Alexander isn't too pleased, but we charm him into liking us anyway.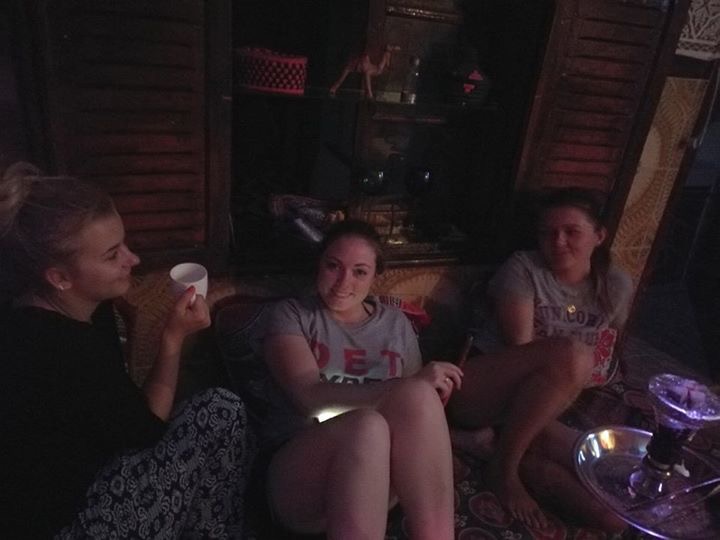 It should come as no surprise that the next day is beyond lazy, After breakfast, we sit on our phones, looking for a pool or hamam to go to and relax for the day. It's around 10 am and the staff is smoking weed already, so we figure: why not finish the half bottle of wine from last night? Of course, we have no self-control and end up opening another and smoke shisha, and then we start playing Heads Up. A group of 17 people from an English dance group is also staying at the hostel, and a couple of them join our game, and then we smoke more shisha and they show us a couple of dances. It's amazing.
Tipsy and hungry, we go for a late lunch at the same pizza place we ate at last night. When I say late, I mean 5 pm. We have a bit of a discussion about our frustrations with each other during this trip, and there's crying and the waiter is probably super uncomfortable serving us anything. Once we've finished arguing, we declare our love for each other and then we have to go meet Silvia and Clelia for dinner at Café des Épices, even though we just ate two pizzas. After another small meal, we grab beers at a fancy restaurant in the square. Who knew you could actually get alcohol here? We goof around and write "Wi-Fi?" on my double chin, getting some disapproving stares from the servers. At midnight it's time to say goodbye, so we give each other a big hug and go back to annoy our room mate. Ciao, bella!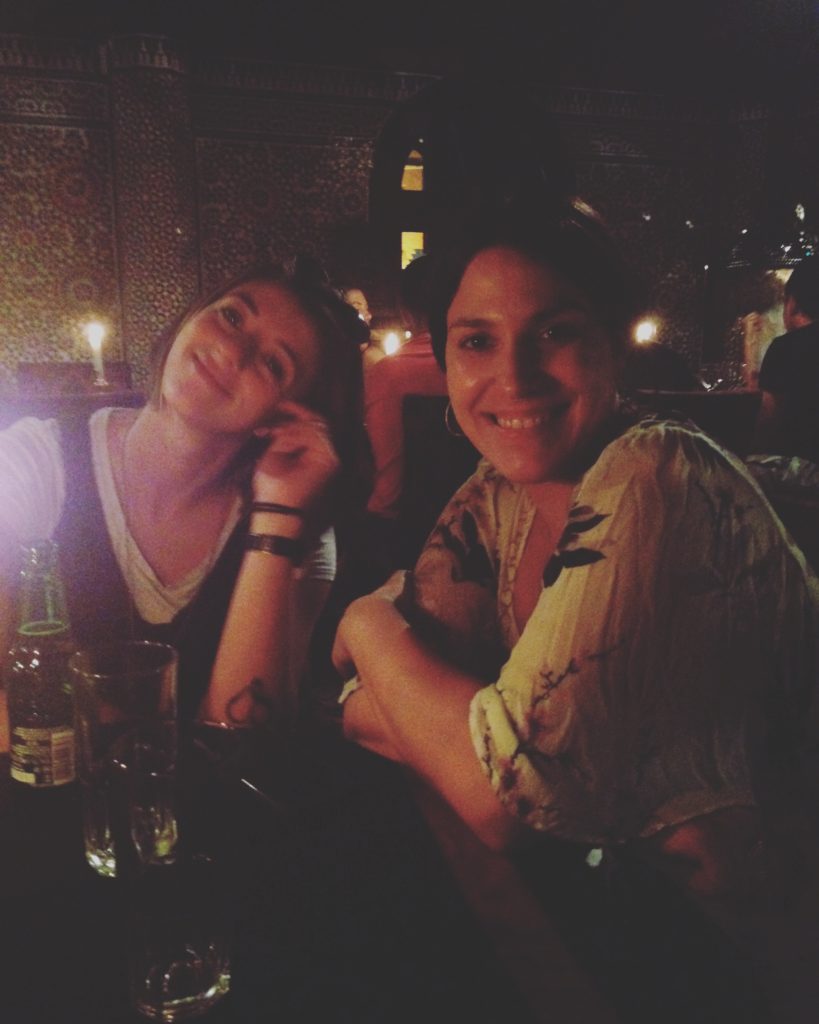 It's time for another day of exploring. We've booked a trip to Ouzoud Falls via Rouge Travel for €25, once again not including lunch and tips for the guide. It takes around 3 hours to drive to the point where our guide Hamid greets us. He takes us through the red sand and olive trees to the biggest waterfall in North Africa. It stands at 110 meters and has three drops that pours into a beautiful blue pool, that we get to row across for 20 dirham.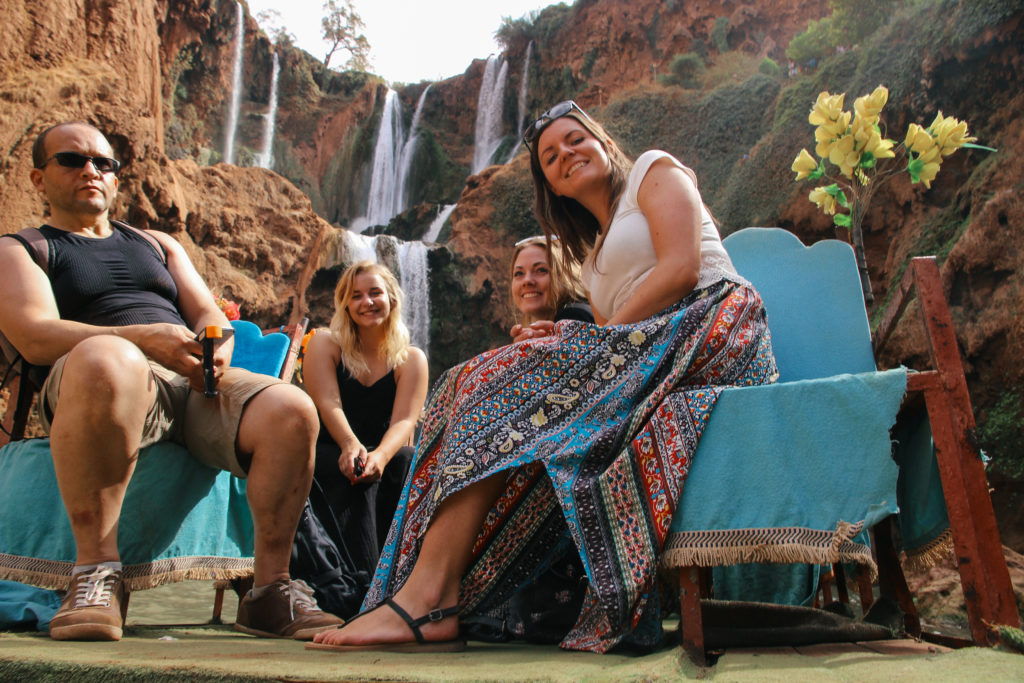 With our new friend, Kevin. Not actually, but he's kinda hard to crop out.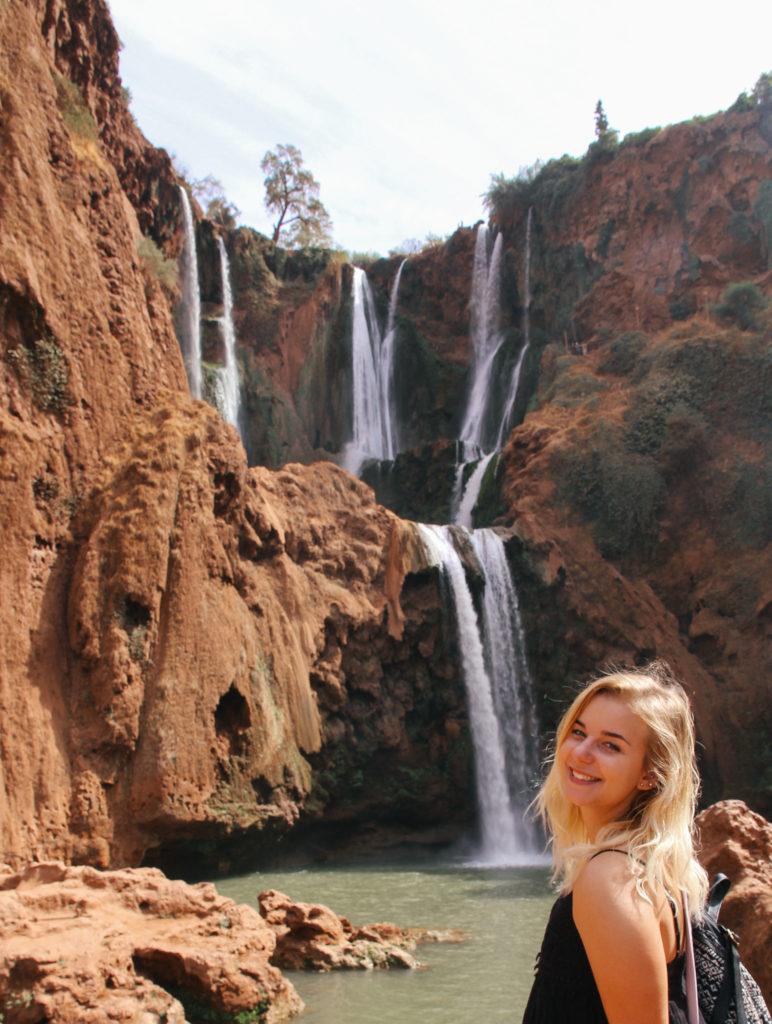 We then have lunch with the waterfall as our view. For around 100 dirham each, we get the usual three courses of salad, tajine and fruit, as well as water, mint tea, bread and olives and a sweet pastry. After lunch, we walk uphill to another lookout where wild monkeys roam around, looking to grab nuts off tourists. Then it's time to jump back on the minivan and make it back to Marrakech just in time for a sunset and some rain.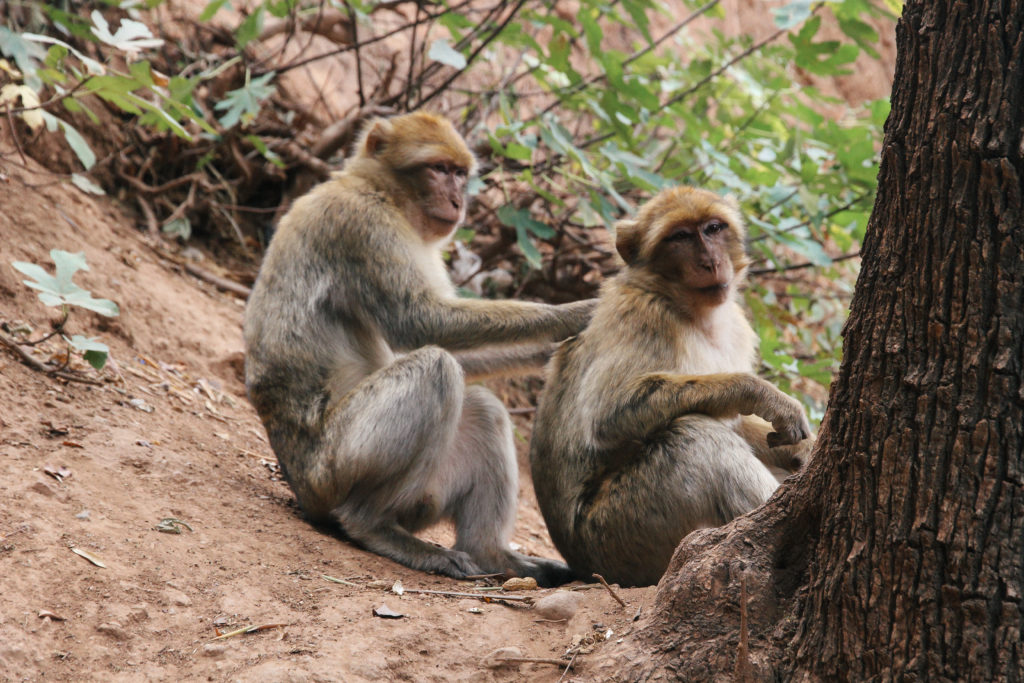 We are pretty much out of money by now, but we still have some shopping and eating to do, so we get more dirham out. We walk up and down the souqs and buy scarves, crystals, jewelry and little tajine pots. I'm getting into the whole bargaining thing and (probably incorrectly) throwing some Arab words in here and there, like "60 dirham for two, Inshallah". One shop owner leads us through the souq until we reach a dark and quiet alley and I'm thinking to myself "fuck, this is how I lose my virginity".
Luckily, it turns out to be a legit argan oil pharmacy, where we get some information and demonstrations regarding the making and usage of argan oil. Aga buys some oil and spices, and the salesman shows us some home remedies, like pouring nigella black seeds into a muslin cloth and inhaling the strong scent to unclog the sinuses and get rid of migraines. We eat at one of the cheapest places we can find in the square, where we meet a Danish couple that's willing to listen to our tips to survive a Moroccan holiday. Finally, we drink the last alcohol and smoke the last shisha back at the hostel. We pack our bags and go to sleep around 1 am, yet again.
When we arrive at Marrakech Airport the next morning to catch the RyanAir flight that we've already checked into online, we stand in line at security for ages only to find that we have to go to the check-in counter to get our boarding passes stamped. Then we get back into the same line, go through the body scanner and have a female security officer body search us so thoroughly that I need a cigarette and a cuddle afterwards. I get the pleasure of sitting by the emergency exit(!) next to a young couple in love(!) for the flight to Stansted, and then we have a big dinner and drinks at Coast to Coast, before catching our final flight home.