A night at Ludu's Guest house is like sleeping on the beach. Our room, or should I say hut, is located right on a giant rock, that's attached to several others going out in the water. As we are slowly snoozing off, we can hear the waves from the ocean hitting the rocks, and we feel the cold air streaming through the windows – they aren't completely sealed, as one could imagine. Definitely an experience.
By 11.00 we are all packed and ready to go, except we need to find that guy who showed up out of nowhere last time we needed him. Whaddaya know, he's right there! It's amazing! Truly magical! We pay him 600 rupees and head off with our heavy backpacks once again. Sara sneakily picked up an old edition of Lonely Planet at The Jungle Hostel that had recommended the Relax Inn restaurant, so we go there for breakfast (err, pancakes), which is nice. We still have a lot of time to kill before going to Mapusa though, so we go to a café close to the bazaar and the beach, and just abuse the Wi-Fi for travel planning (and Facebook, who are we kidding?)
When we are super bored of that, we grab a shady-looking cab, but I negotiate a very low price, and there are no better options around. 30-60 minutes later we are in Mapusa and meet up with Selina and Angi at Ashkor restaurant. In the heat, eating this super spicy food with nothing but water to drink, our eyes are watering and the sweat is running, not dripping, from our faces.
The next couple of hours we all sit pretty much in silence by the bus station, waiting impatiently for our busses – theirs to Mumbai, ours to Hampi, which Angi recommended for us back at The Jungle Hostel. The sunburn is slowly turning into a painful scab on my face, and the Nivea cream Tal gave me helps, although the perfume stings a bit. I feel miserable and ugly. Lucky, our bus has a nice double sleeper bed in the front waiting for us, but calling it a bumpy ride to Hampi would be an understatement. Really.
At one point, the bus stops to let the passengers empty their bladders. 10 rupees each, and you got this luxurious stall:
Now, I don't mind paying to sit on a porcelain throne, use silk to wipe my ass and water to flush with. Paying to squat in harem pants is just wrong. I can happily announce it went well though. Back to the sleeper for a ride that has me singing Mohombi – Bumpy Ride all night long.
At 7 or so in the morning, the roads get even bumpier, and nature outside is looking greener and more lush. We are finally in Hampi. As we haven't booked a hostel, we get our backpacks and go straight on the hunt for a hostel, as do all the backpackers. It is like a race to see who gets the last room in a hostel first, so we are all taking big steps. We first go to Mowgli's Guest House, but it is a bit too expensive and too long until check-in. We move on, and a few minutes later, as all hope leaves my body, we find Hema Guest House, which consists of a cozy restaurant and turquoise houses with bright hammocks. We immediatley check in and demand a hammock. A monkey is jumping around on the thin roof of our house, which gives off loud, thundering noises, so we name him Lars Ulrich.
We drop off our stuff and head to the river and buy a ticket for a tiny boat to take us to the other side, where Hampi Bazaar is. The elephant Lakshimi of the main temple is getting a bath in the river as we arrive, so people are gathered around the drop-off.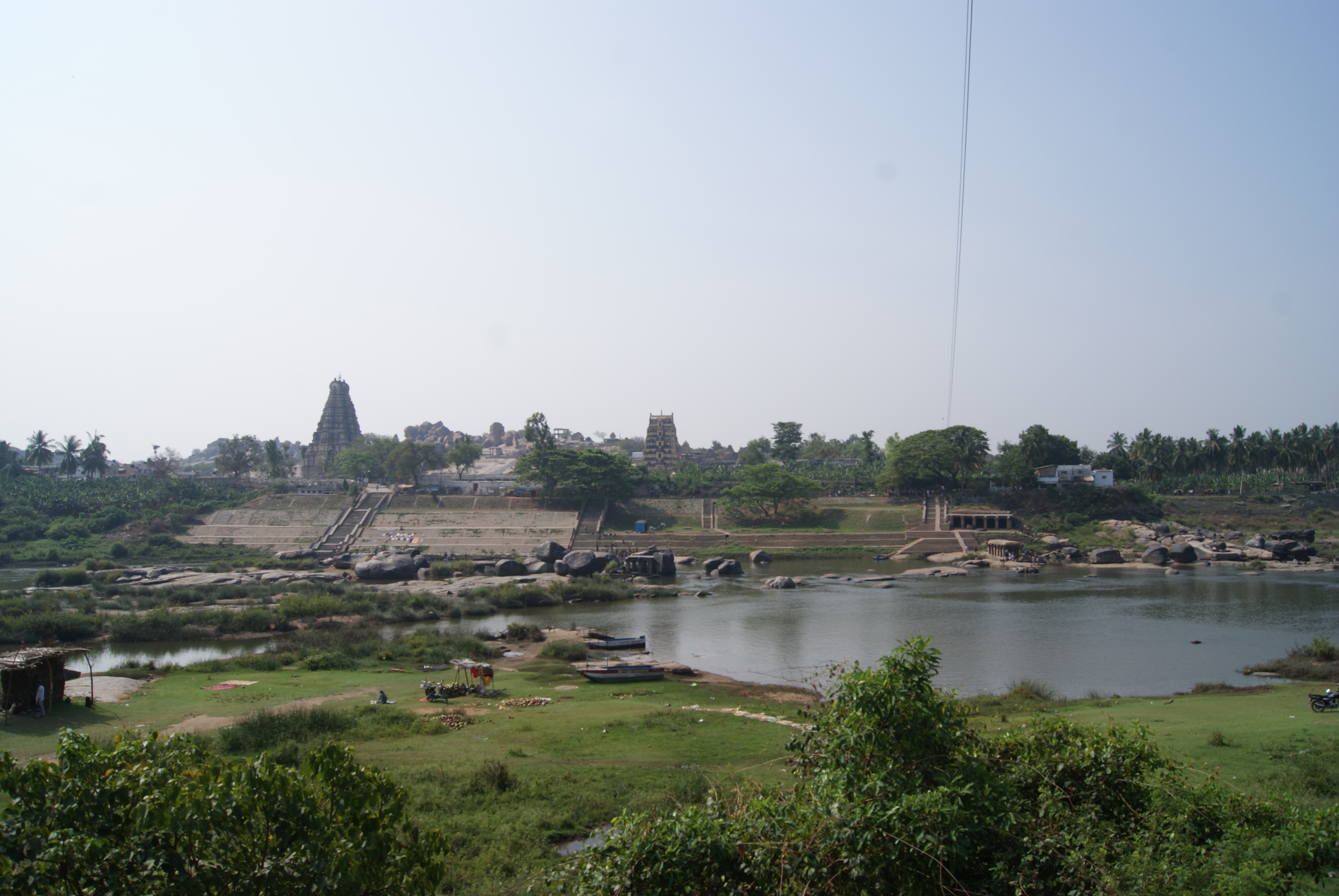 Hampi bazar from our part of the town
We are surrounded by drivers that offer to take us around to see the sights for the day. We get into a tuk tuk and start our day of sightseeing. It takes most people at least 5 hours, if not several days to see it all, but we are done in about two hours – we didn't bother to get a guide book, so all of these pretty ruins are just that: pretty ruins. I took a 1000 pictures of them, though. Prepare to be visually bombed.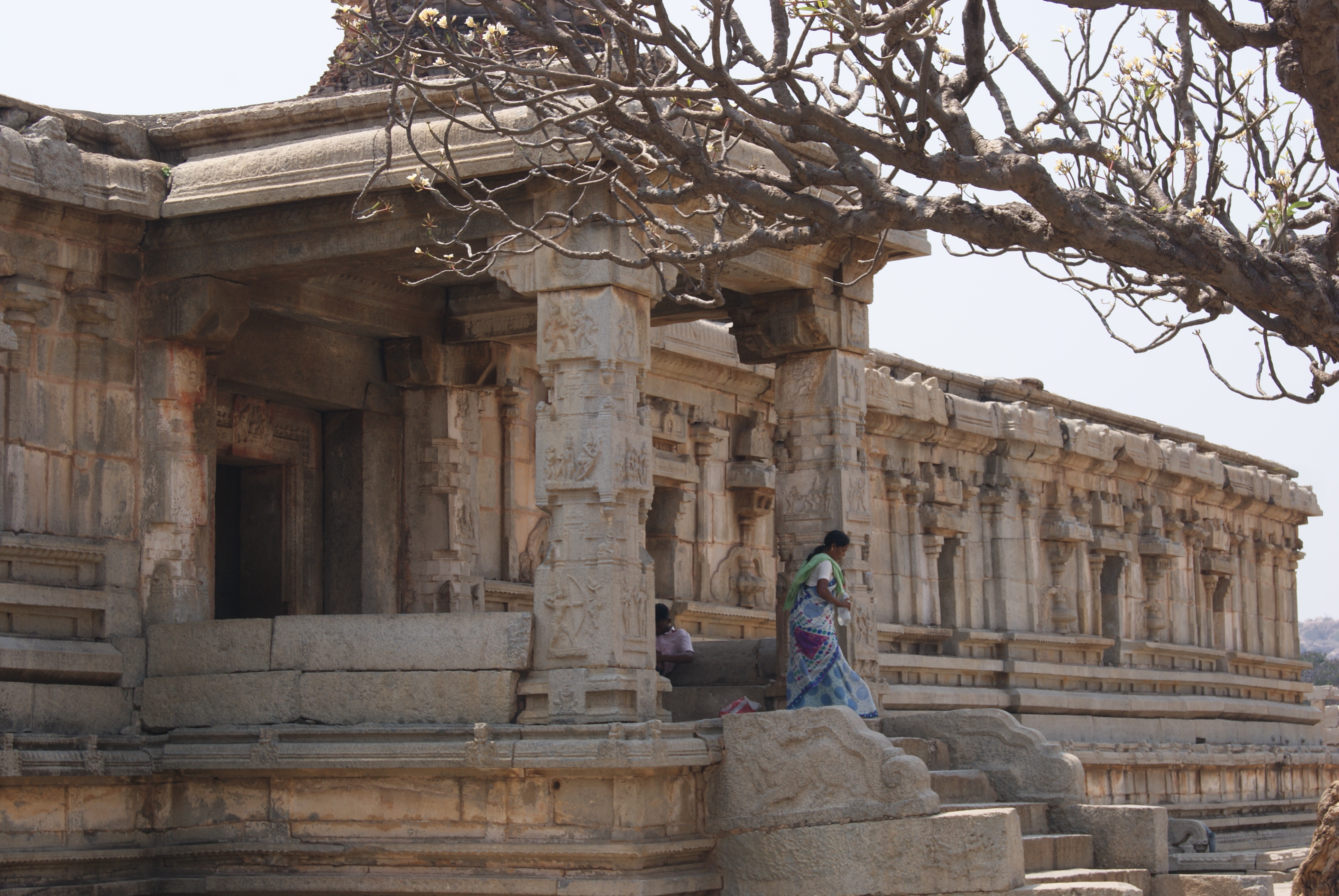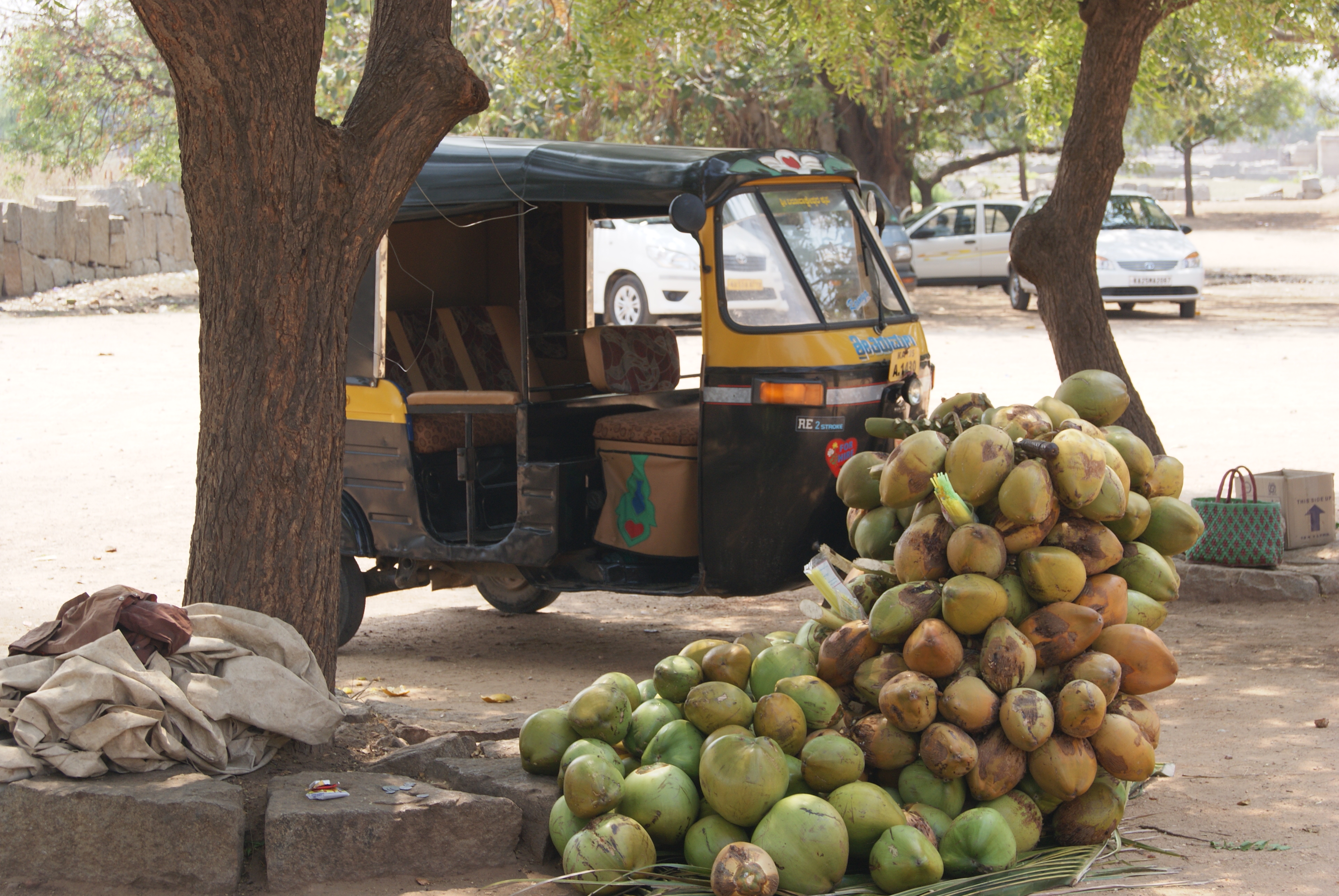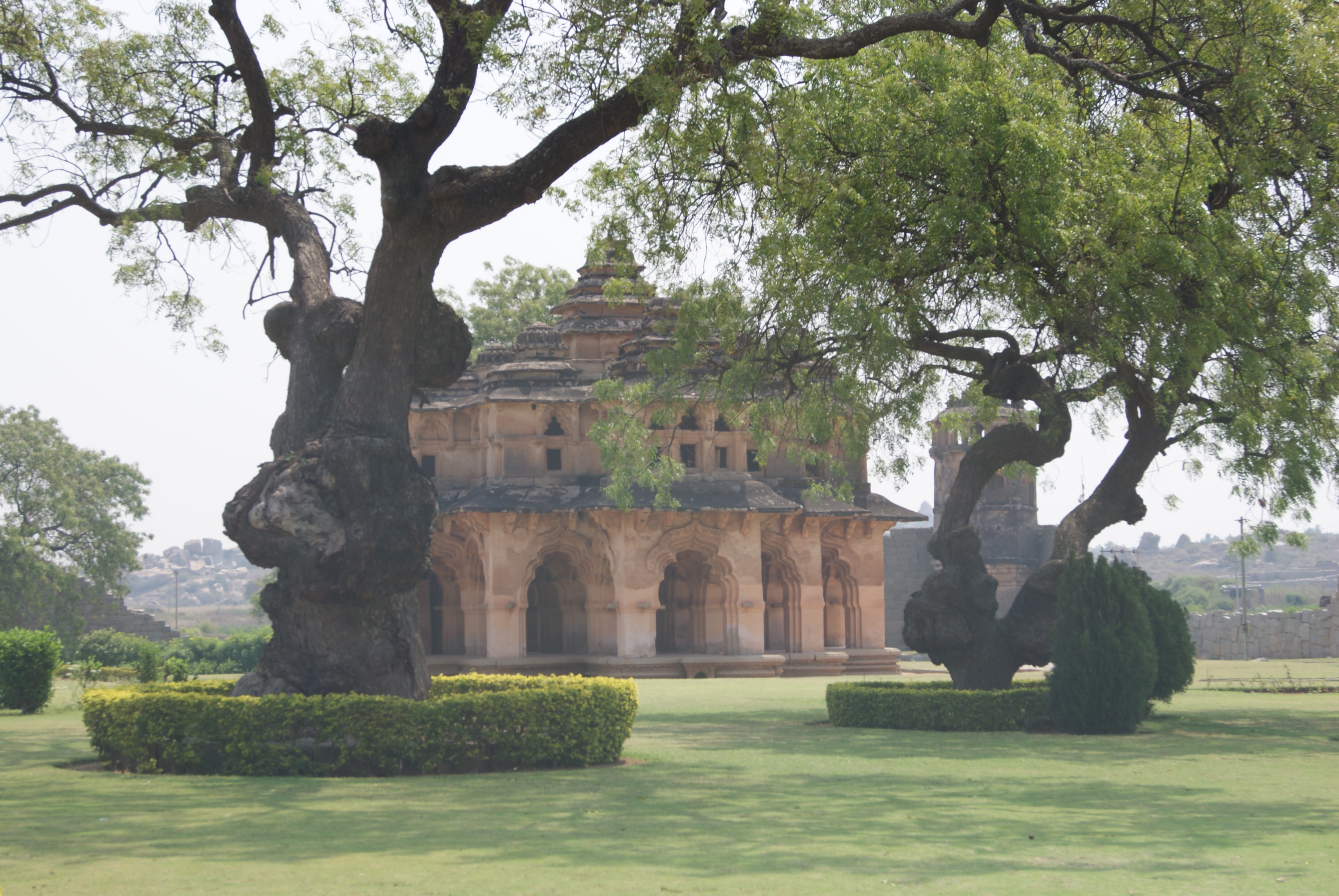 Lotus Mahal, the Queen's palace, in Vijayanagara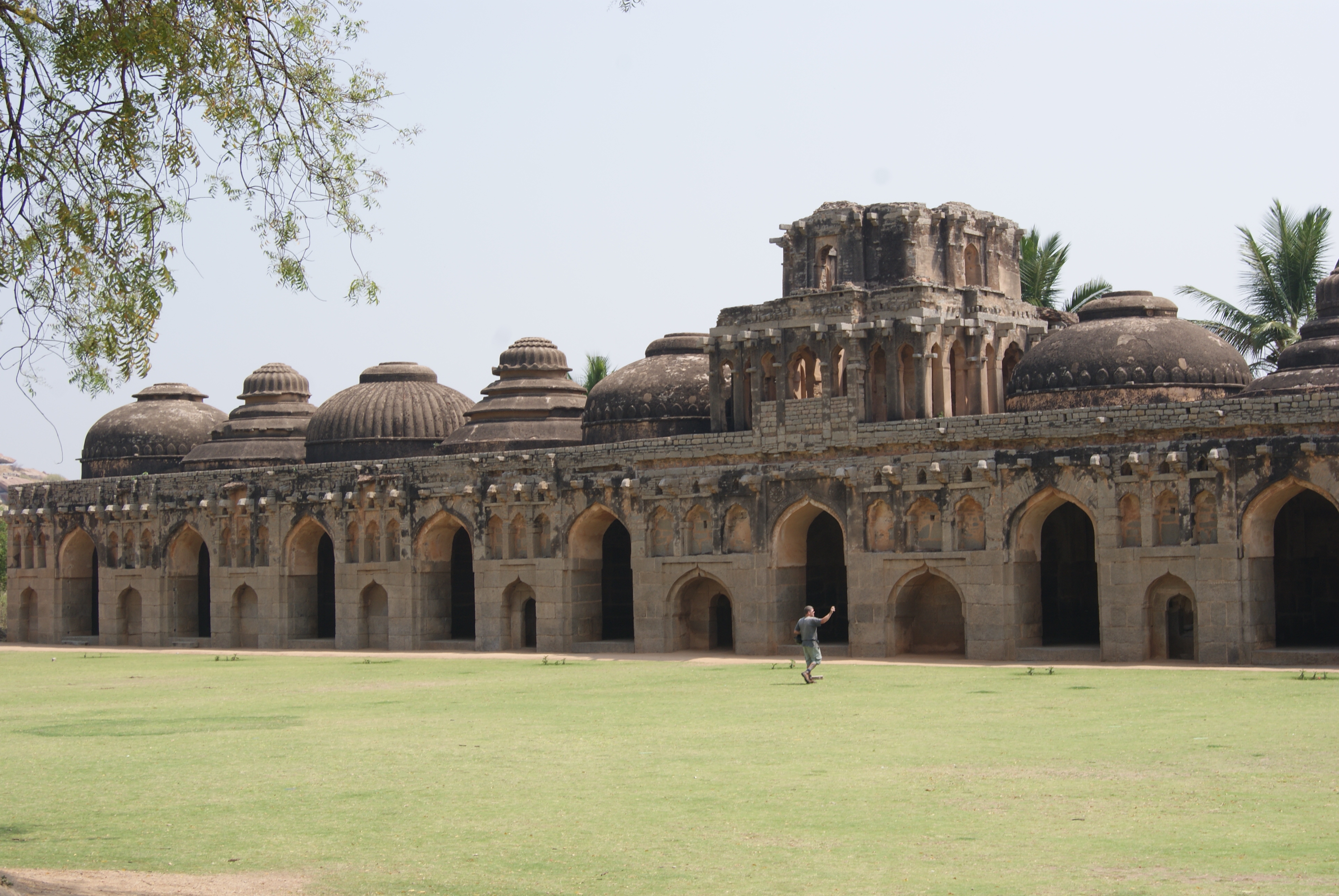 The elephant stables in Vijayanagara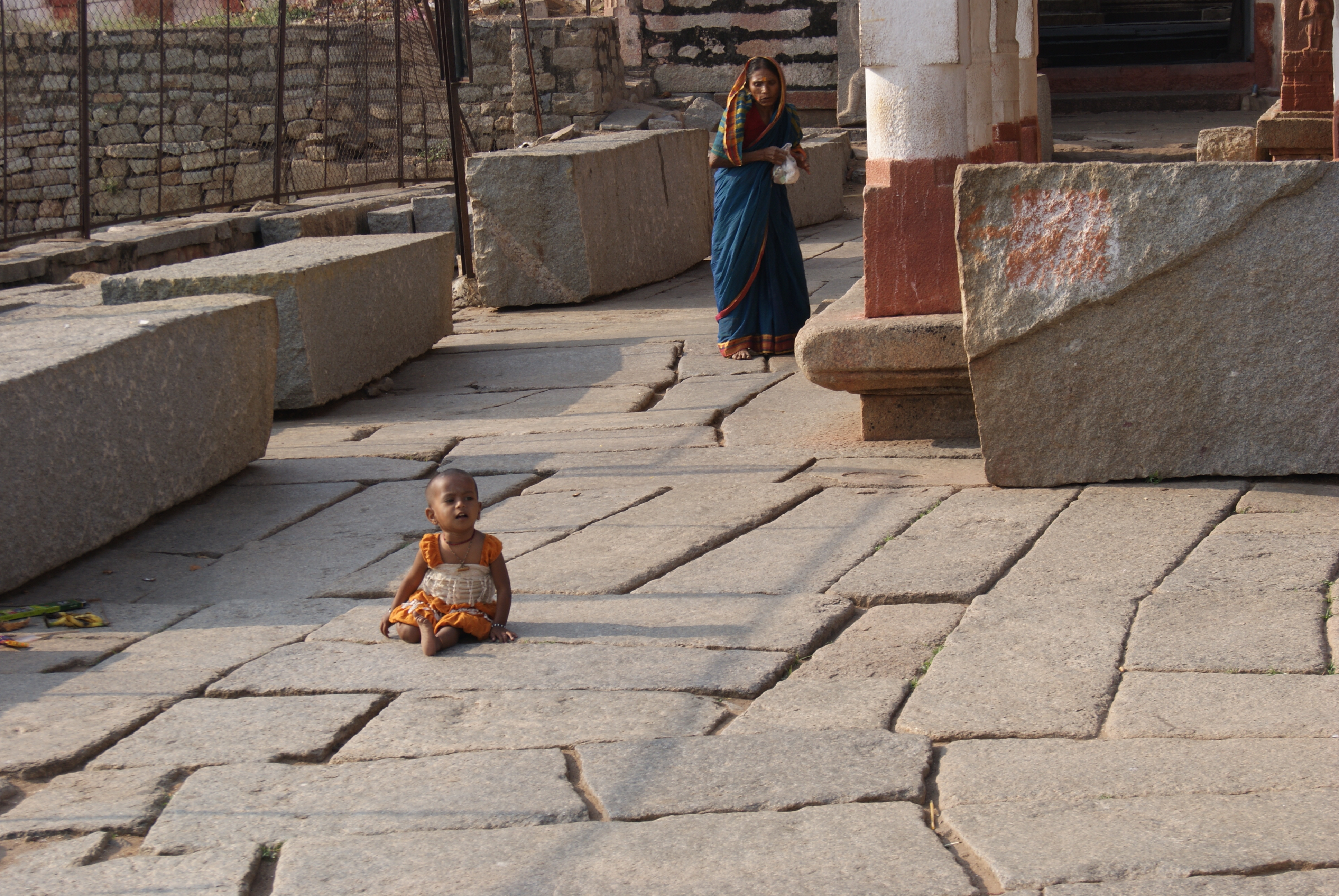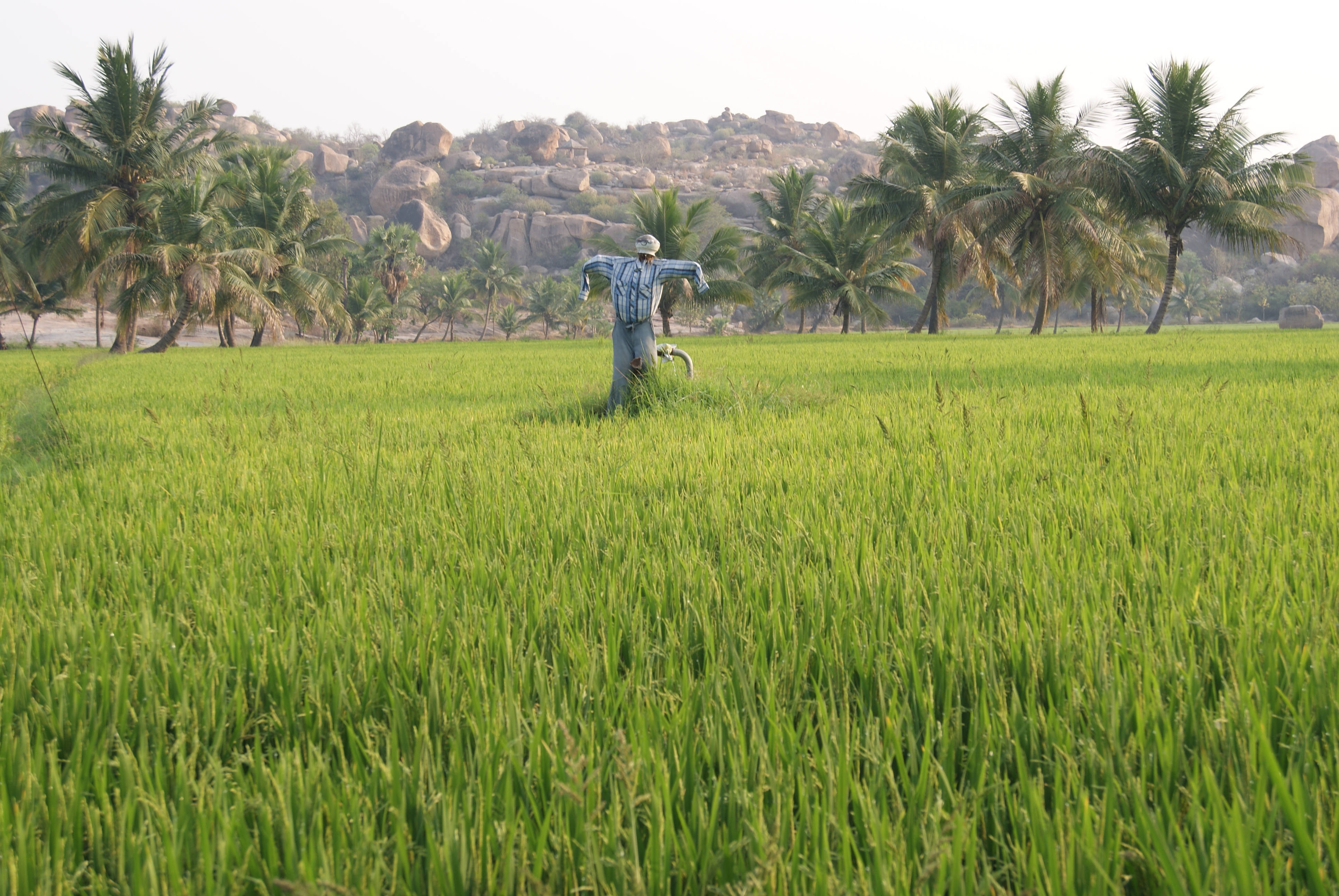 Rice field across the street from our hostel

A place to wash your feet at one of the temples
We go back home to nap, and then head to The Laughing Buddha for dinner. It has the best atmosphere yet, with candles, Bob Marley posters on the wall, chill music and pillows on the floor instead of chairs. The walk there through small paths seems a bit sketchy though.
The next day we wake up early to go see the main temple, Virupaksha, and the elephant. Absolutely amazing. For 10 rupees, Lakshimi will smooch (bless) you, which feels, uhm, funny. Sara takes the most unfocused picture ever, so I try going back to do it again, but an elephant never forgets, so it refuses to accept my money.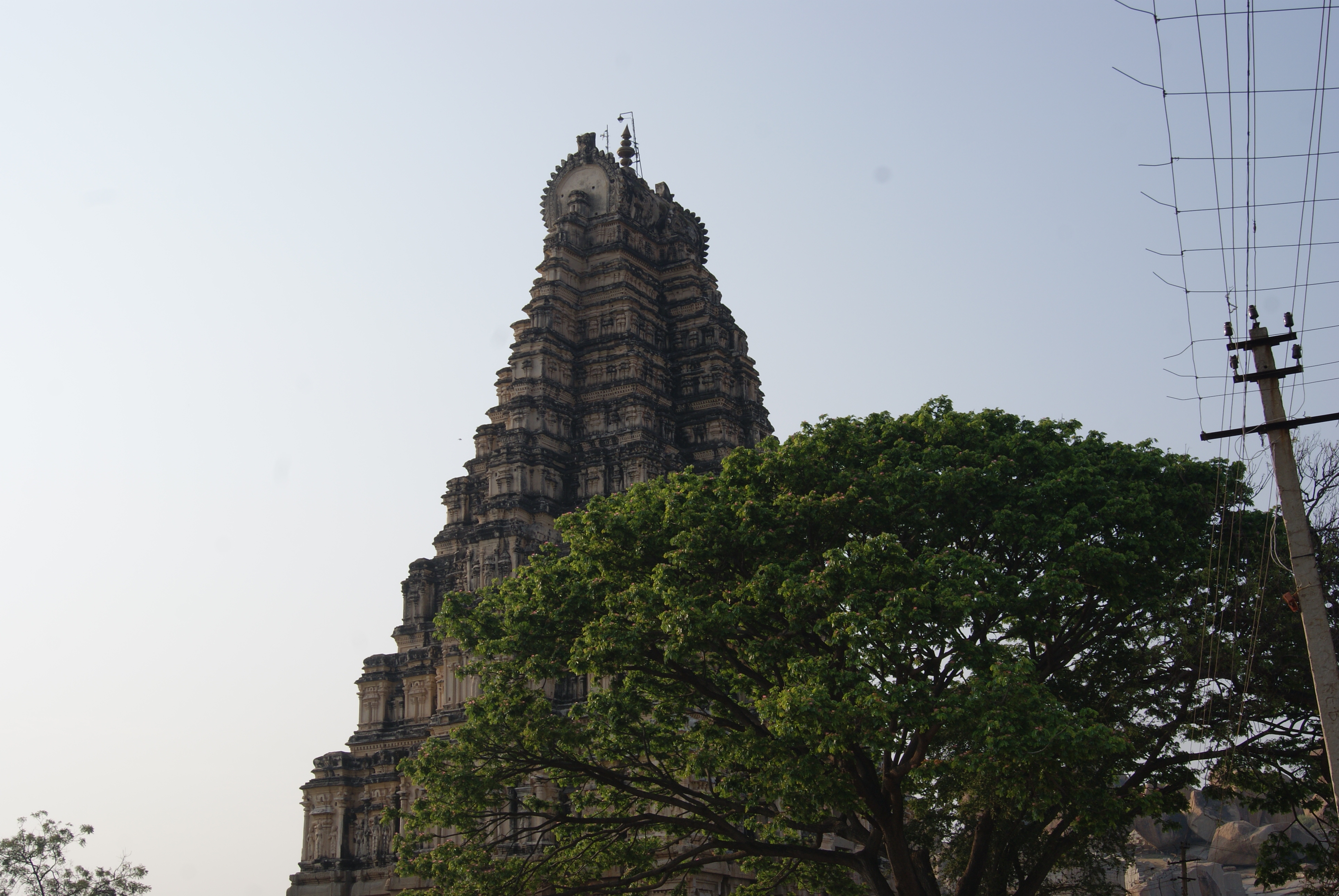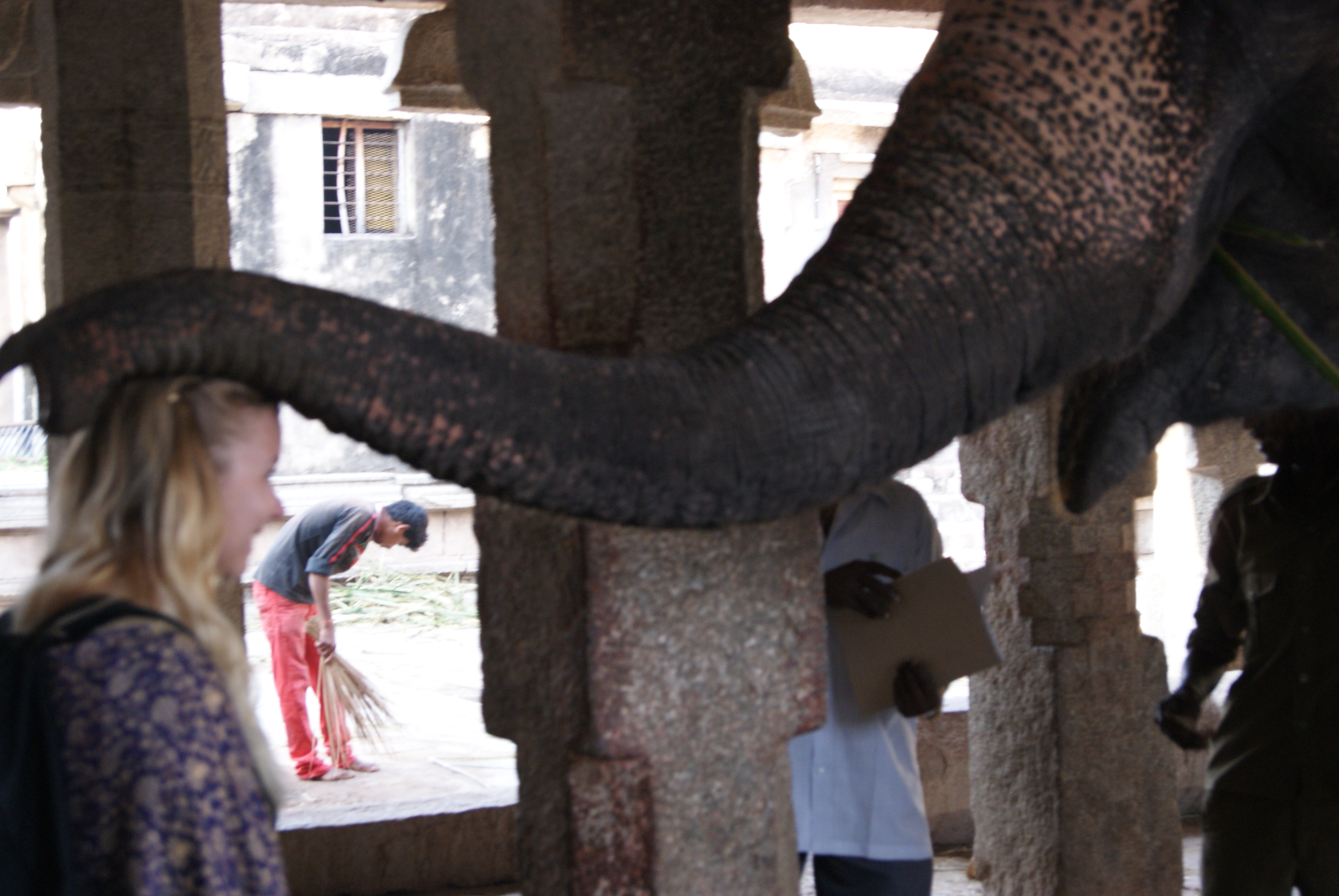 The kid is obviously excited about this elephant. At home, we pay to see them. It's called a zoo.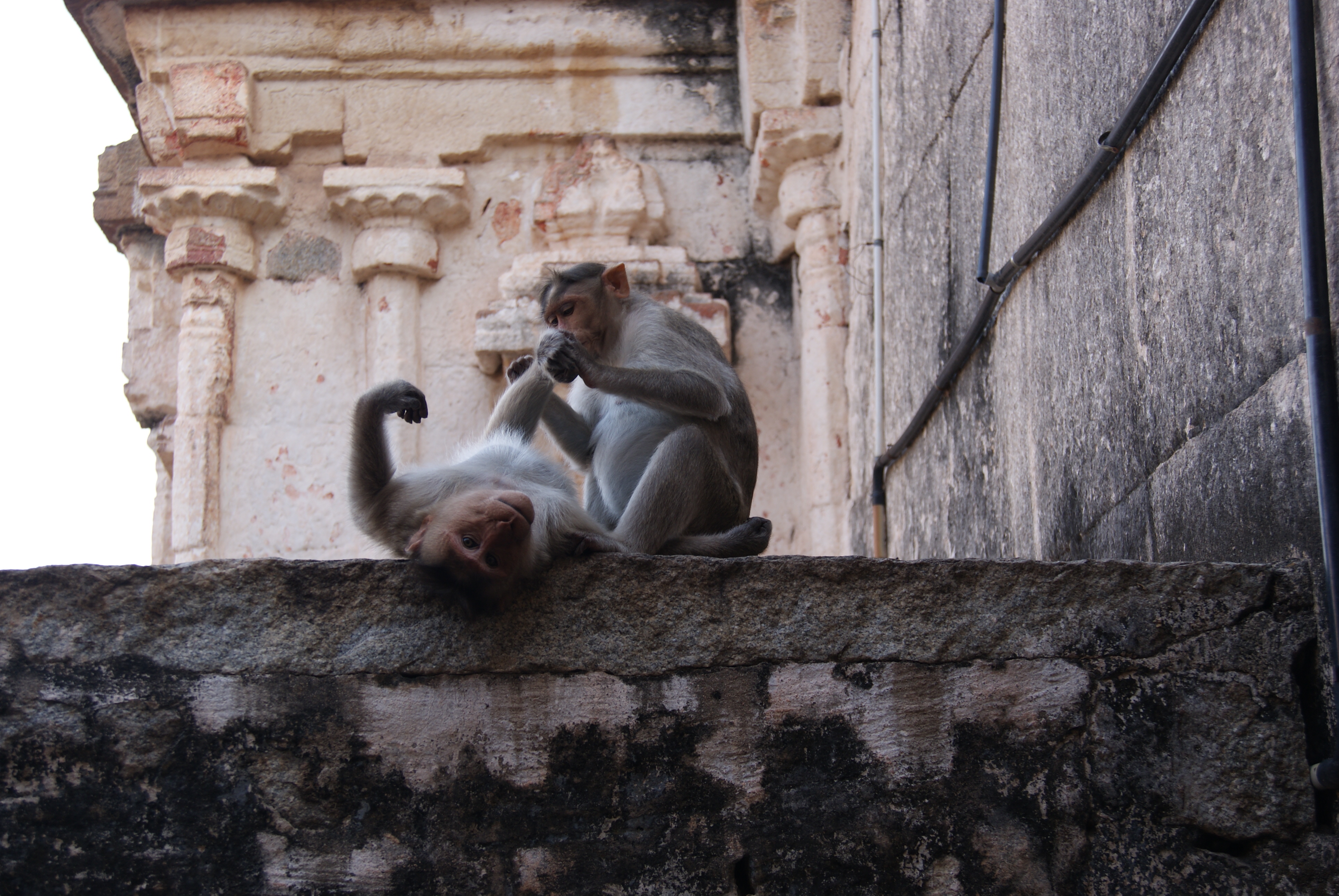 There are so many monkeys around the temple, it's (pea)nuts.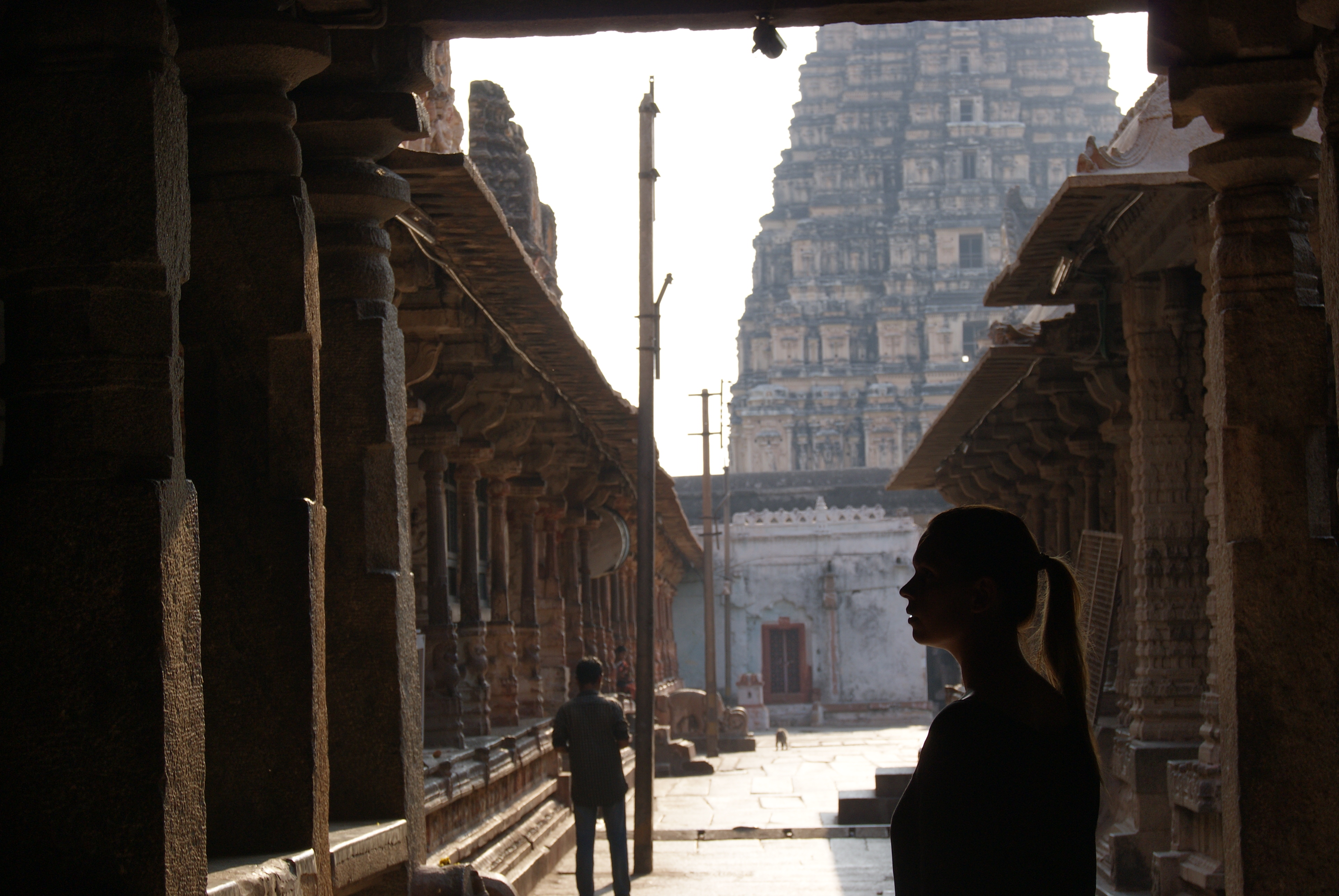 Groups of young local people approach us and ask for pictures with us. It's pretty common for tourists in India to experience this, but this is our first time! I feel like a celebrity! Actually, thank God I am not a celebrity back home, this will get old really fast.
As we are walking out of the temple, two men dressed up in God-know-what approach us and ask for a picture, too. We get the feeling that they want us to pay afterwards, just like the gladiators do at the Colosseum in Rome, so we politely decline. They don't back down and we explain to them that we do not have any money on us, which they say they're fine with. I take a picture of them with Sara, the one of me is too blurry to make out.
After the pictures have been taken, SURPRISE SURPRISE, they want money from us. We just tell them the same thing we did before, and they let us go with the promise that we will pay them next time we see them. Yeah right.
For lunch we go to The Mango Tree, that unfortunately is not the same as in Vagator. It's still very cute though. We also look around the bazaar and buy some stuff, and I meet a couple of kids and have a "sword fight" with them. So adorable. At this point, we are just a nose ring away from looking like every other tourist around here in our tank tops, harem pants, messy hair in a bun and colorful anklets and toerings. I swear I also have a Ganesh T-shirt now.
For post-lunch snack and dinner we go to Sai Plaza, which is close to our hostel and has terrible service and just alright food, but at night they show The Wolf of Wall Street, so we decide to come back for some entertainment. Although a sign in the restaurant specifically says "no drugs allowed", a couple decides to pass a joint around, and the guy sitting next to us holds on to it long enough to finish it. It's kinda off-putting when you're eating, really.