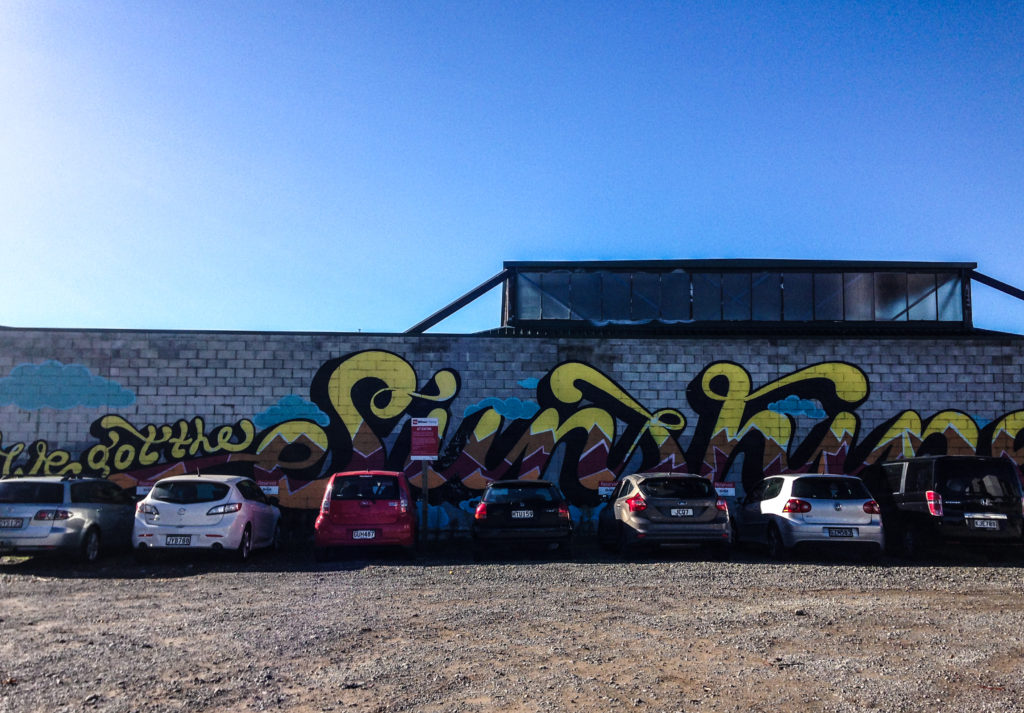 Christchurch, New Zealand: the end of an era.
I am down to my last days of living in a car, out of a backpack, travelling. There's a tight ball in my stomach and I can't tell whether I am sad or excited, but I say it's both. It's always both with me.
We are sitting in Marshmallow, driving towards a new destination, blasting our favourite music and singing along to every word. We know that our driving days are numbered, but pretend that we don't. Before we get to our destination, All Stars Inn, we stop at Willowbank Wildlife Reserve to tick off one last, ultimate point on our bucket list: seeing a kiwi bird. After seeing yet another duck and llama or alpaca, we finally enter a dark, silent room, designed to look and sound like the wilderness at night. A kiwi comes out of hiding in one of the "bushes" to pick at the ground, looking for food I guess, and I'm surprised by the size of it. I imagined kiwis to be a lot smaller.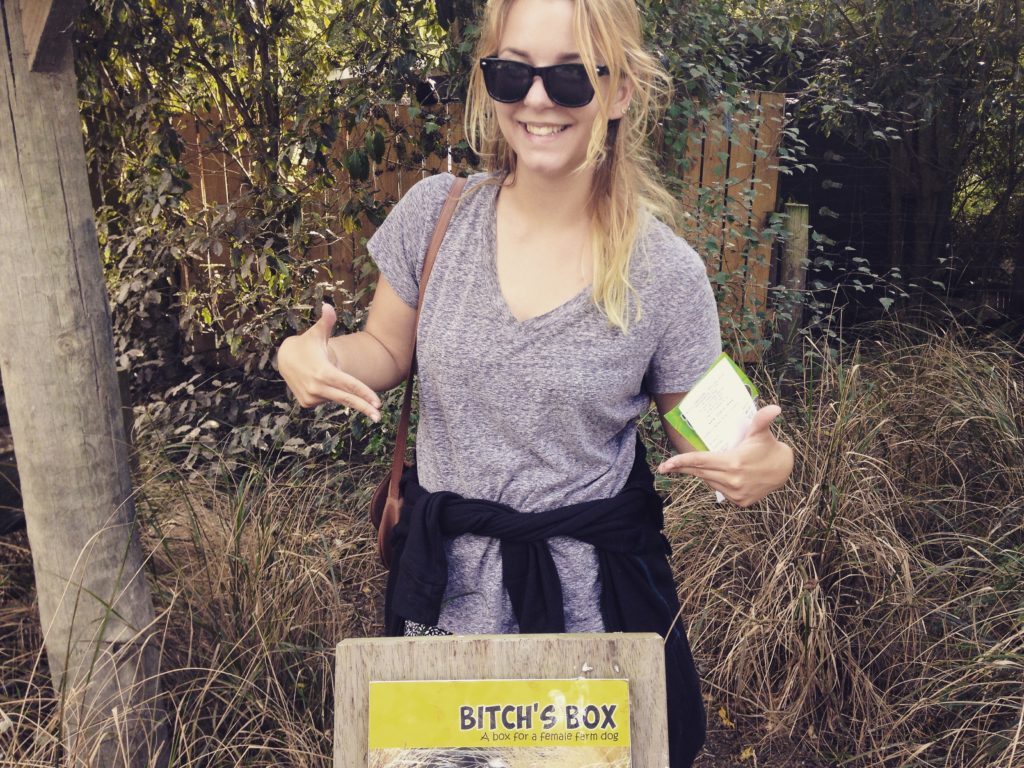 After seeing a bunch of animals and getting our caffeine fix, we park Marshmallow by our hostel, check in, and then proceed to clean her out. We sort things into piles (food, things to sell, things to toss, etc.), and it's rather sad taking out all the things we once excitedly threw into the car to make a home of sorts. I'll kinda miss sleeping in the front seat.
We are put in a six-bed dorm with only two other guys, who are anti-social to say the least. They are napping when we check in at around 3 – no judgement here, 3 PM is my favourite time to nap – and then go out, only to come back again at some ridiculous time at night so they can sleep in all of the next day. Having thrown all my stuff into vacuum bags and my backpack, it's not easy getting ready for the day without being super noisy. I hate myself for it, but I hate them more for making me feel bad for getting ready at 10 AM.
Craig and I walk all the way to Riccarton Farmers' Market, and instantly regret eating breakfast before coming. It's a rather busy atmosphere, with heaps of food and drink stalls on both sides of a long path in the middle of tiny Riccarton Bush park.
We walk around the entire market several times, indecisive as usual. Craig eventually settles for a hot dog, while I get a pulled pork roll with coleslaw and chipotle aioli.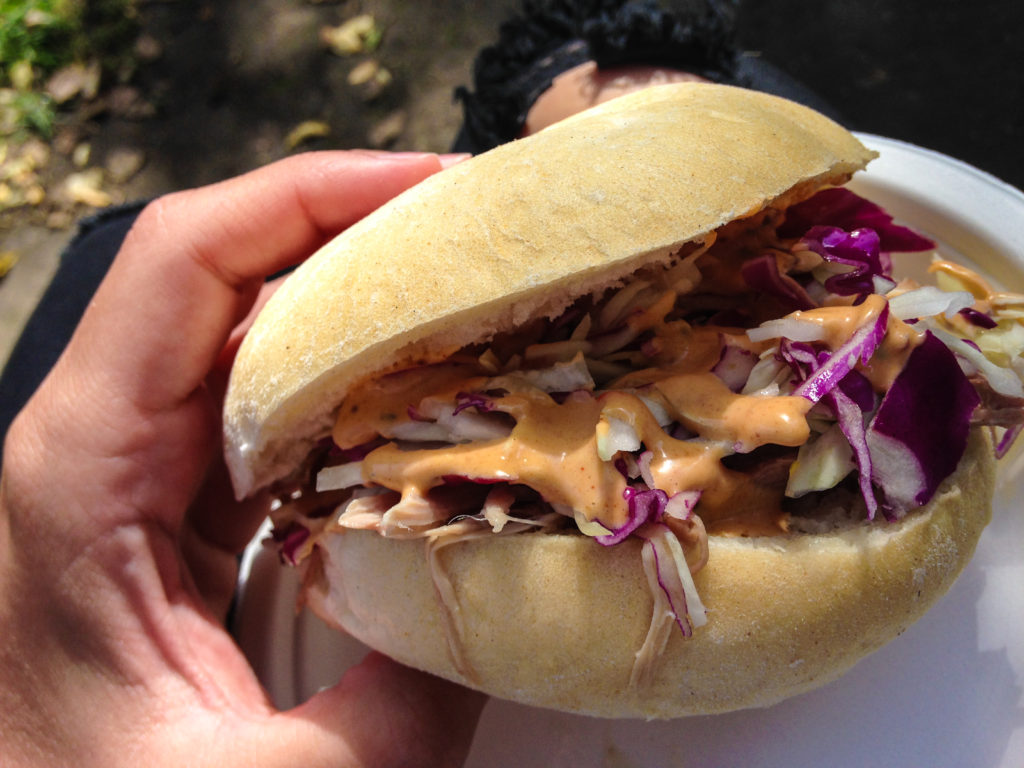 We find an empty bench by the stream going through the park and devour our food while people-watching. A dad has a hard time trying to control his toddler, who really wants to jump in the water or hang out with a group of teenagers sitting on the grass next to our bench. Two tourists are standing by the trash cans on the path, trying to figure out which one to throw their disposable plates into. By now I've finished my food and want some more. There's no way we walked this far to only try one thing.
Right next to the stall where I got my pulled pork roll and had some awkward small talk with the guy making it, there's a gelato/coffee/waffle stall. My inner Leslie Knope is dragging me towards it, so I give in and have a waffle with cinnamon-vanilla-apples, mascarpone and walnuts, while Craig has a whipped cream and berry kind of thing going on.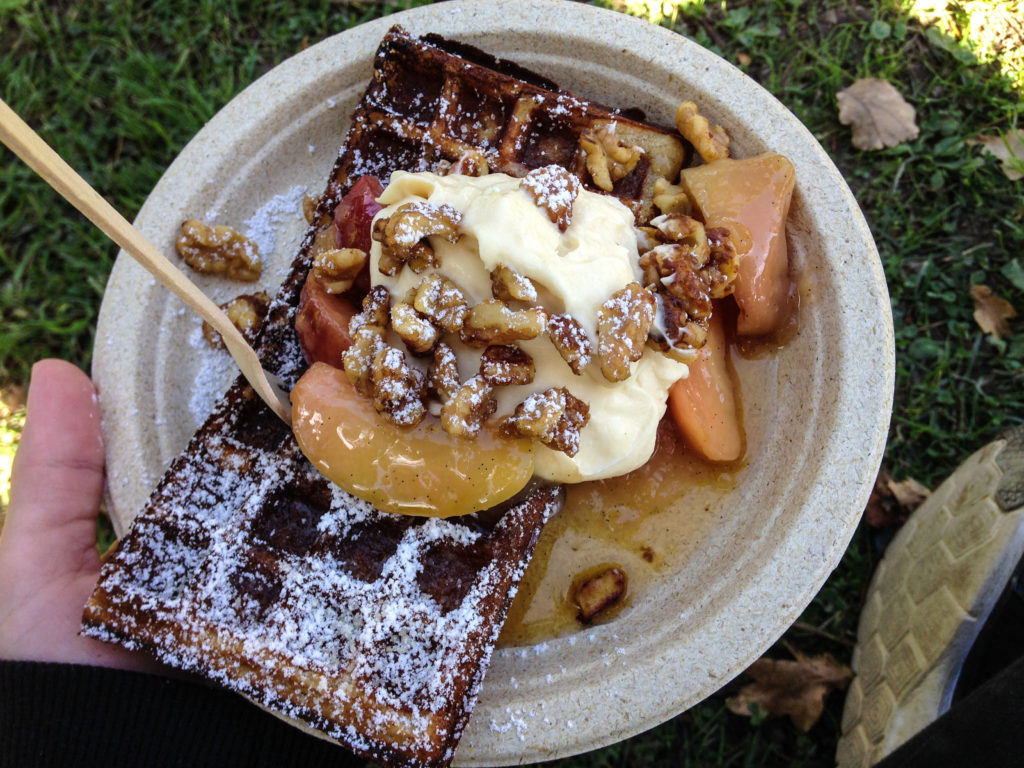 We sit on the grass right next to the stall and eat until we feel like passing out, but there's no way we walked this far to only try two things. On our way out, we grab a cup of fresh lemonade, and only then do I think we've explored enough.
As we embark on the Avon river walk from the Botanical gardens, we notice what a beautiful day it is. It's warm and sunny, and the park is buzzing with life: kayaks and gondolas floating by, joggers, families having picnics and tourists clutching their cameras, photographing every single flower on their way. Even though it's Autumn, today feels like Summer. We see the adorably vintage-looking kayak rental place, walk the Bridge of Remembrance and check out the stores at reSTART, a mall made of containers after the 2011 earthquake destroyed most buildings in the City Mall.
We pass New Regent St and eventually end up at a countdown, where we buy stuff for tonight's dinner (alfredo pasta and award winning white wine, because TREAT YO SELF!).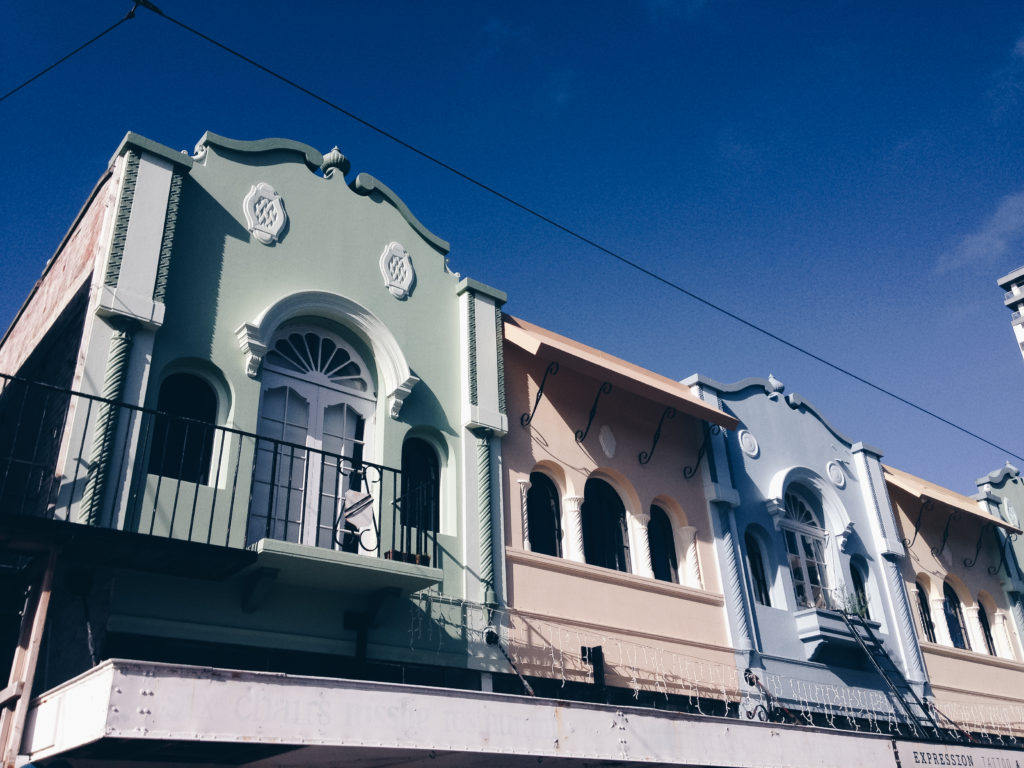 The next day we walk back to Riccarton, as we hear about a Sunday market taking place. Unfortunately, it's much further away than Riccarton Bush, so we give up and go back to the hostel to watch Madagascar, because the lemurs at the wildlife park the other day had us feeling all nostalgic. Meanwhile, our room is filling up with a group of English boys and a Canadian girl, who we chat with while the rain starts pouring outside. Bad weather means there is a lesser chance of us exploring and more chance of us going to a bar, and that's exactly what we do. Speight's Ale House is right next door and we invite the Canadian to come share a manplatter and some ciders for dinner. As I approach the bar and order a pint of cider, the bartender shockingly doesn't ask to see my passport, but just asks me how old I am. I am so shocked, I have to think about my answer. I ask him if he doesn't want to see my ID, and he says he trusts me, because if I am lying to him, he'll kill me. Okay…
We sit for a few hours until jetlag hits Canadian chick hard, but Craig and I stay behind for a few more drinks, and we're in bed at 8:30, because we're old and boring. At 1 in the morning, all the English boys come back after a night out, and the dude above me starts pulling off all the sheets and whatnot, making the bed shake and creak for at least 5 minutes, and now I am wide awake. It gets worse, as one of them is off to his next destination at 5 in the morning, so he gets up and starts packing for ages, and then wakes all the boys up one by one to say goodbye. So he wakes me up at 5, packing his stuff and being loud, and then he goes over to my bed, stands there with his crotch basically in my face and has a chat with my top bunk mate whom I already hate, and they're not exactly whispering while saying their goodbyes. When I get up at 9 and start packing and getting ready for the day I actually feel bad to wake these people up, and then I think why? They have been rude, and I am waiting till it's socially acceptable to start disturbing their peace. I don't even turn on the lights, because I feel so bad, so I pack in absolute darkness.
Craig has decided to treat us to a twin room so I can do my final packing in peace – and so we can drink in the room. After throwing all of my stuff in my bags, we grab the keys to our new room, which is just across the hall, and then we throw our bags in there and head out for the day. As the 2010 and 2011 earthquakes have had devastating effects on the city, we visit the earthquake museum, Quake City, to learn more.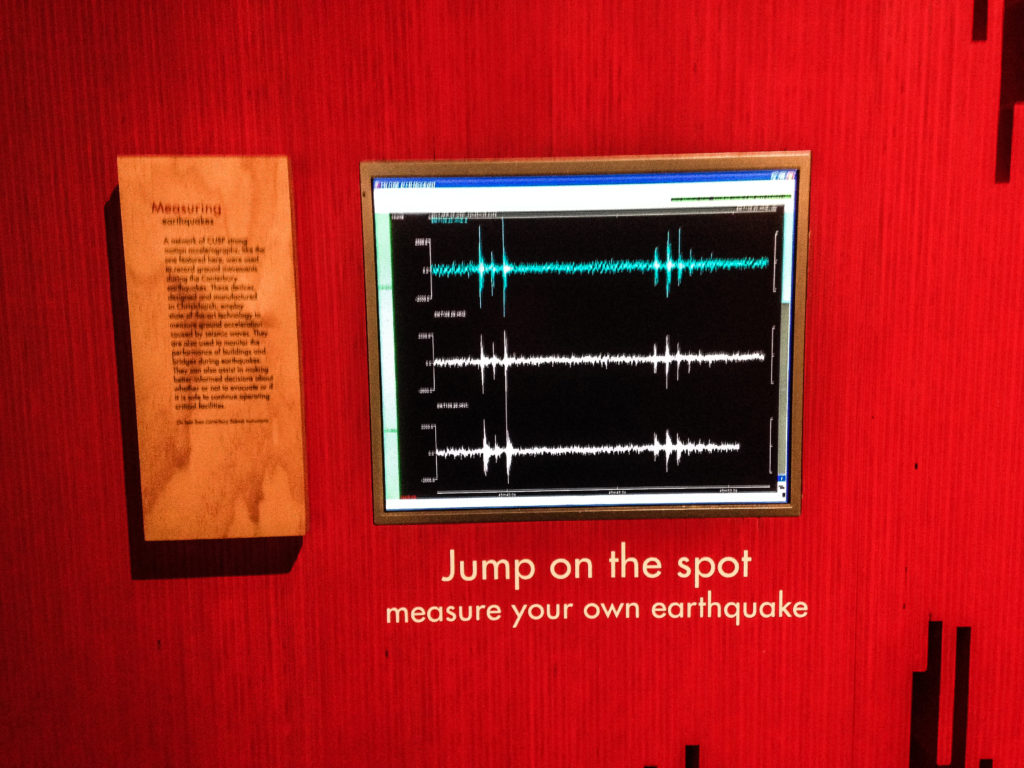 As we look at pictures of destroyed buildings, watch videos of survivors telling their stories and look at pieces of broken historial buildings, I start to tear up and I feel embarassed. It's perfectly reasonable to feel emotional about such a devastating event, but I dislike having such little control over my tear canals in such a public place. I drown my sorrows in sangria and super expensive food at Mexico, which is beautifully decorated and with very charismatic wait staff. The pork belly taco is to die for. Unfortunately, the fried chicken and the quesadillas are way too spicy for my sensitive taste buds, so I can't comment much on the flavour of the dishes, as they just taste like fire to me.
Afterwards, we take our very last trip in Marshmallow and drive to Lucky Rentals by the airport to give her back. We feel sad – and homeless – as we walk away from her, but we also cherish the memories we have of sleeping by lakes and beaches and constantly stopping for gas. Thank you Marshmallow.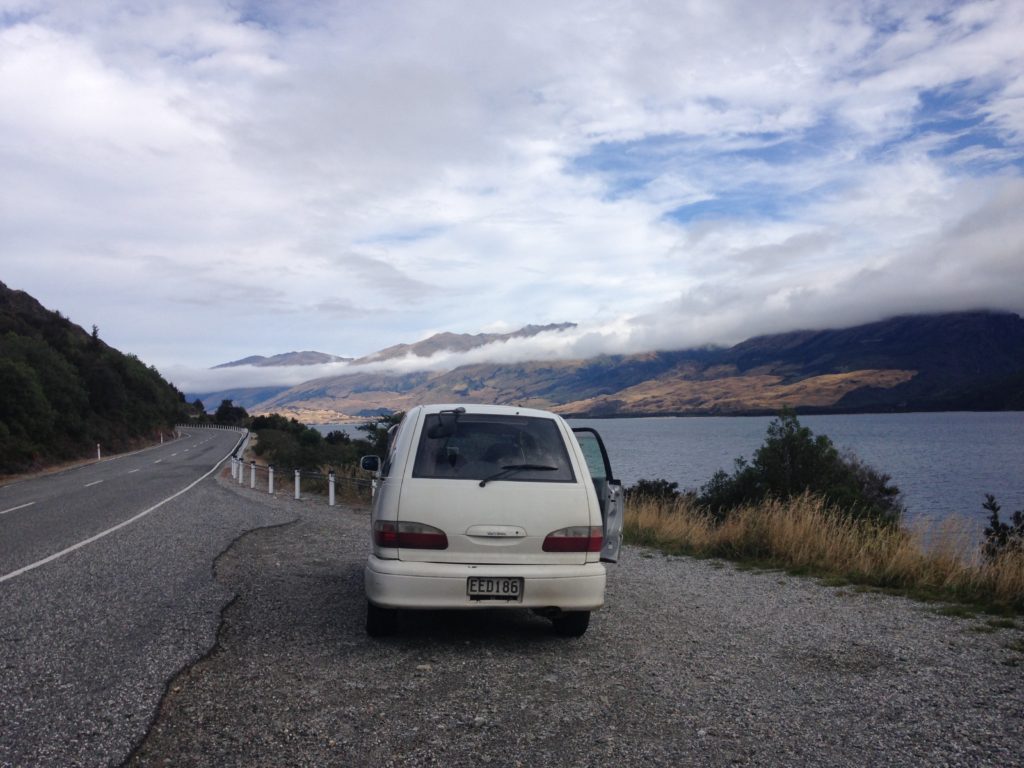 We go back to the hostel, lock ourselves in our room and put on a playlist Craig has made, consisting of our favourite road trip songs. Here it is. You're welcome.

We open a bottle of wine, play a drinking game where he goes by the name Banjo and I have to speak with a Southern accent. He also gives me a present: the inflatable unicorn horn for cats, which I had admired in one of the reSTART shops when I bought a flask for Terese the other day. I wear it, along with Sharon's Disney villain nightgown and my very own insane hair, and I'm almost embarassed to go to the bathroom and letting people see me like this. Almost.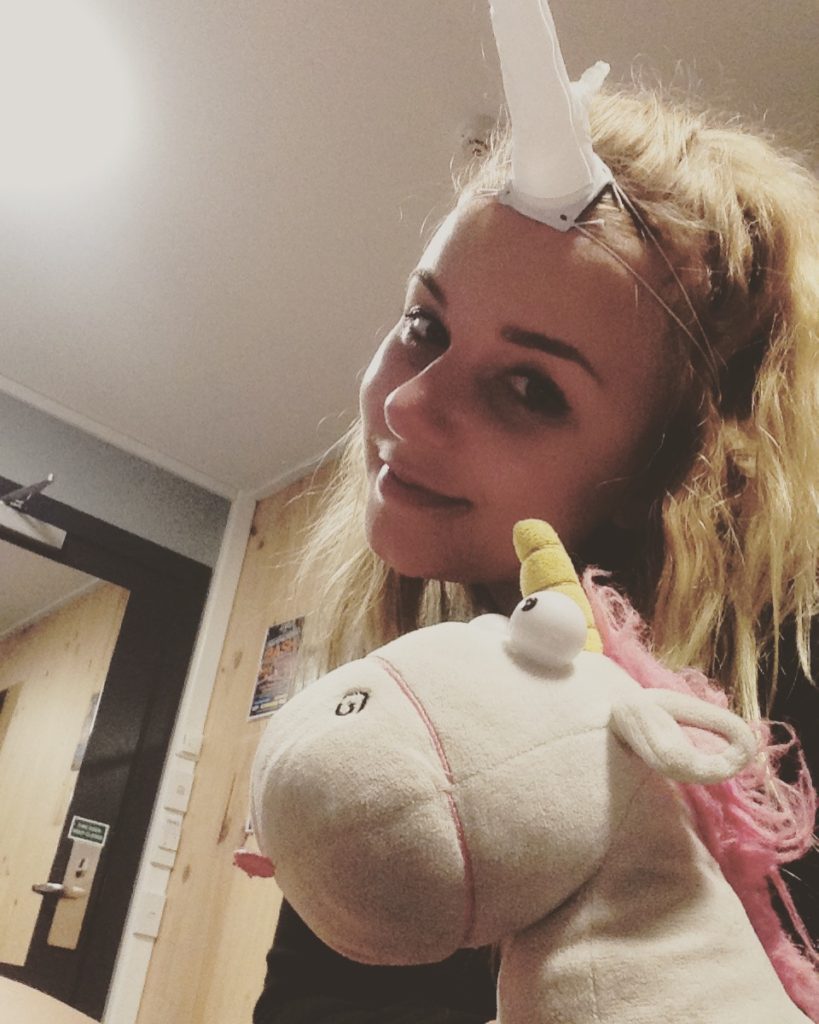 We get drunk and emotional and even drunker and then we sleep, because that is what we do. Cheers to Marshmallow!