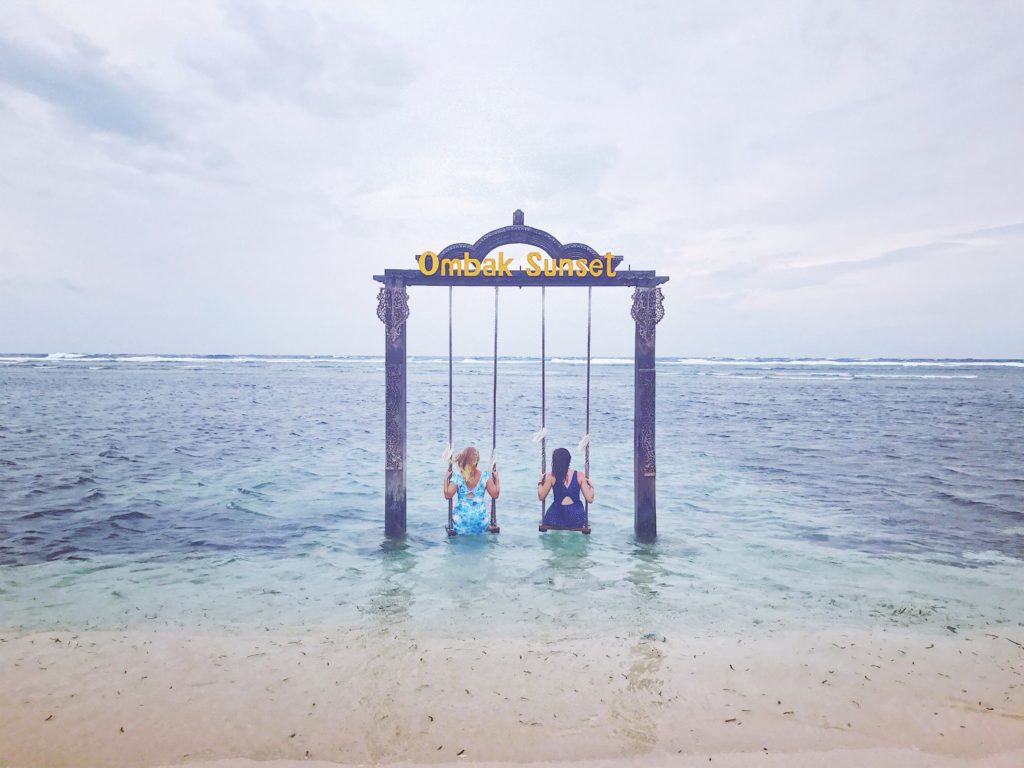 Bali, Indonesia: a holiday from my holiday, part II.
(read part I here)
The plan has been to go to Gili Trawangan, but the weather has forced all boats to stay put, so our only option seems to be going to Lombok and try to catch a ferry from there. Our flight ends up being several hours delayed, so we drink beer at the airport and walk around, trying to get an update on the flight. Because of the delay, we have a late arrival at Artati Lombok Bungalows, which is a long, but beautiful drive from the airport. It's very secluded and we seem to be the only guests, so the staff has been bored out of their minds until we get there. Because of the heavy rain, there is no electricity, except from in the restaurant/reception area, so we have dinner and a few drinks before calling it a night. In the morning, we take advantage of the super cool infinity pool and float around on a giant seashell and take a million pictures to the sweet sound of Pete complaining.
We then check out and drive to Senggigi, where we are staying at Jo Je Bungalows. It's right on the black-sand beach, and next door is a super cool bar and restaurant called La Chill. It's really is la chill. We have a nice lunch and two jugs of sangria, before I go for an elegant, drunken swim in the ocean in the rain, and then I have a nap. For dinner, we go back to La Chill, and sit on the bean bags on the beach and share a hookah.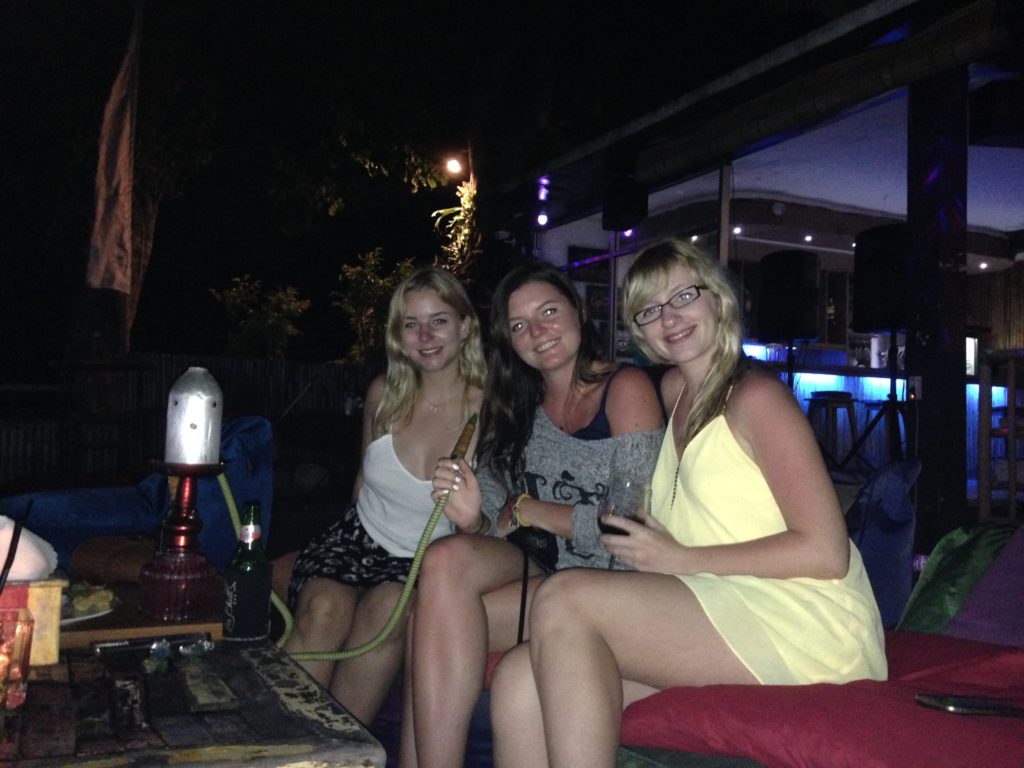 Pete wakes us up super early the next day, as we are waiting for the receptionist to give us an update on the boats to Gili T. While having breakfast, he lets us know that a shuttle going to the local ferry port is due to arrive in like 5 minutes, so we grab our things and get out of there fast. Gili T, here we come!
In true Backpacking-style, our shuttle is moving along slowly, eventually passing a giant sign saying "Malaka", which gets all us Pink Palace pals super excited. We finally reach the "port", which is really just a beach at the end of a narrow, muddy forest road. Waiting with us is about 200 other backpackers who are just as thirsty for Joss shots and snorkelling with turtles as we are.
The local "ferry" is a tiny, wooden boat with too many passengers and loads of goods being transported to the island. We are pushed way up to the front of the boat, which barely has any cover, so we get sprayed by "refreshing" sea water every time a wave hits the boat. The sea's fairly rough, so that happens a lot.
Aga grabs me by the head and basically shoves it in her lap while she whispers "I'm saving you". I don't know what she's talking about, but I go along with it, until I want to sit up and realise there's a big and toxic-looking (black and yellow) spider right behind me. Of course, all the girls in our immediate area are a bit scared, so while I sit on Aga's lap to get away from it, I make the courageous decision to be a hero and kill it. I grab my sandal, whack the spider while the girls let out a scream that catches the attention of everyone on the boat, and then I take a rag and bury Brian, the spider, in it. By then, a white sandy beach and a giant, colourful sign reading "Trawangan" has welcomed us.
It's been two years since we stayed here, but we know the way to our hostel like it was yesterday. Gili Backpackers is now known as Gili Castle and there are no dorm rooms anymore, but it's still the same social place with a climbing wall, pool and joss shots. We have a Joss shot and Bintangs before getting on bikes and riding to the other end of the island to see the Ombak Sunset swings. While Pete sits and complains about travelling with girls and how many pictures we take, we get our swing photos.
All that hard work has made us hungry, so we ride back and have lunch at Kafe Kecil, before getting in the pool back at the hostel, drinking and encouraging people to use the climbing wall, while not doing it ourselves. Actually, Pete climbs the wall, possibly to avoid getting peed on by drunken girls for a while. Eventually it gets dark and we start drinking (for real) at the long table with other guests. I chat briefly to a Geordie dude and a chick from New Zealand, and at 10 pm the owner forces a Joss shot down our throats and drags us to Jungle Bar, a club that doesn't look all that great, but it has awesome music, so two Bintangs later, we are on the tables, dancing our asses off and I'm avoiding a horny Will Arnett-lookalike, despite basically being Amy Poehler myself. We know how their marriage worked out, so no thanks, Will.
I reach a point where I'm tired of running away from Will Arnett, and I'm hungry and Bintangs don't taste that great anymore, so I tell Pete and Aga that I want to go home, and they follow me in the pouring rain until we see Geordie Dude at a local food stall, eating chicken noodle soup and watching X-Factor. We join him for some food and then it's time to crash.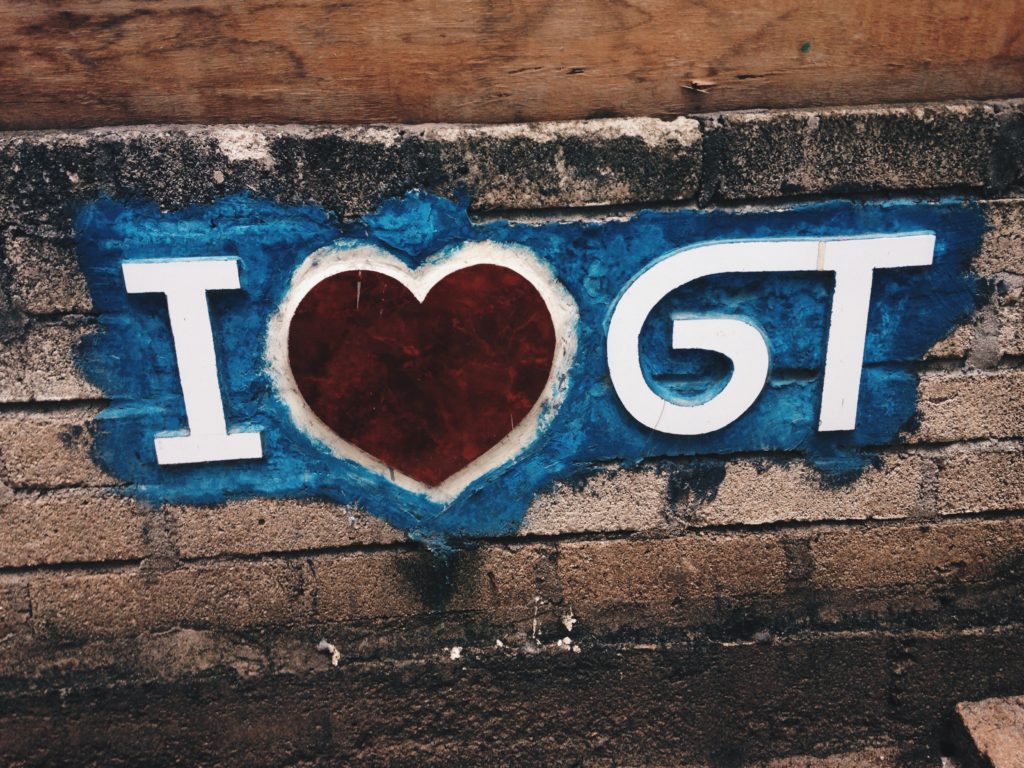 The weather hasn't improved the next morning, which is the day Aga and I need to head back to Kuta for our flights home. We squeeze in a little snorkelling in the rain first. We grab some gear, walk up to the turtle point and dive in, but the water's rough and it takes us ages to get past knee-deep water. We don't see any turtles, but we have fun diving under the waves and looking at the few fish around us. It's then time for Aga and I to check out and head to the port. We've booked the ferry and transportation to the airport at one of the many travel agencies on the main street. They assured us we would be taken to the airport in time for our flight, but we get on a very rocky boat in a very rough ocean, and when we arrive in Lombok, a guy takes our ticket, shows us to a waiting spot and lets us know that our shuttle will arrive in an hour and a half. What the fuck? We have a long argument with him before he gets us a private driver – for an additional fee. We have been completely screwed over by the agency, having to pay a driver just to make it to the airport in time for our flight.
We do make our flight, and after trying to negotiate with taxi drivers trying to rip us off, we get a cheap one to Kuta Square, where we are staying at H-ostel, which is a new hostel that I'm very impressed with. It's small and not very social, but the location and facilities are amazing. We have dinner at Burger King (not Hungry Jacks!) while wearing the BK crown, and then we aimlessly walk around while my stomach starts to act up, as it has most of the week. I don't really feel like drinking heavily, so a trip to one of the many clubs is a no-go. We stumble upon an outdoor bar close to the hostel with live reggae music, so we sit our butts down, have a few Radlers and listen to some great music. The rain starts to come down, hard, and we are forced to dance to a reggae version of Down Under in honour of an Aussie lady's birthday, before we go home.
Our last day in Bali and together, Aga and I sit on Kuta Beach, where we meet Dave and his son Daniel from Australia. Dave treats us to a few Radlers and a great chat while we catch some sun and share a nice, cold coconut.
We then go to the nearby mall to get some clothes for Aga's plane trip, as she has lost it somewhere along the way, and we have running sushi at a swanky mall restaurant. I'm starting to feel really dizzy and ill, so we lay down back at the hostel for a little while, before getting restless. This means we grab our last Bintangs (and Bintang gelato!) together at a nearby bar, before going back to pack our stuff.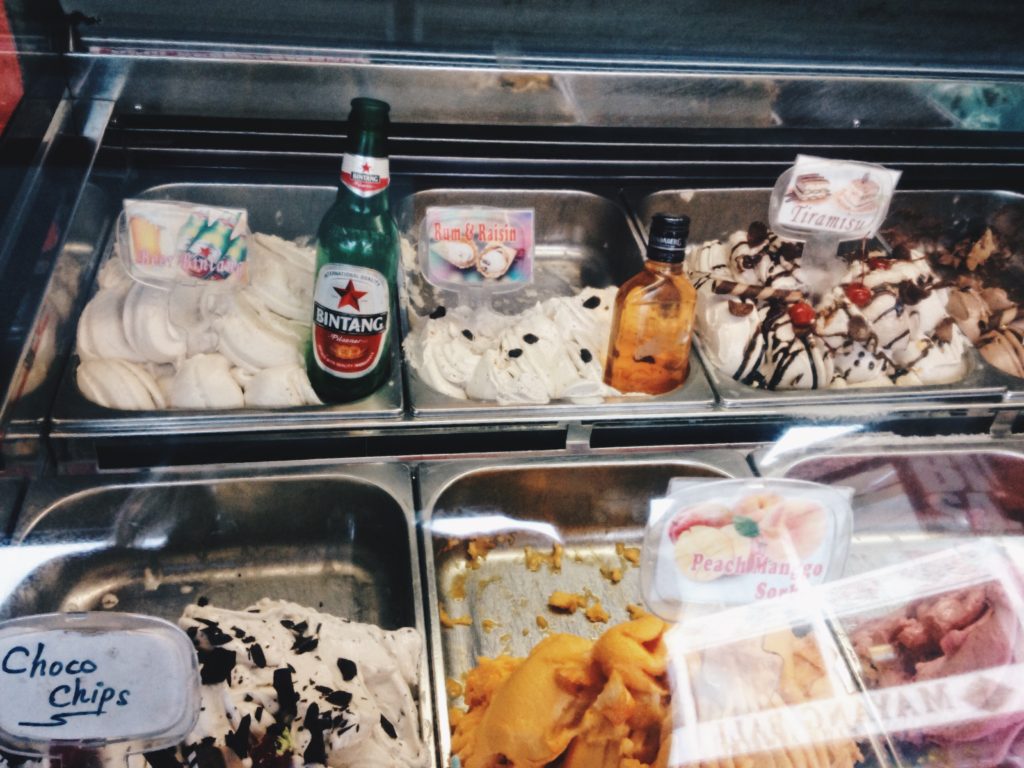 By the time we are done packing, we are less than an hour away from getting into our pre-ordered taxi to the airport. I receive an email from Jetstar, stating my flight's been cancelled. My options are:
Wait 24 hours for the next flight and miss work on Monday
or
Pay $650 to get an earlier flight, meaning we have to leave, like now.
I panic and choose the latter. I'm crying in the taxi to the airport, going through all the security checks with severe anxiety, buy some quick dinner that I eat while running towards the gate, dragging poor Aga along with me. Virgin makes me throw out the big water I (Aga) just purchased for (me for) the long flight. I then hug Aga goodbye, and board the plane. It's just me and an older guy sharing 3 seats and he politely lets me sleep on two of them, which he probably regrets big time during the 6 or 7 hours my sleeping head rests against him while I am curled up in fetal position, suffering from fever, chills, and painful constipation. I feel incredibly ill, but manage to sleep through it everytime the air hostesses stop by offering free drinks, so I eventually have to hunt down one to get a cup of water before it starts: the diarrhea that will haunt me for the next 4 days.
My flight sadly isn't direct, so I land in Brisbane in the early hours of the morning, where I have to claim my baggage and go through customs and check-in to my flight to Sydney. Of course my baggage doesn't show up for ages, and then I have to wait for a bus to the domestic terminal, which is super late and takes ages to reach the terminal, making me seconds late to the check-in. Luckily, no one gives me any crap, and I go straight to the terminal, buy a Coke that I get to bring with me on the plane for some reason and my butthole just has a fucking fiesta at the airport bathroom. A few hours later, I am in a $20 taxi (fuck you, Uber), going back to Waratah Avenue, Randwick. I get straight into bed, despite it being 10 in the morning, and only get out of it the next few days to work, shit or almost throw up. No food, no alcohol, no pills going down, just a good ol' case of diarrhea and nausea for 4 days. And so, on Valentine's Day, I poop my pants. At least it feels warm, like I imagine being loved would.