Rotorua and Taupo, New Zealand
It's time to Zorb! Zorbing is when you get into a transparent orb (huge inflatable ball with a bit of ice cold water), and then someone pushes you down a hill. Since it originated in Rotorua, why not try it there? We go for a zig-zagged course one by one, because that seems like much more fun than two people in one orb, falling into each other while rolling down a straight course on the hill. After the washing machine treatment, we are soaked and need to dry off and change into dry clothes in the bathrooms, where I forget my towel, only to realize this several hours later when I am getting into a shower.
Still in Rotorua, we get our dirty clothes and my wet shoes washed and dried at a laundromat. The guy owning the place helps me scrub my stinky, muddy shoes with hot, soapy water, and then we try to dry them in the sun while waiting for the clothes to wash. In the end, my trainers are still wet on the inside, and everything else is crisp and warm. Then it's time to drive towards Taupo, where we are staying at Thermal Valley Camp Site, which is perfect not only because of the hot showers, but because of all the animals! Cats, rabbits, chickens, peacocks, sheep, horses and alpacas! After a hot shower and cooking more pasta with our last bit of tomato sauce, I continue attempting star photography and then we fall asleep not long after.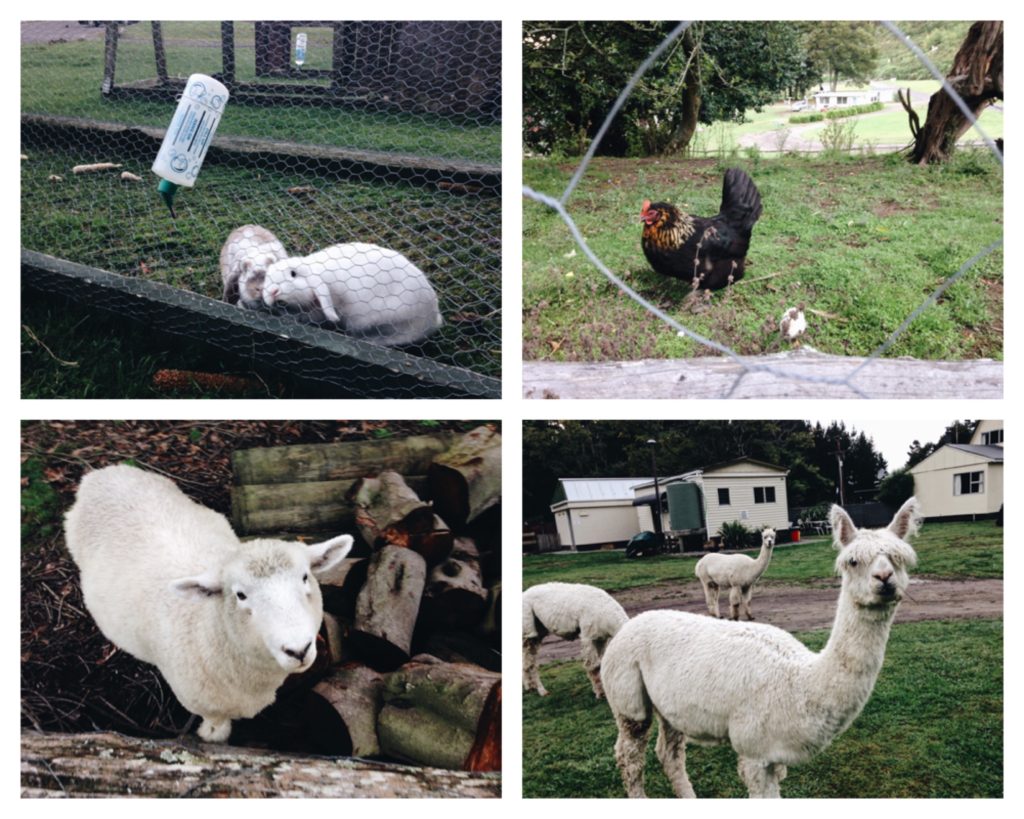 I wake up to the sight of the alpacas and sheep running around freely while I grab some coffee. It's the best night's sleep I've had since coming to New Zealand, and it still hasn't been great at all. I'm sad to leave the camp site, as it kinda reminds me of the camp sites my grandparents would take me to as a kid. Plus, I am loving quoting Napoleon Dynamite every time I pass an alpaca.
We drive to Huka Falls and have a quick look, because it turns out to be disappointingly small. Size matters, guys. The water is undeniably crystal blue and gorgeous though, so we do walk around and get some photos from different angles, but they are hardly impressive to look at. Sorry, Huka Falls.
We then drive to the Craters of the Moon. We have a nice long walk around the steamy craters and take silly pictures and an old American couple strike up a conversation and we learn that they have a Danish last name and are travelling the world in a campervan. Goals.
And here is some visual toilet humor. You're welcome.
After getting back into Marshmallow and DJ Christ blasts some tunes, the road and Chauffeur Craig takes us to Lake Taupo.
It's an absolutely gorgeous little town. We walk around the promenade and awkwardly stand in line for ages to get a picture of the #lovetaupo sign. Then we have some lunch on an old platform in the water. We climb under a fence and do a steep walk downhill to get there, but the view is worth it, although by the time we climb back up, a group of four very attractive guys are standing by the fence and internally debating whether to follow our example or not. While I awkwardly climb up, they decide not to.
Then it's time to drive aaalllll the way to Waikaremoana. We stop at Waipunga Falls, ironically as Waterfalls by TLC comes on the radio.
For some leg rest, we also pull over at Lake Tutira, which beautifully mirrors the surrounding mountains.
After 4 hours on the road we reach Big Bush Holiday Park in Waikaremoana, where we have a whole house to ourselves and actual beds to sleep in – but absolutely no phone signal. After the sun have set, we are in the middle of nowhere all alone, except for a huge swarm of mosquitoes. The wind coming from all the doors and windows that the staff have left open makes it sounds like someone is trying to get into the house, and the lack of phone signal is concerning if it turns out that it isn't actually the wind. Luckily, we survive the night.