So, on our first day in Vang Vieng, we pretty much think there is only really one street here and tha's it. We stay at Easy Go, which seemed nice at first, until we have to endure another night in a fan room, which makes us soak the beds in sweat. I wake up, feeling severely dehydrated and unable to do a simple task like showering or brushing my teeth, so we decide it's time to check out and go to Central Backpackers. Most restaurants play Friends all day and night, so we honestly spend two days just chilling on a bed of pillows, watching TV. I've been in this weird state of laziness since Bangkok, and I haven't wanted to drink or really meet people since then. It's quite awful.

This is what paradise looks like to the lazy backpacker
On our third day, we decide to go tubing, which is what this place is known for. We meet two Danish girls, Siw and Christine (random that I found another one, since it's such a rare name back home), and an American guy, Tyler. We all go to the first bar, shotgun a can of beer, have shots, play beerpong and then we go out on the water.
At the next bar, I play flipcup, have cocktails, more shots and probably another beer. You get a nice little bracelet for every shot you do. By the third bar I am wasted. I lose Sara in the grass somewhere between the third and fourth bar, and after drinking at the fourth for a while, I get worried. I have just assumed she was going to catch up anytime, or maybe she's met some of our friends on the way on gone back to the other bar. A guy I've been drinking with goes out to find Sara, but after 10 minutes it starts raining. A lot. He doesn't come back, and the girls at the bar start to get pissed with me that their friend in't back, so I decide to swim against the current in the rain to find her.
I am calling out her name, but nothing but the hard rain responds. The river is cold and dark, sometimes really deep, sometimes I can feel my feet stick in the gooey mud. I am scared, because I don't like deep and dark waters, and because all that I can think of, is how I have to call Sara's parents and tell them that their daughter has drowned. I swim for at least half an hour (since I wma searching very hard, and the weather makes swimming more difficult) before I reach the last bar we'd been to. It's packed with people, and I look everywhere, crying hysterically. Suddenly, a few of the people I have been drinking with see me, and run over to see what's wrong. They try to comfort me and tell me that she'ss alright, but I don't believe them. I'm drunk and scared. A couple of french guys come around and jokingly say (in a french funny way – so without a smile on their faces) that she is probably dead and it's my fault for not taking better care of her. Of course this upset me even more, and one of the girls takes me away from the crowd and tells me to go home.
I cross the river to get to a bar with no people in it. A big local family is sitting there, and as I approach them for help to get a taxi, I break down. Still, they take me to a taxi and demand 20.000 kip. I am tired, sad and desperate, so I just hand the driver money. As he'ss about to drive, three very demanding spanish girls jump on board and only pay 10.000 each. They keep asking him to drive faster so they can get their deposit for the tubes back – I realise I have lost mine at the fourth bar, when I went out swimming to look for Sara. After they've been dropped off, the driver doesn't bother stopping at my hostel: he tells me to get off at the same place as the girls and walk in the rain. I try to argue, after all I have paid double, but he lets me out, and I walk barefoot in a bikini in the rain, crying.
I walk up to the room to find Sara asleep. I don't even feel relieved, I just feel anger. I startethrowing things at her to wake her up and show how upset I am, but her side of the story is different than mine. She feels that I have abandoned her, and I am the bad guy. More upset than ever, I walk out, go to a restaurant and have dinner and watch Friends for hours. I calm down quite a lot, but not enough. I stay up till about 3 at night, still very drunk, and buy an amazing burger on the street just before falling asleep.
The next day, I get Sara's version of the story. She called for me while we were approaching the fourth bar, passed out in the tall grass by the river, then was taken to some local's home, where she vomited, before being driven back to the hostel and helped to bed.
The yearly rocket festival Bun Bang Fai is happening that day to celebrate the beginning of rain season, but we don't bother leaving the restaurants.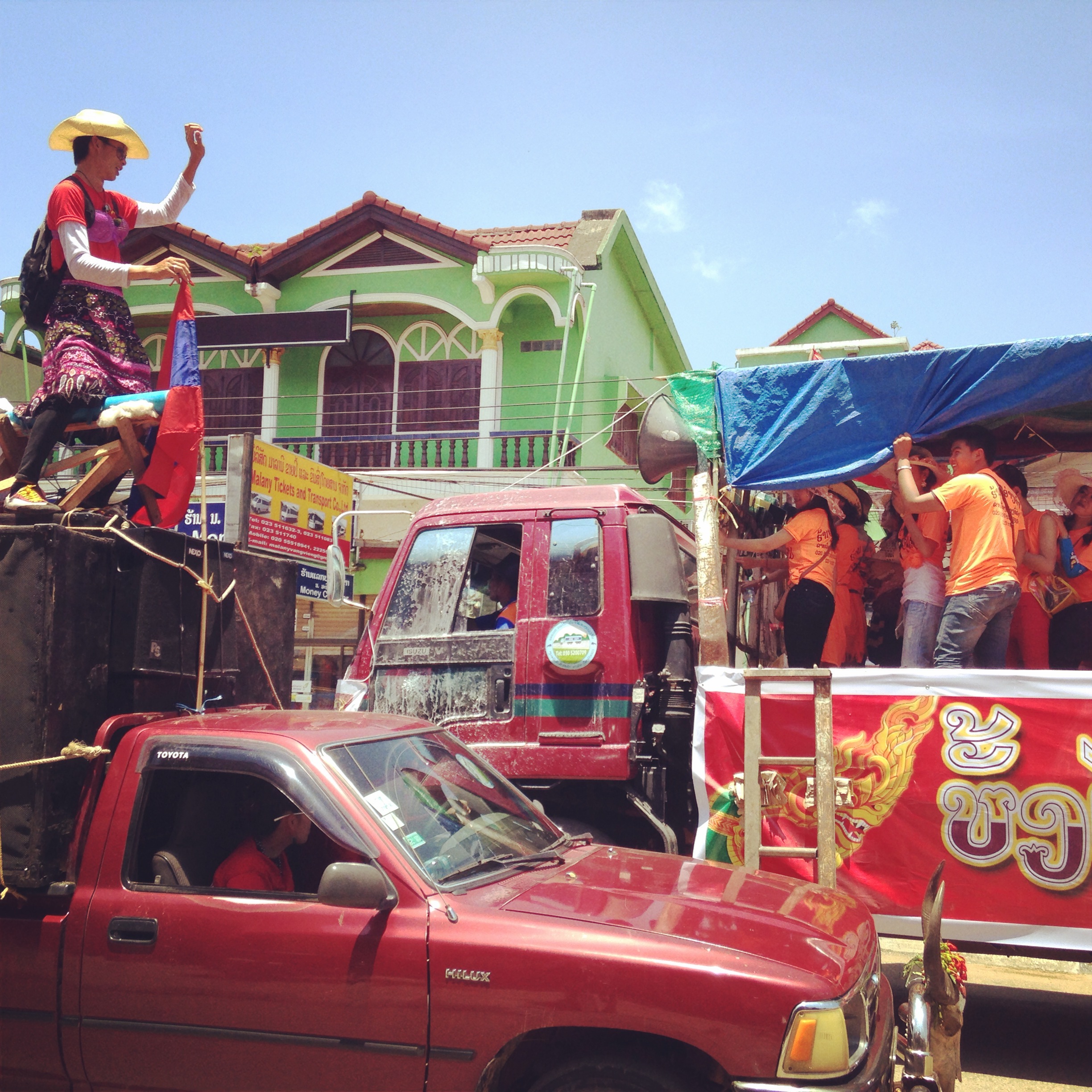 At night, people get what they wished for: rain. And lots of it. It's storming, massive lightning bolts appear all over the sky, and the rain is brutal. The power goes out for quite some time. The ground floor is flooded. The door to our room on the third floor can barely stay closed from the strong wind. I guess no street food for me tonight.
All in all, Vang Vieng was an experience.