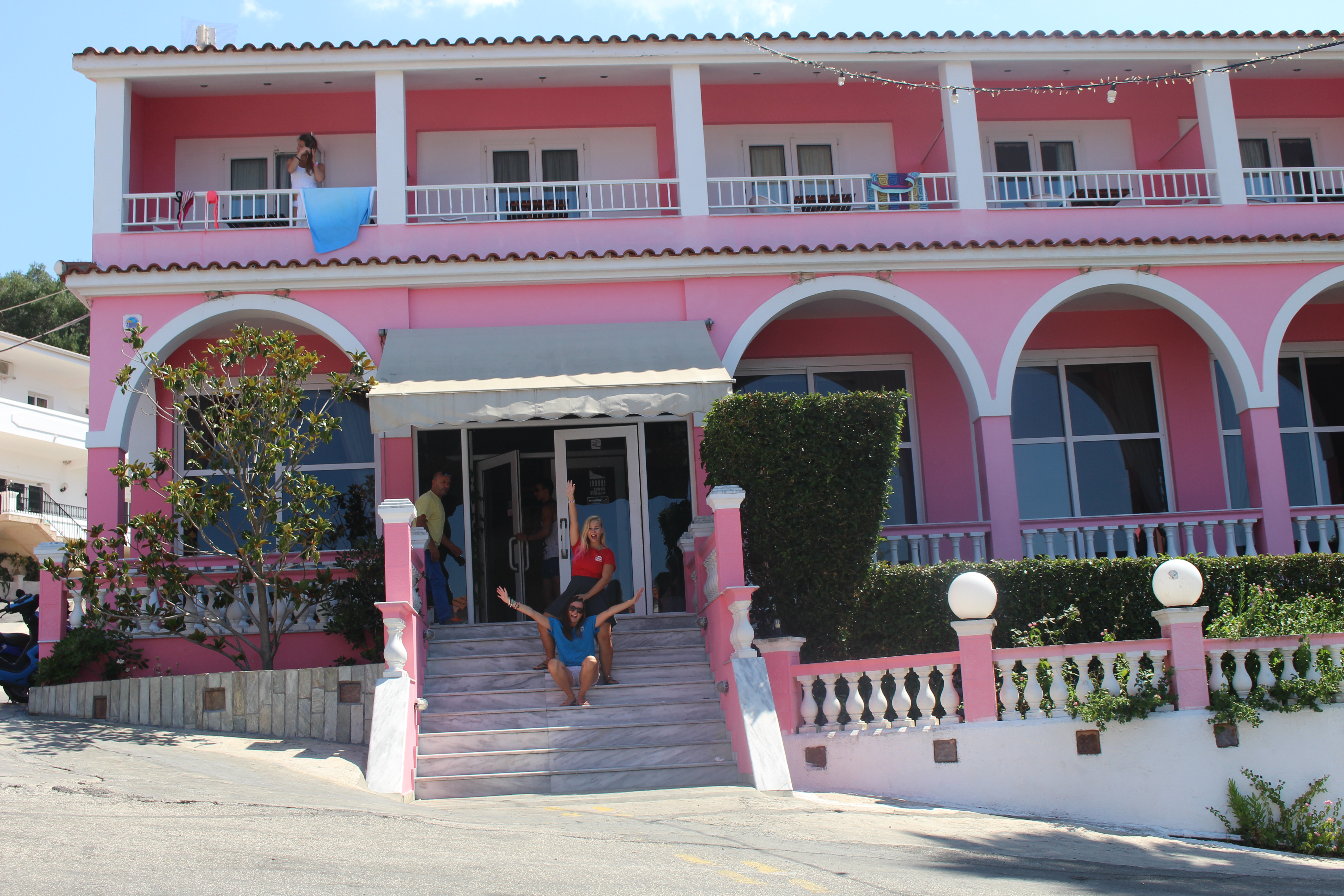 (note: most of this was written in late August)
I'm home after two months of chasing guys that don't like me, drinking champagne from the bottle and regretting it the day after, and most of all, working. It's been pretty much non-stop, from breakfast until 2 or 3 at night. For the first time in many years, The Pink Palace was over-booked. It is rare that it reaches its maximum capacity of 300-something, but this year, we were pushing towards 600 guests – and more than half of them were families! Ugh.
I was jet-lagged, sick and tired when I arrived on July 3rd. Alcohol was hard to keep down, and my eyes were hard to keep open. I suffered from Boring many times during my two months in Corfu, but I enjoyed many of my nights cuddling with Jack, our inflatable crocodile too much to care. I got to read books. I finally got to see shooting stars while sipping on Retsina on the beach kitcken roof. I took plenty of naps.
A typical day this summer would go like this, with very few variations day to day:
Aga and I would wake up and go to breakfast, which started at 8. As the rest of the staff working breakfast didn't seem to care if they were late for work, we started going at 9.30. We'd get the room keys from the cleaning lady and see if everyone checking out had already left – and if not, we had to give them a firm reminder that they would be charged if they didn't get out. This led to many sights of morning wood and white butts. At one point we would leave after that and set up tables for dinner, but Dr. George, the owner, sent us down to the kitchen after a week or so of setting up tables.
After that, we would eat breakfast and pick up the guests plates. When Pete, our good friend through all our Pink years, was present, we'd usually drink mimosas. At 11, breakfast ended, and staff and the cool guests announced that by putting on Martin Garrix – Animals and fist pumping like drunk people (which we sometimes were, as one mimosa is never enough).
After cleaning up everything at breakfast, we headed up to the office to do marketing, party planning and picture sorting. For a short period, we had to stay and do lunch all day, thanks to a total cunt playing boss, but Dr. George had our backs! Aga and I would have a few hours in there where we would go to lunch at one of the beach restaurants with Pete, or take a nap. Then we would go do dinner.
Dinner was greeting and seating people, offer them 1 € shots after they'd been served and then tell them about the party for the night. We would clean up the dinner hall and polish cutlery until midnight, unless Aga and I had planned a party that called for body painting, which gave us an excuse to leave so we could paint the guests.
We'd start the party by painting people, setting up drinking games, or tying their togas, depending on the theme for the night. At one point, we had to bus at night too, but there was no way you could keep us up till 3 or 4 at night every night with everything else going on. We had quite a few early nights, as my body never fully recovered from my traveling.
So I guess what I should really say, is that my year was kind of disappointing, and I blame that on myself for being tired, and the staff for causing drama, spreading bad vibes, and giving no fucks about their jobs.
A great thing was, that my summer was one giant reunion. Former staff members and guests came back, and it was amazing. Pete, Bieber, Shank, Jordan, Cole, the Albanian girls, and many more. A lot of things have changed here since 2012, for better and for worse, but it was nice that my old friends came back to see it and still enjoyed it, because this place truly is magical. It has everything you need, and then it's up to the people that are there to make it the party hostel it is supposed to be – even with families around. Aga and I arranged all the parties, and we tried really hard to have a theme or a game every night. We tiredlessly painted the same swirls and dots on guests for all the parties involving bodypaint. We drove to Jumbo constantly to stock up on glowsticks. We made posters, we told everyone about the parties at dinner, and we kept trying to get people involved, and most of the time we ended up with a camera full of pictures of smiling faces and painted bodies. I am proud of the work we did, and we got great reviews and feedback from many guests and some of our co-workers.
I was often desperate to leave the Palace during the daytime, as Agios Gordios, Corfu Town and Paleokastritsa are such beautiful places, and I wanted to spend more time there. We snuck out every chance we got, because we felt like everyone would be mad if they knew that we ate lunch somewhere else, or went shopping for friendship bracelets in town. We treated our summer like it was our last time there. I tried some amazing food in Agios Gordios: pastas, saganaki, calamari and moussaka. I sat on the back of a quad to and from Corfu Town plenty of times, just thinking about little and big things in life. Some people have moments of genius in the shower; mine were on the back of a quad. Whenever I wasn't at the Palace, I forgot all about being tired, and I forgot about the staff.
As the lovely bartender Sue put it: "this is the worst staff this place has ever seen". Not only did people come and go as they pleased after two weeks, 9 days or even just 2 hours of working here. The staff that actually stayed ended up clashing so much, that I spent most of my days wondering how I could make them leave. I thought working there 3 summers in a row would earn you a bit of respect, but instead I felt that Aga and I were constantly bossed around. We ended up being just a very small group that hung out and partied, while others watched us from the sideline, judging us. When we were over-booked, we were so busy, that I burned out completely. It didn't help at all that we were severely under-staffed all summer, and no one seemed to think breakfast, marketing, dinner and night activities is enough of a workload.
It's funny, because the owner, Dr. George, really appreciated Aga and me this year. Every chance he could get, he would tell us how much it meant to him that we were there, and that we were doing a great job. It wasn't until last year that he even learned our names, and now he was handing out free ice creams and compliments and even a very nice bonus when we left! It made me feel so much better to know that at least we were pleasing the only person whose opinion matters: Dr. George.
Now that it's all been said, I have to admit that all the partying was great, but I've forgotten most of it. I will always remember the great friends I've made here though, so a massive thanks to them for making my summer. And Chile, you were an amzing big brother. May you never have less than two people in your bed.
I realize that this post is boring, with no pictures, stories or people. When I get my memory back I will try and put up another on about this summer, I sorta promise.
Update: here is a video of my summer. It's not looking too bad, eh?