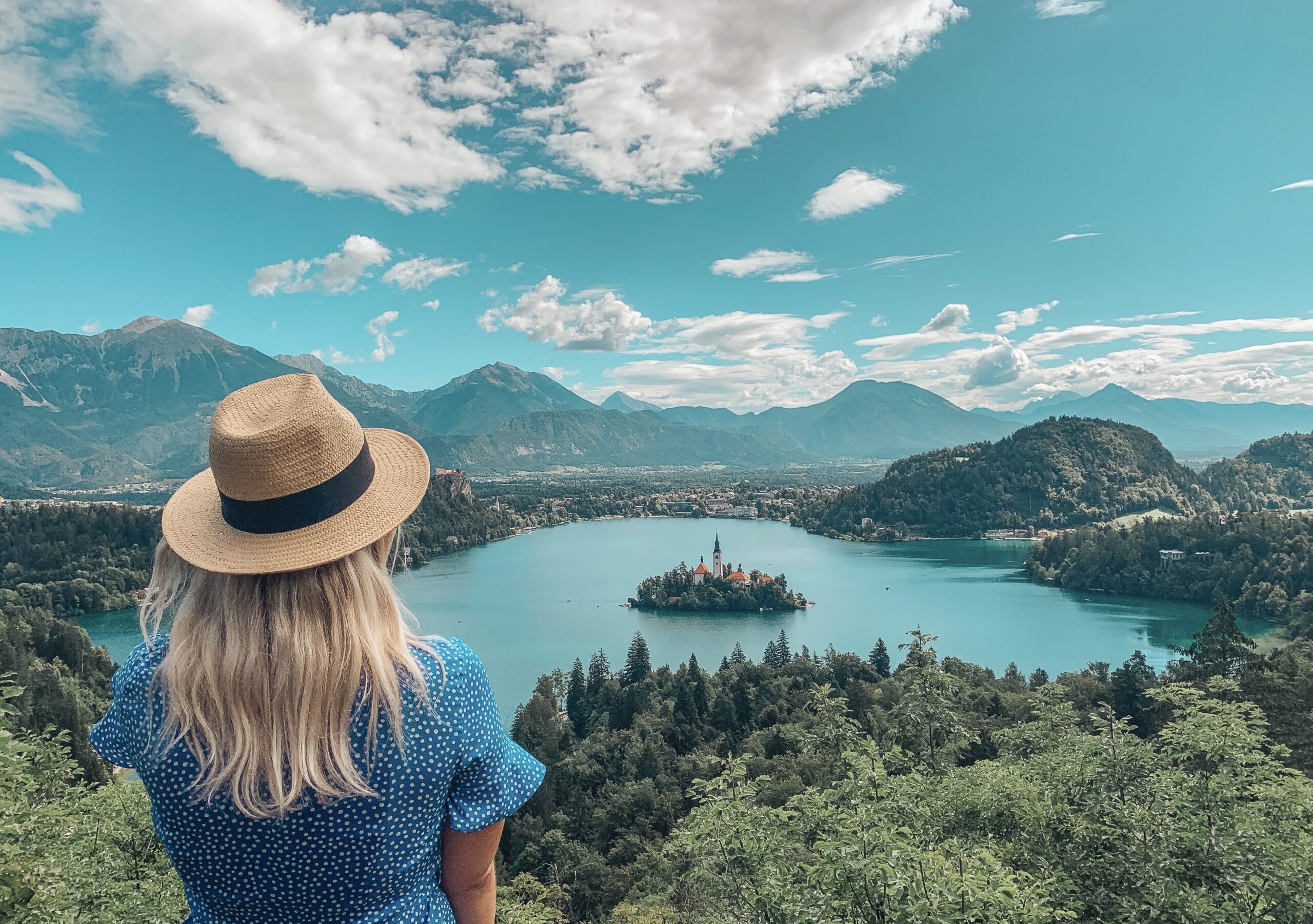 Slovenia, Italy and Slovakia: A backup trip full of backup trips.
As soon as I am back from my trip in Vienna, my trip to Malta the following day with Aga is cancelled due to covid. Malta has closed its borders. We spend a day planning a backup trip, and the next day I fly back to Vienna – this time, we're driving to Slovenia.
After a long drive with both rainbows and lightning, we arrive in Ljubljana at 8 PM and head out to grab some dinner. It's raining, the streets are filled with the soothing sound of classical music, and we stuff our faces with burgers and G&Ts. We're staying at Hostel Ceila, which is an old prison, and we have a lot of fun scaring ourselves by checking out the dark and scary basement.
The next day, we try to catch up on the sightseeing we missed out on last night, so we check out the wonderfully weird Metelkova Art Center, the Dragonbridge where I sadly murder my tights while climbing to get a picture, and we walk through the nearly empty old town and buy souvenirs. While having a drink on top of the Nebotičnik skyscraper, we learn that a local gin named Broken Bones has won the Best in Europe 2020 gin award, so we set out on a mission to get one to bring home. We quickly find a bottle at a nearby Spar, so mission complete.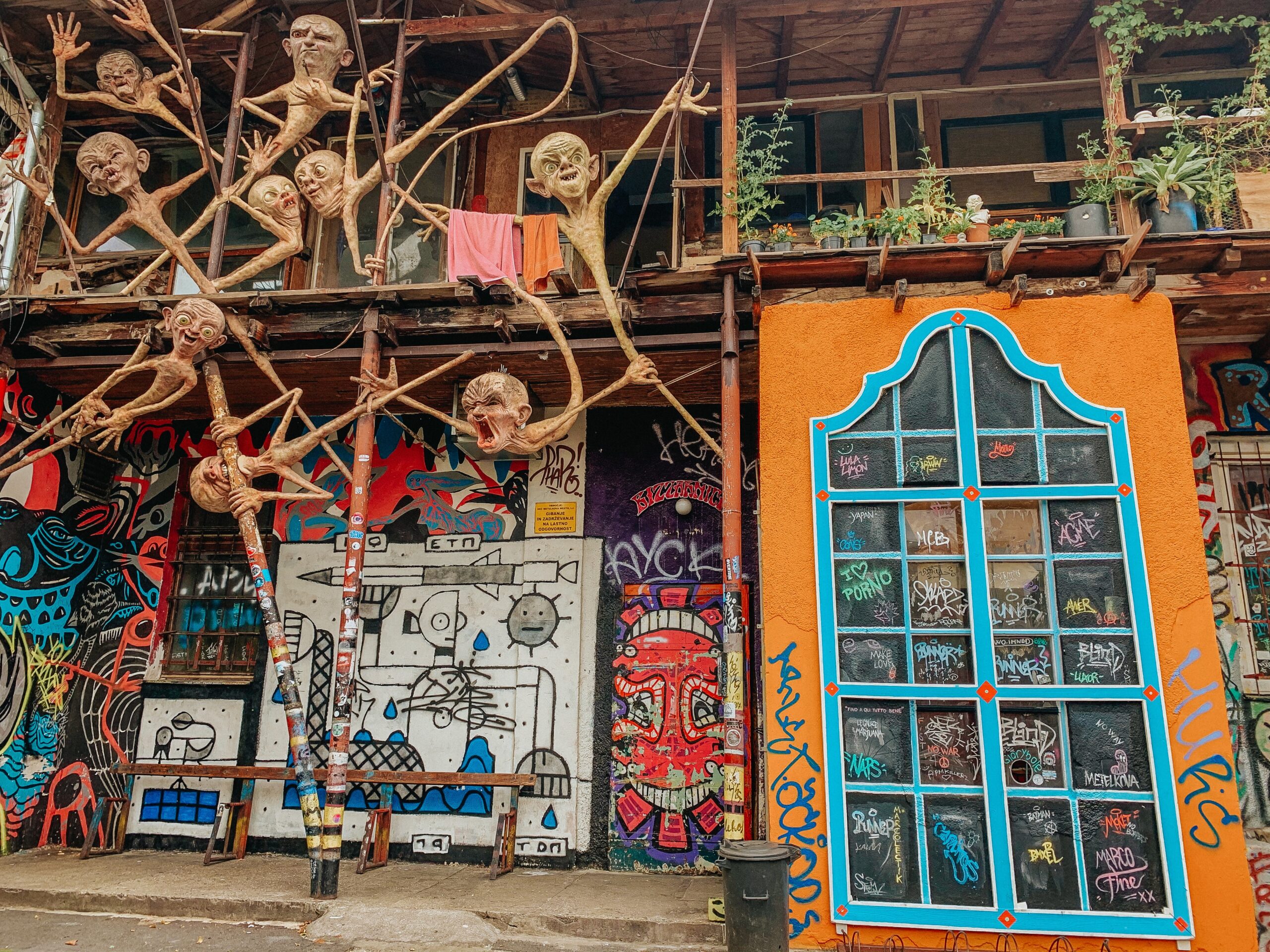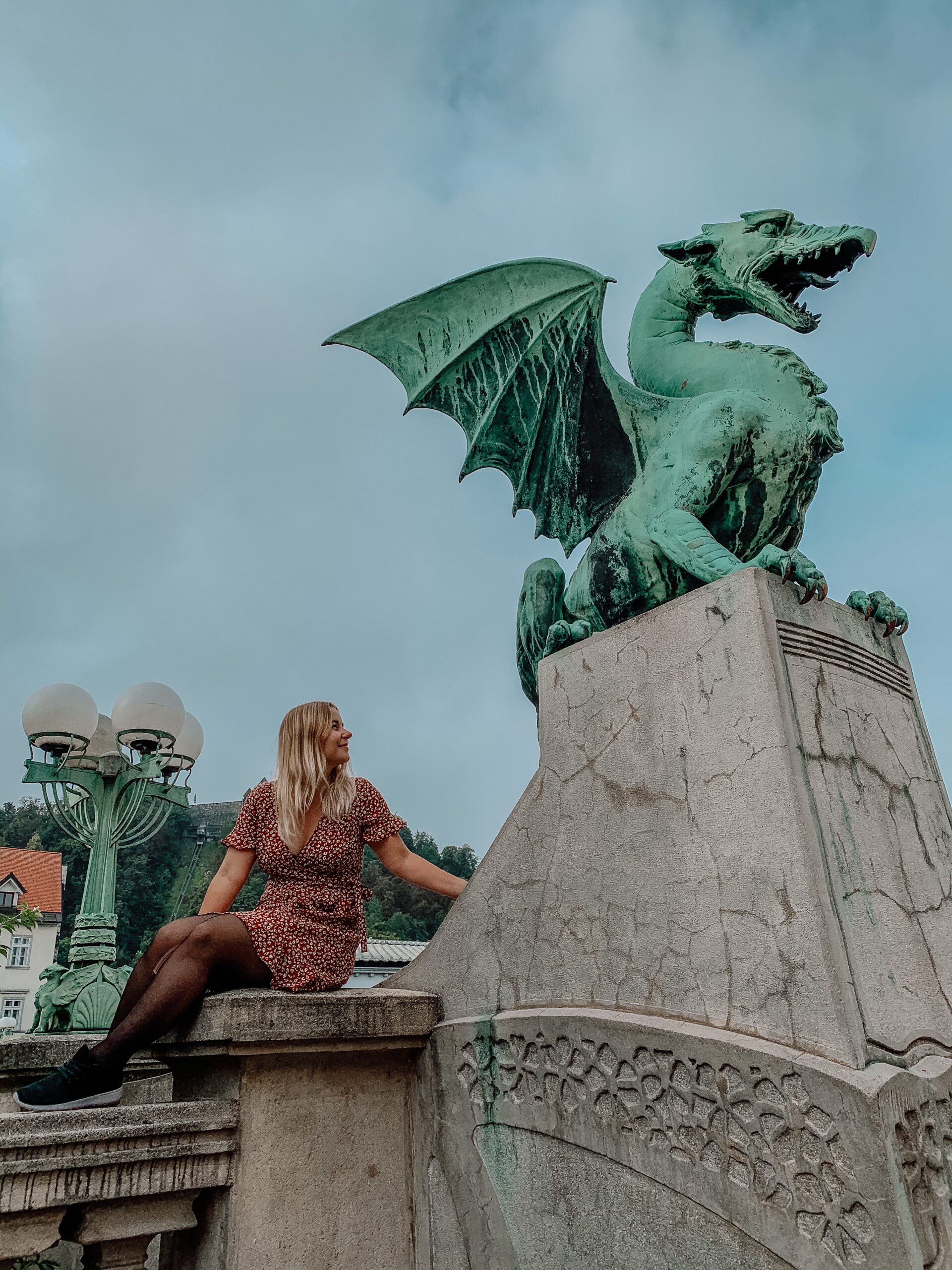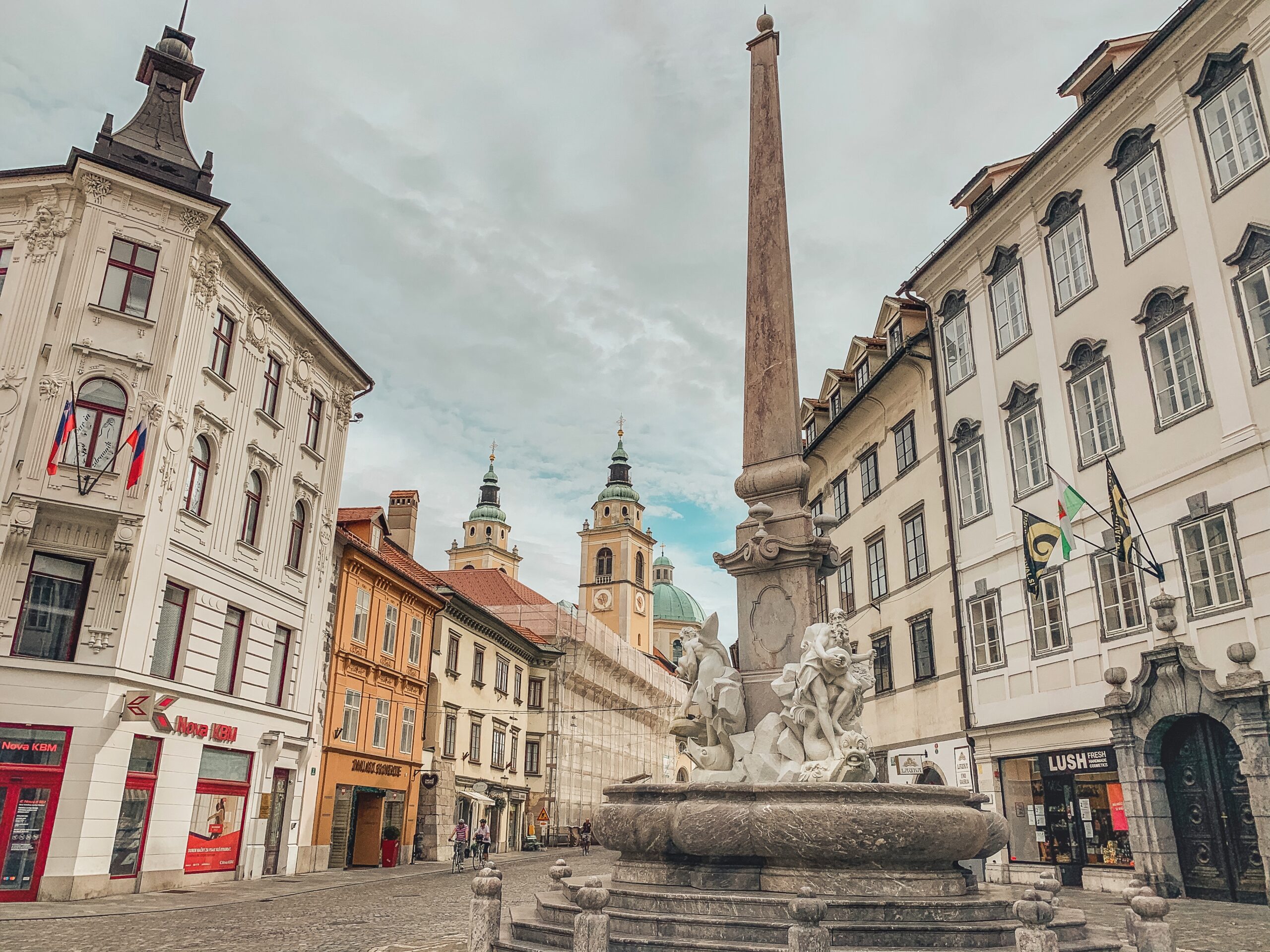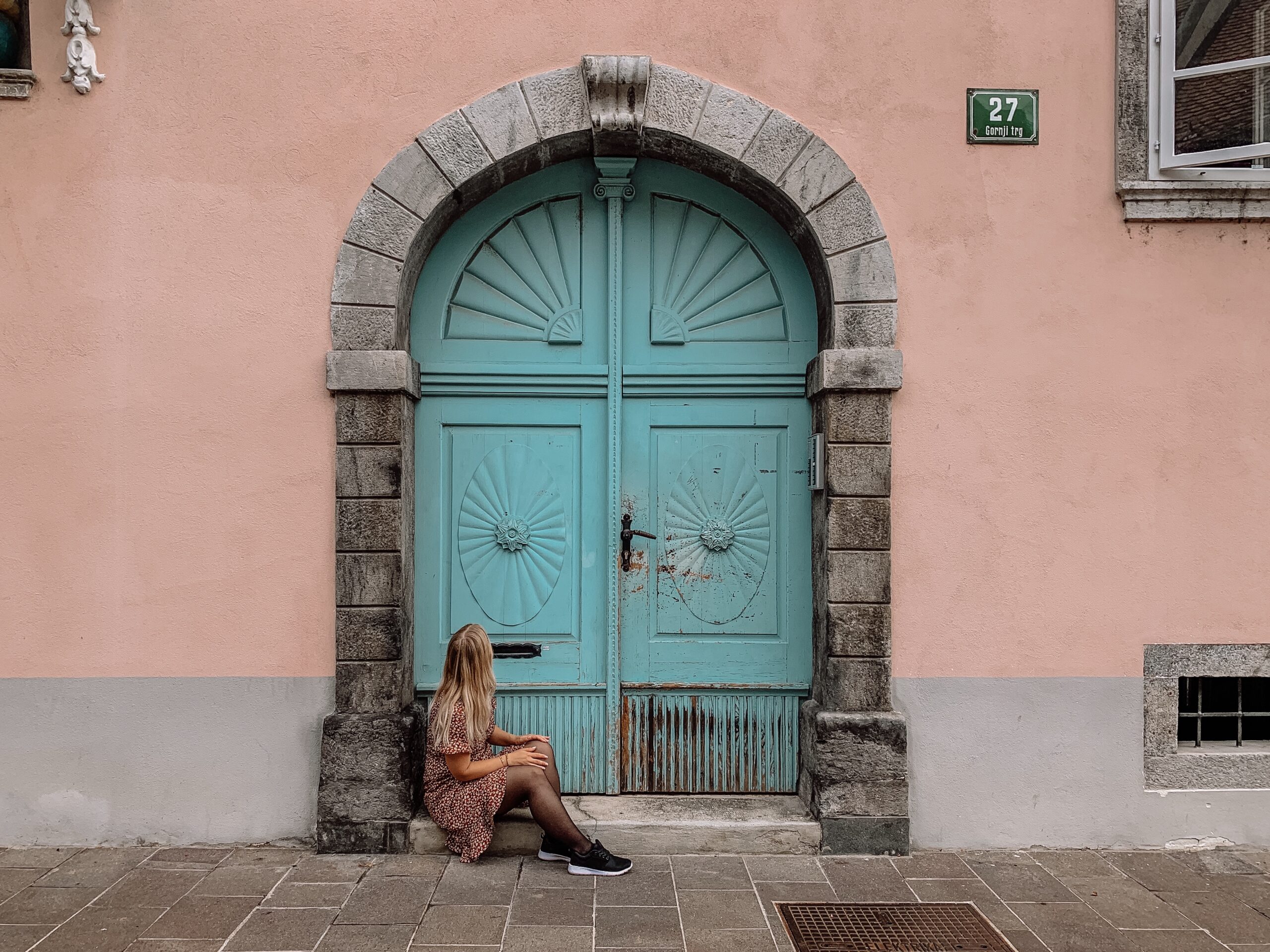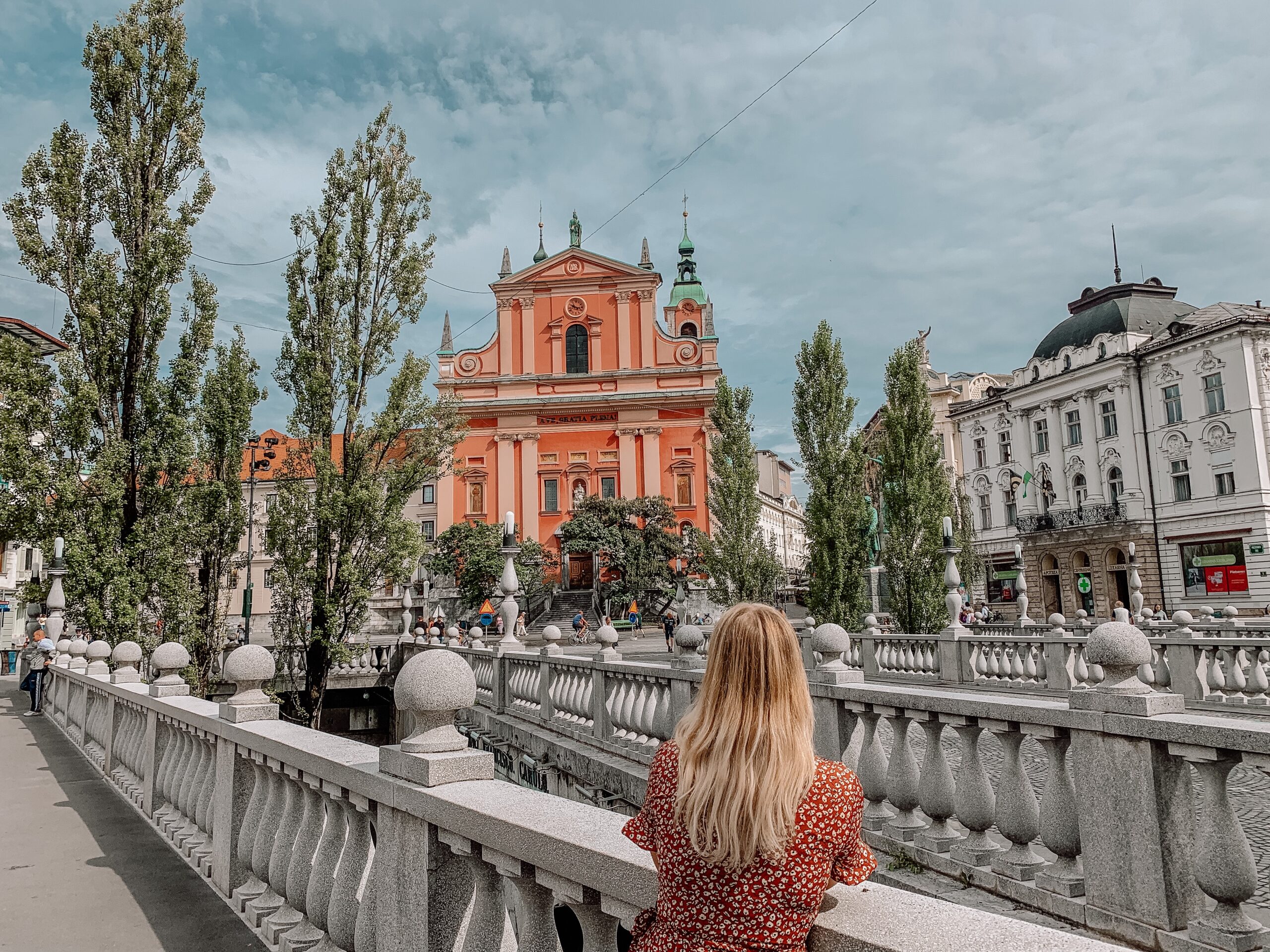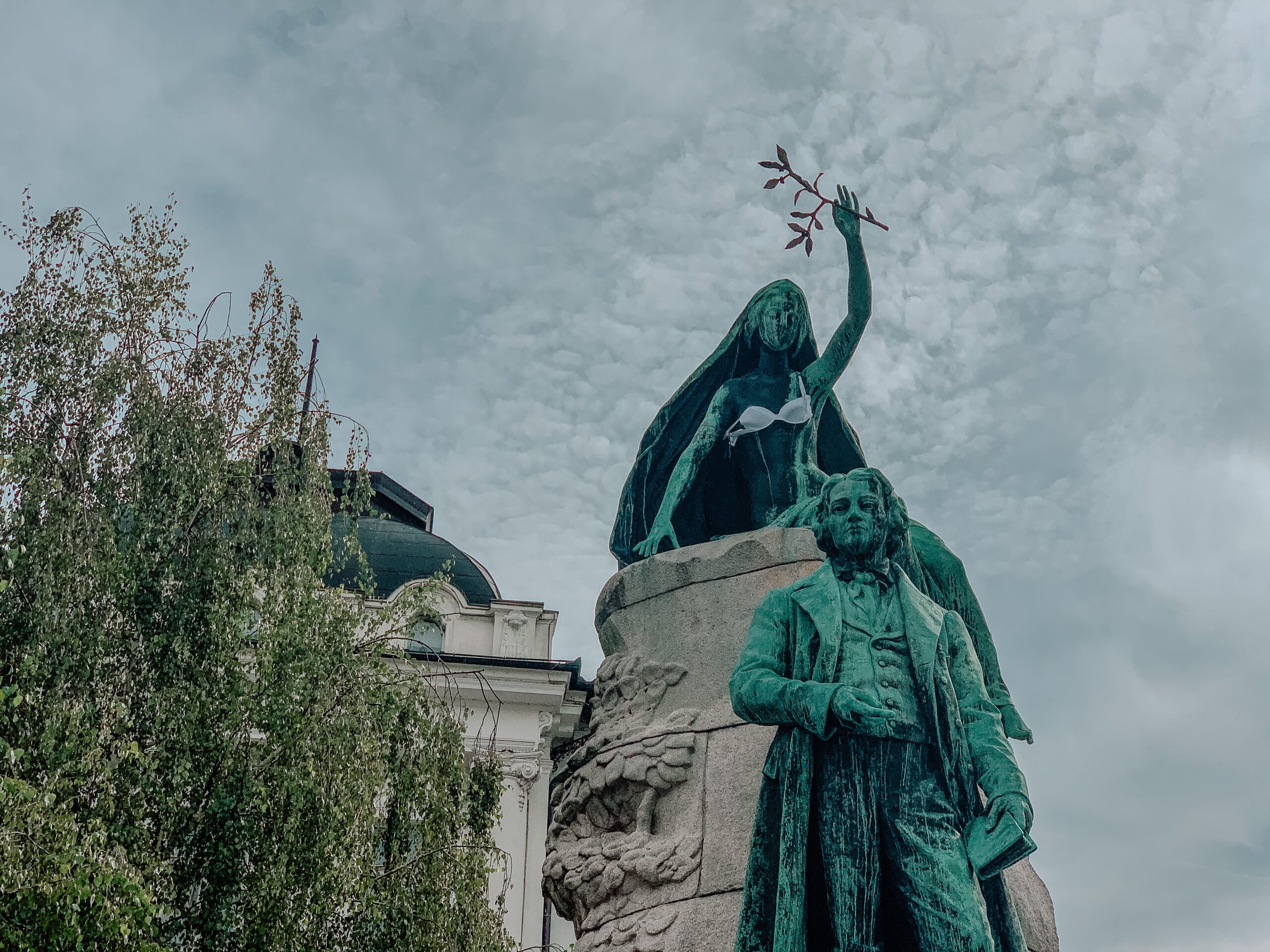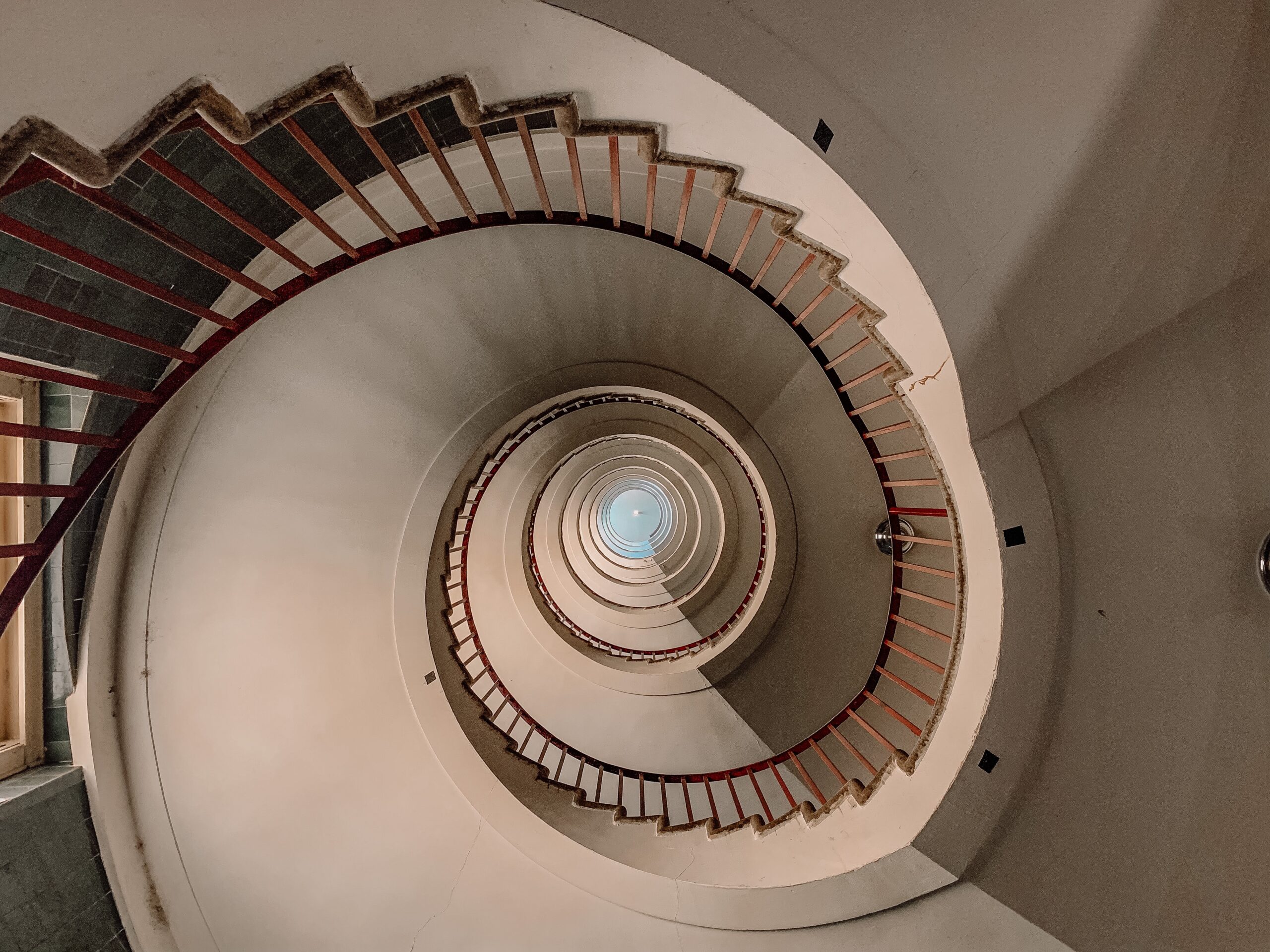 We drive to Škofja Loka, a small medieval town, for lunch, where we enjoy Idrija žlikrofi, a local type of pasta, with boletus mushroom, fried cheese, calamari and a Lasko beer. This is the life! Even though we're super full, Aga convinces me to walk up the hill to enjoy the view from the church of the Holy Cross.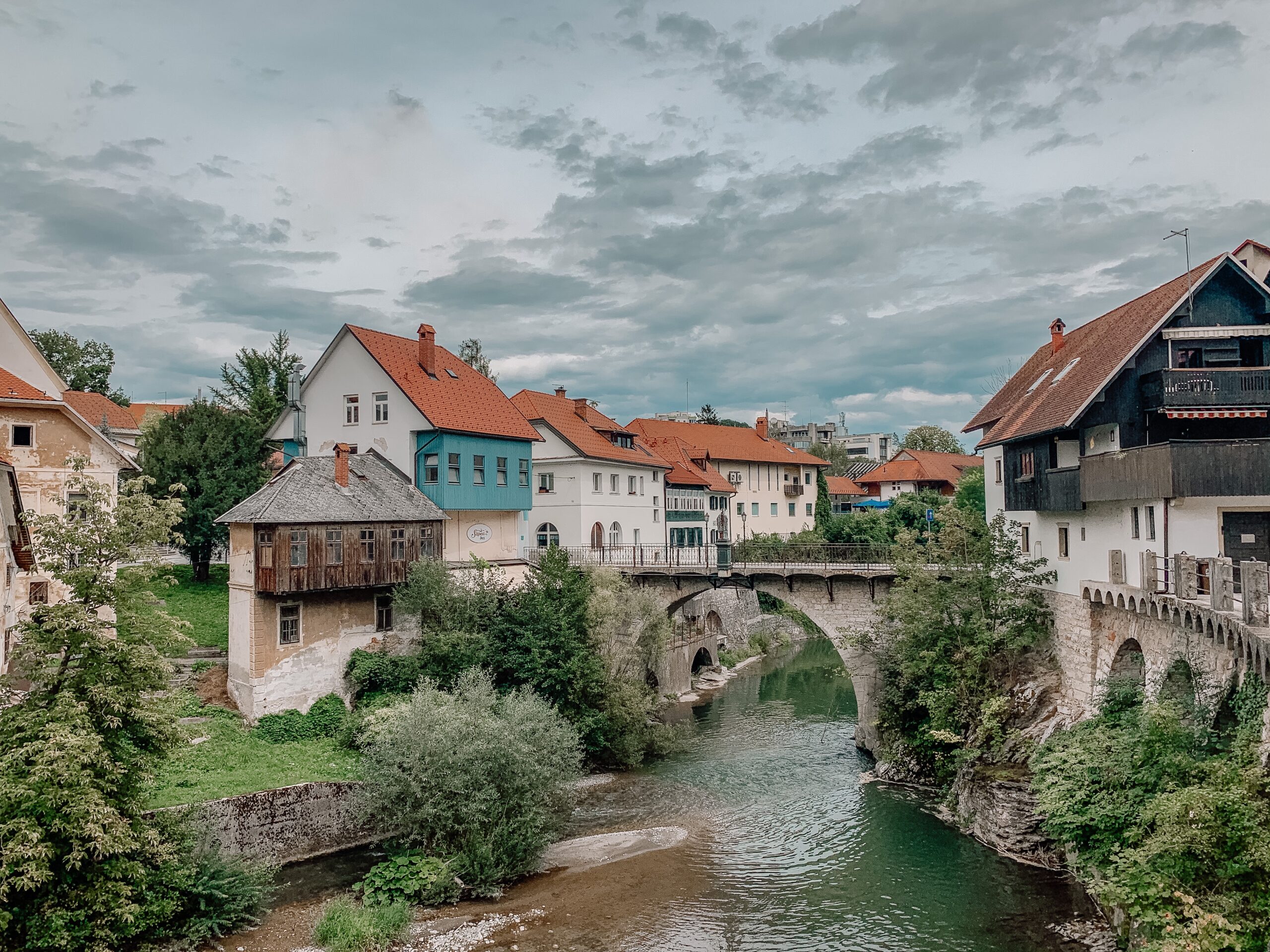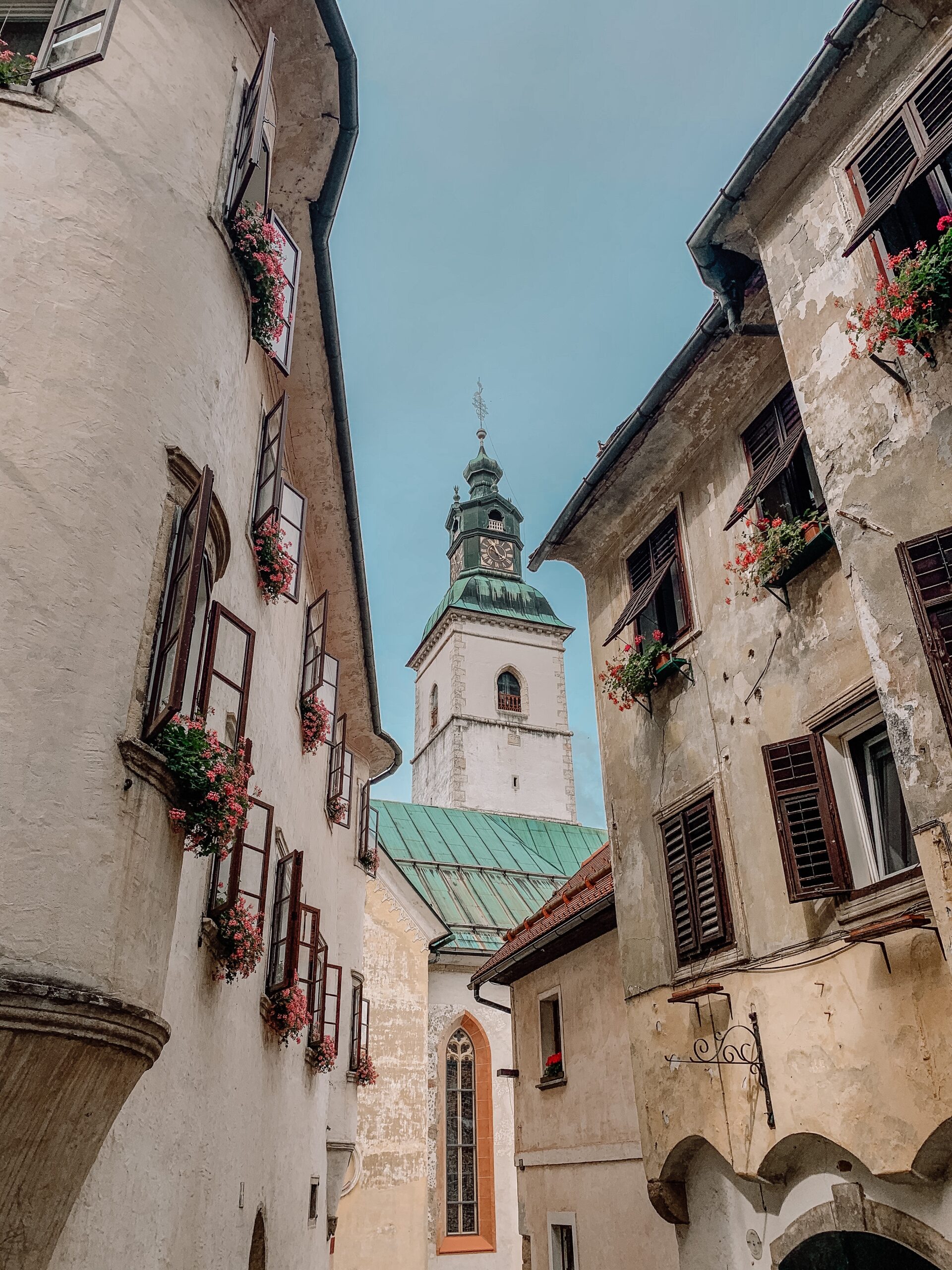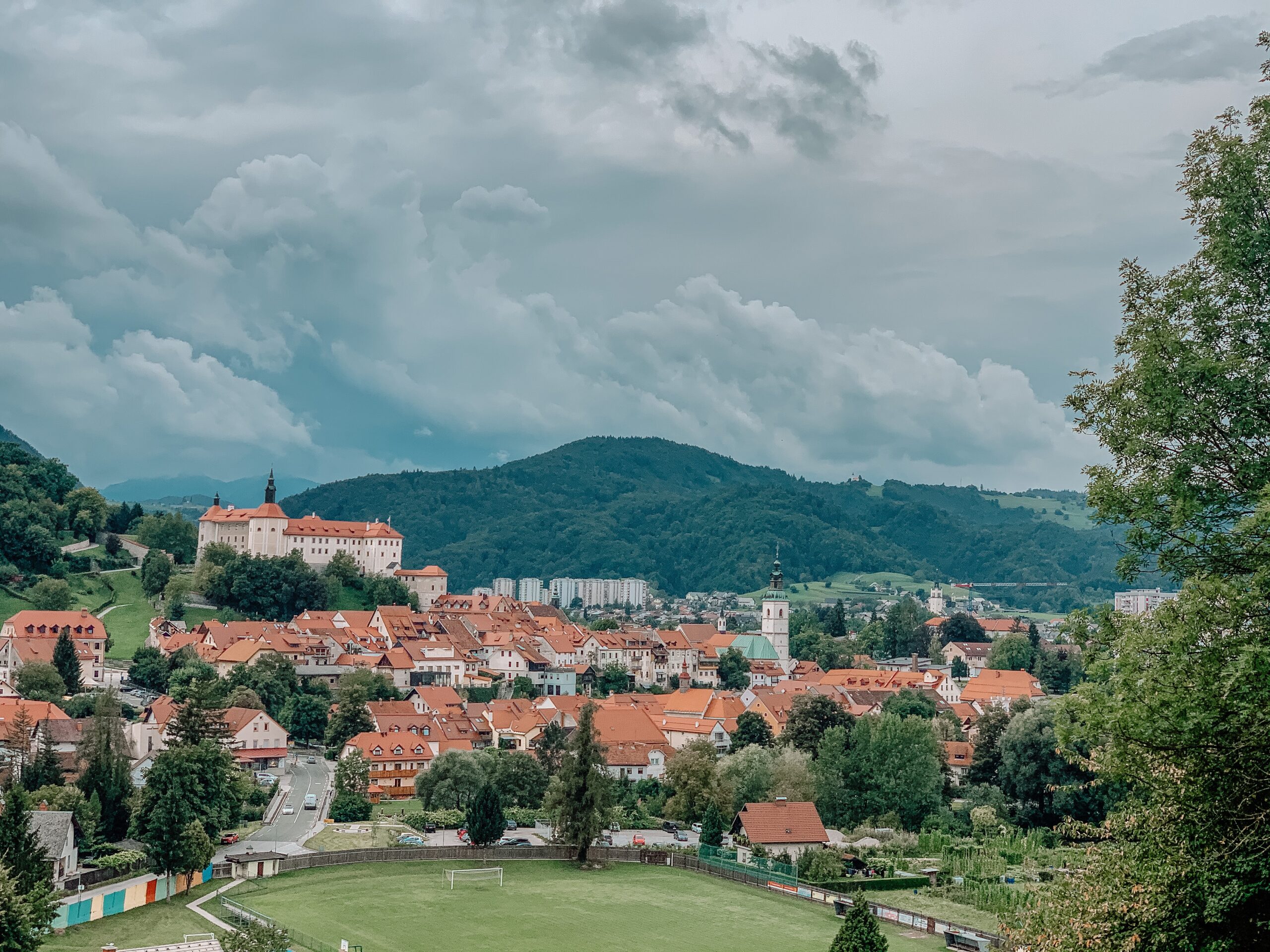 After getting a few pictures, we drive off to Bled and struggle to find parking near our hostel. After eventually finding one, we head down to a nice little café by the lake to celebrate by getting a few drinks and enjoying the view. Lake Bled is beautifully blue lake with a small island in the middle. We take a short walk around the lake, then have hummus and burgers for dinner at a vegan restaurant. We grab some more drinks at a nearby bar and do exciting stuff like looking into retirement.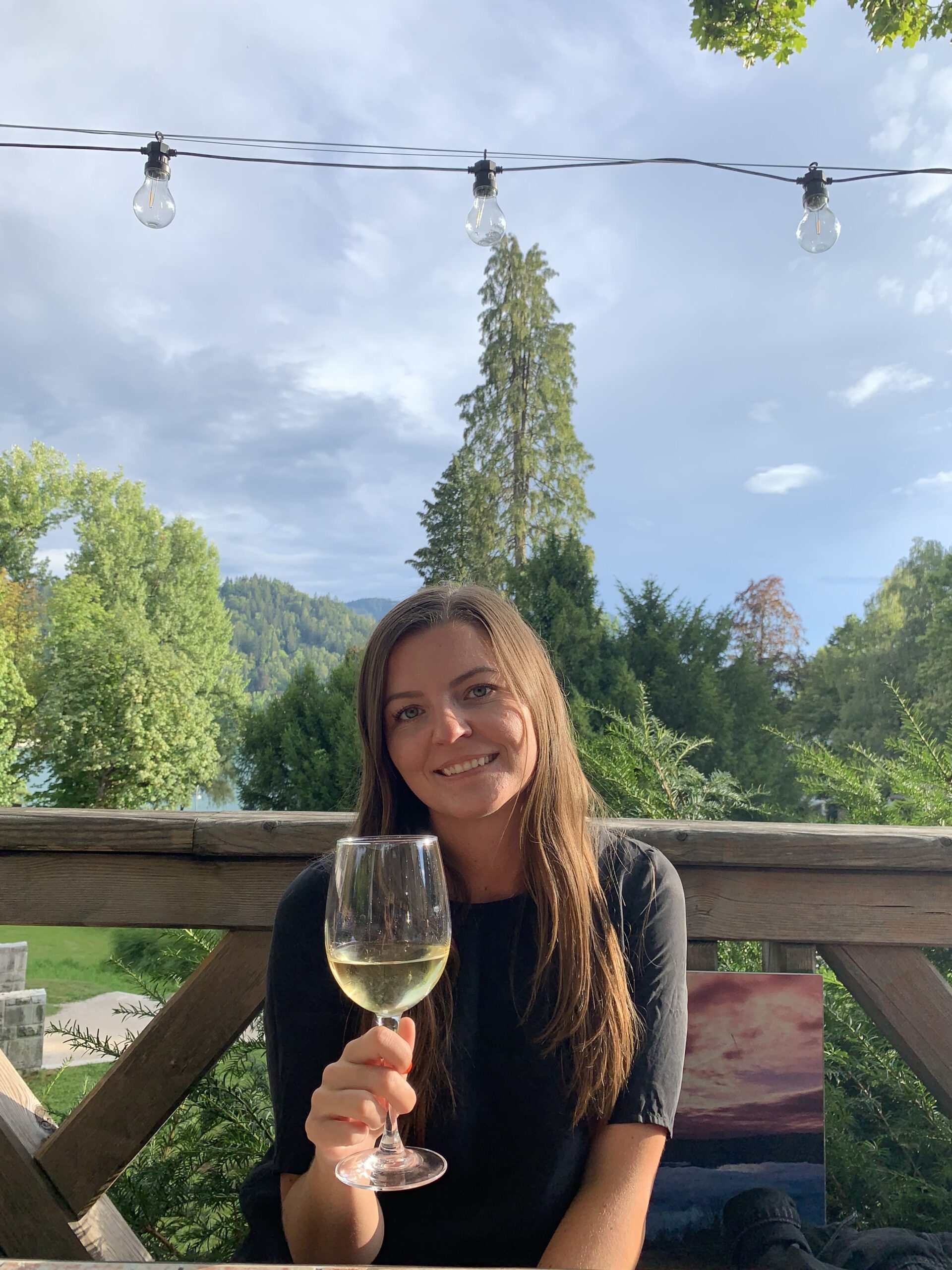 The following day is Aga's birthday – the big 3-0. We buy some burek at the nearby supermarket and eat it on a bench by the lake for breakfast. Burek-fast is my favourite. Then we start the 6 km walk around the lake, starting from the East side. We've decided to go find a viewpoint hidden in a forest by a camp site. The climb is very steep and we're drenched in sweat by the time we reach the line of tourists waiting for their turn to take pictures of the iconic view of the lake and Bled island.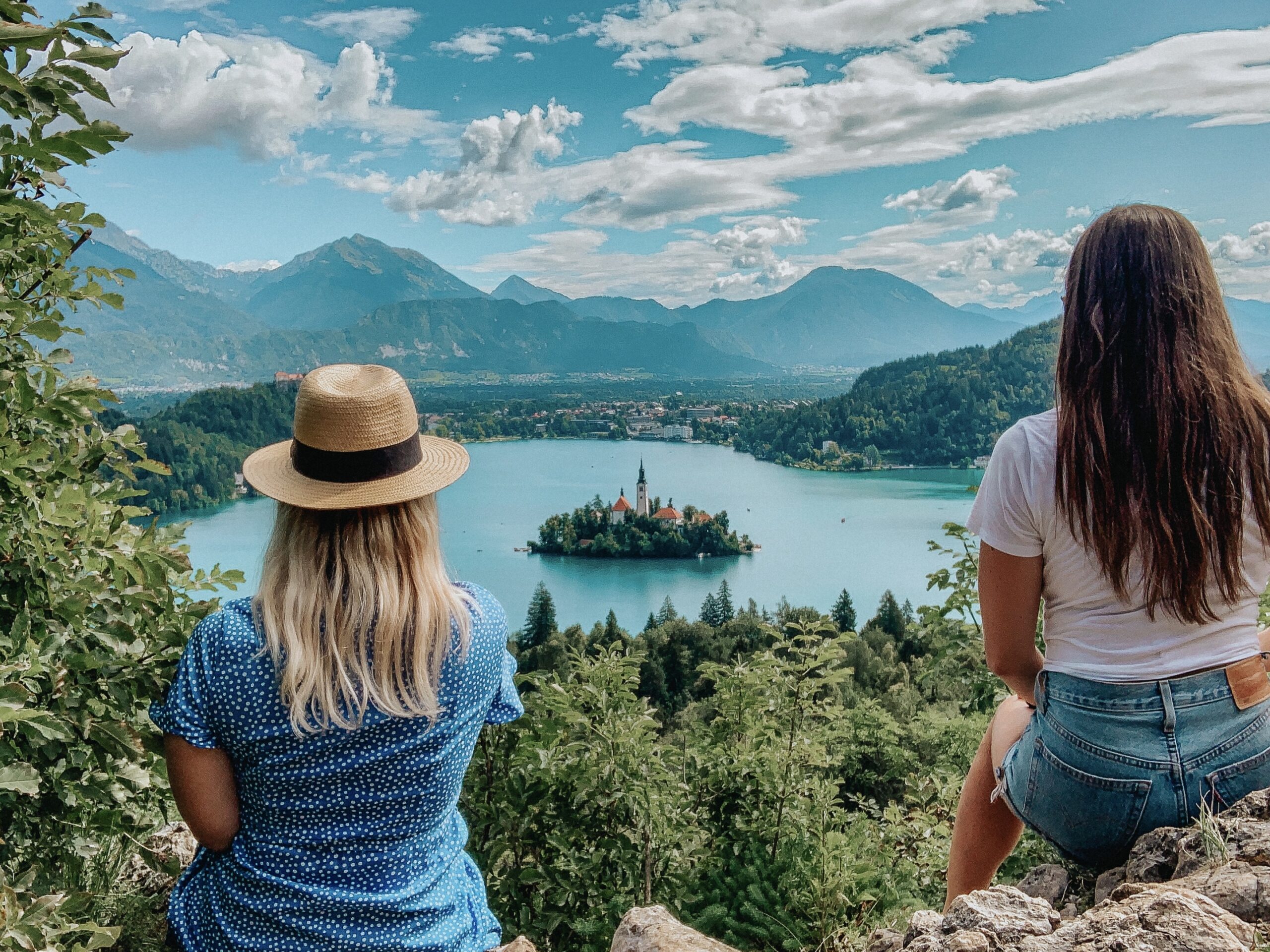 Once we've descended, we rent a wooden boat to row out to the island, but we're exhausted from the climb and the heat. We bring some watermelon ciders that we enjoy while taking turns rowing.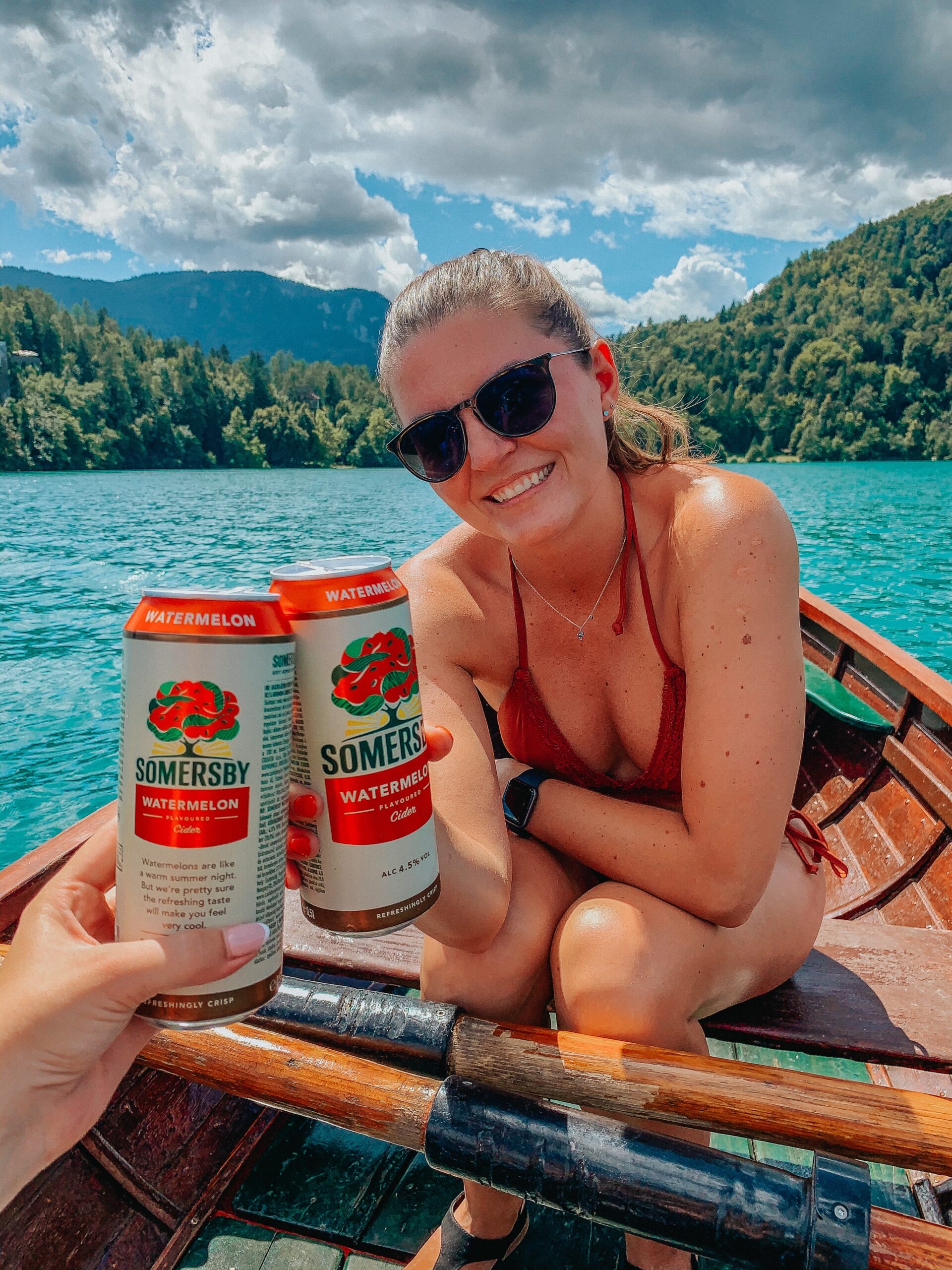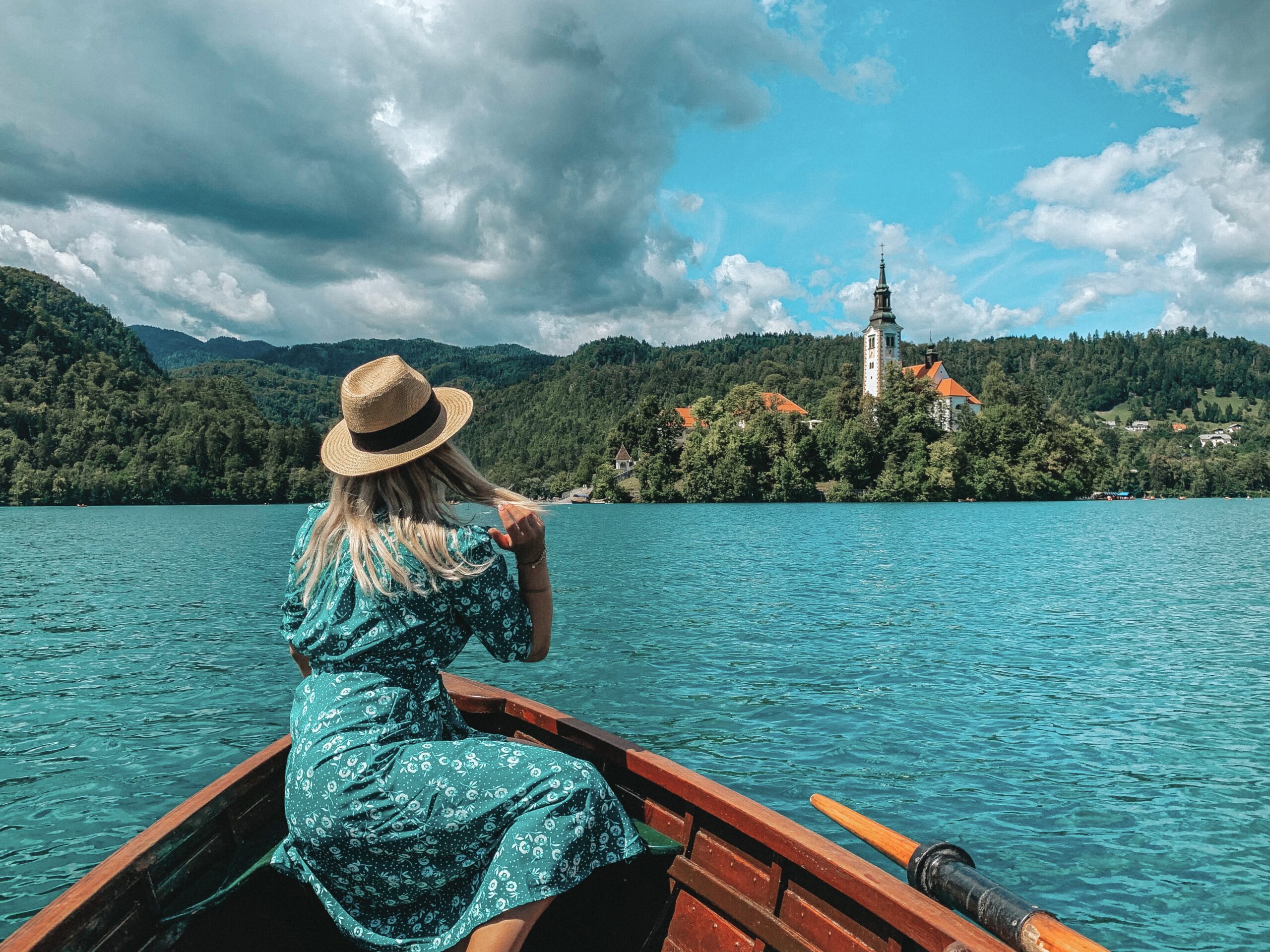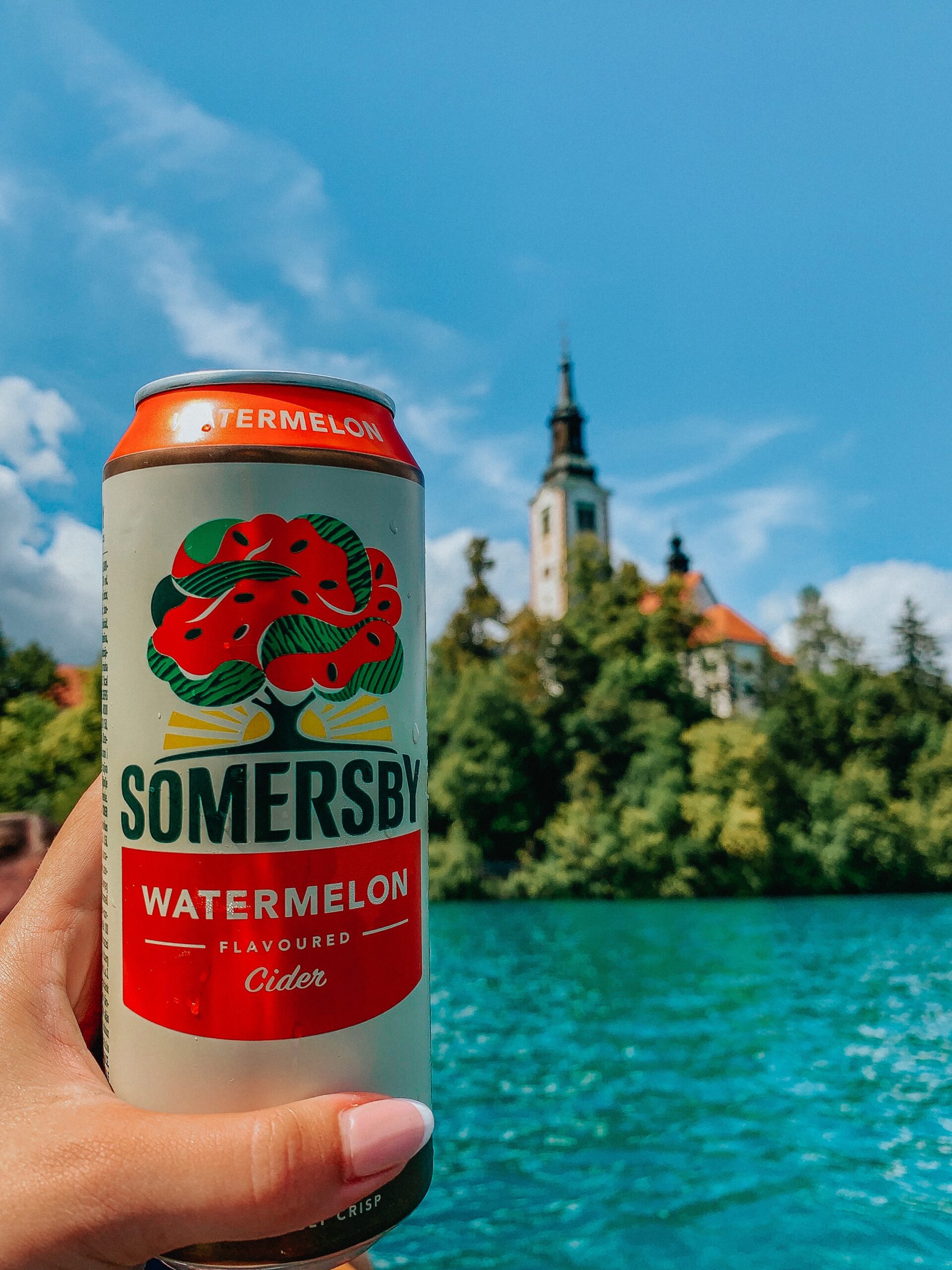 I treat us to lunch at Sova, which is close to the boat rental. We then jump into the lake in the hopes that it'll freshen us up, but we are still in desperate need of a nap, so we head back to the hostel. When we wake up, we meet our room mates; Paul from the UK and Lisa and Roeline from the Netherlands. We all go to dinner together and then find a bar for too many drinks and a surprise Bled cream cake for Aga as we sing her Happy Birthday. We all stumble drunkenly back to our hostel dorm and annoy the room mate that's arrived while we were out.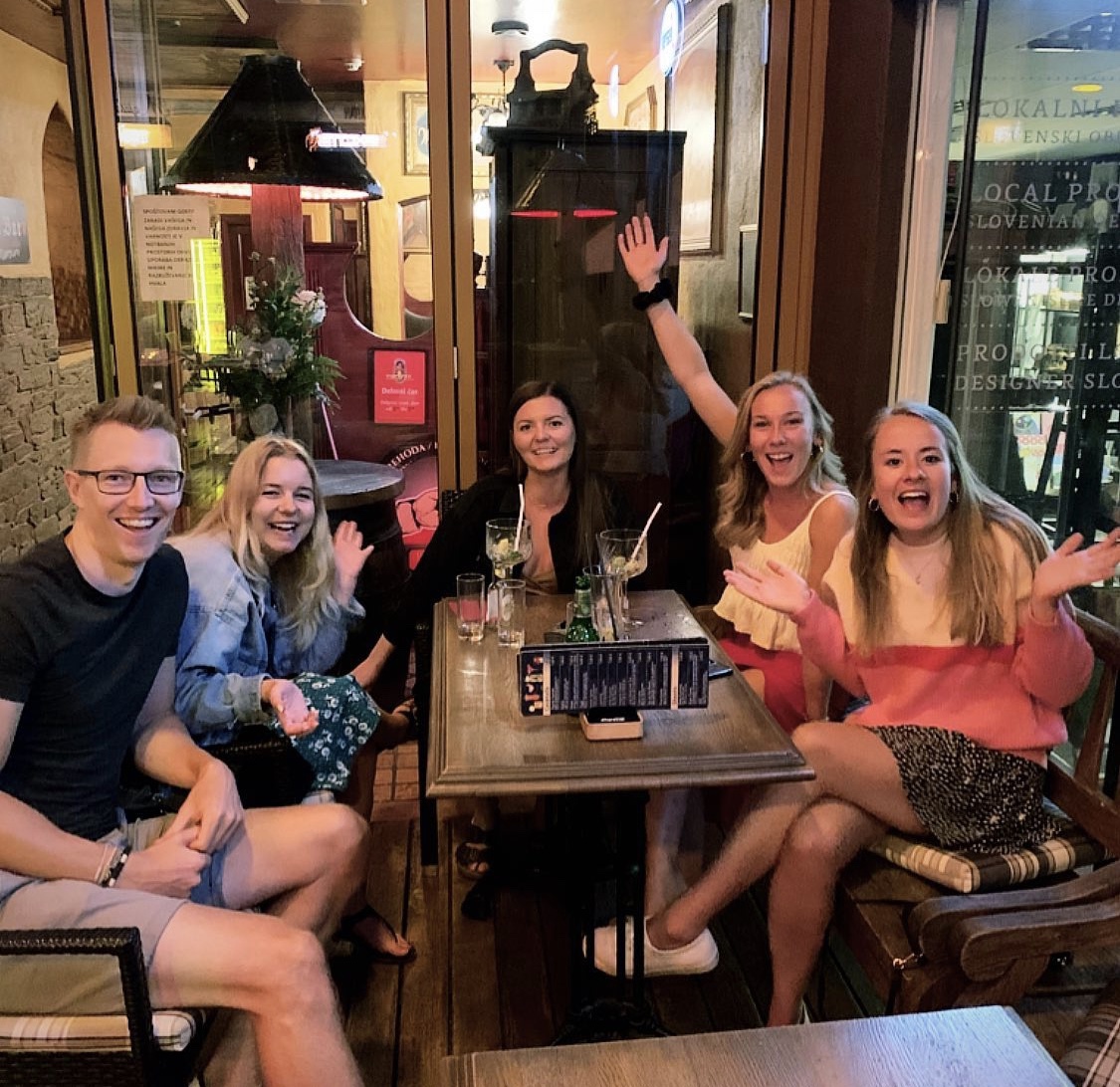 After a nice break in Bled, we are back on the road. Our first stop is Lake Bohinj, then Savica waterfall and finally, Vintgar gorge.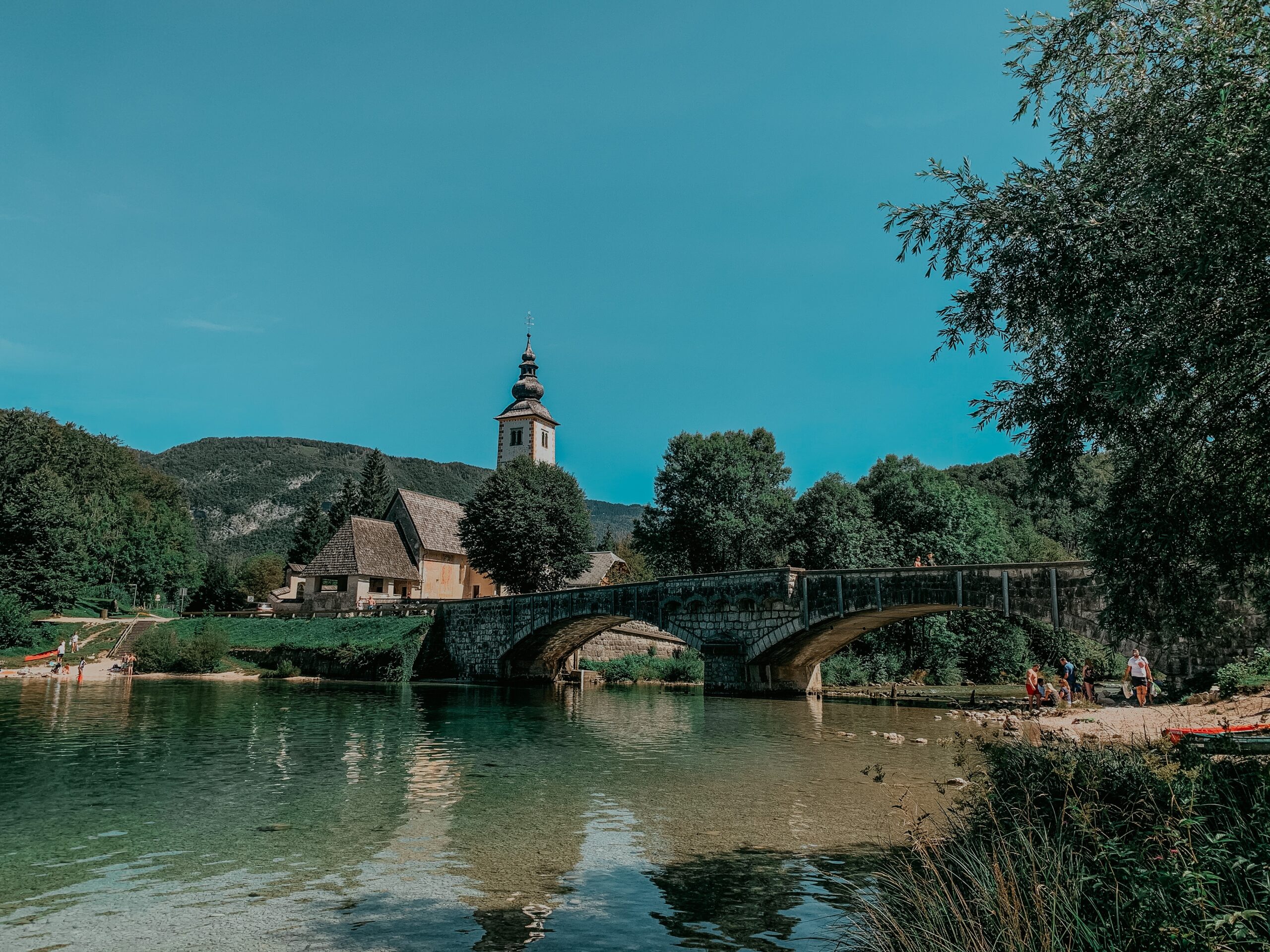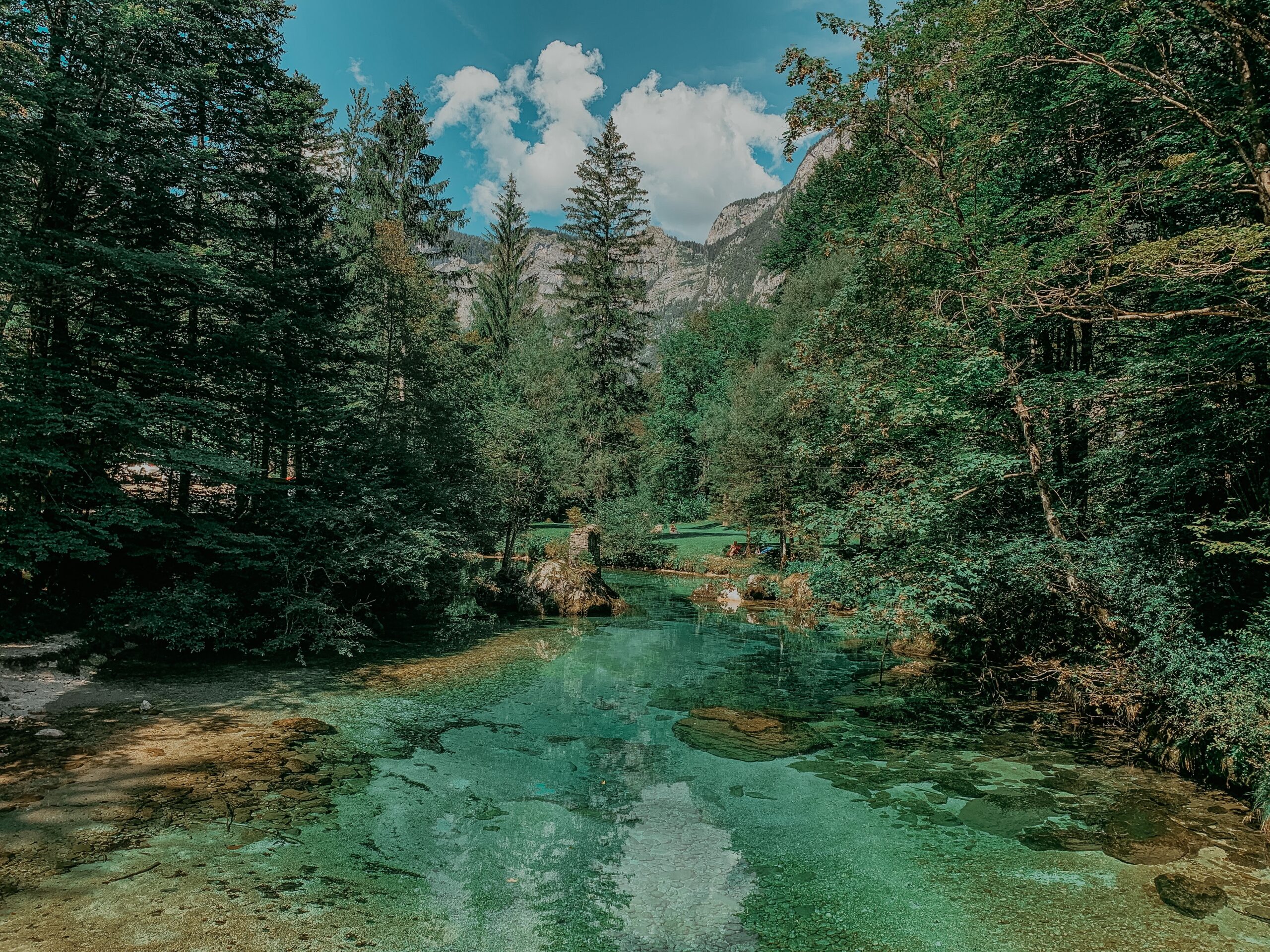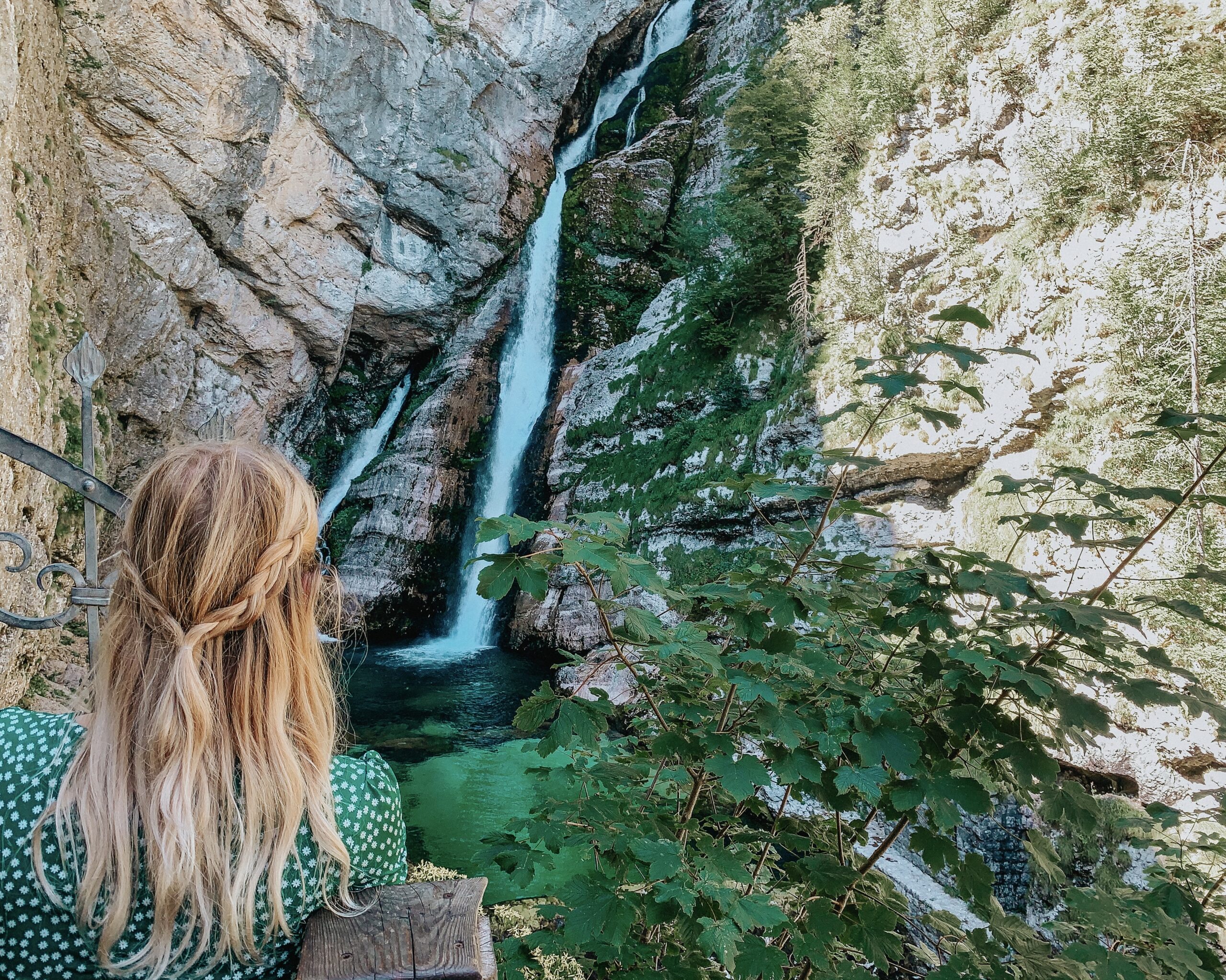 The gorge is beyond beautiful with the clear blue waters and mossy cliffs, but in the sweltering heat, the long walk across the boardwalk and then the 45 minute walk back to the parking lot is awful. It doesn't help that we're lost, since the way out of the gorge is different from the way in, and we walk like a kilometer before realizing we have to turn around.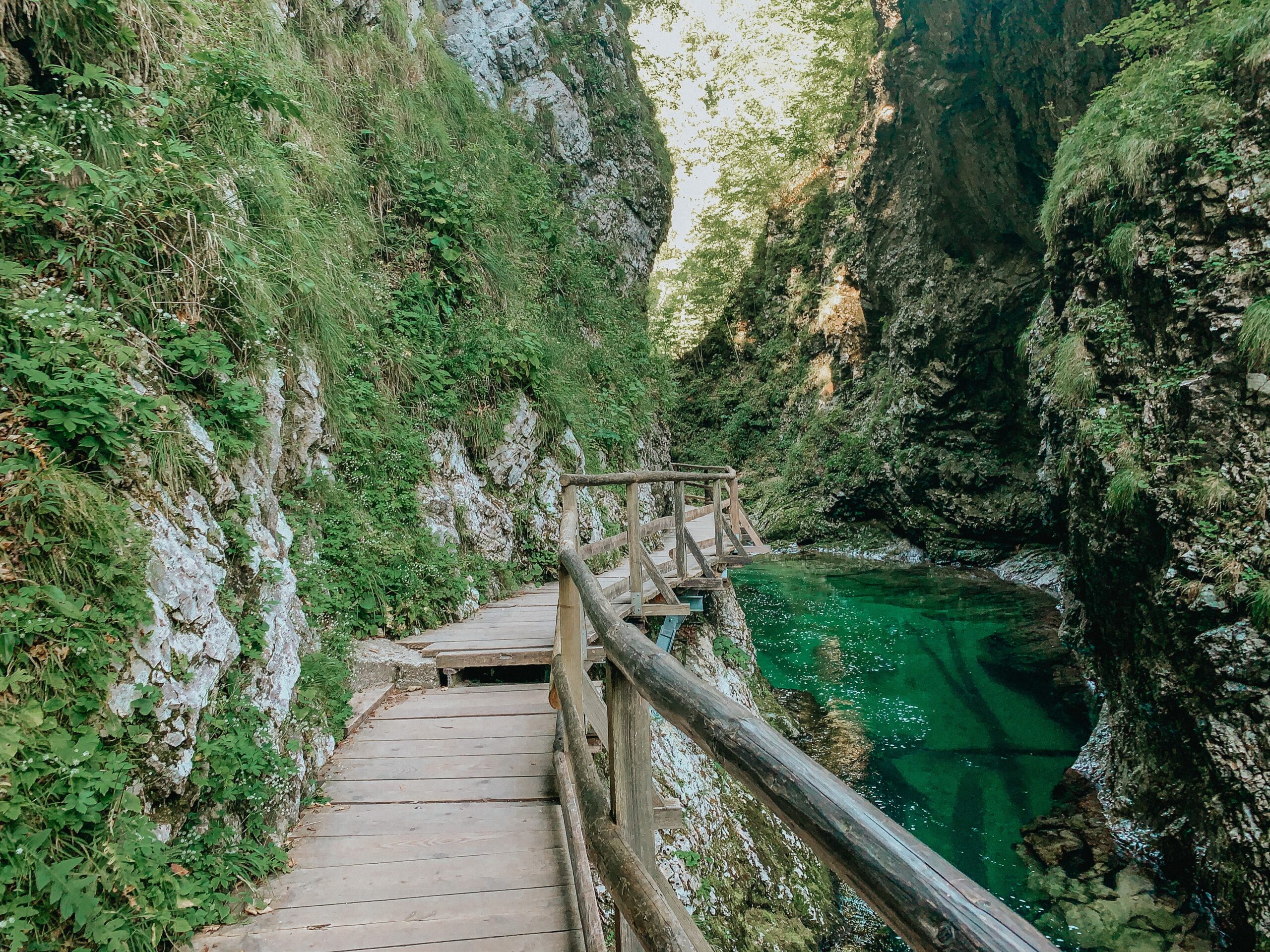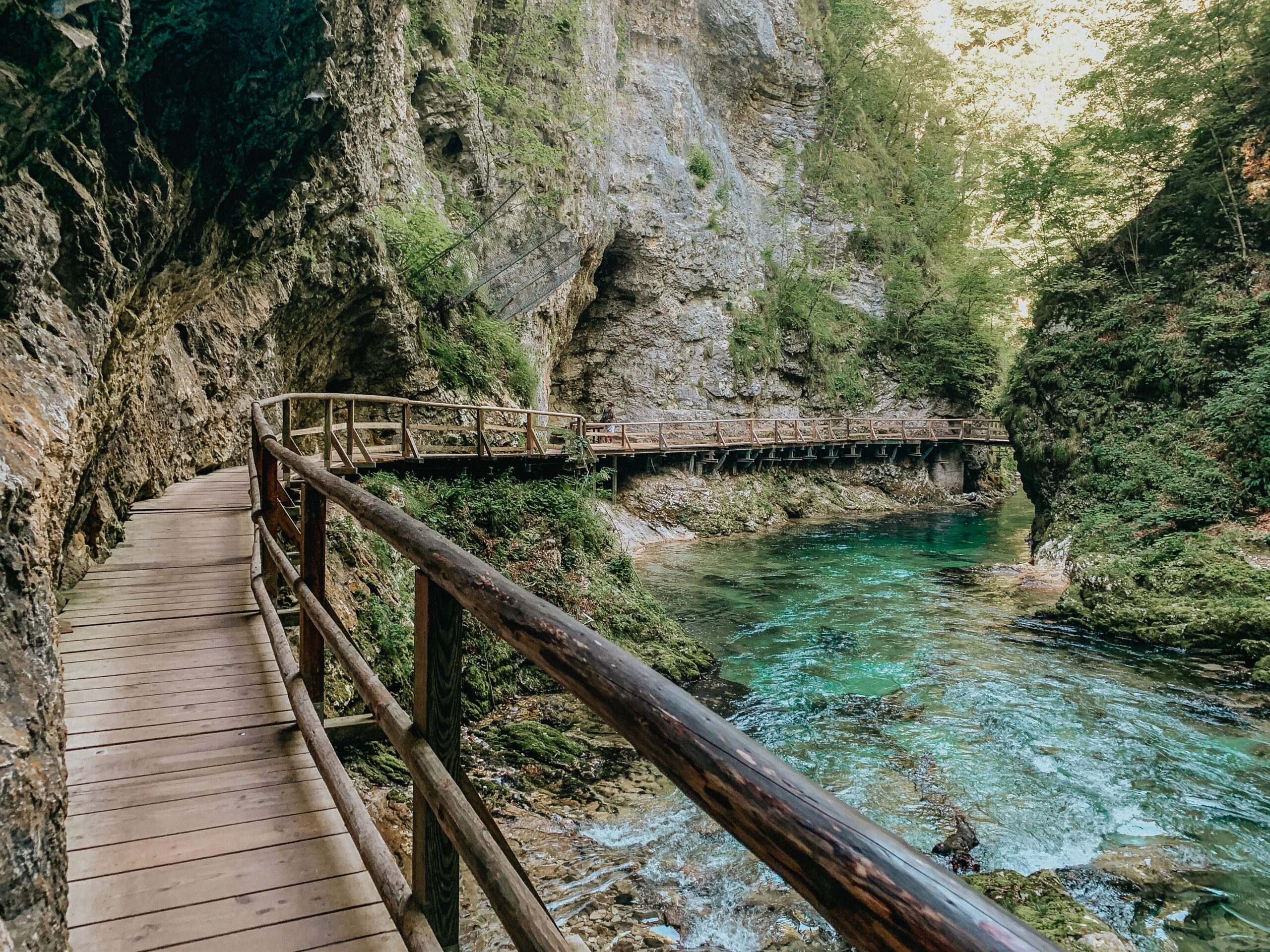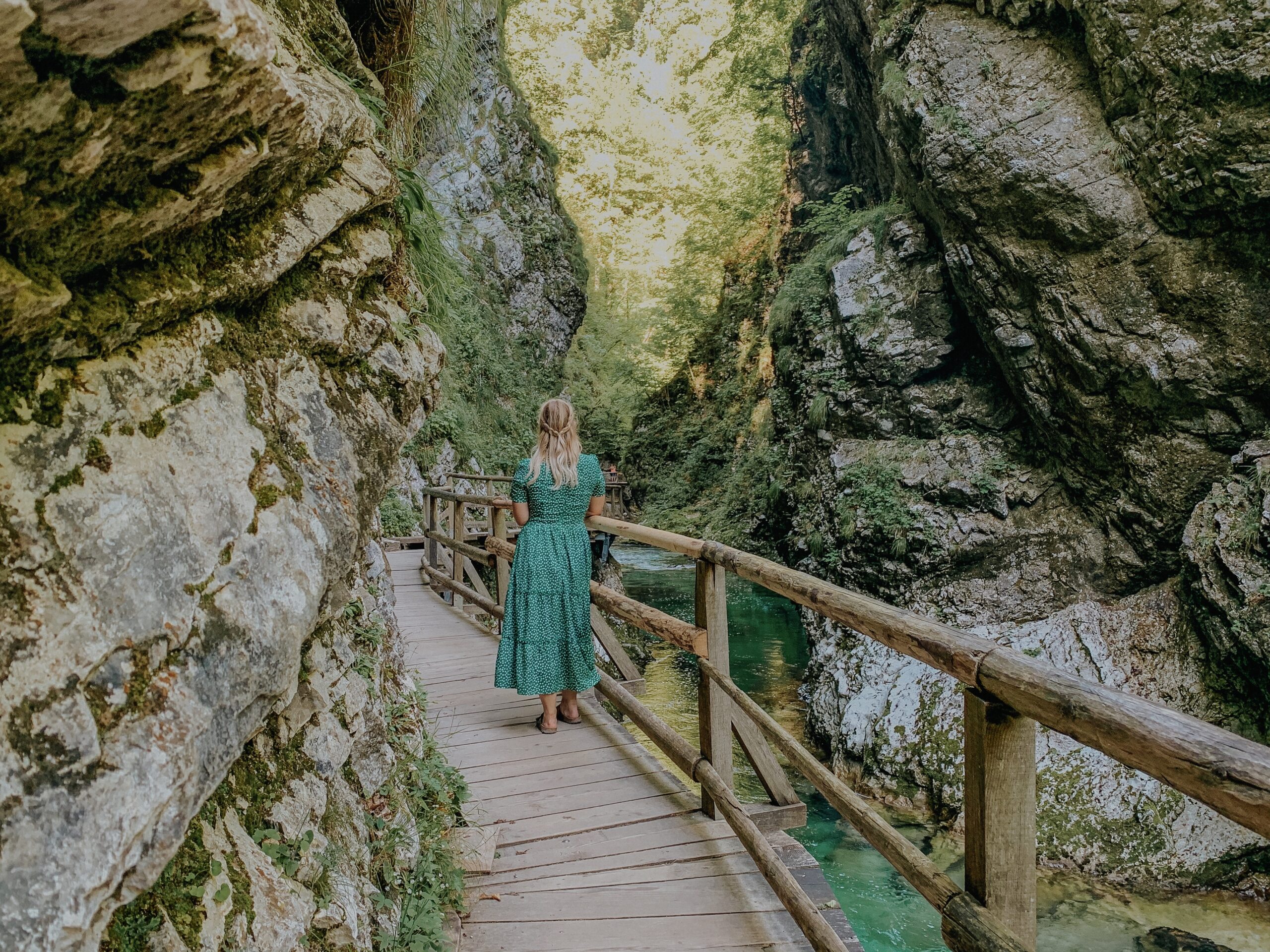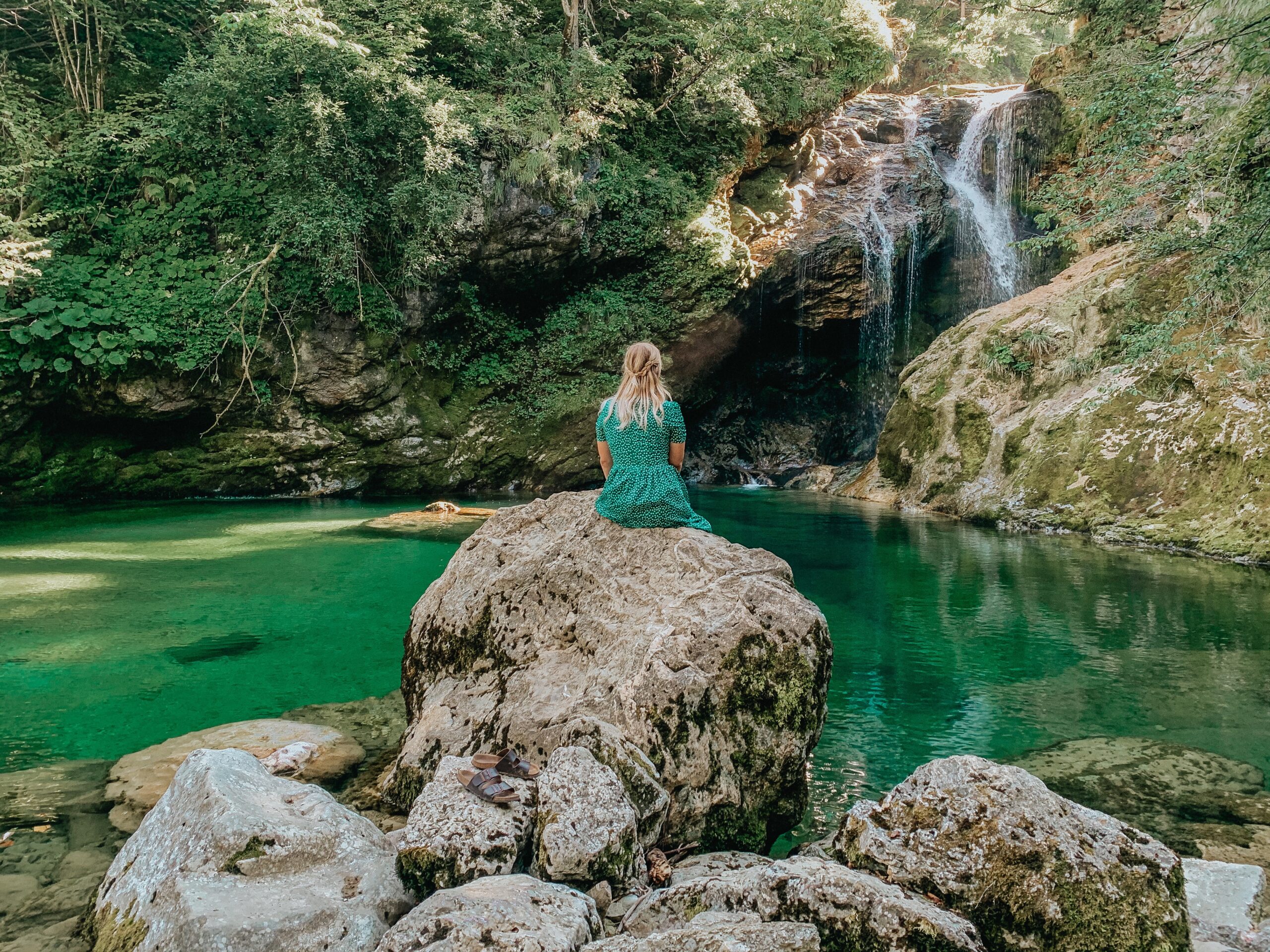 We have many beautiful locations on our itinerary, but the long walk took up more time than we had expected, so we head straight to Soča, which requires passing the Italian border, driving up and down winding mountain roads, and then cross the border again. It's like driving through a friggin' Bob Ross painting. By 8.30 we've arrived at Soča Rocks hostel and it's too dark to see or do anything there, so we just have our standard travel dinner of baguette with brie, prosciutto and cucumber.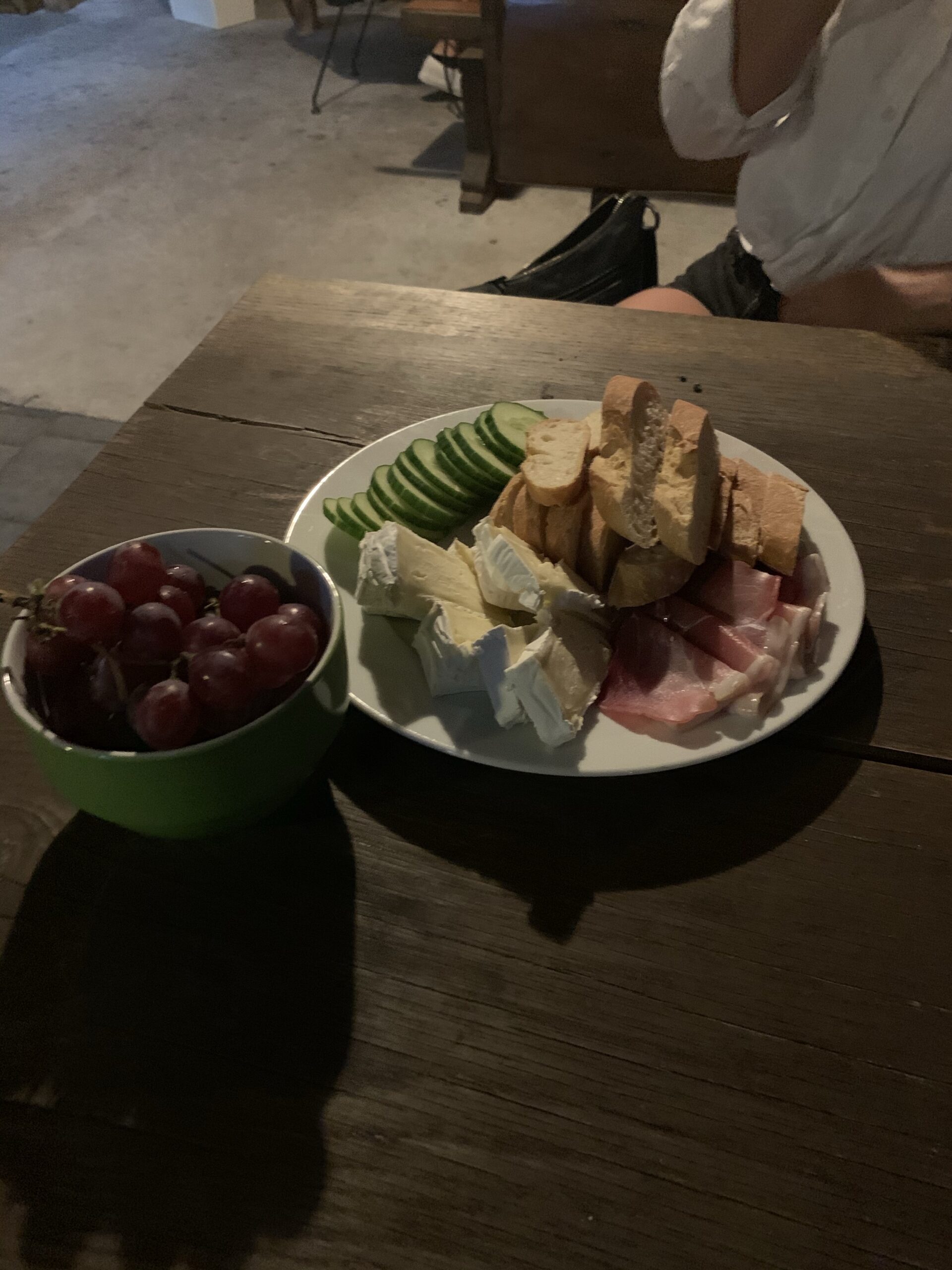 We bring a bottle of wine up to our balcony and try to plan our next move – for once we haven't booked accommodation for the entire trip, and we were hoping to stay in Piran the next day, but everything in and around Piran is booked. Actually, everywhere else seems to be booked for tomorrow and we're growing frustrated and too tired to think straight. A guy in the dorm next door walks out on our shared balcony and brags about being a trauma surgeon for a bit before suggesting we go to Venice, as it's apparently completely empty of tourists. That idea seems too good to pass up, so we book accommodation in Trieste, which is right on the border of Italy and Slovenia. We go to bed, and I lock myself out of the room at 3 AM with no phone, so I have to knock on the door until one of my room mates gets up and lets me in. Oops.
For breakfast the next day, we make fancy sandwiches out of last night's leftovers, which we eat in the car on our way to Venice. Once we arrive, we sit down for pizza, pasta and an Aperol Spritz.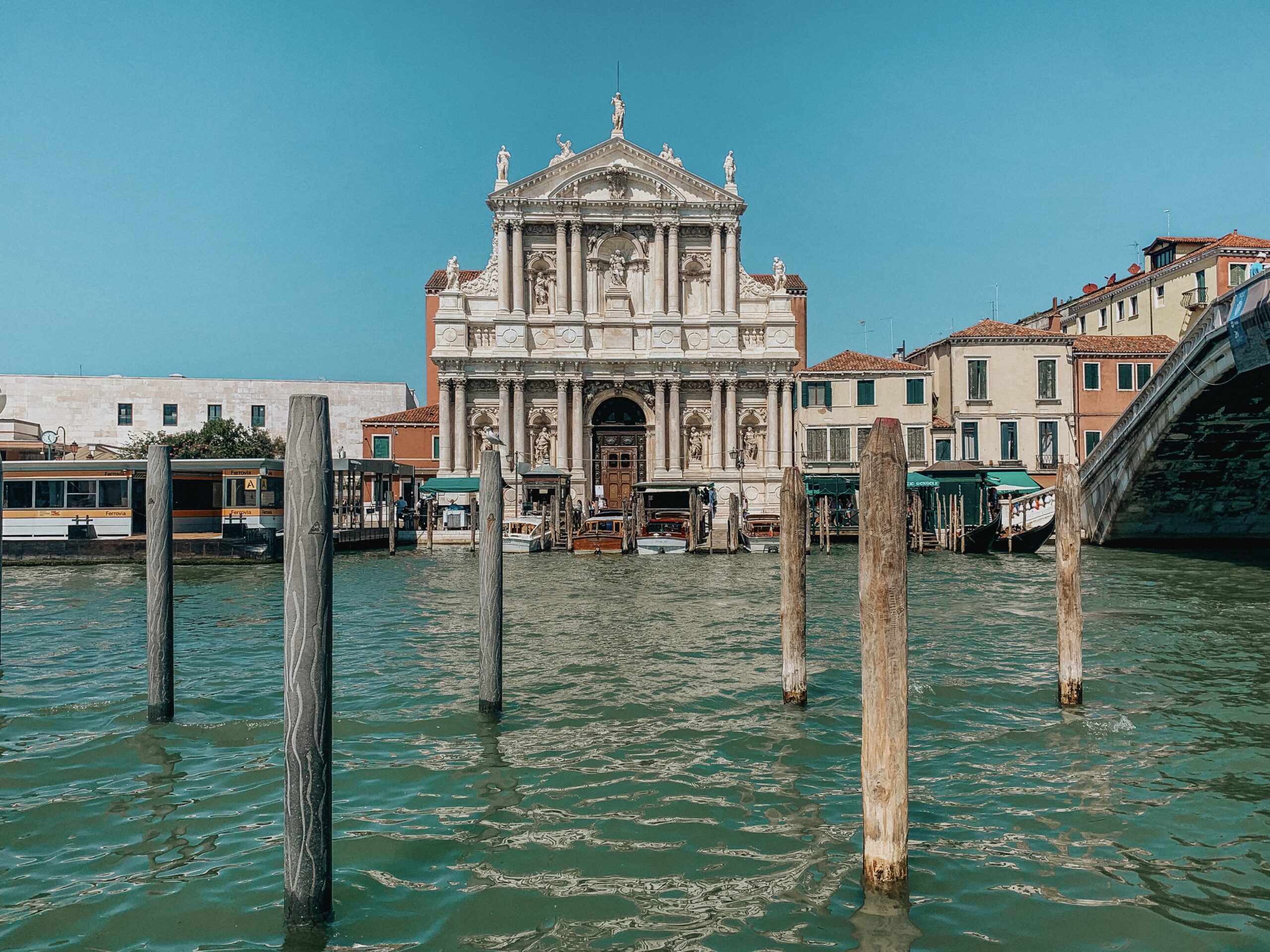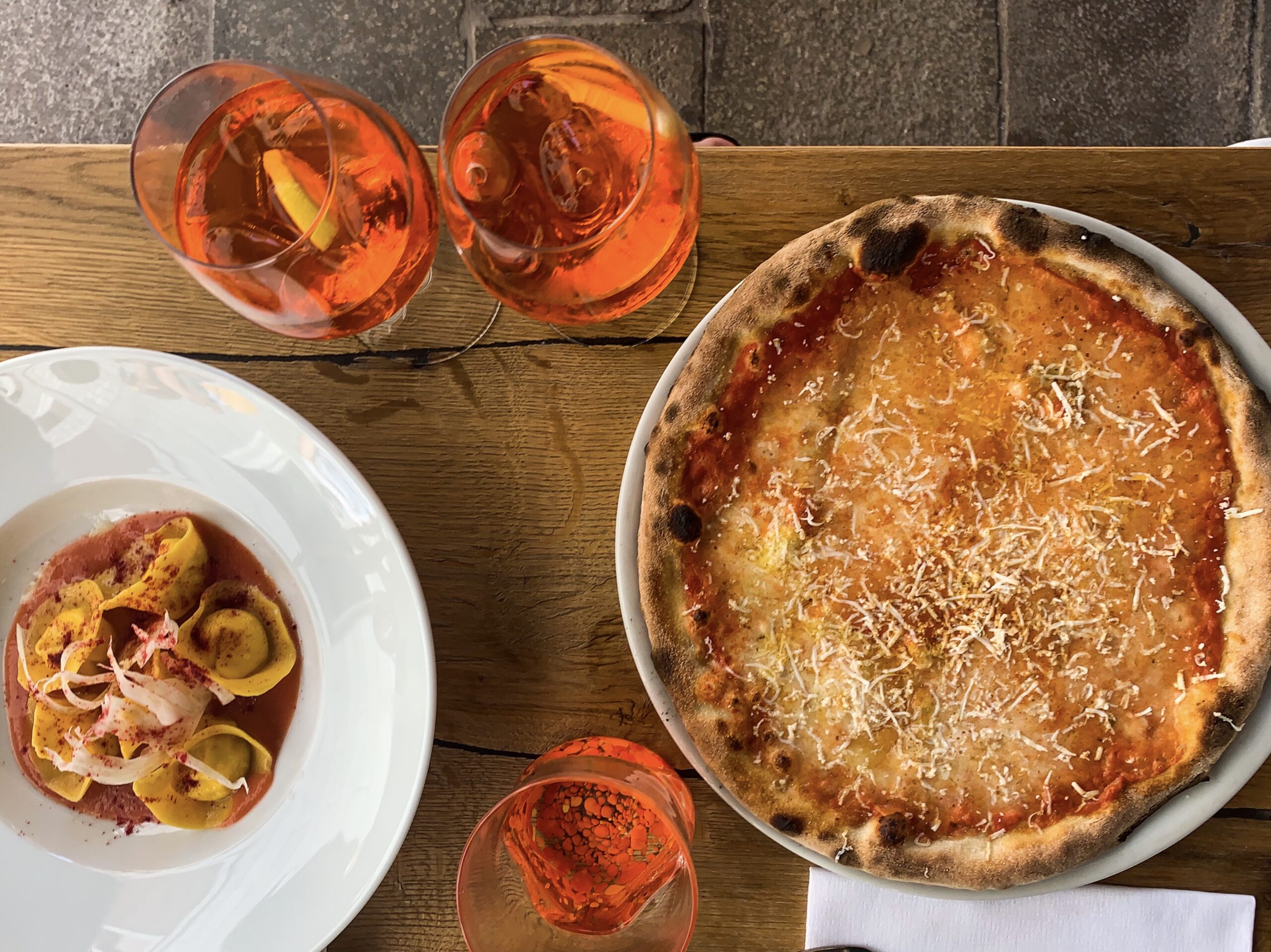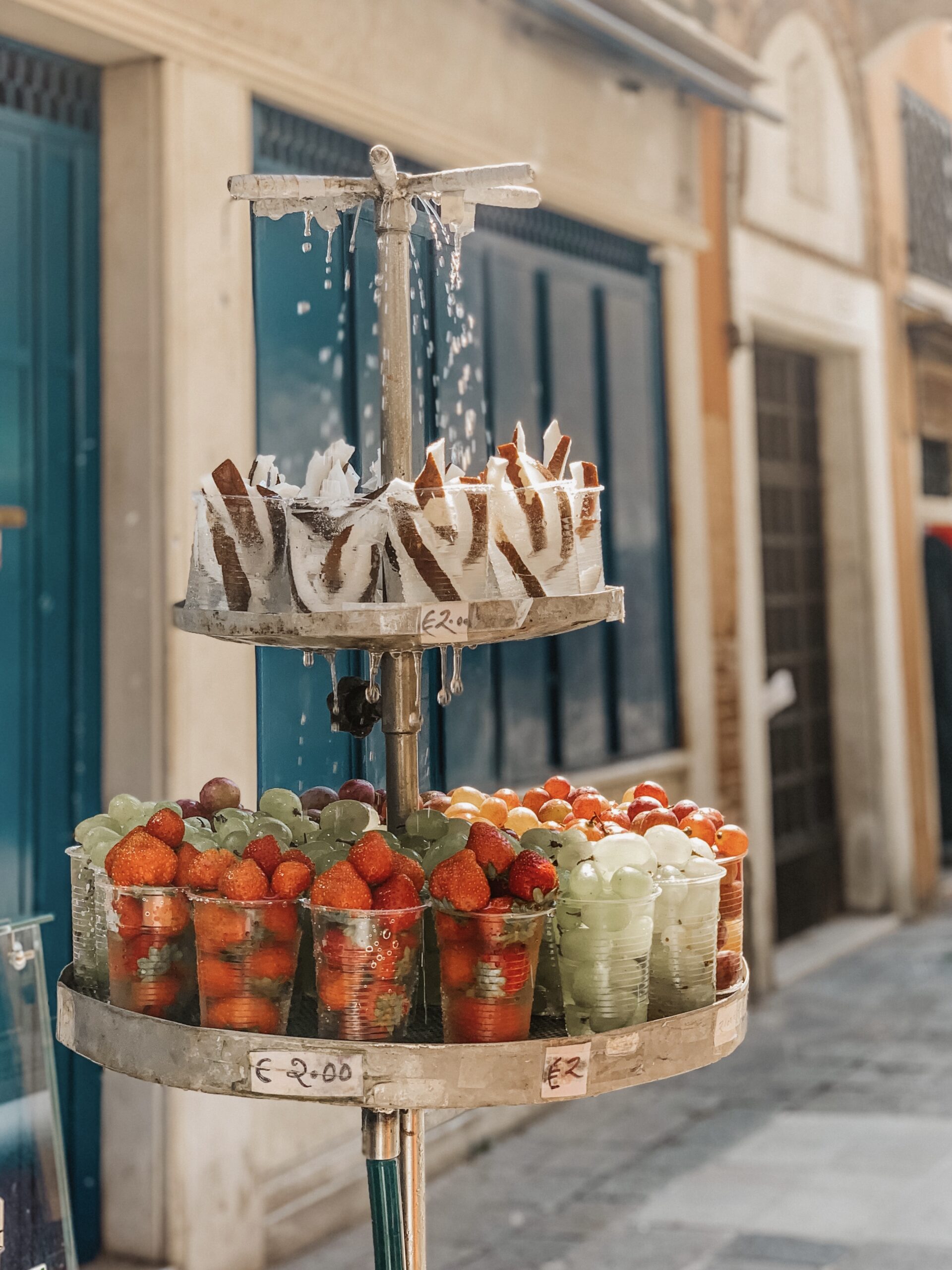 We walk around Venice, enjoying the beauty of the buildings and the canal, buying souvenirs and taking lots of pictures. At one point, Aga is pointing her camera at me and I make some over the top poses as a joke, which makes a passing couple burst out laughing, and yelling "YAASS GIRLS!"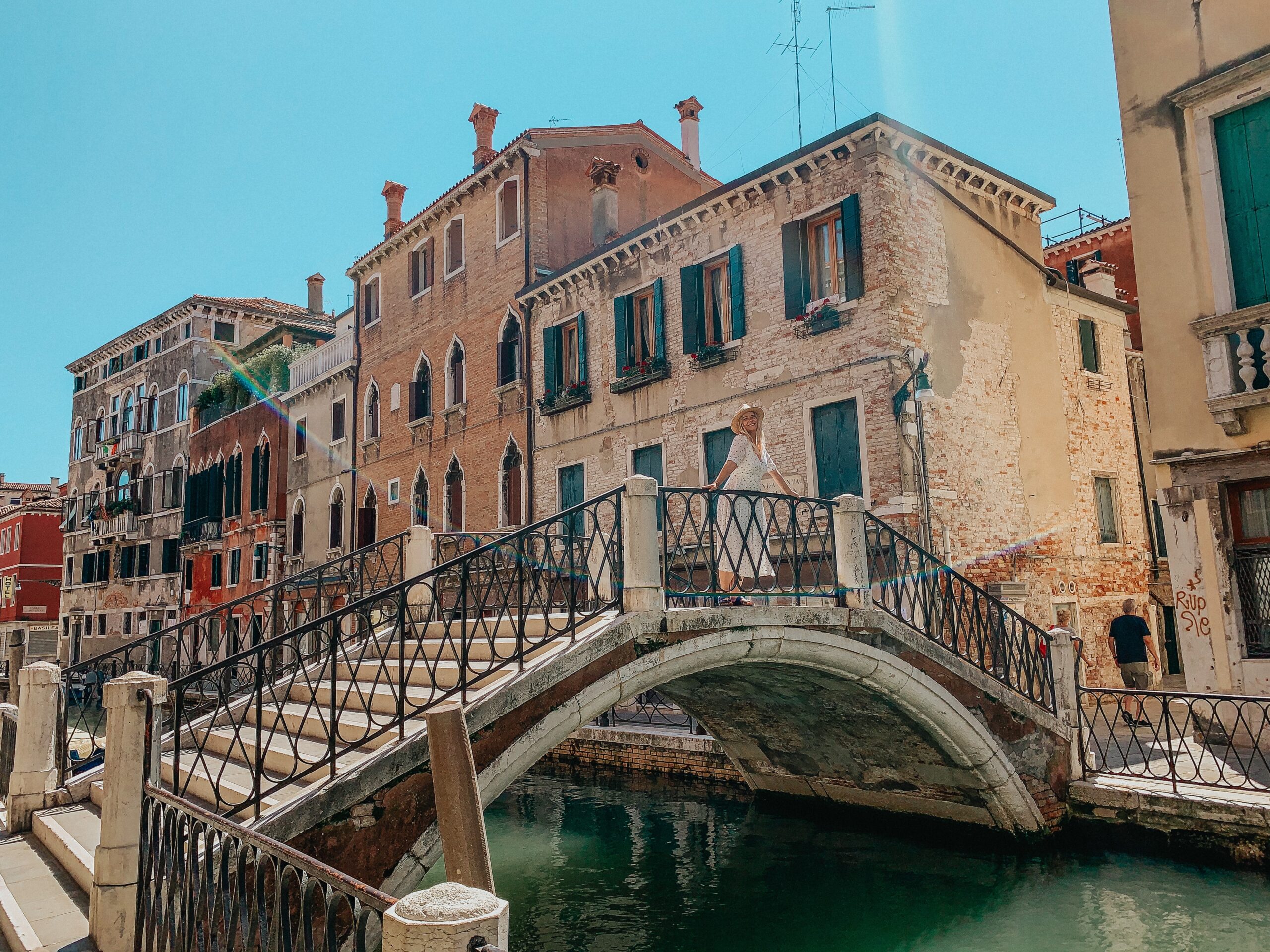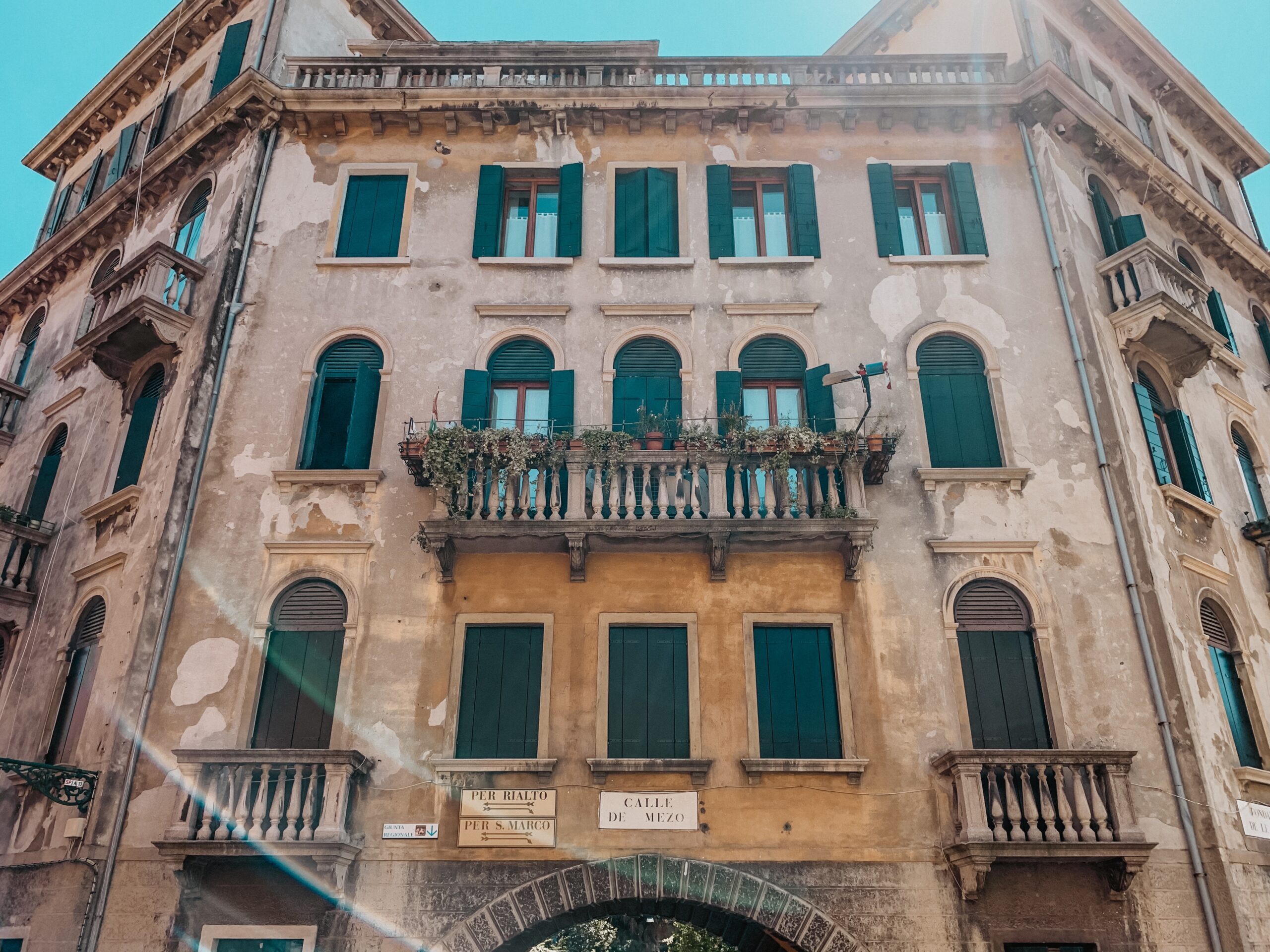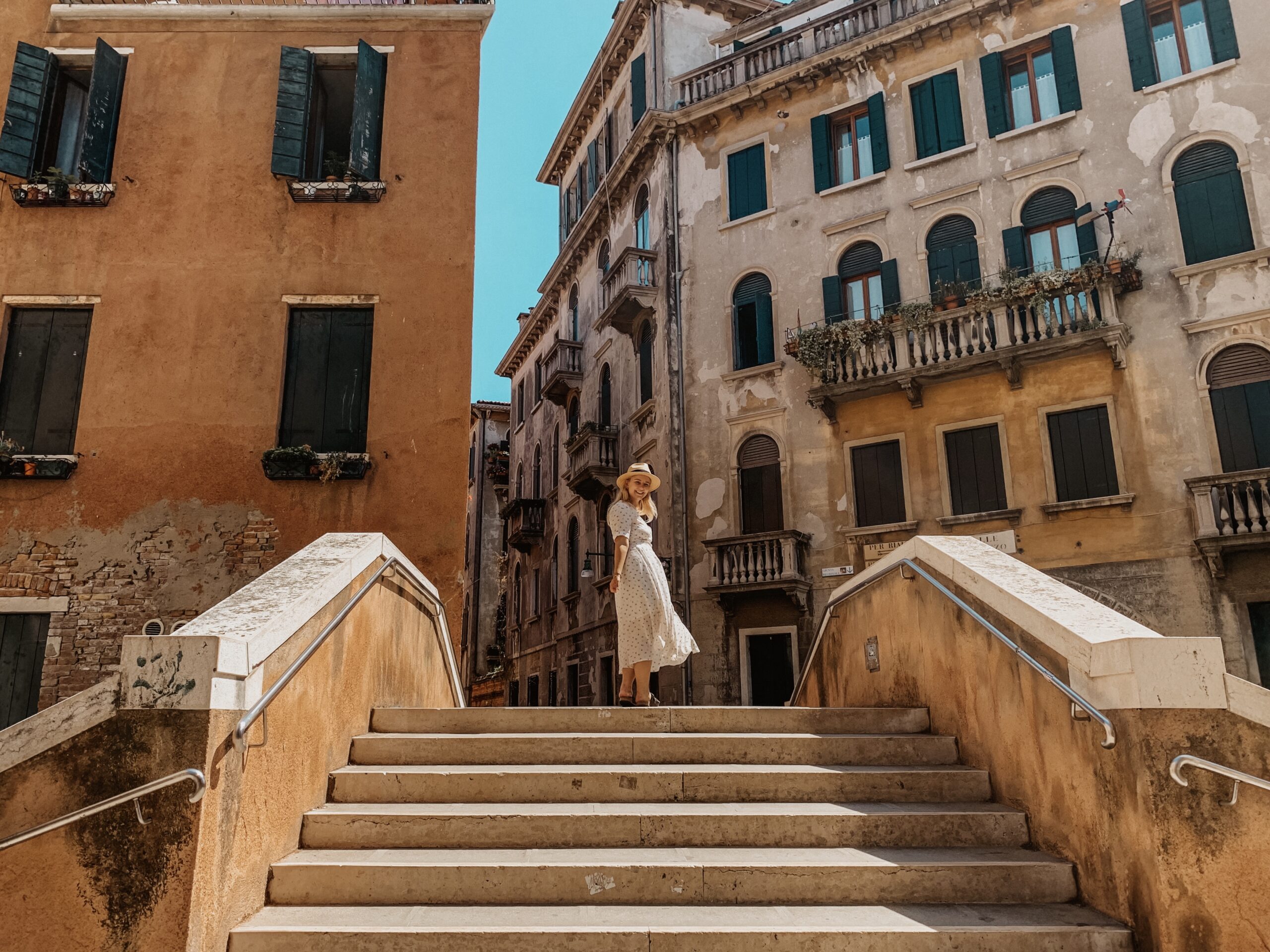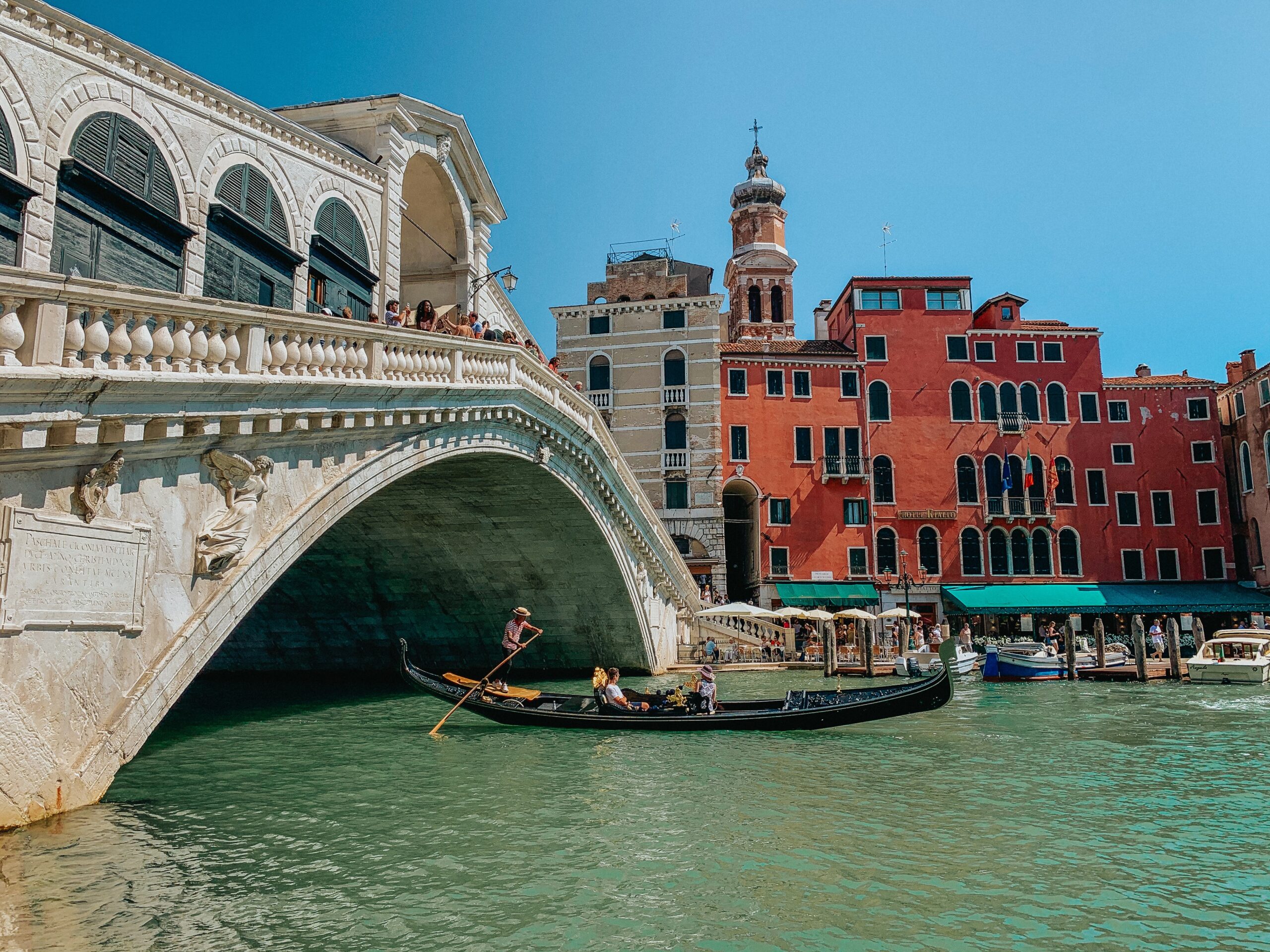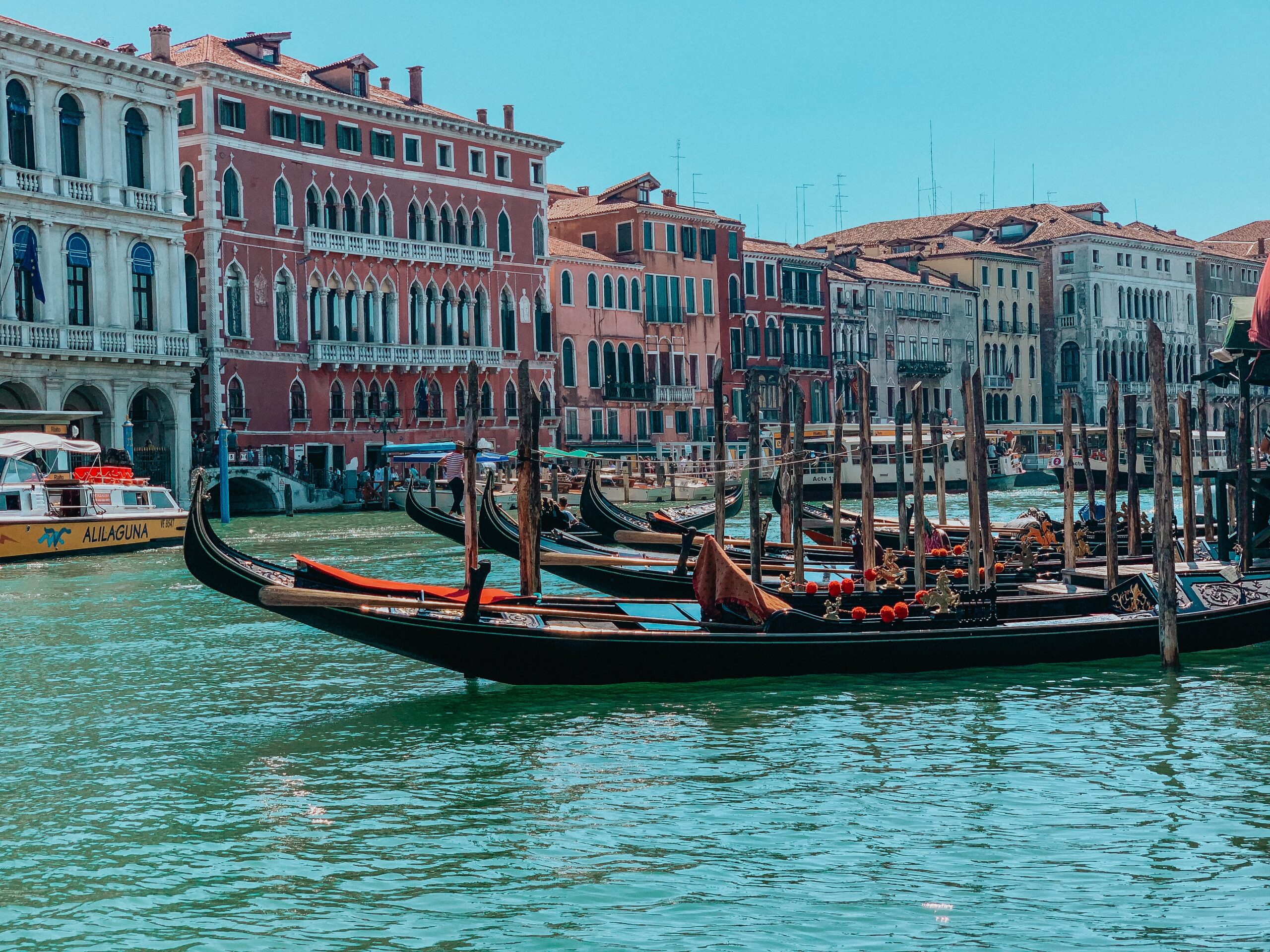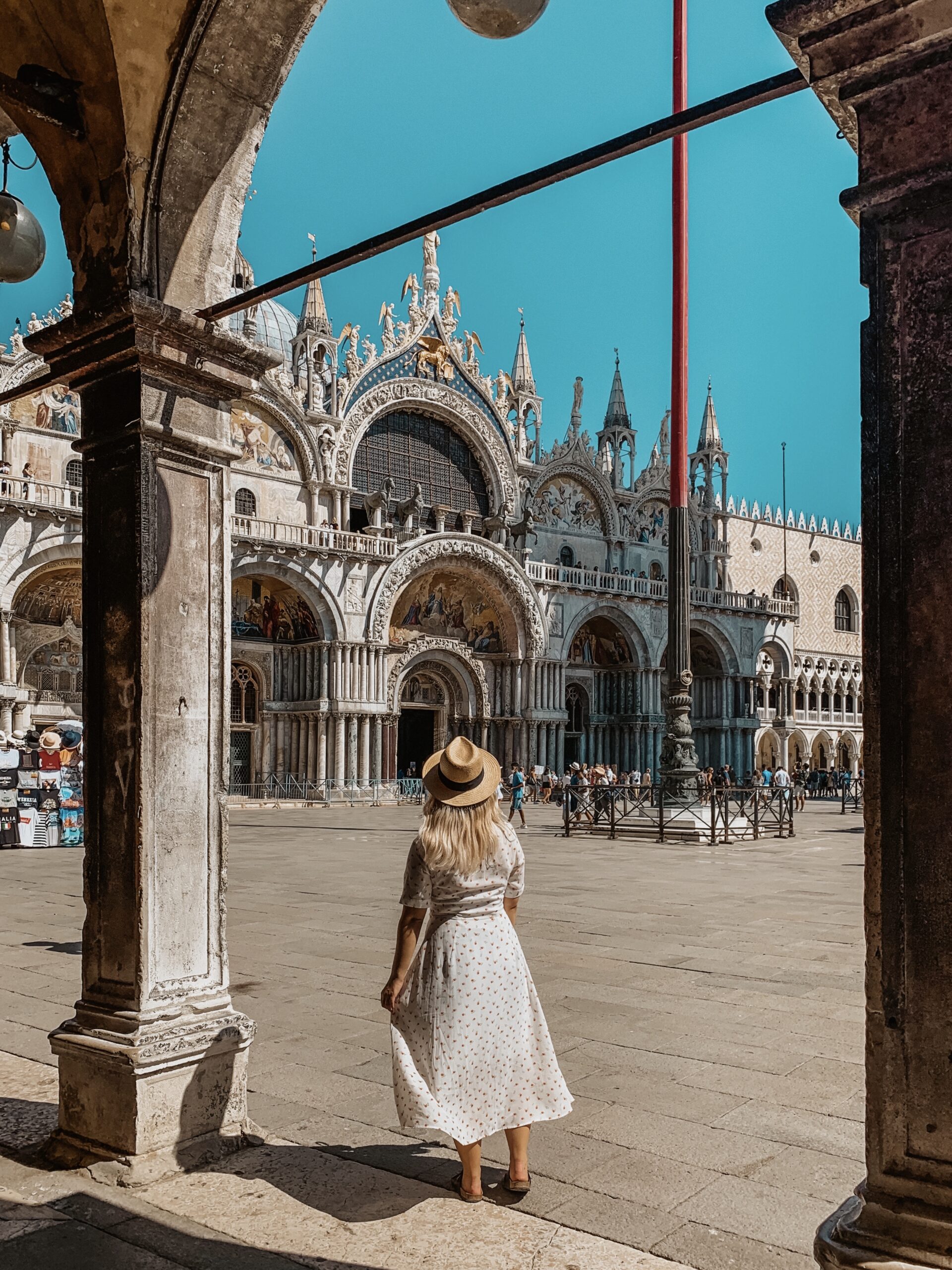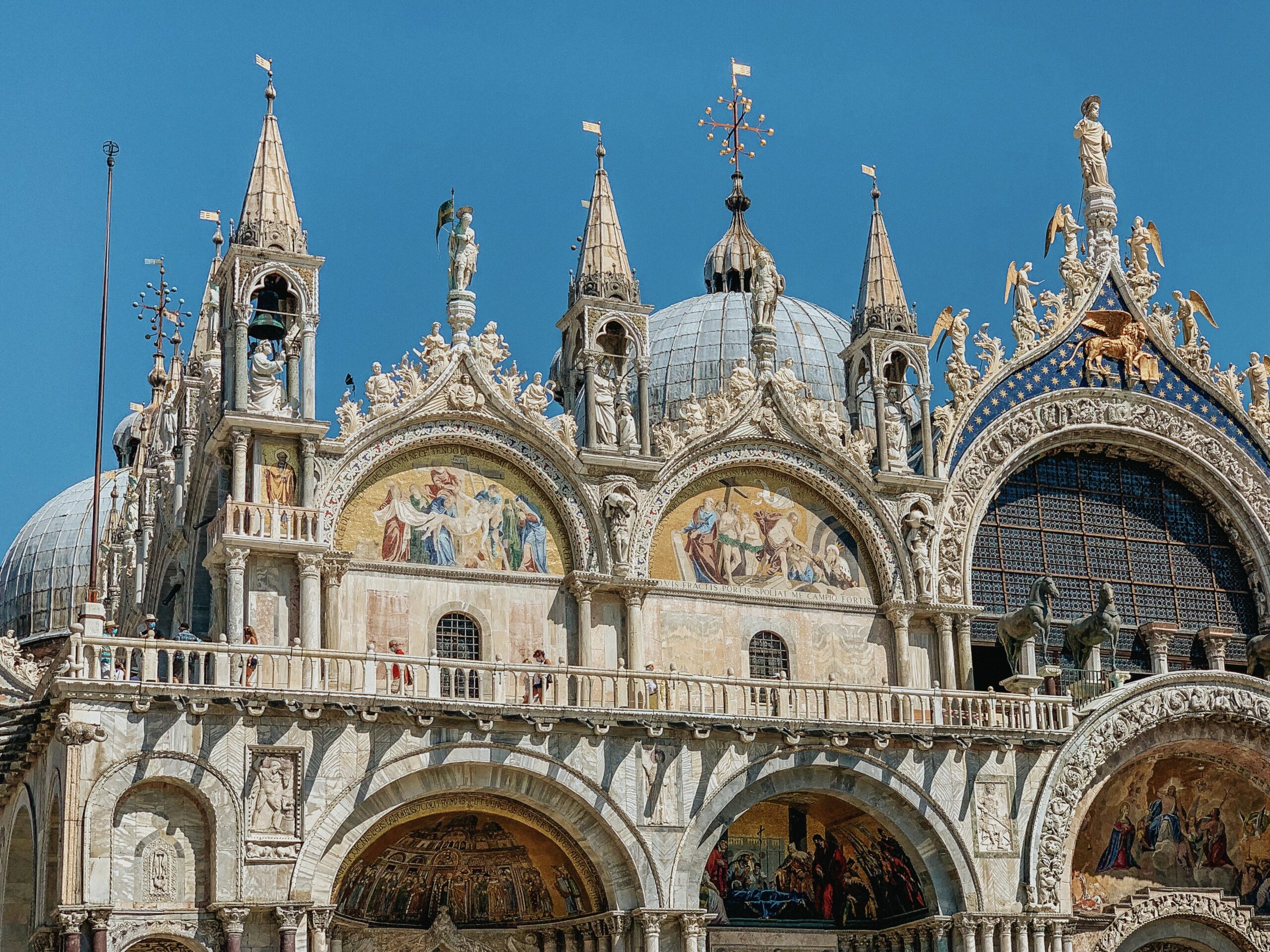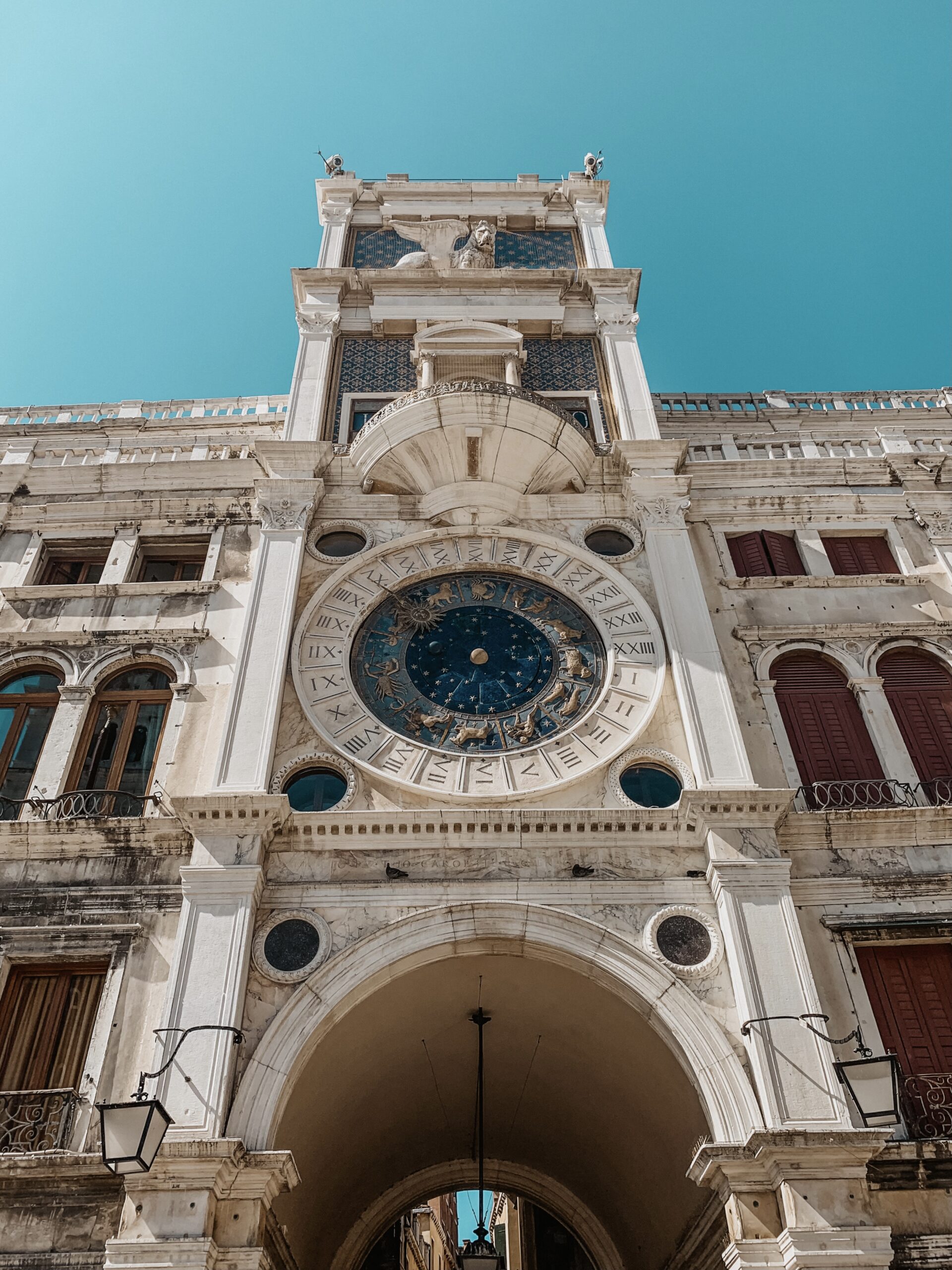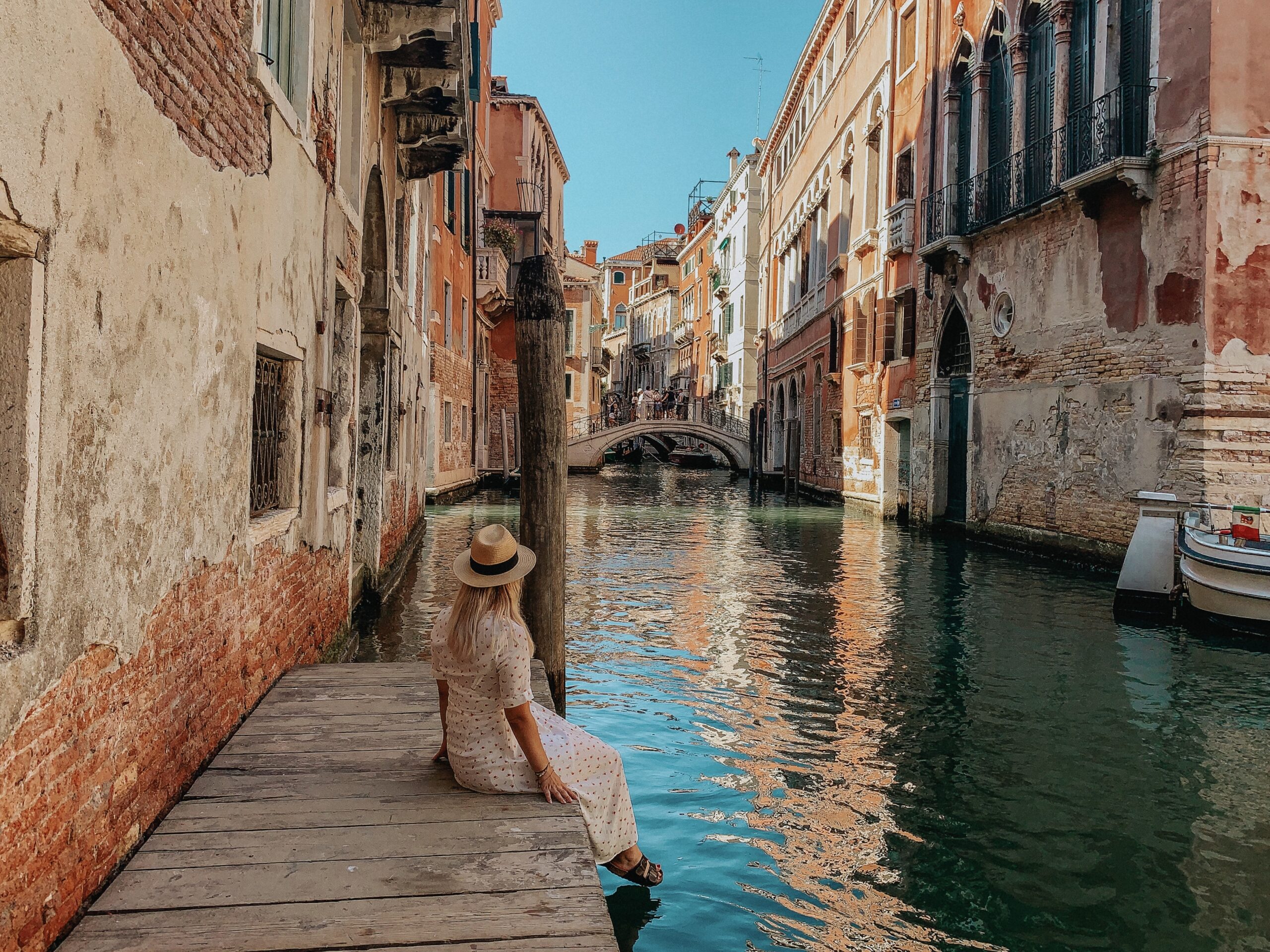 Other than that, Venice is actually fairly quiet, and it's possible to see places without too many people obscuring the view. We agree that this was the perfect time to go, and the perfect backup plan. Once we've finished walking around, we sit down again for a glass of white wine and share some strawberries with ice cream to cool down. Then it's back to Trieste, where we eat dinner at the cheap restaurant at the hotel. We're enjoying the privacy of our own room and the AC, though, and we go to bed around midnight, after spending some time in bed talking and drinking rosé.
When we wake up, it's time to head back to Slovenia. In Maribor, which is known for having the oldest vine in the world, and producing some great white wines, we visit Vinag Wine Cellar, where we get a private tour because we are the only visitors that aren't German. We tour the cellar, climb into a cement wine tank through a small hole and try lots of different wines. The guide gives us a good deal, as the original price is €24, but we get it for €20 and nearly two glasses of free wine each plus an umbrella! The last part was just because someone'd left it there. After trying a sweet Chardonnay (Gasp, I know), Sauvignon Blanc, Mariborcan pink and black blend, rosé and muscat, we're tipsy and freezing. We buy a bottle of wine each after the tour, and then head back out in the sun.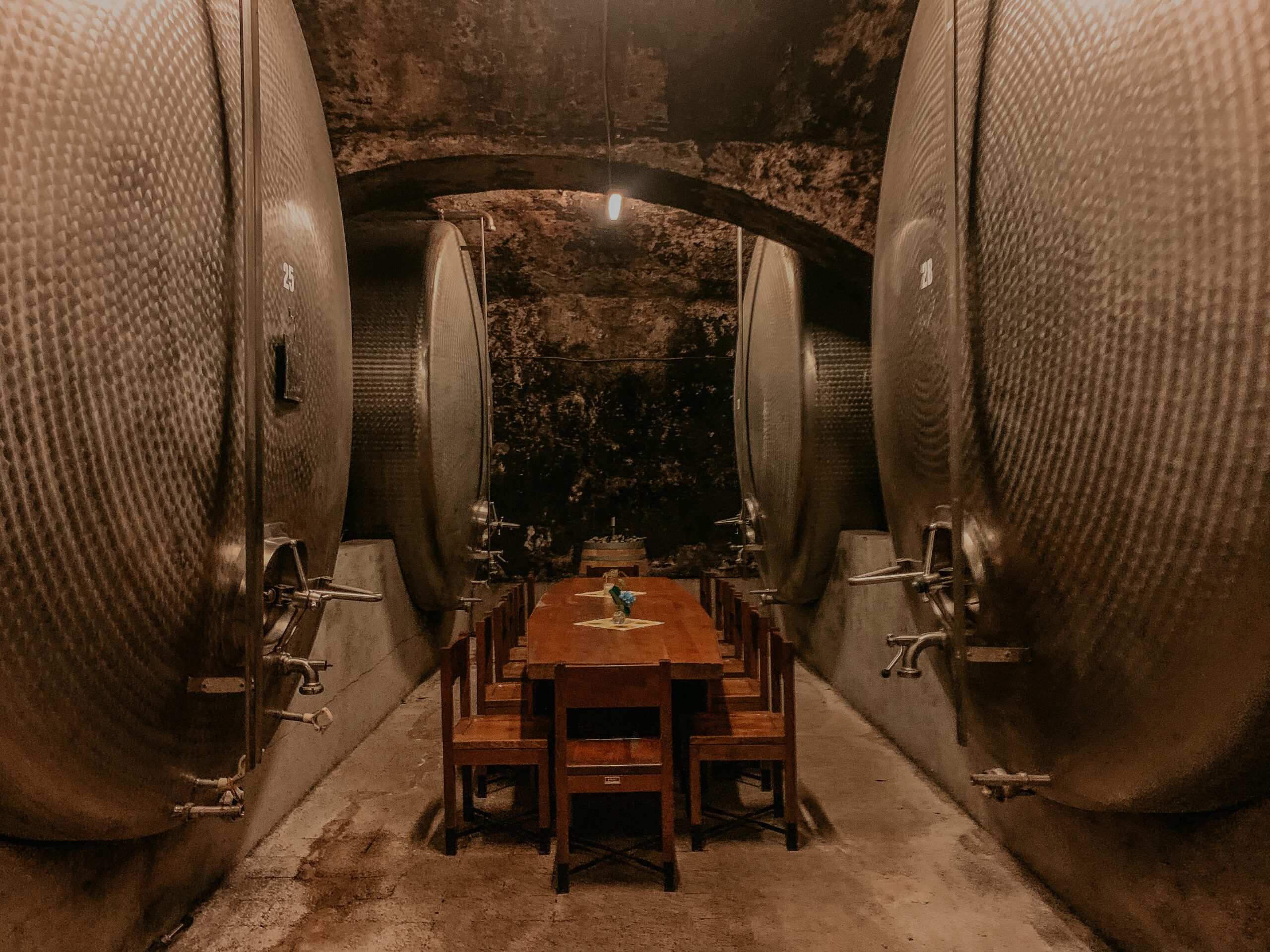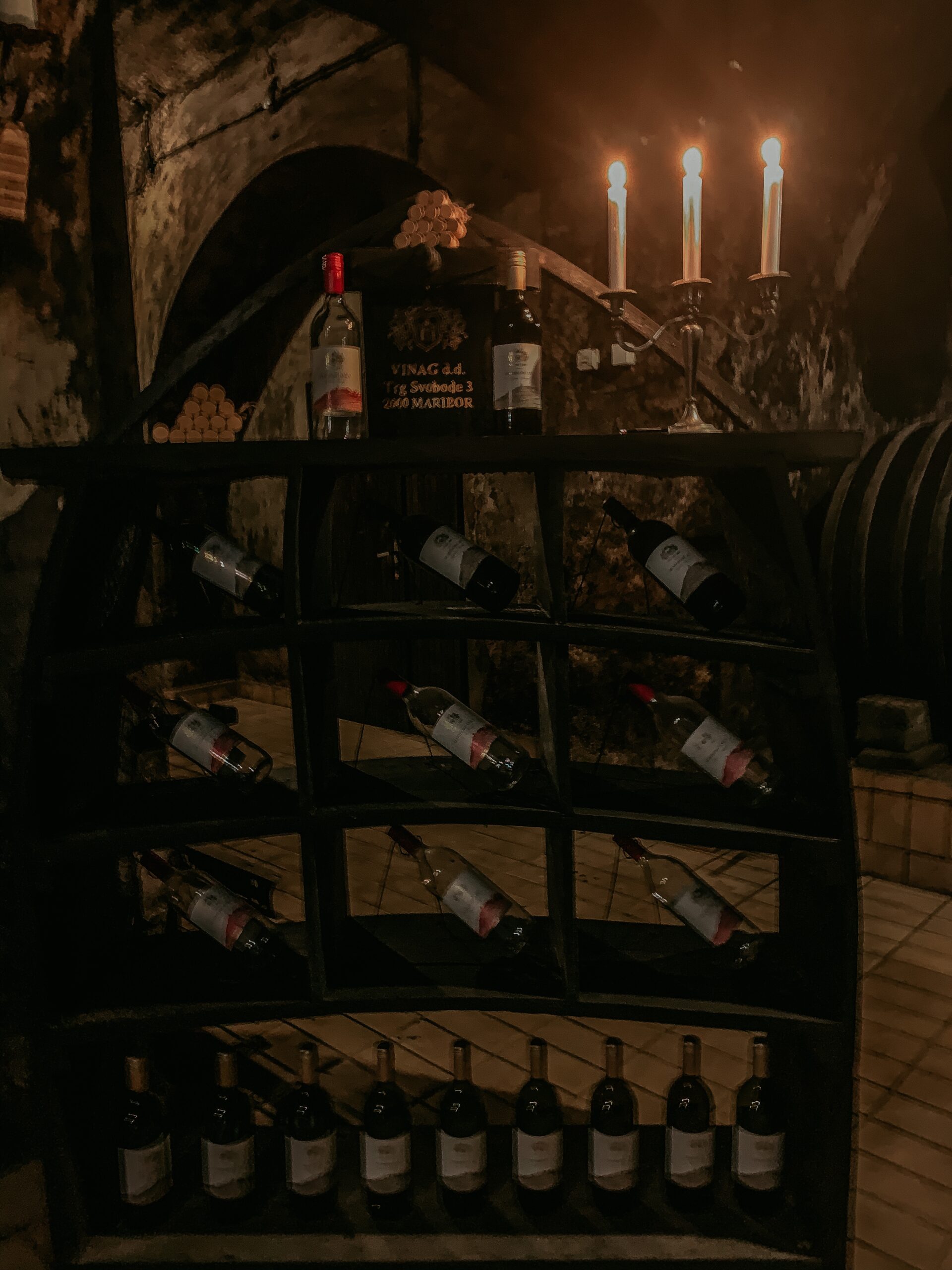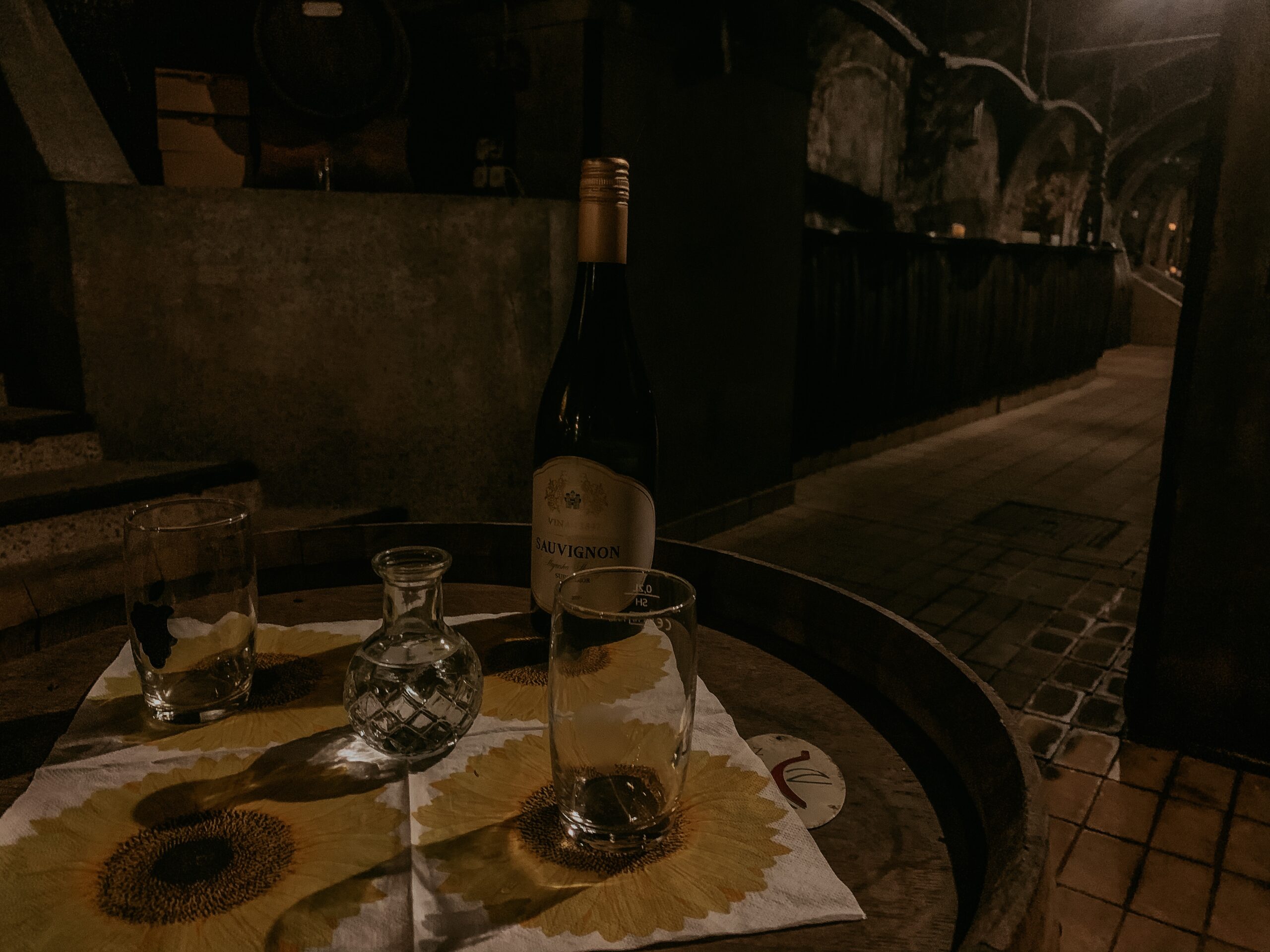 For lunch – yes, we're tipsy before lunch – we have a meat and cheese platter at Nana lounge bar, where Aga accidentally loses grip of her fork, which hits a nearby woman in the head. Needless to say, she's furious that Aga almost murdered her. Our next wine tour is at Old Vine House, which is the home of the world's oldest vine. After admiring the vine, which makes a nearly undrinkable wine, we head inside and realize we're the only people there. We get the silver package and try a Ranina white, Pinot Gris and Dolum. By now we're full, tried and pretty drunk. We buy 3 bottles of Mariborcan blend and drink one of them back at our room at UNI Youth hostel, while watching Ali Wong's Netflix specials.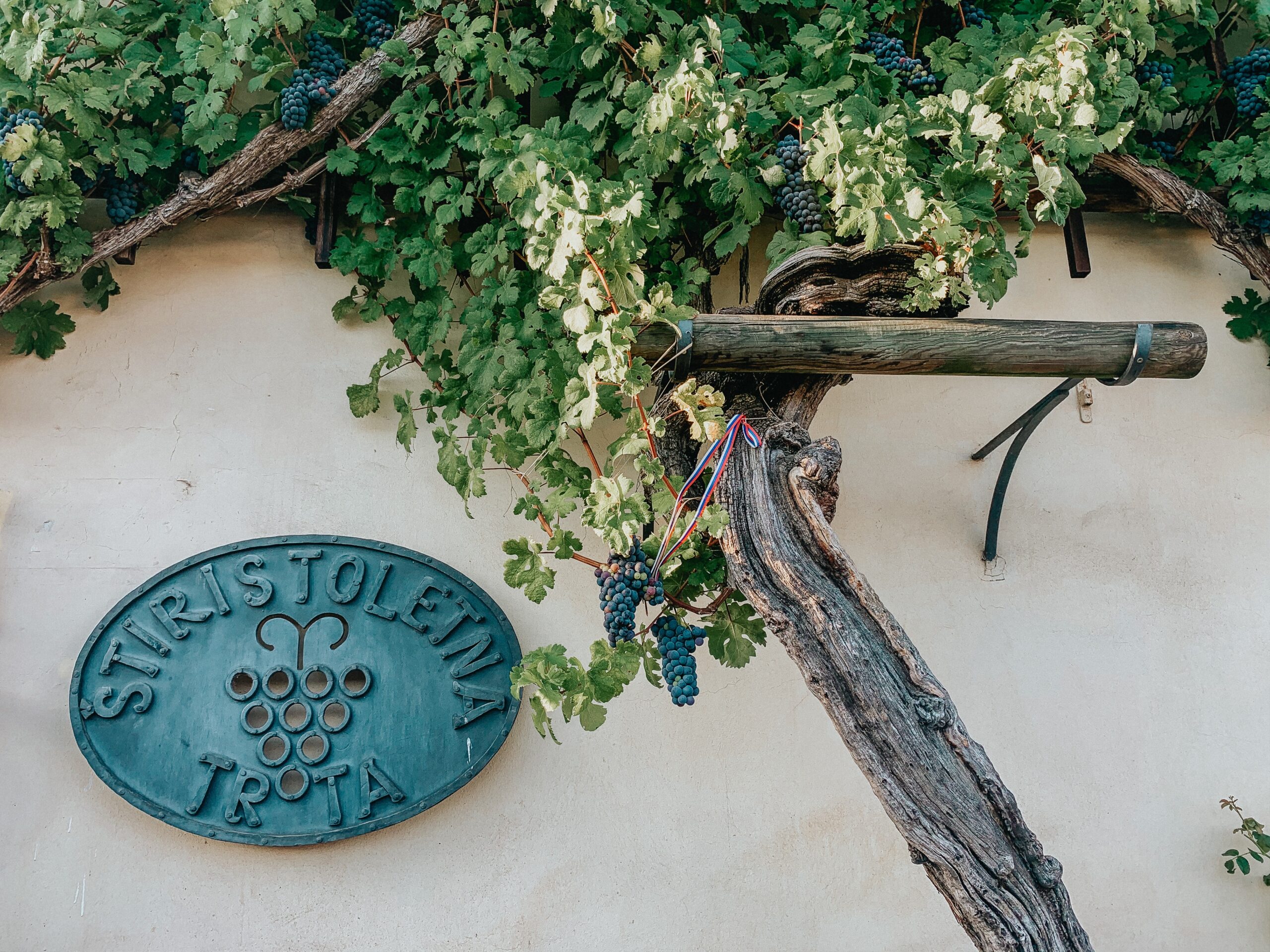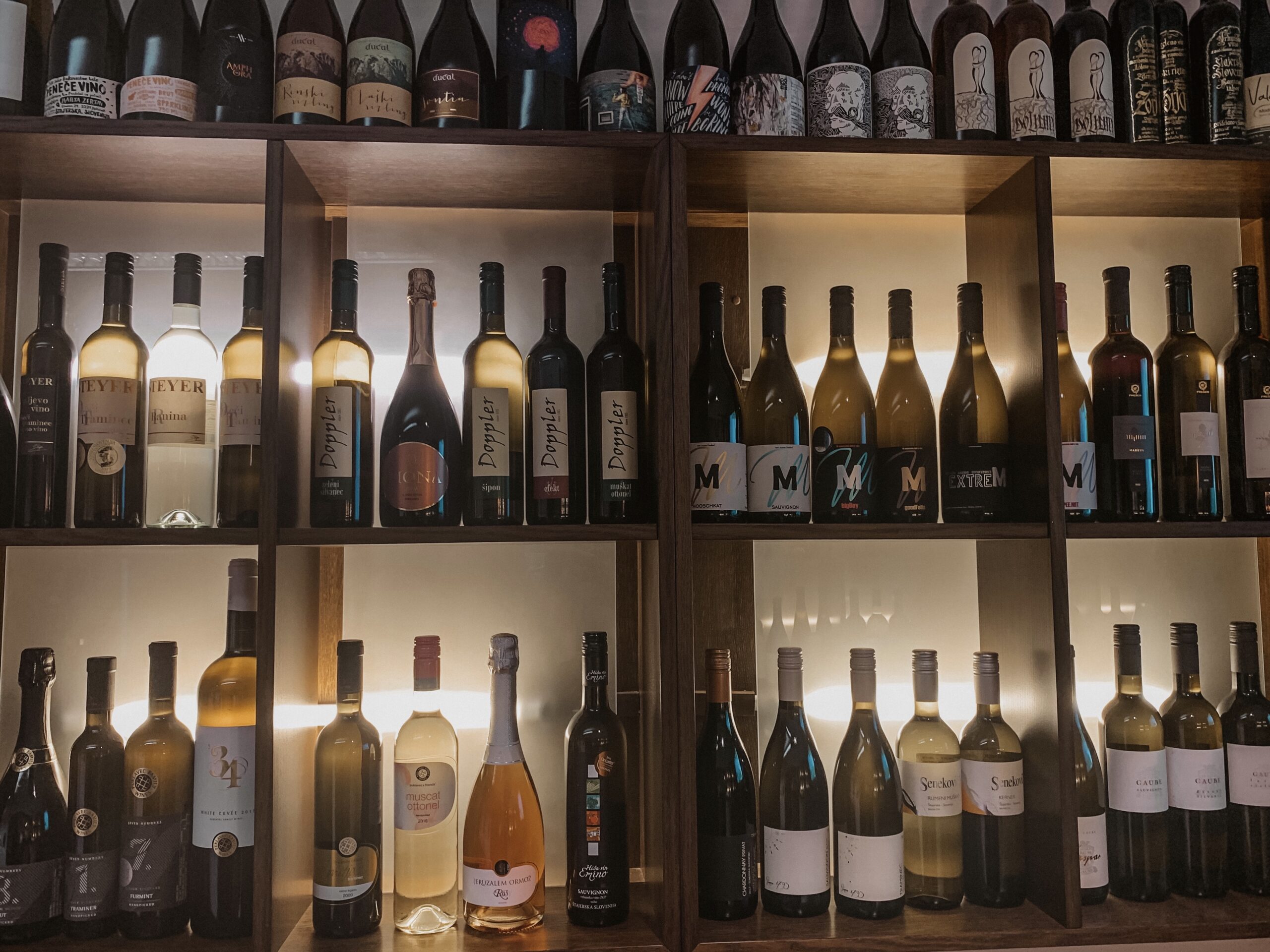 For some reason, we feel like going to Bratislava for the day, so we book our accommodation for the night at Chors art boutique hostel and head to Slovakia.  After checking in, we have lunch consisting of a creamy garlic soup served in a loaf of bread and a platter sampling different local dishes.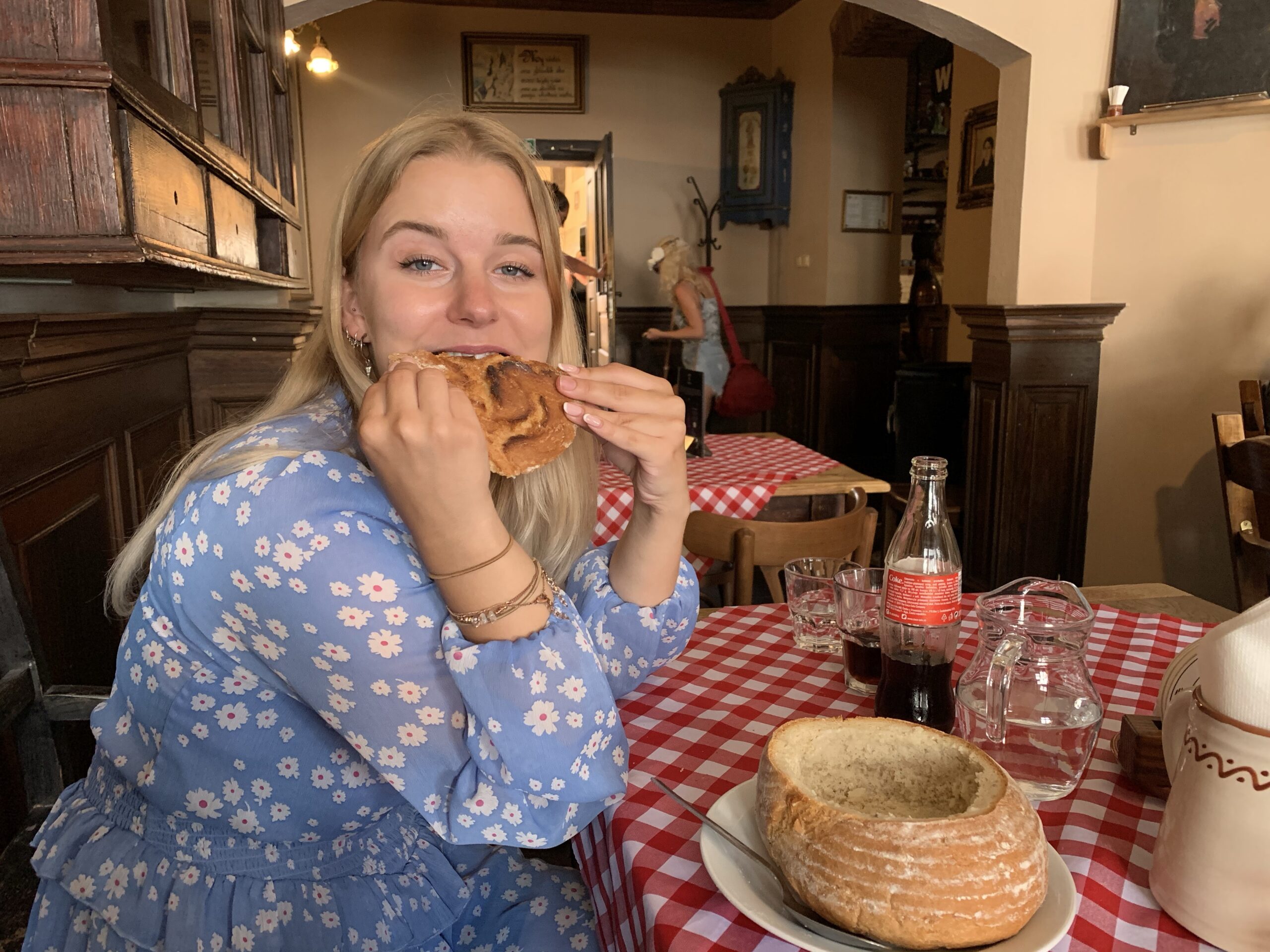 We then go sightseeing by the pink Primate's Palace, the main square, the blue church, the UFO bridge until it's time for several drinks and several bars.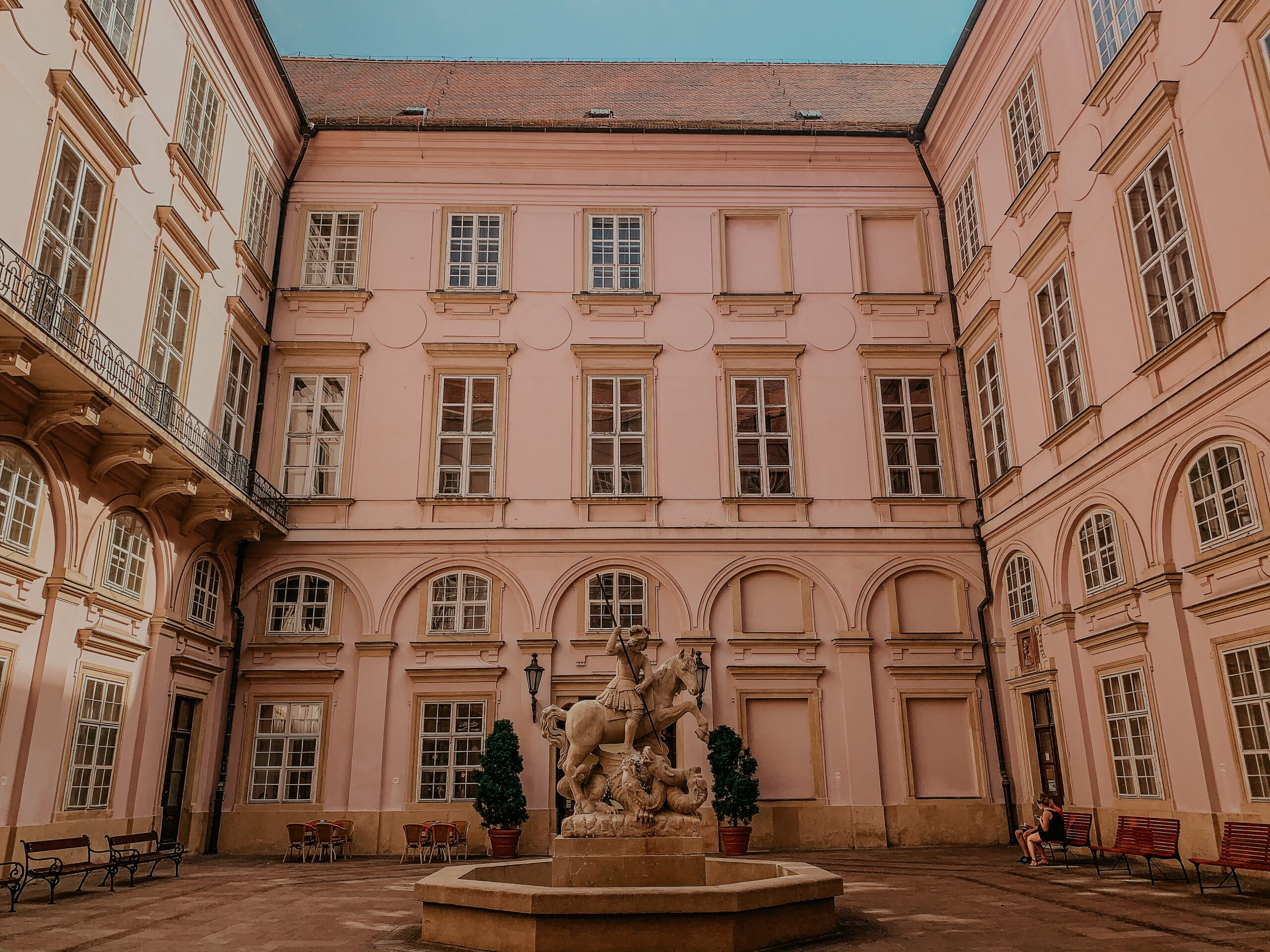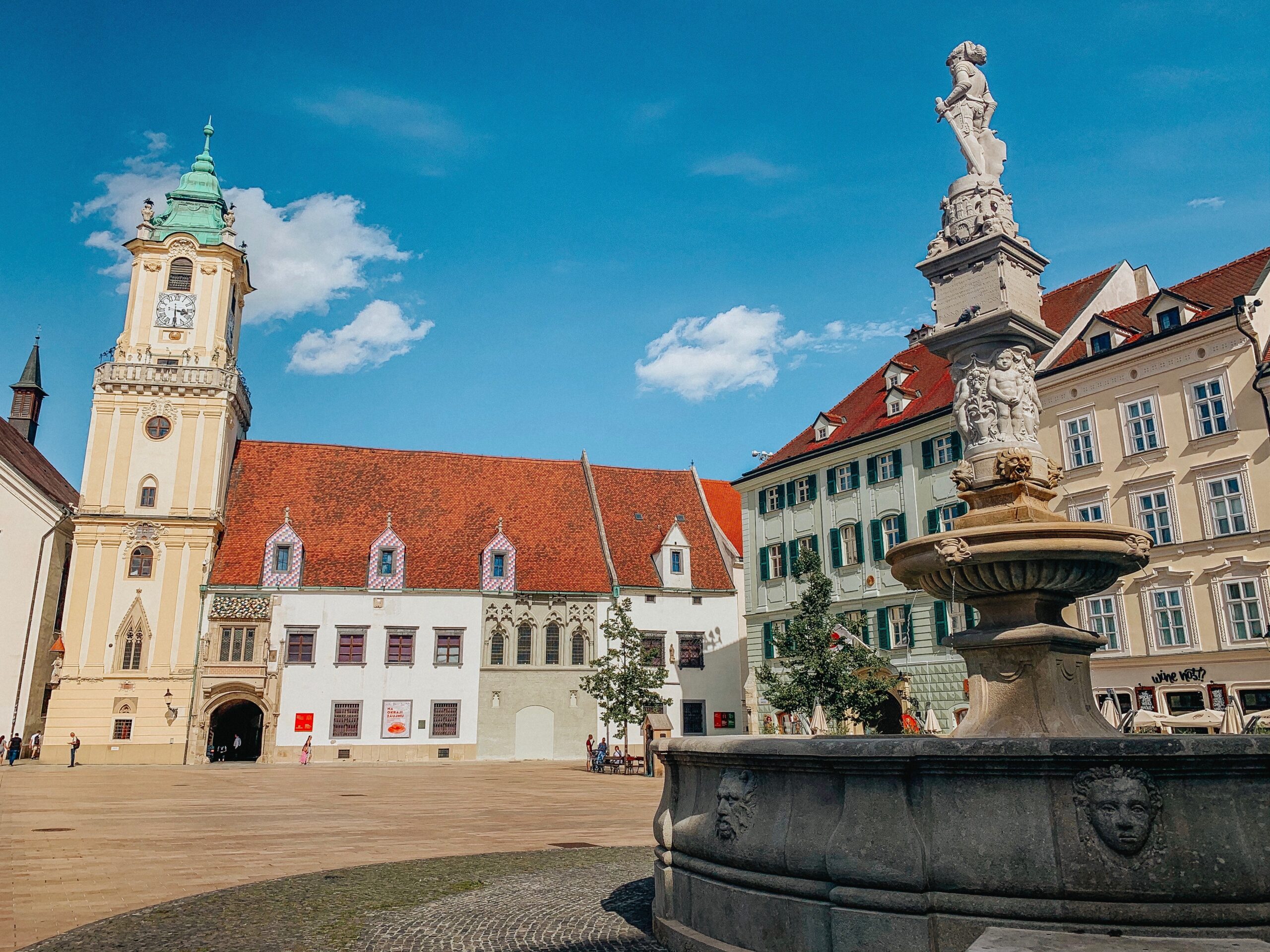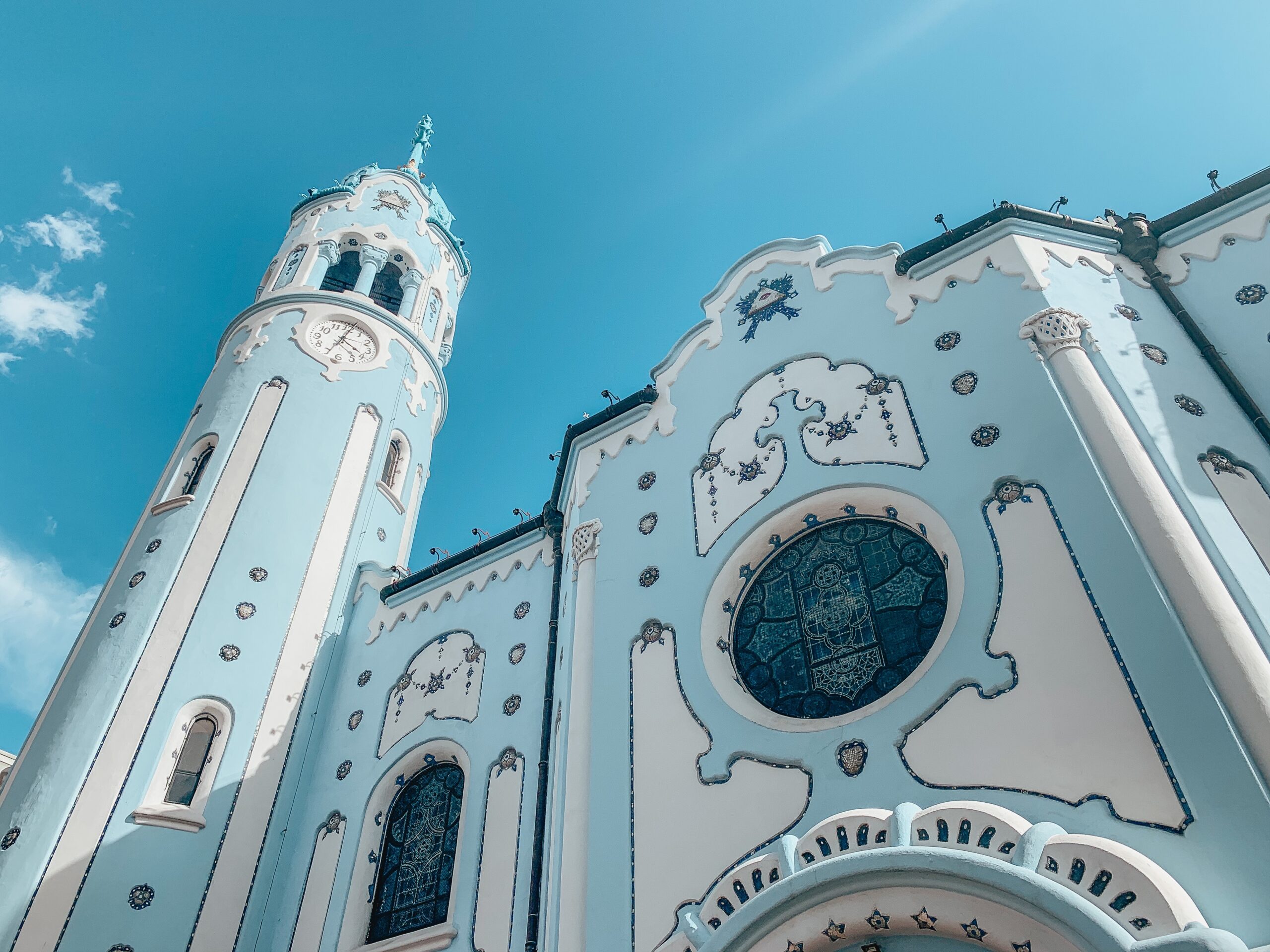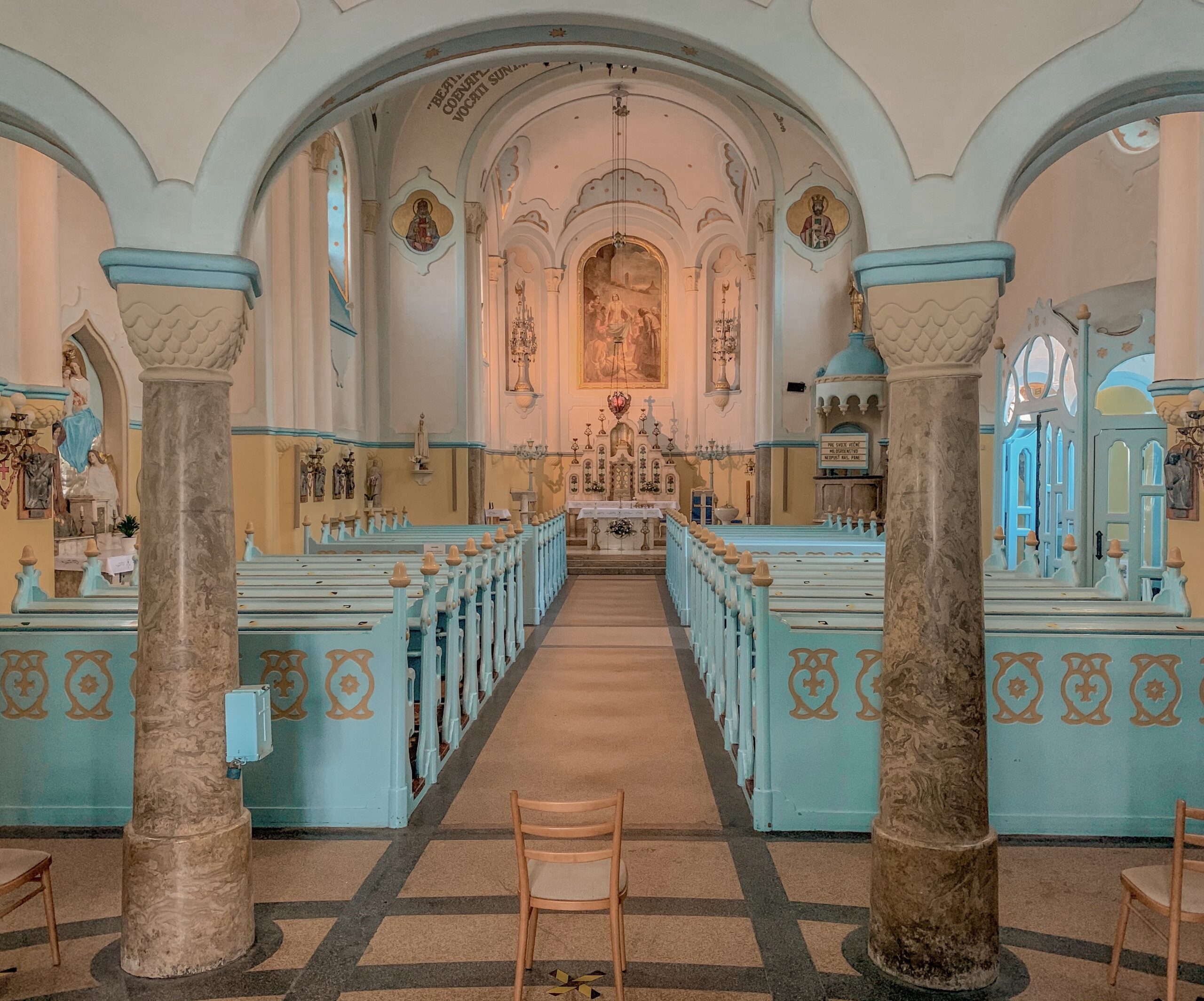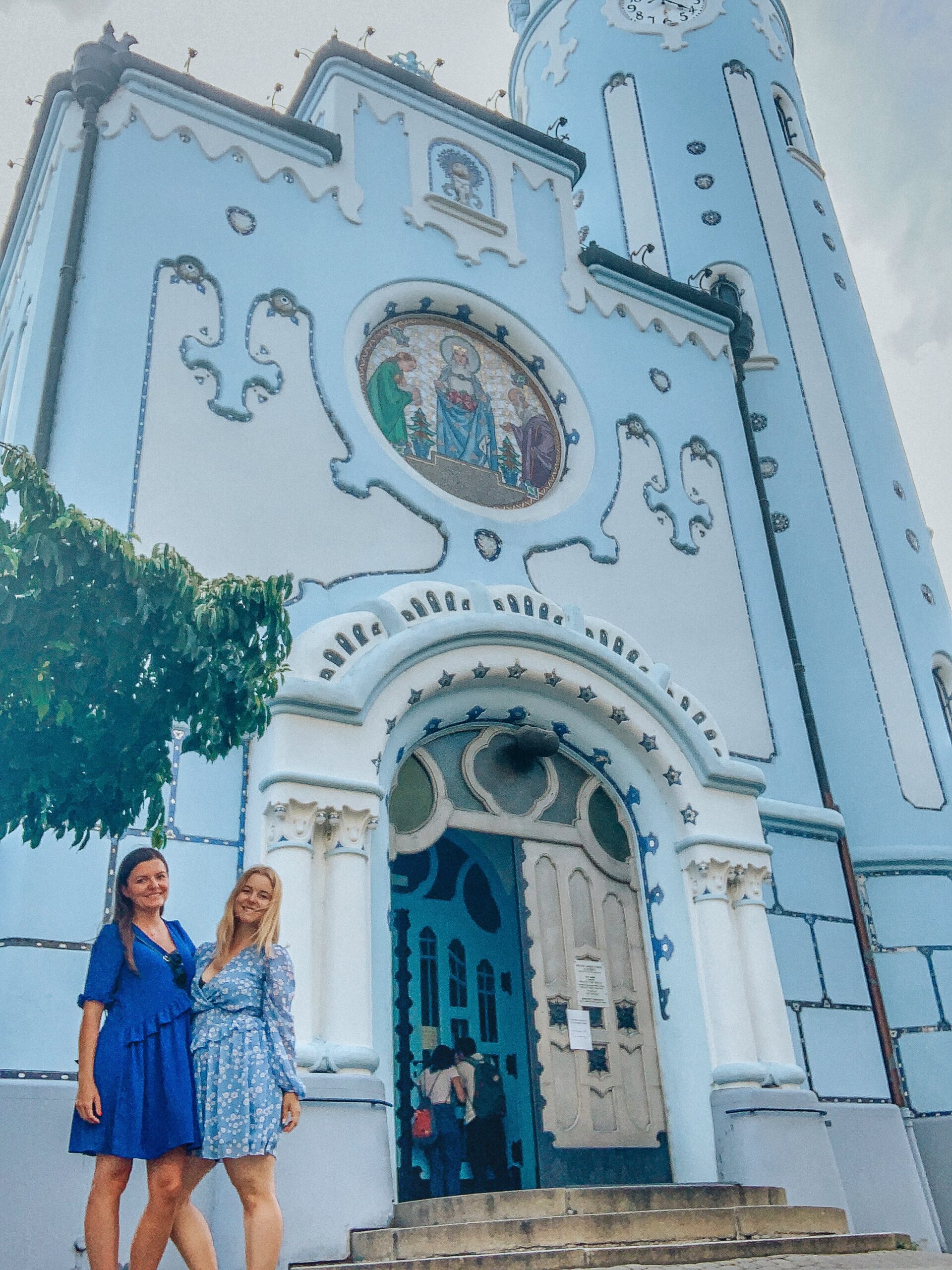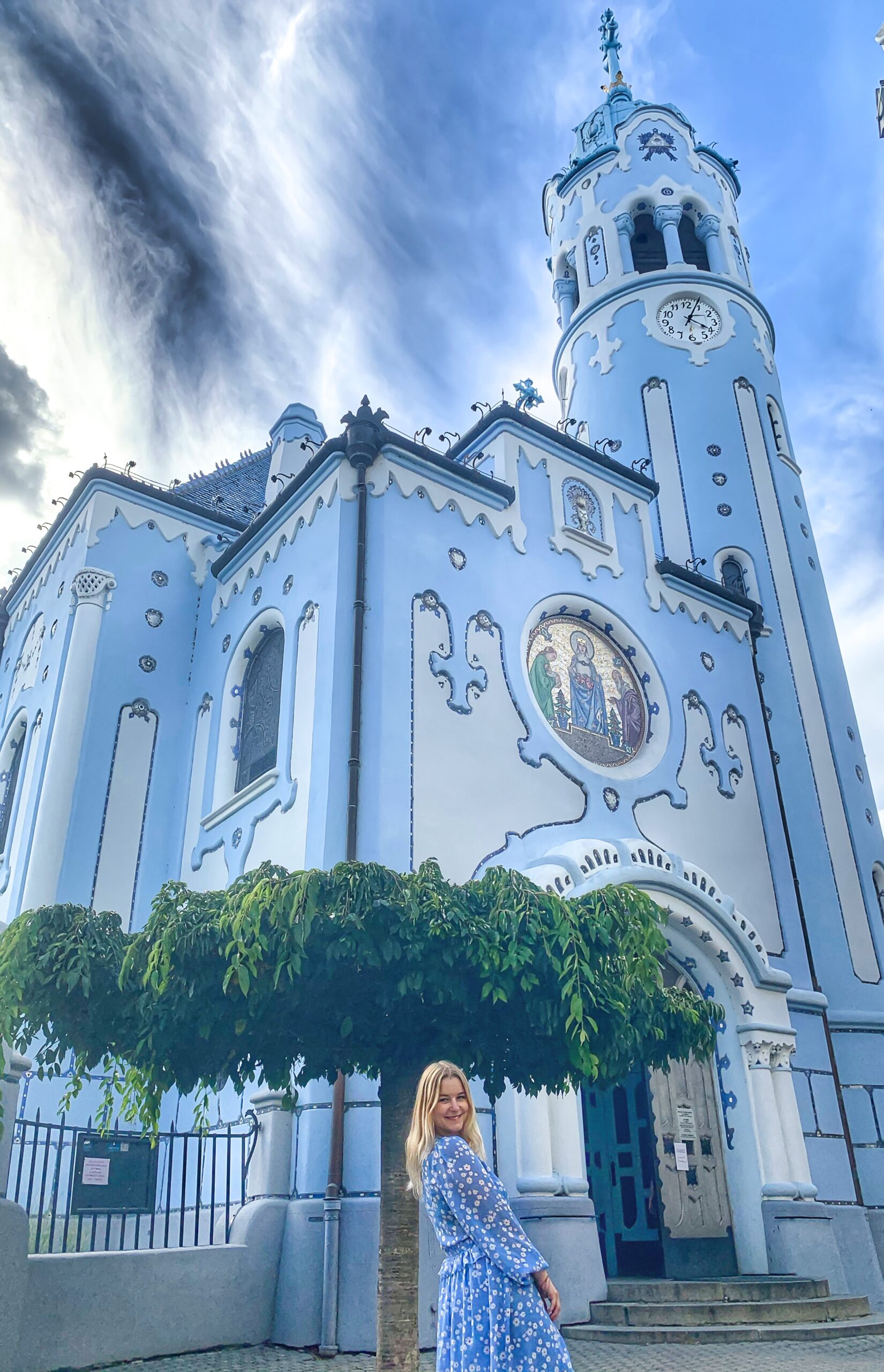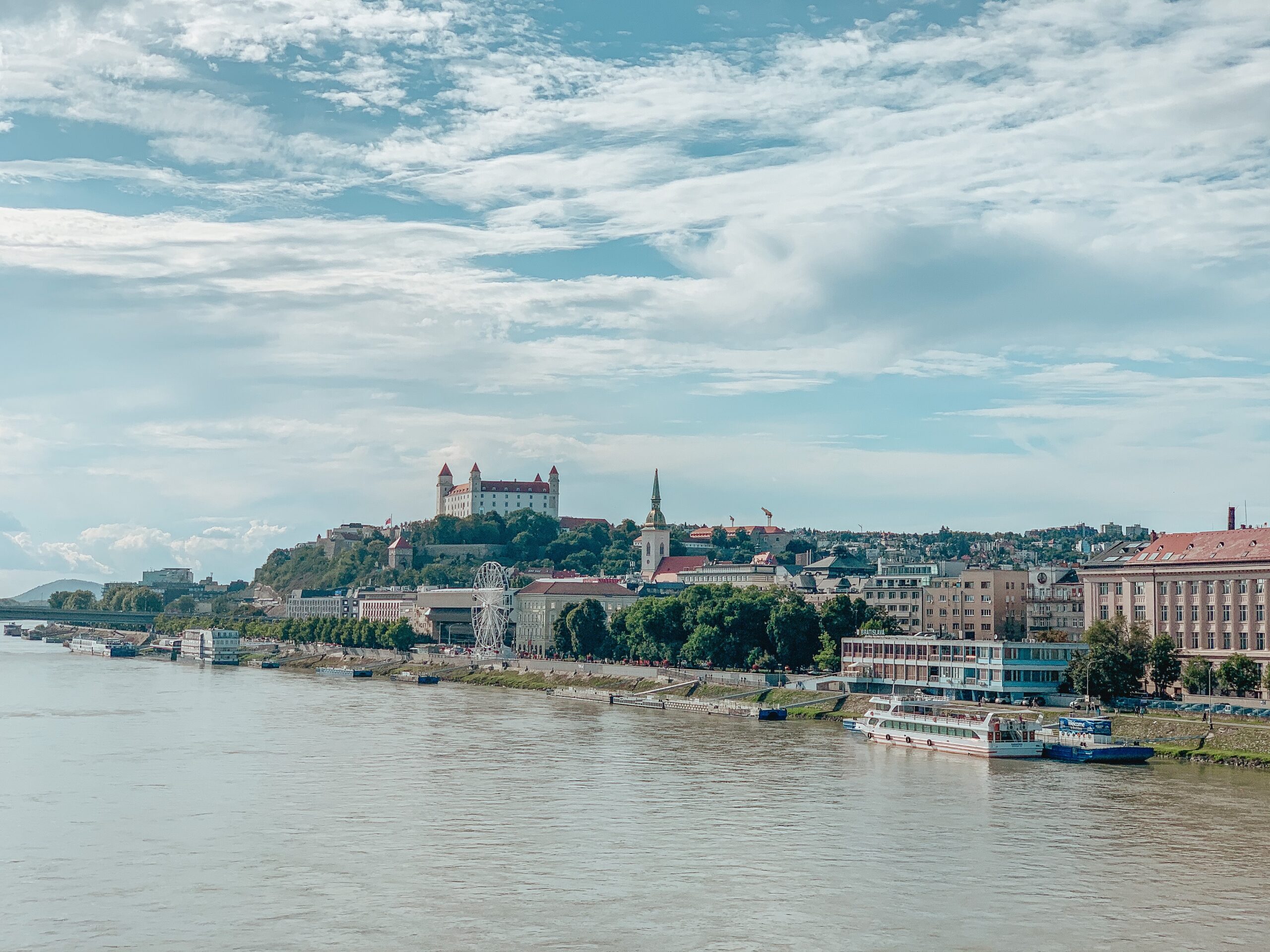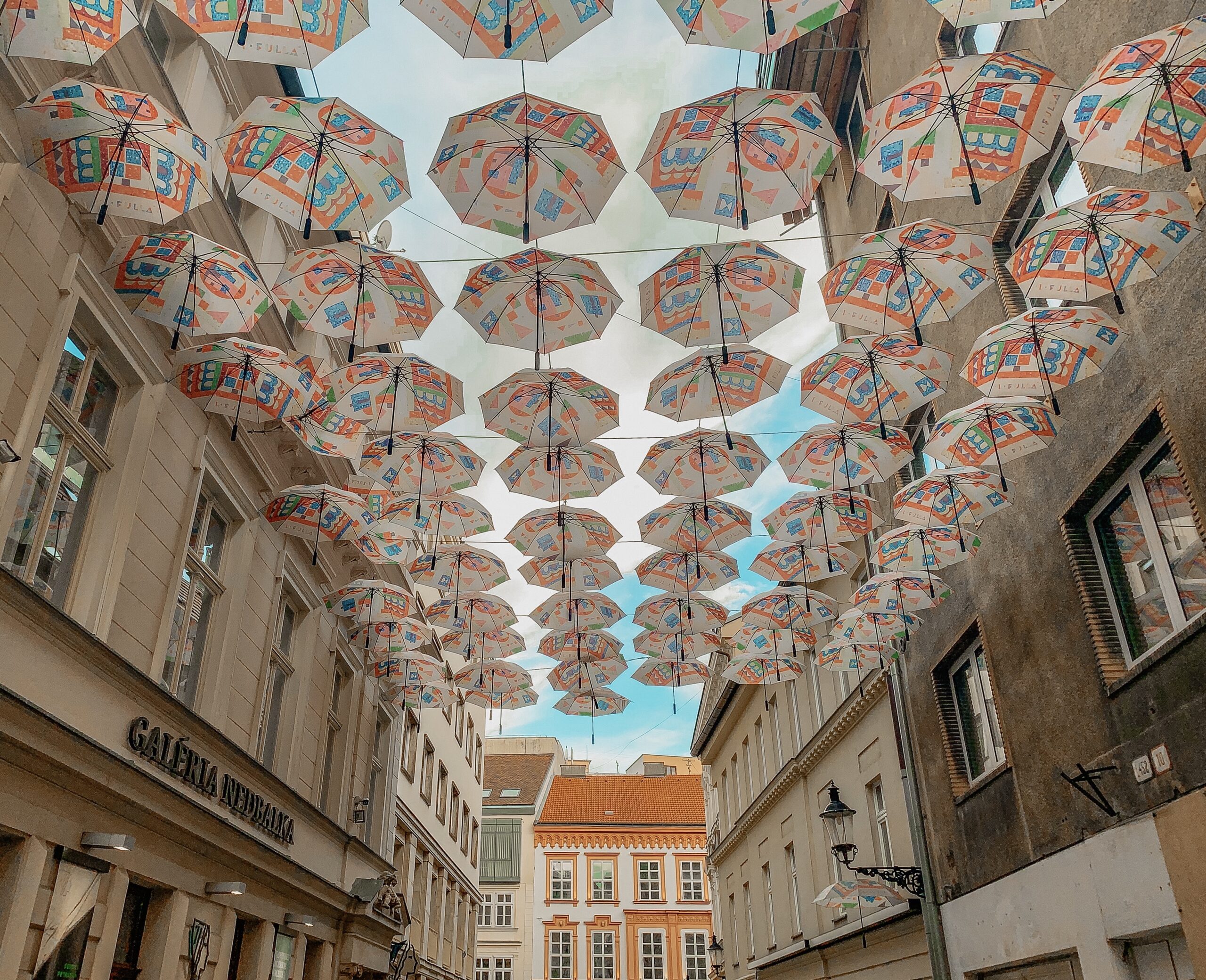 We have ramen for dinner, and the owner brings us free Prosecco. At this point I remember the movie Hostel, in which backpackers in Bratislava are captured, tortured and killed, and Americans are in high demand. I also remember that I have an American accent. I still drink the Prosecco, though, hoping it isn't spiked.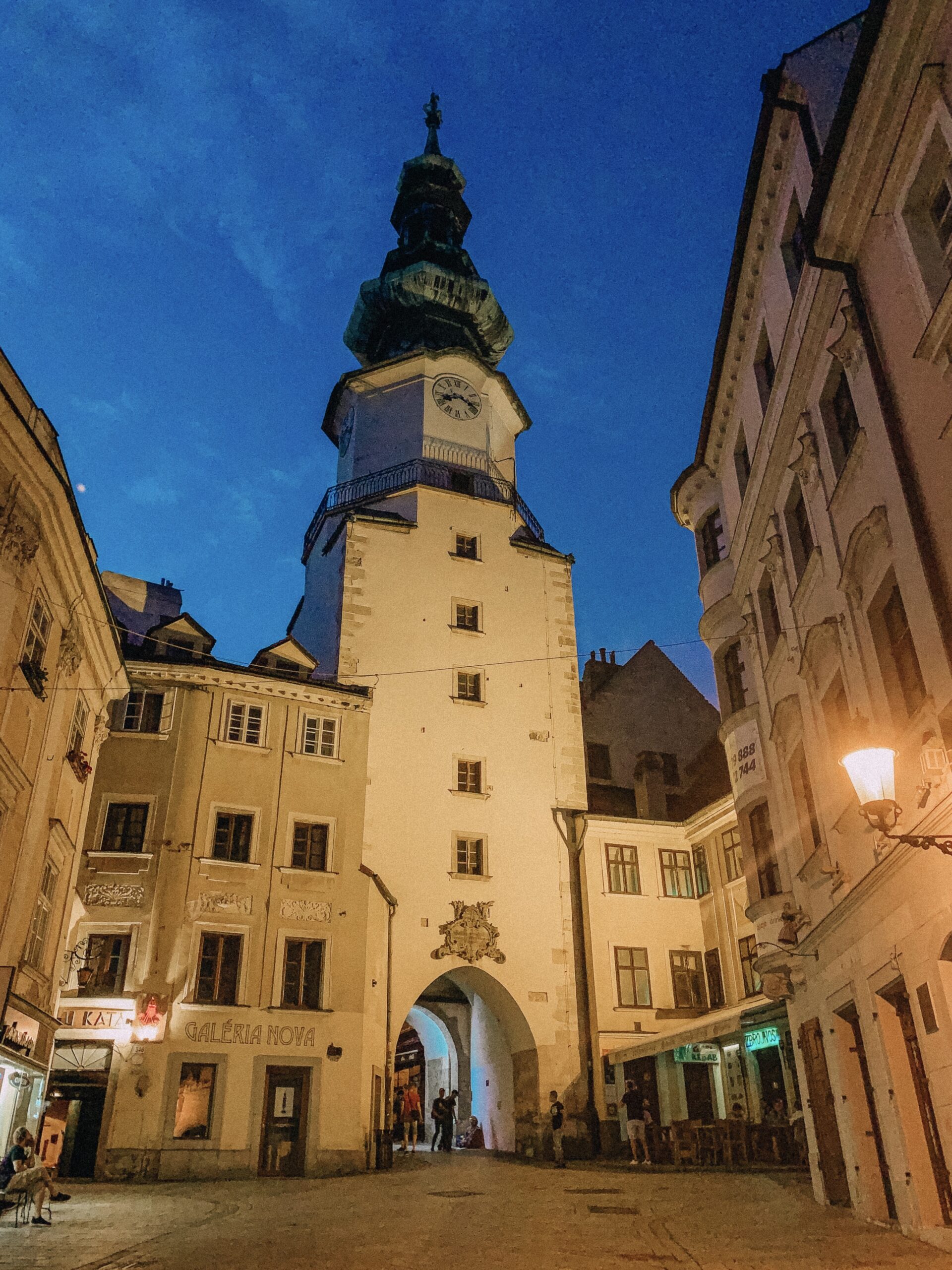 We buy a G&T at our hostel bar after getting back and sneak them into the room. We drink and talk until our room mates get back and go to bed and then we climb into our capsule and go to sleep. That concludes our backup trip, which consisted of several backup trips, and it was the perfect way to spend the week.