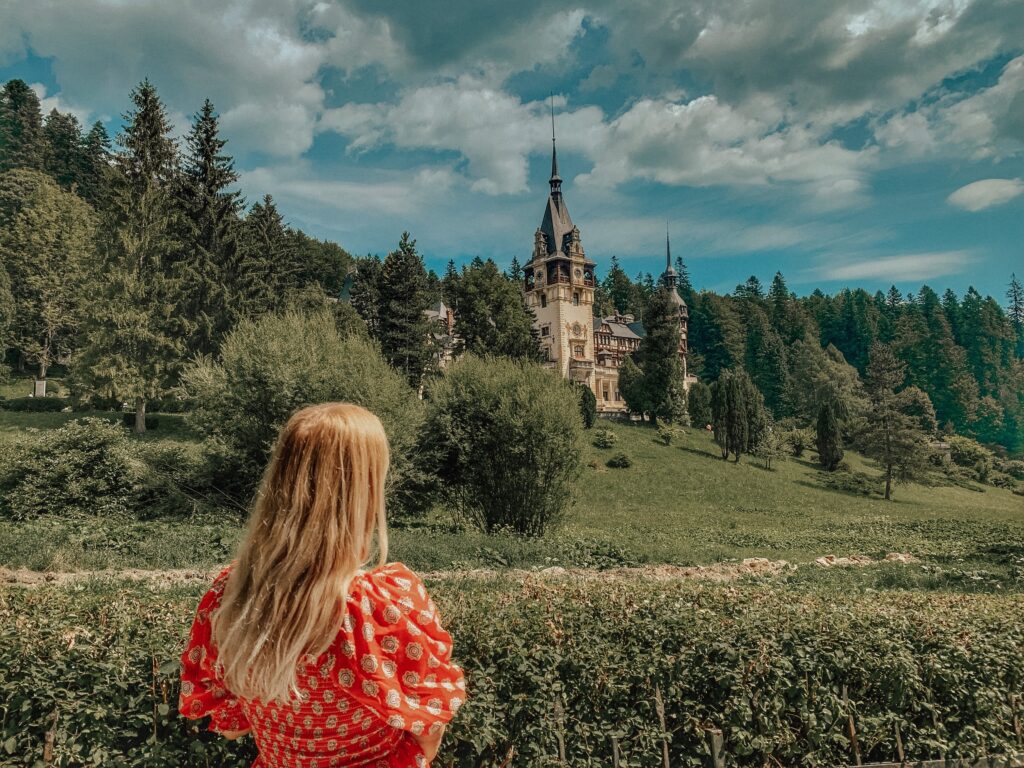 Transylvania, Romania: Vampirriffic wine trip featuring bears.
After a hectic day of packing and getting my final dose of covid-vaccine a few towns over, I am heading to the airport with my new passport in hand for my first trip abroad of 2021. The only thing standing in my way is a severely delayed flight, and my excitement wanes after too much airport wine which leads to nausea. There's also a shit ton of rude fellow travelers boarding the same plane, so a lot of pushing, skipping lines and breathing down my neck is involved. When I finally arrive at the airport Hilton Hotel at 4.30 AM, I have almost thrown up on the plane and bus to the terminal and gotten lost on a dark and heavily trafficked highway walking to the hotel. I quickly finish my night routine, call a friend for some sympathy and finally fall asleep at 5 AM.
After 2.5 hours of sleep, I feel incredibly sick and unmotivated to get out of bed. Aga is easily convinced to head on over from the airport for a shower after having spent the night at Istanbul airport getting the same amount of sleep. We force down some wine I had bought at the airport last night while I was still riding high on two glasses of rosé and pre-travel excitement. We get a ride to Bucharest city center and leave our luggage at NF Palace Old City, where the nice receptionist puts us in our room despite our early arrival. We head out for some fried stuff and lots of fluids at a nearby café and then wander around Old Town, where we see sights like Stavropoleos Monastery and Curtea Veche, which consists of the oldest church in Bucharest and Vlad the Impaler's residence. More on him later.  
After some dinner and wine, which has been necessary to keep us feeling somewhat awake and alive, we grab a bottle of cheap white wine from the mini market and and head up to our room, where we blast the fan in our faces while watching the show Sex/Life and adding our own judgmental commentary and the day ends perfectly – except for the fact that little vampire mosquitoes are having a feast.  
In the morning, we grab a quick breakfast at a nearby coffee house and head to a car rental to pick up a car for our roadtrip around Transylvania. Unfortunately, our only credit card is declined, and we call the bank to confirm that the fault is with the terminal. The staff at the car rental is incredibly unhelpful and we spend an hour waiting between phone calls to try and fix the problem to no avail. We are sent back out on the street to find a different solution. Unfortunately, August is high season for tourism and travelling, and we have no luck finding any available cars for rental. As we stand outside one such place – at least that's what Google Maps, the liar, told us – Vlad, a guy passing us with a Starbucks Frappuccino in hand, approaches us to help. He calls the car rental we were supposed to be standing in front of and lets us know the place shut down. He comes back a while later while we're frantically searching on our phones and announces that he's found us a car – and one that's cheaper than the one we originally booked! We head to a Ford service station/store, where we are given a cup of coffee while waiting for a car. We leave at 12.30, which sets us back 3 hours, but we are elated by our luck.  
Traffic in and out of the city is awful. We have long stretches of traffic jams in between the mountains, tiny villages and winding roads.  When we finally approach Bran around 16.30, dark clouds gather around the castle and thunder is heard in the distance. I put on a suitable playlist [pov: you're a heartbroken vampire – https://open.spotify.com/playlist/1hBxq2B5HPkAcWVDkGHrhP?si=f2306355abbb4b4b] and we snack on garlic bagel bites, which was randomly picked out at the gas station earlier, but now it seems very fitting for the situation – we are nearing what is popularly known as Dracula's Castle.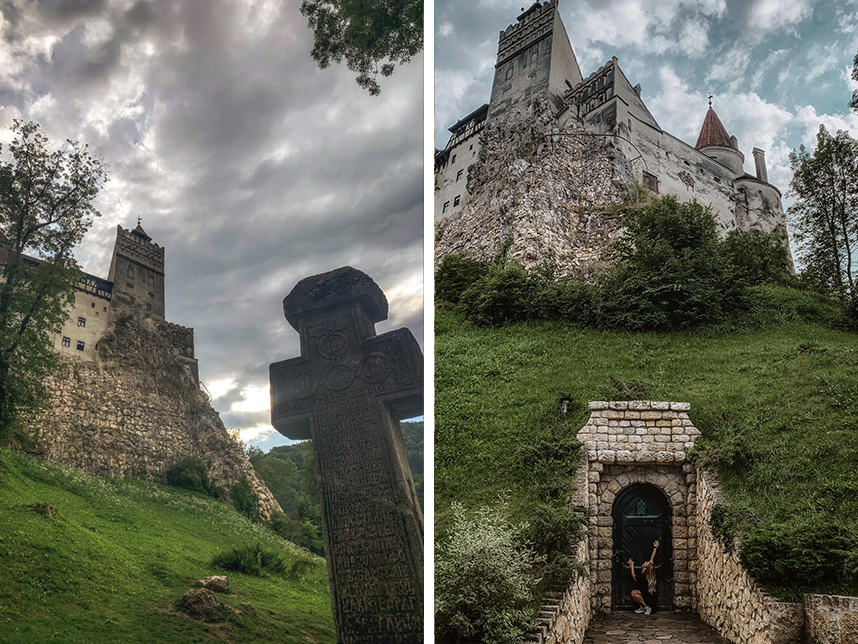 According to the castle's website, "Bram Stoker's character, Dracula, is a Transylvanian Count with a castle located high above a valley perched on a rock with a flowing river below in the Principality of Transylvania.   This character is often confused with Vlad Tepes (Vlad the Impaler), sometimes known as Vlad Dracul, who was a Walachian Prince with a castle, now in ruins, located in the Principality of Wallachia. Because Bran Castle is the only castle in all of Transylvania that actually fits Bram Stoker's description of Dracula's Castle, it is known throughout the world as Dracula's Castle."  
I'll add that Vlad the Impaler got his name for his brutal acts of war, such as impaling his enemies and citizens on large spikes in the field surrounding his country during a retreat from Ottoman forces. The grotesque scene made the forces return home, so I guess it worked out for him in the end.  
The line for this popular tourist destination is long and we are nearing closing time. We park the car nearby and get an additional 30 minutes of free parking by the nice parking officer. The castle is crowded and not the dark, scary place one would except for a place that's marketed heavily as the home of a fictional blood-thirsty killer. We celebrate a victorious visit with some blood, err, red wine, and forget the time by 15 minutes but avoid a parking ticket.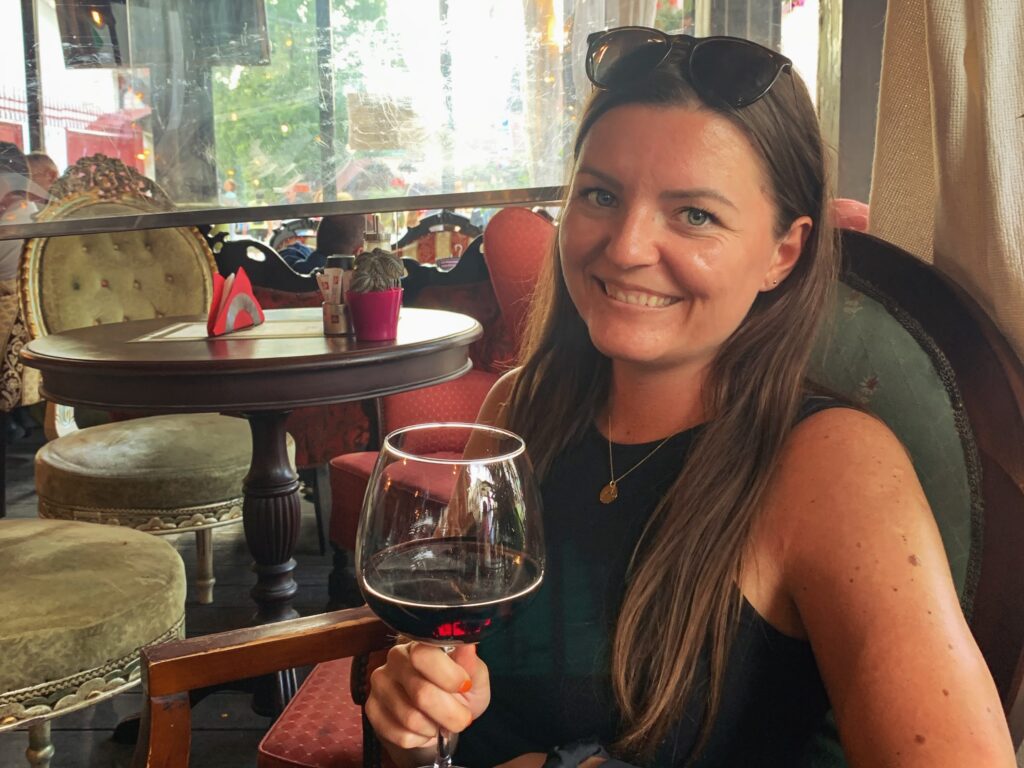 As we reach Brașov, our final destination today, we luck out finding a parking spot close to our hotel, Schuster Boarding House. Actually, we just have to pass through Strada Sforii, one of the narrowest streets in Europe. At check-in, we get a complimentary glass of bubbly, then head to the rooftop to watch the sunset and enjoy some wine. After the stress of this morning, I feel so lucky and grateful, my eyes get a bit teary. We have dinner at the council square, then have a little movie night in the room that lasts till 2 AM.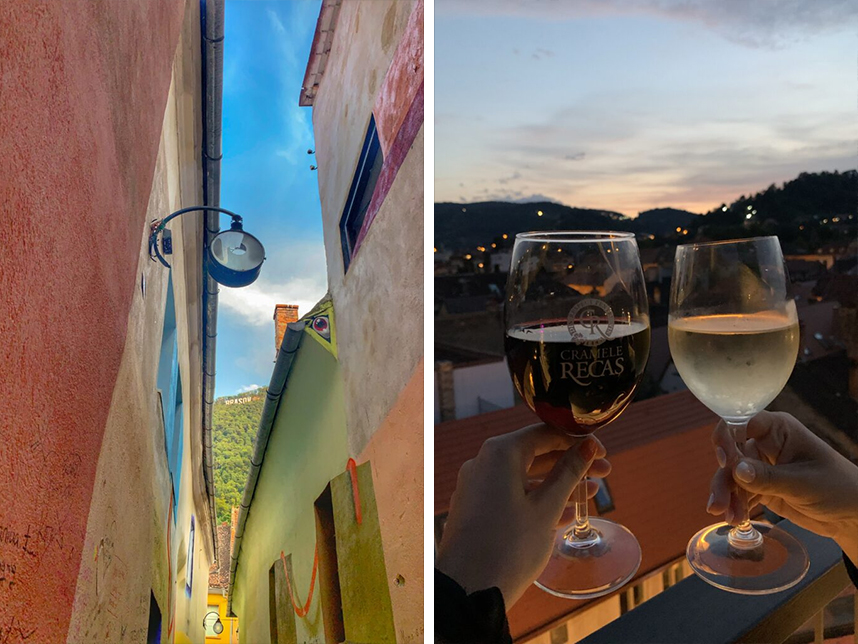 Here's how you know you're home: the adorable waiter offers you Prosecco when you enter the breakfast room. Oddly enough, we turn down the generous offer, as we have a long drive – because of traffic – to Peleș Castle. Seriously, it takes an hour to drive 20 km. As someone who never really cared to visit castles and pay to see and photograph the interior, I sure see a lot of them these days. The place is beautiful, crowded, and we piss off a lot of fellow tourists by taking lots of pictures in spots they want to pose in, too. We have a drink near the castle, where I talk to a very friendly guy, who also happens to be the husband of a woman who had yelled at us 10 minutes earlier for taking photos in front of the castle where she wanted her toddler to pose.  
We head back to Brașov for a bit of sightseeing, and head towards Tampa mountain to access the cable cars for a sunset view of the town, but they were closed for the day, and we sure as well aren't willing to do the hike. We got some dinner and continued our movie night at the room, when a warning alarm went off on my phone, informing us of a loose bear in town. Apparently, that's basically an everyday occurrence according to the staff, since Romania has the largest population of brown bears in Europe.  
After a lazy morning of sleeping in and taking our sweet time to pack, we leave for Sighișoara. A medieval citadel, this place is colorful and full of history, and we enjoy walking around and taking in its beauty. We are staying at Casa Saseasca, with our room overlooking the main square, and the birthplace of Vlad the Impaler being our neighbor. After our traditional dinner of sarmale and Transylvanian stew at Gasthaus Alte Post, we actually run over to Vlad's house, which is now a restaurant, to get the staff to open our bottle of wine for us, so movie night can start. Our room is hot, and as we finish our cold shower, the old dresser in the room slowly opens, revealing a fan. I'm sure it was a ghost helping us out, so thanks man.  
We leave for Sibiu the next morning. At this point we aren't too bothered with sightseeing, but still manage to visit the town squares, Bridge of lies, the cathedral and observe the eyes on the roofs of many buildings around town. We have a traditional lunch, then visit several different cafés for wine and Transylvanian gin and tonics. Lazy as we are, we just grab dinner at the restaurant below our hostel and I have "Dracula Ribs", which means ribs smothered in garlic. There's no AC in our hostel room, so we have another cold shower and then fall asleep watching Bridgerton.  
The next morning, Friday the 13th, we make our way back to Bucharest following Transfăgărășan, a 90 km paved mountain road. It's an epic drive through forests and the Carpathian mountains. We stop by Bâlea Lake for lunch and a pee behind a rock, because I didn't see the big WC sign, and I fall and scrape my knee as I make my way back from my very public pee. During our drive through Transfăgărășan, we get around 6 bear alarms on our phones. The sound of the alarm doesn't get less terrifying, but luckily I had already peed. After driving for 20-30 minutes, we come to a stop, as a bear with her two cubs are relaxing by the side of the road. Mother bear then decides to cross the road, walking right in front of our car. We are terrified and overjoyed by the sight, which we experience again a bit later, when a much bigger bear hangs out on the opposite side of the road. Impressingly enough, people get out of their cars to get closer to the bear for a photograph and they don't immediately die in front of our eyes.  
After 7.5 hours of driving, we arrive in Bucharest, return the car and check in to a shitty hostel, where last guest's contact lenses are still on the night stand. The place has AC though, so we just throw our stuff in the room and head out to get some much-needed drinks. The first bar looks cool on Google Maps, but turns out to be a hole in a residential area where everyone stares at us, and the wine tastes like Jesus didn't finish the job. We crave burgers, and find a decent-looking place called HYGGE for dinner. I wanted wine and the traditional dessert Papanași at Caru' cu bere, but the line was too long, so we end up at an Irish bar, but alcohol is making me feel nauseous. We walk along a creepy residential area to get back to hostel for wine and Bridgerton and several people tries to get into our room throughout the night – luckily we manage to lock the door after the first time.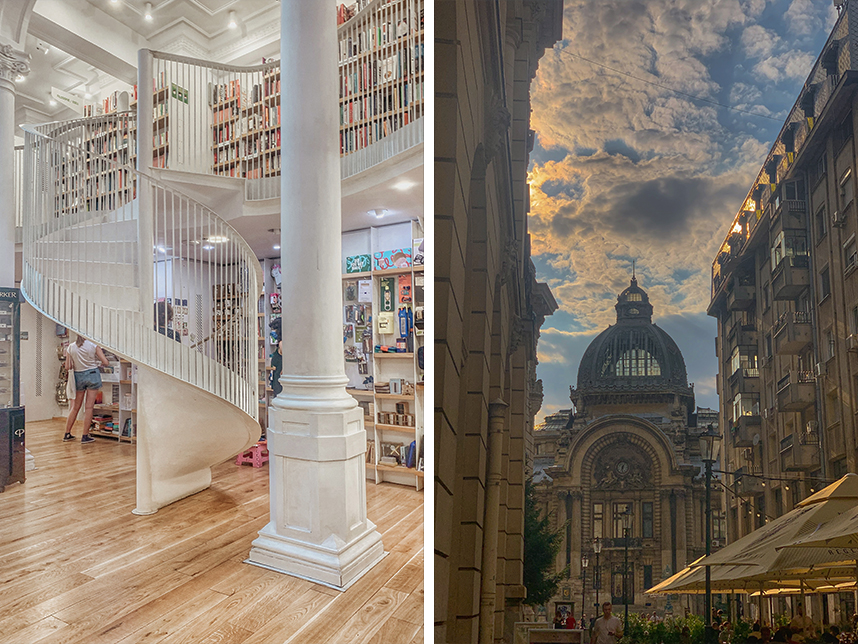 Our last day is a typical lazy travel day, where we spend our remaining hours having a boozy breakfast, go souvenir shopping and end up at a mall for something to do and the AC. We get a lift to the airport, which turns out to be the wrong one, but the situation if quickly fixed, and then we just sit around the airport for hours, bored and annoyed with the people skipping lines again.   After a shitty flight on 1st row with our bags stored on 9th, Aga runs at a bunch of big burly Romanian men to quickly grab the bags as soon as we land, and we are ecstatic when we get to skip the line because of our Danish passports – it feels good to get back at the couple that I confronted earlier while in line for check-in. We get a covid-test while waiting for our luggage and we're home by midnight, where the first thing I do is put on a facemask and water my plants, of course.