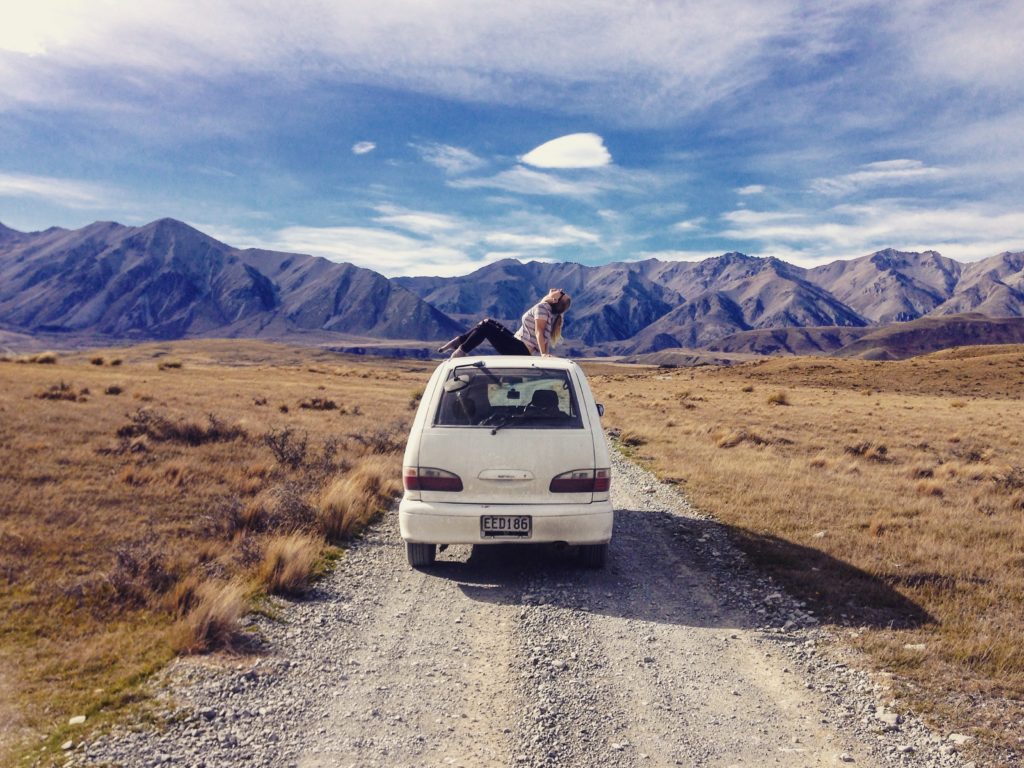 Benmore, Kudrow, Timaru & Mount Somers, New Zealand
Anzac Day isn't exactly known for being a cheery event, but this one has ended up on my personal top 50 of best days ever. I had the best sleep I've had in quite a while, because I didn't wake up in the middle of the night to pee, and then stay awake for another few hours, just thinking about negative things or whatever nightmare I might have been having. For once, I wake up well rested and happy to take on the day.
We get on the road and randomly stop to see some Maori rock drawings. Craig has taken on planning today's adventure, and he has nailed it: first, we drive to Lake Benmore and do the Deep Stream Track, which we have completely to ourselves. A flooded valley surrounded by trees of yellow and burnt orange leaves, this is Heaven to me.
We walk up and down a narrow, rocky path and take in the views and scratch ourselves on thorny bushes and almost slip on slippery rocks, till we get close to the stream which at this point is not deep at all. It's just clear, blue-green water almost silently running towards the big opening of the valley, and then there's us, scaring a wild wallaby! I tell Craig that I've never seen one before, which I'm pretty sure is true, so this is amazing.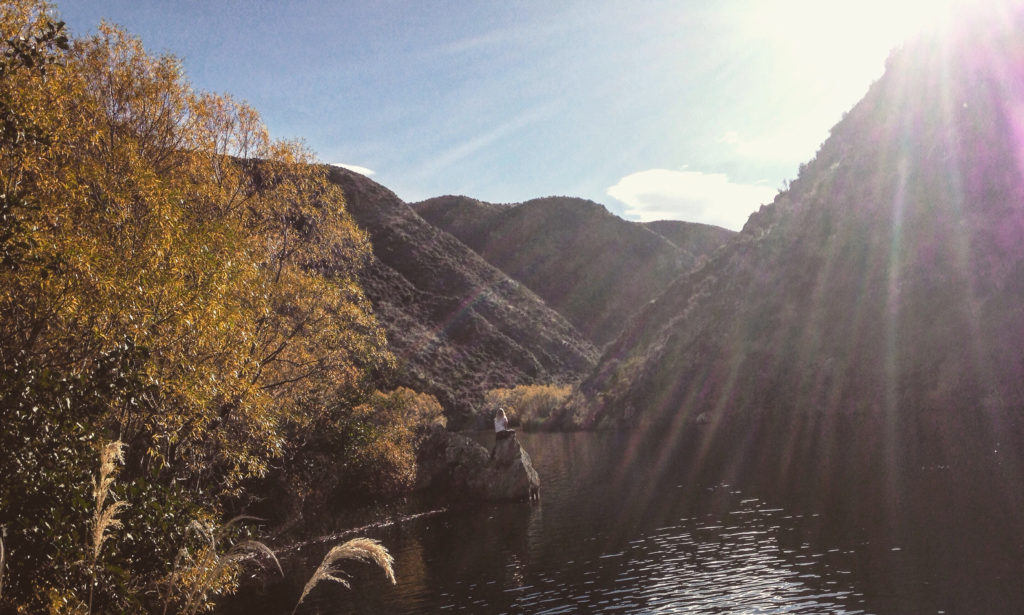 The next adventure is the Benmore Peninsula track, which consists of a lot of crossroads and no signs, so we have no idea where we're going until we end up at the top of a steep hill, which is upsetting until we catch the breathtaking view. By the way, something being breathtaking is quite annoying when you're stuffing your face with another brie sandwich and decide to come up for air. We decide that we possibly ended up taking the lookout route, but since it's the shorter one, we aren't too upset about it.
We have an ice cream at the nearby convenience store, sitting in the sun and looking at the beautiful golf course across the street. We drive back to Kurow, which we passed earlier in the day, and check in at Kurow Holiday Park, which is owned by a lovely guy who tells us a great story about his Danish grandfather coming to New Zealand. To make this day even better, he gives us a spot by the shallow river, where we can freely use their kayaks and paddle boards. Feeling like we should take advantage of this opportunity, we try paddle boarding for the first time.
I am incredibly shaky at first and moaning like a whale, which Craig is always very amused by. I gradually steady myself and start enjoying it, because the thought of falling into a clear, shallow river is not as scary as the ocean or a dark lake.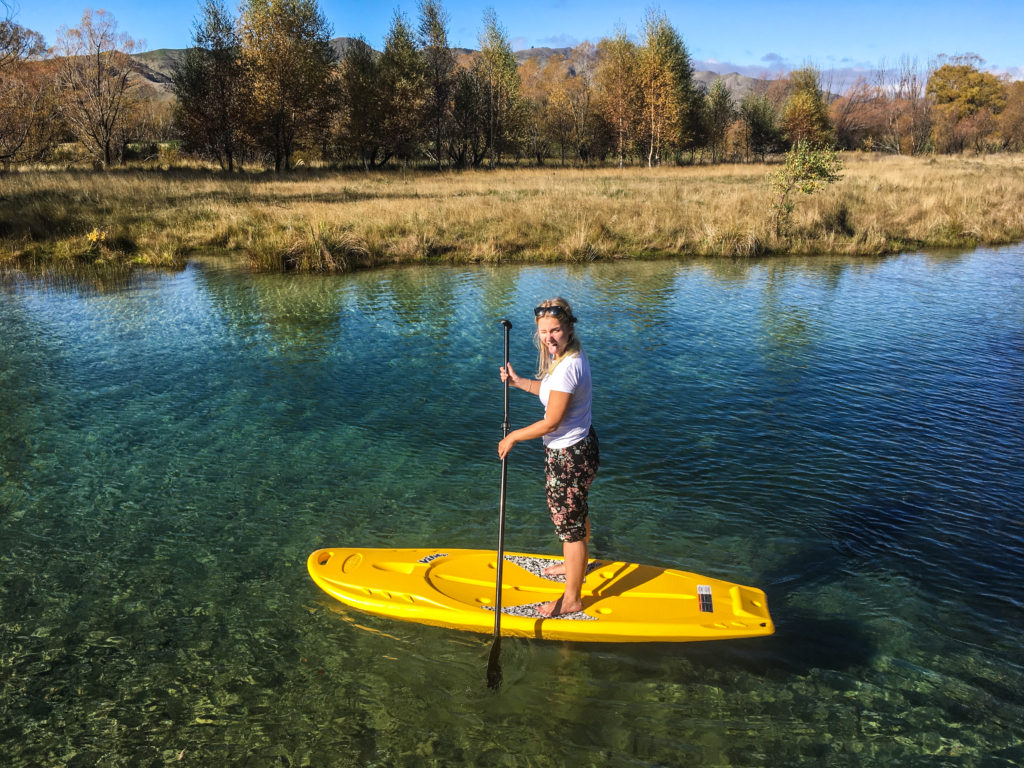 When Craig has his turn, he also turns into a moaning whale and then he falls in. Karma strikes again! I have gotten into a kayak in the meantime and for the first time ever, I am enjoying being in one. I feel just like Pocahontas, singing Just Around The Riverbend to myself and expecting a hummingbird and a racoon/trash panda/triangle-faced monkey to show up any minute.
By the time I've finished the rather short circuit, my kayak is kind of flooded and my clothes are wet, so I don't see a problem in jumping in the river with all my clothes on, even if my T-shirt is white. I get on the little kiddie slide and get into the freezing water, letting out a scream and quickly pull myself out, only to do it again a few minutes later. I do another circuit in the kayak and then change into dry clothes and read a few books – I'm a bit restless and uninterested in my reading material lately, so I change between Marilyn Manson's autobiography, an Astrology book and R.L. Stevenson's poems.
When hunger gets the best of us, we go to the kitchen and reheat our leftovers from yesterday and drink the last bit of goon we have left in the TV room while playing pool. I really suck at pool and I don't know why people keep trying to get me to play with them. Is it because it's a guaranteed win for them, or do they just enjoy all the inappropriate que and ball jokes? We also light a fire which is awesome until the room fills up with smoke that hurts our eyes. After the fire dies, 20 Africans move march in and start lighting the fire again and make a lot of noise, which is our cue to leave. I go back to the car to grab my toothbrush, but I can't seem to turn on the lights to be able to see my stuff. I stand over the front seat, trying to find the light, when I hear a woman with a thick German accent behind me, asking me what I'm doing. I turn around and within seconds that seem like minutes I realize that I'm in the wrong car. Embarrassed, I apologize profusely, but she's a good sport about it, and I go to the other white car right next door. Luckily I get it right this time, go brush my teeth and run into German lady again in the bathroom, where we talk for at least 20 minutes, and then I go back to the right car and fall asleep.
Seeing the wild wallaby the day before has made us want more of these fluffy creatures, so when we see a poster for the Tame Wallaby Park in Waimate, we get a move on. Gwen has been raising orphaned wallabies since 1977, and in 1999 she opened up the park to the public. The public this morning is just Craig and I. We each get a bag of pellets, gumboots and some instructions and then we move through the wallaby park. It consists of several square sections with small groups of wallabies in each. We walk through the carefully closed gates to get to the next section until we've basically gone through a big maze. Peacocks and chickens are stalking us for some food, and of course there's poop everywhere, hence the gumboots. Some of the fluffies seem very scared by our presence, but most of them are greedily eating out of our hands and letting us give them a cuddle. As we are feeding a few fluffies in the last section, more people appear, and we thank our lucky stars we had the whole place to ourselves.
By now we are so hungry, we've been eyeing the pellets ourselves, so we drive to Timaru and get some lunch, which we eat by Caroline Bay.
After a walk in the massive park and through the town centre, we go to Glenmark Holiday Park and let Marshmallow have a rest while we spontaneously decide to walk back into town and catch a dinner-time showing of Guardians of the Galaxy Vol. 2. The movie isn't too bad, and I'm just excited about Pratt and popcorn. We walk the 3-4 km back to the Holiday Park, and I decide to shut up and ignore Craig for the last 30 minutes of the walk, which freaks him out, so he continues to talk. In between trying to keep a straight face I also get to appreciate the clear view of the Milky Way above us.
These days, we basically plan our trip by opening Google Maps and go to the next town we see. Washdyke Flat is one of those, and we decide to drive through there because of its amusing name. After getting a picture of me with a street sign – which takes us way too long to find, we see Lake Heron on the map and decide to stretch our legs around a lake today.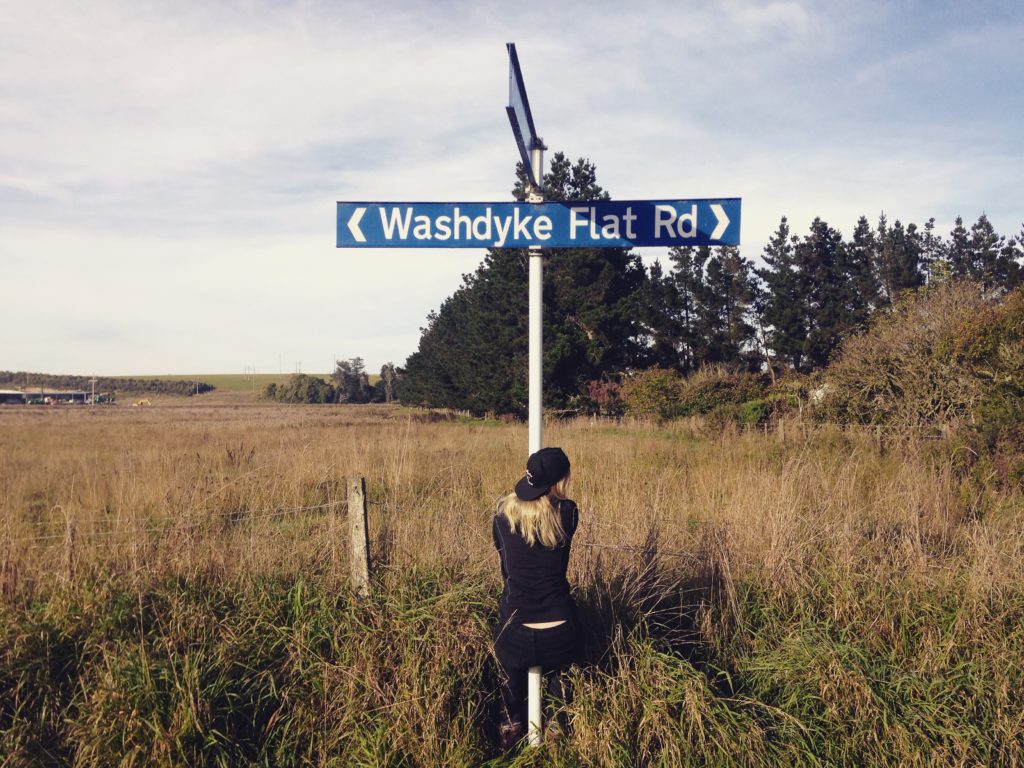 Unfortunately we have to travel on a gravel road for many, many kilometres until we reach Lake Heron, and several more before we realized we've gone too far, because you can't always trust a GPS. We go back to where we passed a small, barely noticeable sign to the carpark. It's extremely windy by the lake, so I put on my fleece and jacket, which as always turns out to be too warm once I actually start moving. We do the short Lake Hill walk which is supposed to be easy, but walking up a hill during a storm is just the slightest bit challenging – at least for me. We are rewarded with a gorgeous view of the lake and Arrowsmith.
After eating a burger called The Boss at McDonald's, we drive to Mt. Somers Holiday Park, which is eerily quiet. It works for us though, as we have a TV lounge and a ping pong table to ourselves! I always forget how much I like ping pong, so with some emo punk in the background, we jump around, trying to catch the ball that bounces around the room more than it does on the table. Drenched in sweat, we eventually take a shower, and then have a go at the game again. After having some noodle soup, where the contents of the flavour sachets end up on my pants instead of the bowl, I Skype my stepmom and wish her a happy birthday and then we watch The Project.
The next morning we leave a bit later than we usually do, which is only just after 8. Driving to the Mount Somers track, we climb up a steep track for up to an hour, until we reach what Google photos tells us is Duke Knob (there are no signs) and naturally, we have climbed all this way and sweated ourselves dry just because it would be funny to tell Sharon we've been here. The things I will do for things that are remotely funny. It's super windy today, and we decide against climbing onto the rock, as we can't really decide how to, unless we're willing to risk our lives. I will do a lot of things for knobs, but risking my life is not one of them. In my head I have envisioned another topless picture, given the filthy nature of the name, but it turns out to be a windy, awkward and almost impossible affair. But God dammit, I like a challenge!
After spending way too long taking awkward photos during a friggin' storm, we begin our descent, which – given the steepness of the mountain – is extremely unpleasant for our knees. We have lunch at McDonald's once again, where I come up with the ultimate meal: Happy Meal cheeseburger with nuggets and fries inside the burger! I'm obsessed. The only thing that would make this even better would be some Big Mac sauce, so start selling that as a dip, places other than Australia.