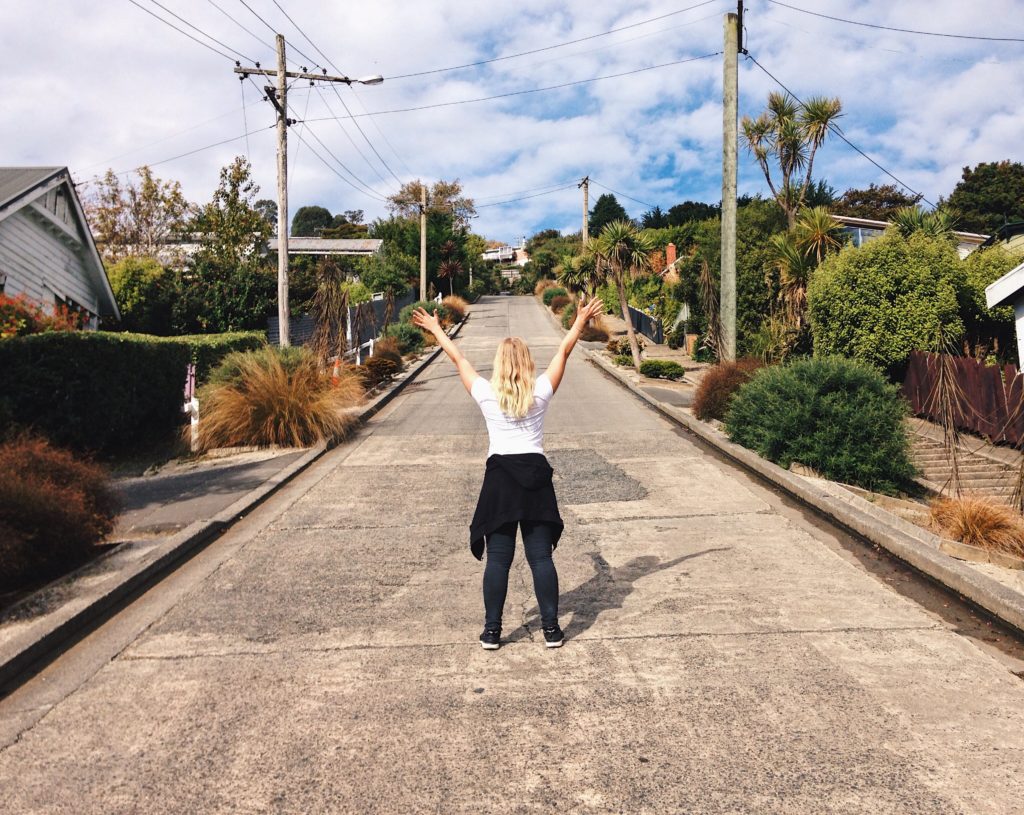 Queenstown, Nugget Point & Dunedin, New Zealand
I wake up, still in Queenstown, and decide to check another thing off my (unofficial) bucket list: I have one of those milkshakes that come in mason jars with a donut and a shit ton of other stuff on top that gives you type 2 diabetes. At Balls & Bangles, they're called freak shakes, and I get the caramel one with a caramel-filled donut, whipped cream, pretzels and sweet popcorn on top. Now, I don't like pretzels or sweet popcorn, but I do love caramel.
People familiar with Balls & Bangles and also me will be disappointed to realize that I don't choose the Fluffy Unicorn, mainly because I don't feeling bubble gum-flavoured milkshake and candy floss for breakfast. But caramel I can do! I also get a bagel filled with all sorts of goodies for later when I get hungry, which will probably be in half an hour. In fact, all I can think of on the drive to Gore is how much I want to eat this bagel, but you know, gotta hold out for lunch.
In Gore, we stay at the Country Club, which is kinda funny to us, since a line in our current favourite The Lonely Island song, Boombox, goes "Imagine in your mind a posh country club…"
We are parked next to three French guys that are doing a thorough cleaning of their van and being loud and annoying about it. I don't know how, they just manage to annoy me. I finally eat my bagel, still in the front seat of the car. Finally, I muster up enough energy to go for a little walk and actually see a little bit of Gore. It doesn't take me long to feel like lying down on the front seat again though, so we head back and cook our boxed risotto and chat to an old couple from Blenheim and then visit every gas station in the area to find popcorn, but eventually have to settle for Cheezls. We also grab a McFlurry at McDonald's, because TREAT YO SELF. Somewhat satisfied, we watch Blades of Glory and drink some more goon.
We make our tourist comeback the next day, as we nail four waterfalls before noon. We start with McLean Falls, then head to Matai which has a bonus waterfall called Horseshoe. I basically risk my life by climbing onto Matai Falls and Craig takes the blurriest pictures of me and I am not happy at all and don't talk to him until we've walked back to Marshmallow. To be fair, the track is very short and we barely talk when we're walking anyway. But I'm totally thinking that we're not talking because I am mad.
Another short drive and walk later, we're at Purakaunui Falls, which is by far the prettiest, but also the busiest one of the day. Once we arrive, we're basically standing in line to take a picture of a waterfall and silently admire it with 8 other people and I think that's silly, so I snap a pic and walk back. I love my waterfalls, but I want them to myself.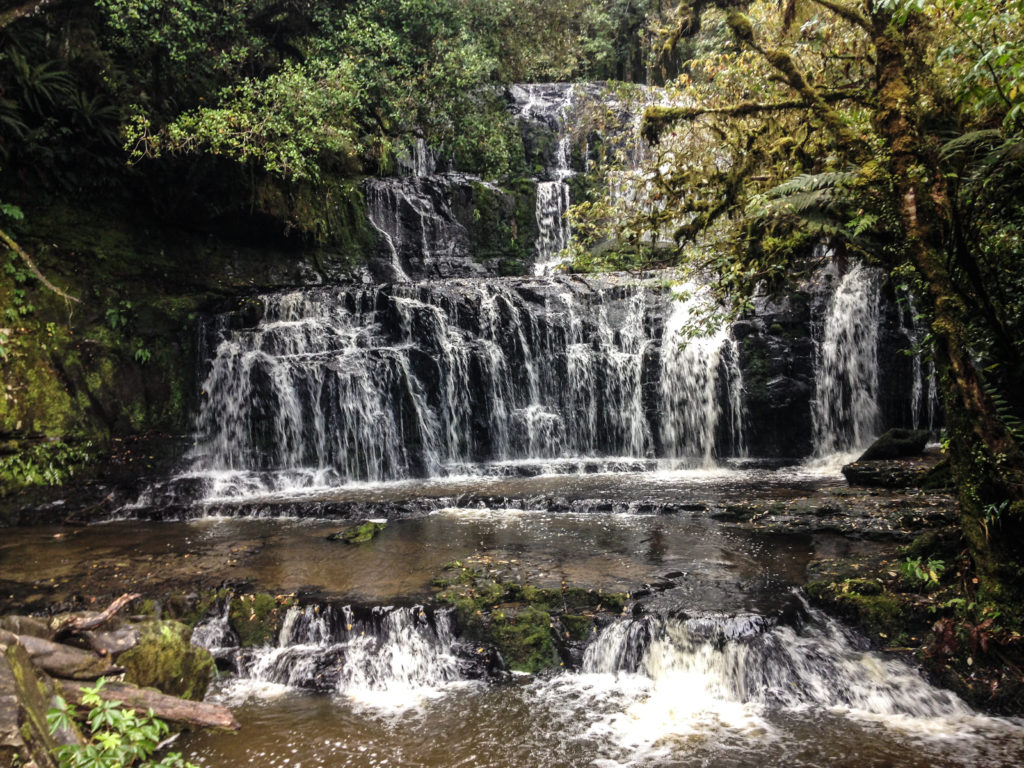 As we're driving on, we pass a sign for Cannibal Bay, which sounds funny, so that's where we go for lunch. We park Marshmallow, and make baguettes with Peri Peri mayo, pastrami, brie and spinach leaves out of the trunk. Much yum. Then, we walk down to the beach, where we climb onto the rocks and go far enough to get our boots completely washed by an unexpected wave as I am taking a panorama of the landscape, asking the ocean for a nice, big wave to hit the rock way further out. Karma is a bitch.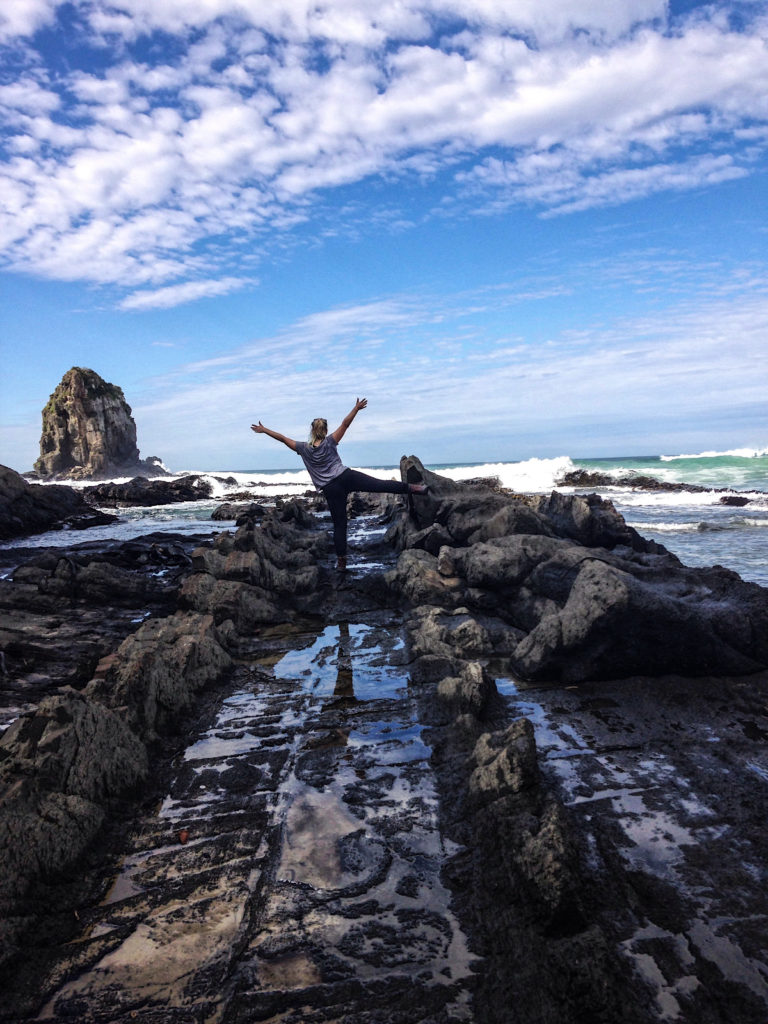 After a change of footwear, we go to Nugget Point. We walk along the cliffs taking us to the famous lighthouse, and I hear these creepy child-like screams from the beach. I shudder and Craig and I joke that they're ghosts. Turns out they're seals, which we find out from reading a sign, and then we study the rocks underneath us a bit further and realize that we can actually see them too. The sight of seals is almost as amazing as the view of the Nugget Point lighthouse and its surroundings. Plus, the amount of tourists is still not so bad that you can't take a decent photo without someone in a brightly coloured raincoat doing a stupid jumping or peace sign pose in the near background. There's too many to pee next to the toilets rather than in them though, which is a shame, because those things are foul.
With so much beauty to behold in one day, we're kind of exhausted, but it's only gone past noon and we need to find somewhere to stay for the night. We drive to Dunedin and get a spot at Dunedin Holiday Park, where we sit in the TV room and make a rough draft of an itinerary and then we decide to walk into town to get some brochures from the i-Site, which is 4 km away. Naturally, we give up halfway and go to The Warehouse instead, and we also pick up a 12-pack of ciders and head back to download and then watch The Perks of Being a Wallflower while drinking the majority of the ciders.
We get up early in an attempt to have Tunnel beach mostly to ourselves, but of course there will always be a group of Chinese people that has at least 20 minutes on me. It's a steep decline from the carpark to the cliff that acts as a lookout and then to the tunnel that takes us to the beach. A very beautiful place and a great way to start the day. The walk back up? Not so fun.
With red faces and glistening sweatstaches, we reach Marshmallow and drive into town center. At the i-Site, we get a Heritage Walk map and also a map of the Art Trail. We sit down and try to combine the both of them onto one piece of paper, and then we're off. We see cathedrals, old hotels and a crap ton of street art. My favourite sight is the railway station, which also has the best toilets I've seen in a long time.
We have lunch at Mac's Brewbar in the Octagon, where I have fish and chips after talking about it for ages, since it seems to be the most kiwi thing to eat. I also have a bottle of Graham Norton's Sauvignon Blanc and get so tipsy that by the time we are standing in front of the World's steepest street, Baldwin St., I have no desire to do anything but go back to the car and sleep.
Luckily, Craig drags me to the top with him, and then we try to roll straight down the street, which proves to be impossible – we keep rolling sideways.
I end up having my nap once we get back to the camp site and then we end up in the TV room once again to charge stuff and write down things that we have been up to lately. We retire to the front seat to watch Superbad, and drink cider with canned mangoes in syrup from our Balls & Bangles jars, a delicious attempt at recreating the cider jar from Pub on Wharf.
Marshmallow is getting restless, so it's time to take her on the road again, but first, we've got to do some laundry. After 20 minutes in the dryer, our clothes are still not dry, so we have to add another 20 to laundry time. It's turning out to be a long and boring morning, and I am in the mood to take a day off and just do nothing but read books and write down my currently chaotic thoughts down on paper to de-stress. I tell Craig this by shutting off and pouting. We see some boulders and Oamaru's lookout point and that's all very boring, even when you are feeling like exploring.
Luckily, Oamaru has a very cool Victorian precinct, and we walk around the streets and check out the cool buildings and come across Slightly Foxed, a very retro second-hand bookstore. We spend around 40 minutes just walking up and down the aisles of old hardcover books, some of them are pocket-sized and beautifully decorated and only $6, so Craig buys Tom Sawyer and I buy R.L. Stevenson's Poetry collection vol. 1. The place is so cool, we even get our books wrapped with grey paper and white string.
Continuing further up the road, we reach Steampunk HQ, which is two rooms and a backyard full of rusty trains, cars, tractors and whatnot with a steampunk aesthetic. The coolest thing about this place is the Light Portal, which is a mirrored room with a bunch of lights, and once the button is pushed, we teleport/time travel/whatever for 2½ minutes to soothing music and a beautiful light show.
Once we think we've gotten bored of steampunk, we find a cool playground with that very theme and decide to ditch an evening viewing of penguins to play there as the kids are going home. It makes us feel less creepy, plus there's no line for the swings or the zipline. If you're looking for the world's coolest public playground, Oamaru is definitely a viable option.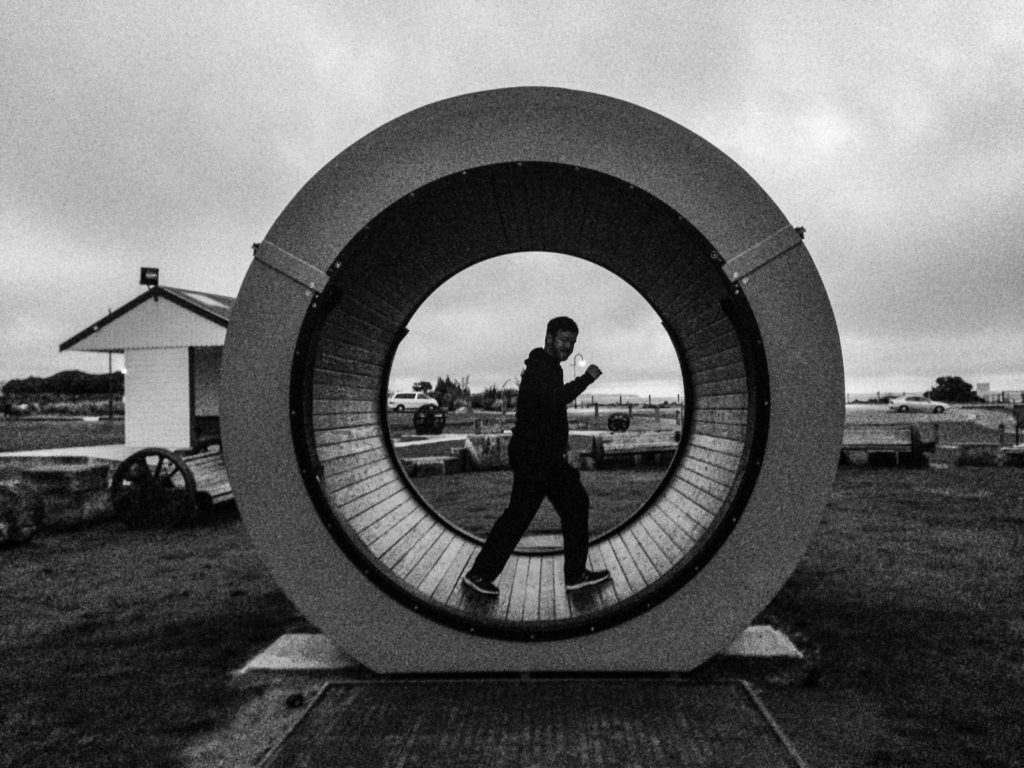 Once we've gotten too dizzy to play anymore, we make pasta Bolognese and mulled cider at Top 10 Holiday Park and then watch Freedumb, because Jim Jeffries is great.