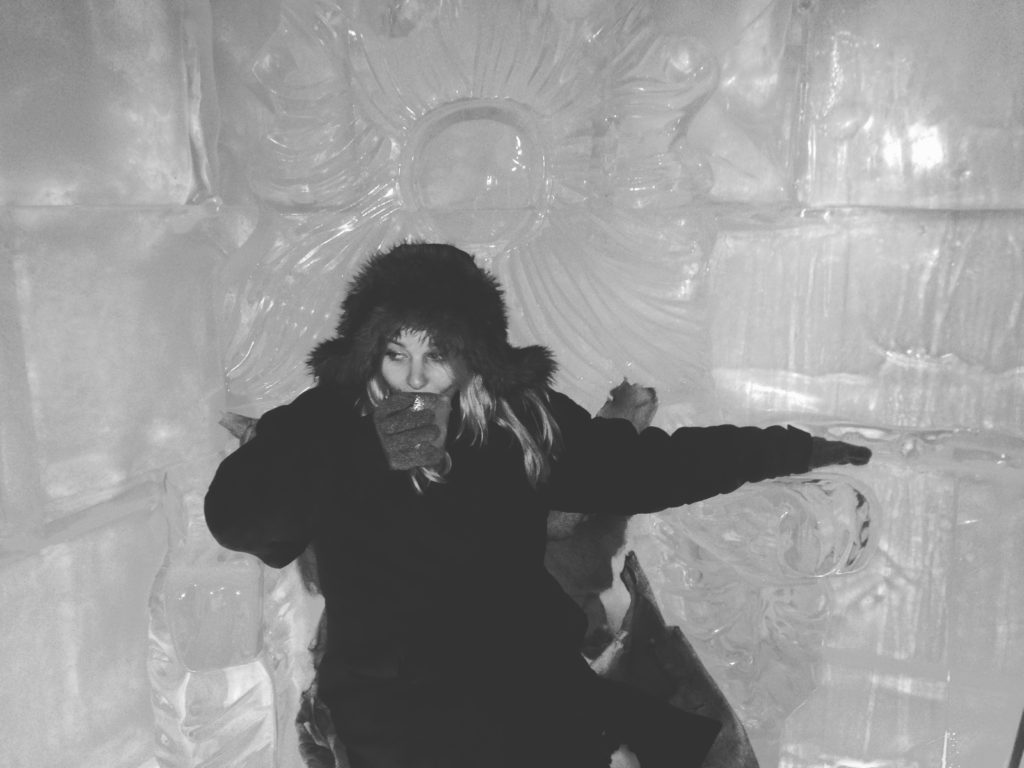 Milford Sound & Queenstown, New Zealand
I wake up early in the morning after a long night of dreaming about winning an Oscar, but the Academy pulls a La La Land and gives it to the wrong actress. After some coffee and breakfast I come back to my senses, and we're once again off to far away places with no cell phone reception: Milford Sound.
When we arrive at 10.30 in the morning, there is absolutely no parking spaces available, so we frustratingly drive around in circles, until we finally give up and look for parking elsewhere, much further away. My winning combination of PMS, hunger and a full bladder makes me a bit of a bitch, and I am loudly unimpressed by the Sound as we're doing the foreshore walk.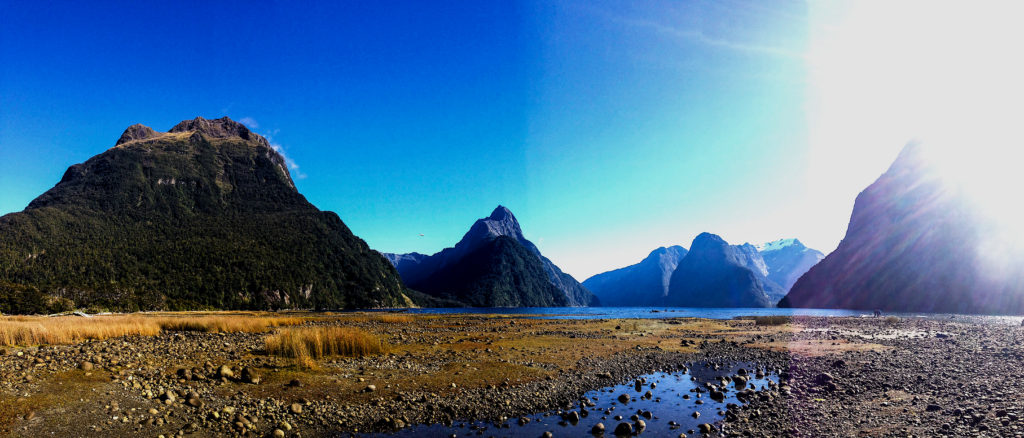 We get back to Marshmallow and drive towards Lake Marian. My mood temporarily improves as we eat a sandwich in the carpark, but then two guys jump out of their van and pee in front of me while I'm eating my lunch, and mood's back to bitchy.
Given my constant race against the official signs stating estimated walking times, I flip the sign the bird and go "3 hours my ass", which is probably the worst thing I could have done: now I've jinxed it.
We pass a swinging bridge and a boardwalk while admiring the flowing river. Then appears a sign warning us about the rough terrain from now on. The next hour and a half or so is a steep walk on rock and in mud, stuck behind three girls that will not give way for The Overtaker (that's me). Our bodies haven't fully recovered from Roys Peak, so we are back to using those tight muscles and overworking our lungs. Craig's face is red and livid. My mood has somehow improved, because apparently hiking makes me super cheery, just like mornings and occasionally rain. Why am I so annoying?
As I said before, we spend the last bit of the walk behind three girls and with our boots constantly stuck in the mud, but once we finally catch a glimpse of still, turquoise water, every struggle has been worth it. We reach a beautifully clear lake surrounded by mountains and there's barely a cloud in the sky. The sun is shining way too brightly for us to take a decent photo though. I try, but I guess you'll have to take my word for it when I say that this is probably one of the most beautiful places I have ever seen.
We are approaching late afternoon, so we don't stay too long. Just taking enough time to appreciate our surroundings and dip our feet in the cold lake. Alright, time to go back. Fuck my life.
Since we keep a pretty good pace, we soon overtake the other few that are heading back to the carpark, which means that we are now in the lead and get stopped by literally everyone passing us to get to the lake. Understandably, they want to know how much further they have to go, but it's cutting into our walking time, dammit. To be fair, we haven't timed our walk at all, but I'll estimate around 3 hours. Stupid signs being right for once.
We get our stinky feet out for the drive back to Milford Sound, which includes driving through the Homer tunnel in the mountain and several one-lane bridges. We reach our destination, Milford Sound Lodge, and get a much-needed hot shower right away. My knees hurt pretty badly and click whenever I move, so I happily sit completely still in the dining area for as long as we can get away with. Unfortunately it gets very busy in there, and eventually we have to let someone else have our table. We move to the front seat of Marshmallow and watch Mike and Dave Need Wedding Dates. I finish our goon while also finishing The Book Thief, and now I'm out of interesting things to read.
After breakfast the following morning, we drive towards Queenstown while harmonizing to my Spotify playlist. We stretch our legs, do laundry and have lunch at Five Mile Retail Centre, and then it's time to face the horrendous traffic of Queenstown. Luckily, we do make it to Lakeview Holiday Park and almost immediately start exploring. We walk the trail through the autumn-coloured trees of Queenstown Gardens and look over Lake Wakatipu, then circle back to the bars, where we settle for Pub in Wharf.
I enjoy several pints of cloudy apple cider – by the way, pints are huge in New Zealand – and a few fruity cider jars before digging into amazing pub food (steak and ribs!) that fills us to the point of exhaustion. Unfortunately for us, we have an 8 o'clock booking at Below Zero Ice Bar, so after three hours of drinking and with one to go before we have somewhere to be, we aimlessly wander the streets. I have only been here a few hours and have spent most of them in a bar, but I can already say that I love this place. It's perfectly small, but with so many places to go and things to do. There's a great vibe – a mix of the adventure-keen and the completely chilled out. While I am loudly exclaiming how great this place is, Craig interrupts me to point out that Xin and Jenna from our Marlborough wine tour is walking towards us. We catch up, get their Queenstown recommendations and talk about how great it would be if they weren't driving to Christchurch within the next half hour so we could grab a drink. Instead, Craig and I go to Below Zero, where we are given a pair of gloves and a big coat and then a group of us walk into the bar.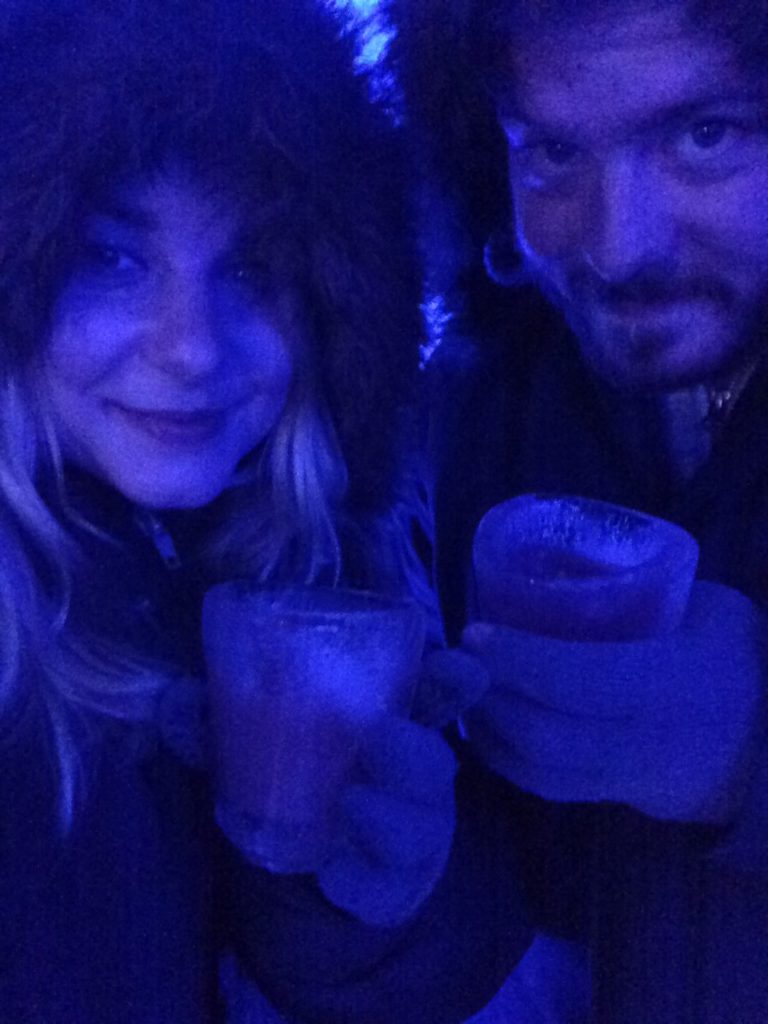 The bar is a small room where everything is made out of ice: an obviously fake fireplace, a Santa sleigh, some tables and chairs, a couple of sculptures and of course, the bar itself. The place lights up blue, then red, then green. We get a small cocktail in a glass made out of ice and awkwardly walk around the room while sipping on our drink. I haven't brought my phone with me, so our only means of documenting this event is the photo booth in one corner which I use excessively, but if there's anything you need to know about me, it's that I enjoy a good photo booth and the memories I get to take home with me. By the time I've finished my drink, the novelty has worn off and I excuse myself by saying I am cold. On our way out, we get a lifetime membership card, which means we can come back for free whenever. Guess who's coming back and bringing their phone with them next time!?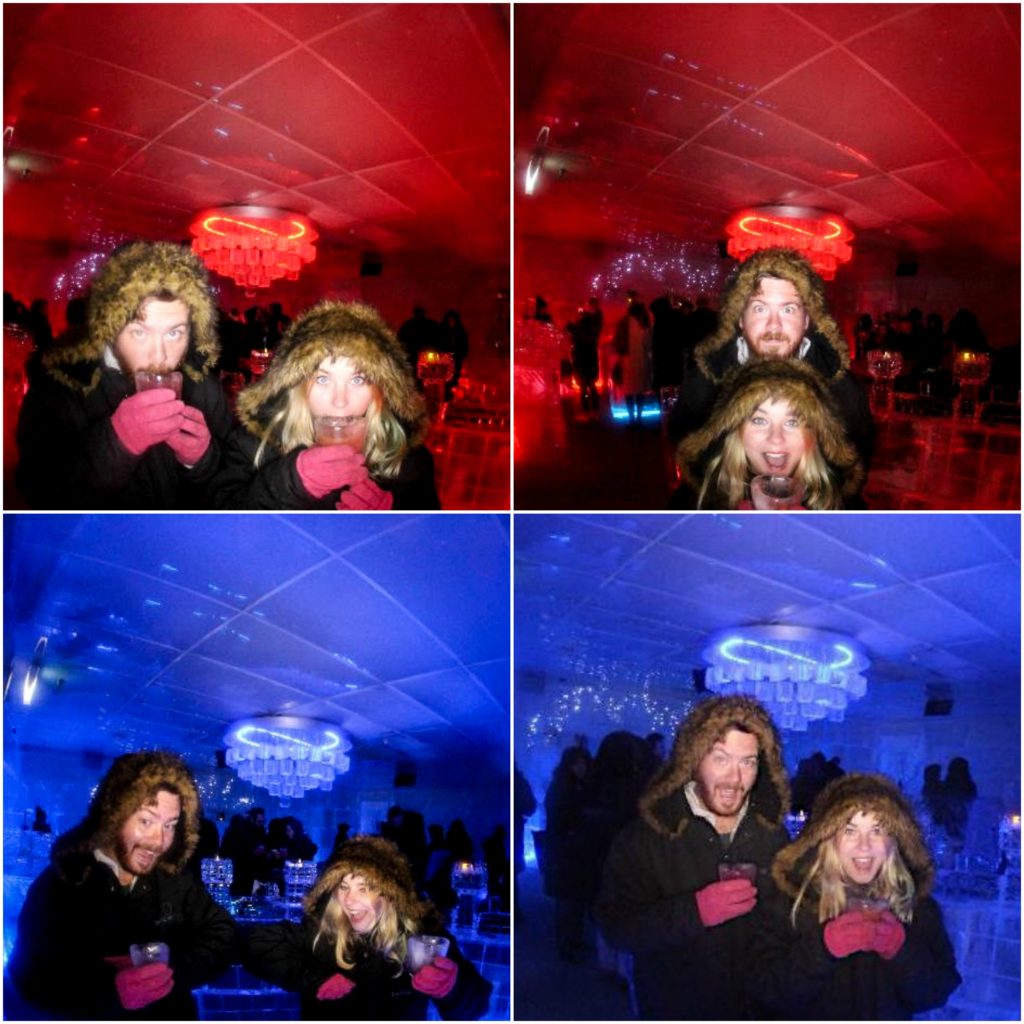 We go back to the car, fall asleep, and then I wake up a little past midnight, because a group of around 8-10 Spaniards sitting at a bench only 20 meters away from Marshmallow is having a very loud party. I know that at this point, I won't be able to go back to sleep for another few hours and that makes me even more angry than the fact that these people are so obviously being rude and knowingly violating one of the most basic camping rules. I open the door, yell out "HEY, KEEP IT DOWN PLEASE!" in the bitchiest tone ever. Even though I feel like the words barely come out of my mouth, being half asleep and all, everyone's heads have turned towards me as I slam the door, and for a few minutes they're sitting in silence, staring at Marshmallow. Then they go back to being loud cunts for a few more hours.
After finally falling asleep, I wake up only a couple of hours later to the sight of a beautiful pink sunrise. This one I am not enjoying though, as it is just another reminder of how little sleep I've had and how tired I will be for the rest of the day. To make matters worse, I am travelling with Craig, who is more indecisive than I, and I get to a point where I suggest doing something I don't even want to do, just because sitting in silence and staring at our phones while expecting someone to make a move is making me even angrier. So I guess we're gonna go luging.
I immediately regret my suggestion. I don't feel like climbing up a mountain today, and I don't feel like paying $35 to get there either. I have no idea what to expect from luging, either. Is it dangerous? Fast? Is the course really steep? All those things make me nervous to the point where I realize I am actually scared to do this. I need to see things with my own eyes before I do them. So I unwillingly walk up to the ticket counter, asking for a gondola and luge-ticket. The guy who's supposed to just take my money and smile is being super condescending about me only wanting to luge once. I'm not in the mood to tell him that I'm nervous and that I can't predict what I want 30 minutes from now given my state of tiredness, PMS and fear, so I just tell him again that I only want to go once. And at least I smile while doing so. After a very unpleasant transaction with this dude, I get on a gondola with Craig whom I still have problems tolerating this morning. I'm sorry, I just can't deal with things today. While on the gondola, I feel more scared of heights than usual. It keeps building, as we get on a ski lift and then finally get into a luge. Only while a staff member gives us some instructions do I ease up a little, and while I drive down the Scenic/kids track am I enjoying myself for the first time since last night. Highlight number one today. Now I could probably have gone another three more times and really enjoyed it, but since I only payed for one go, I watch people bungy jump while waiting for Craig to finish his second go.
Highlight number two comes immediately after, when we line up at Fergburger. Being a burger enthusiast myself, I am impressed that a burger bar has turned into a tourist destination and can't wait to try it out. It's probably more famous for the long line on the street at almost all hours of the day.
We line up just before noon and only have to wait around 15 minutes to get to the till and another 15 minutes for the burgers. I decide to order Mr. Big Stuff (1/2 lb beef, cheddar cheese, bacon, BBQ sauce, lettuce, tomato, red onion and aioli), thinking that the big burgers are the must-try's. In the end, it's the same size as all the other burgers, but just with an insane amount of meat in it. Not like I'm complaining. An Italian guy in charge of wrapping the burgers by the pick-up counter has a habit of chatting up blondes and I am no exception, but I am taken aback by his attempt at small talk while I am thinking about burgers, so I just uncomfortably laugh a bit and smile a lot until I get my food. I eat until the room is spinning and I only have a few small bites left.
I give up, extremely food drunk and weak. I walk back to the camp site like a zombie with naps instead of brains on his mind, and even walk into an old lady and barely realize it.
After my nap, we decide to waste some time at the Odyssey Sensory Maze. In one room it's completely dark and the floor is hard to balance on and it freaks me out. One room is full of balloons and I am over the moon. One room is dark and has fake grass and lion sounds coming from the stereo. I keep thinking a lion is going to pop up out of nowhere and eat me. One room is full of mirrors, and we have to find a way out. I am doing great, until I run straight into a mirror and scream when I see my reflection last-minute. Craig is on the floor, crying with laughter. It doesn't take us very long to finish the maze, but I've been scared and entertained for those 15 minutes, so I consider it a success. I've forgotten about how close I was to killing someone this morning.
Missing my Irish girls and looking for a nice and casual place to hang out, we end up at Pog Mahones, where I have cider and mulled wine. Unfortunately, I am still very much full from my burger a few hours earlier, so these drinks aren't helping me feel much better or less weak. I end up going for a 20-minute walk in the park to get some fresh air and build up an appetite for dinner. It's just the worst when dinner time's approaching and you know you want to eat, but your body's very resistant. So I walk around the park and pass people smoking joints and trying to balance on stuff, kids on the slides and swings, guys playing frisbee golf and couples being obnoxiously in love, while I can't have the one thing I love right now: food. I head back to the bar where I left Craig, and eventually we get hungry enough to walk to the Night Noodle Market. Holy shit, am I about to eat myself to death.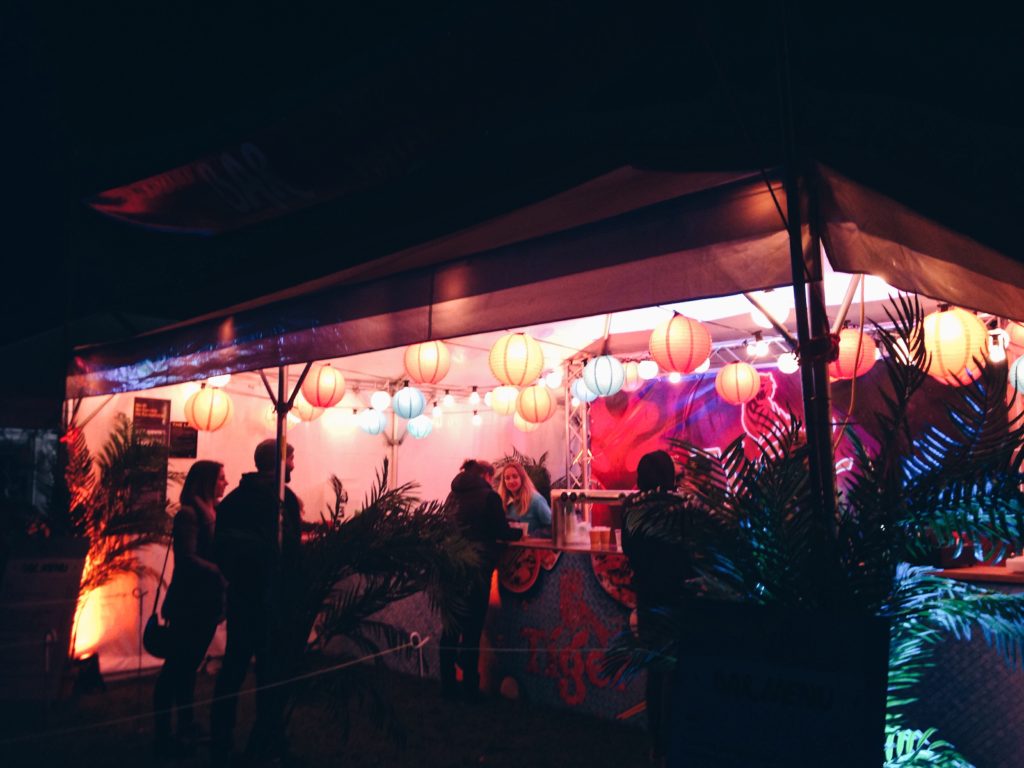 The noodle market is a five day long Asian street food festival at Queenstown Primary School that just opened a couple of hours earlier, and the place is already buzzing. 17 stalls with different Asian cuisines priced around $10 per meal – and a bar. This is Heaven! We buy a Tiger beer each at the bar and then have a wander around the place, getting a portion of something to share, and as soon as that's been devoured, we get something else, barely taking a deep breath in between meals. Here's what we have: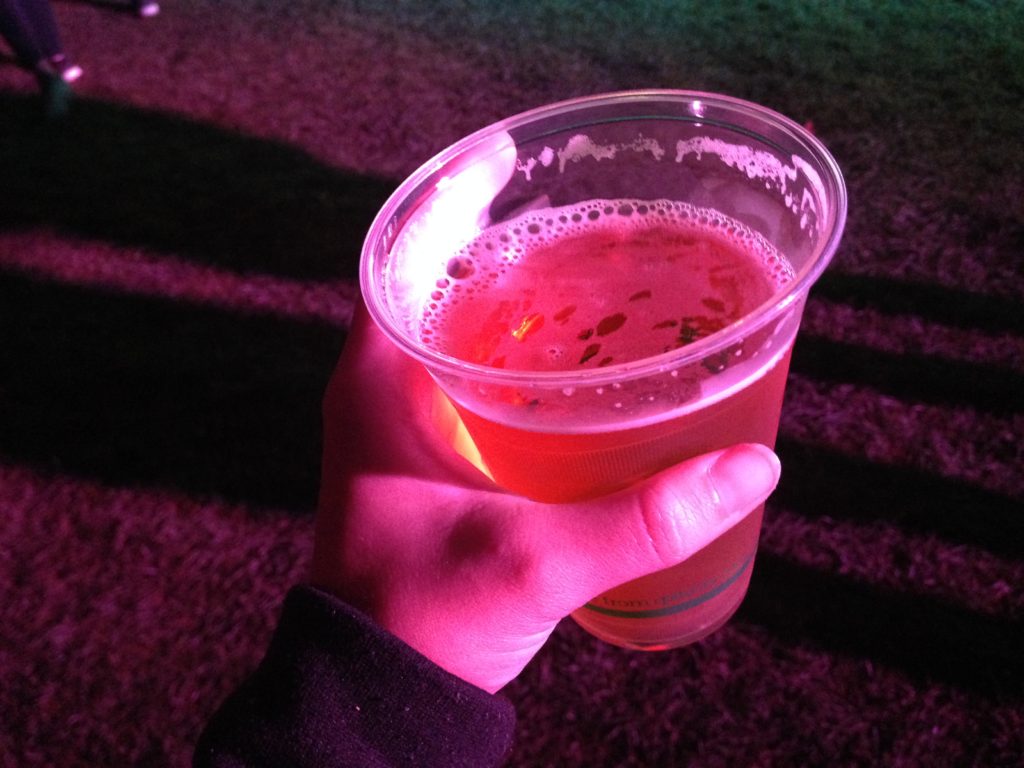 KAPEHAN (Filipino): Crab & Cream Cheese Wontons
These wontons are magical. The filling is super creamy and the wonton itself is golden and crispy.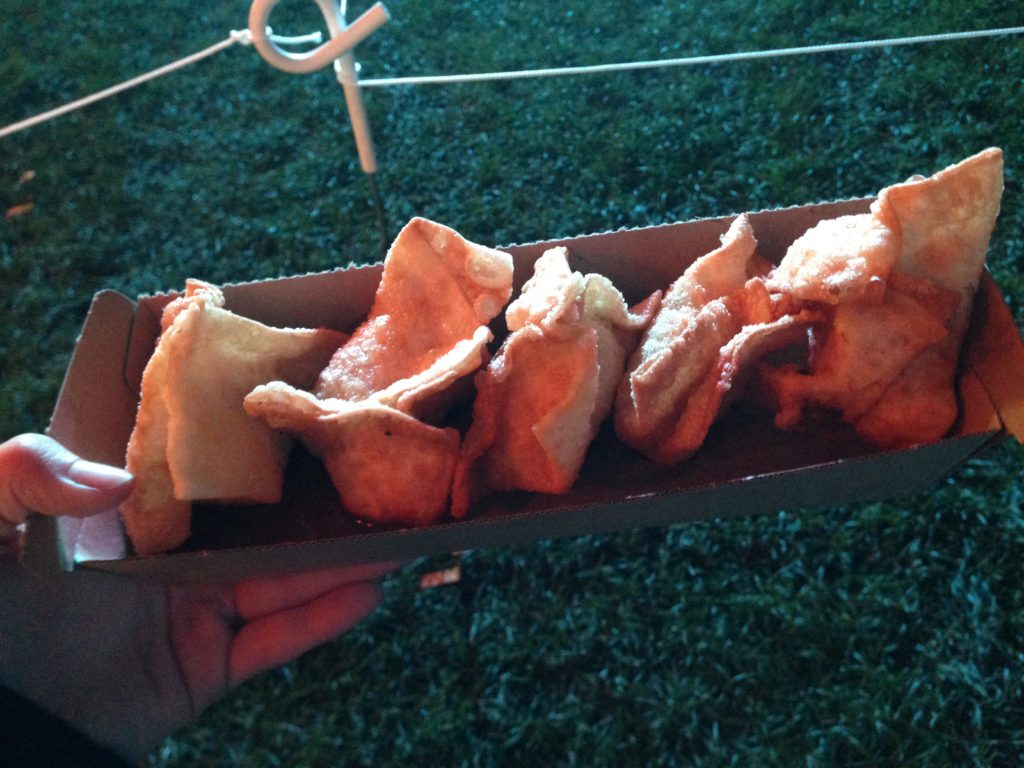 House of Dumplings: Dumplings, duh
I love, love the prawn and garlic chives dumpling, but the Japanese six-mushroom and the spinach and tofu dumplings aren't as flavourful as I had hoped. Lesson learned: stick to meat dumplings.
Hoy Pinoy (Filipino): BBQ Chicken Skewer & BBQ Pork Belly Skewer with Banana Ketchup Glaze
I can seriously not pick a favourite.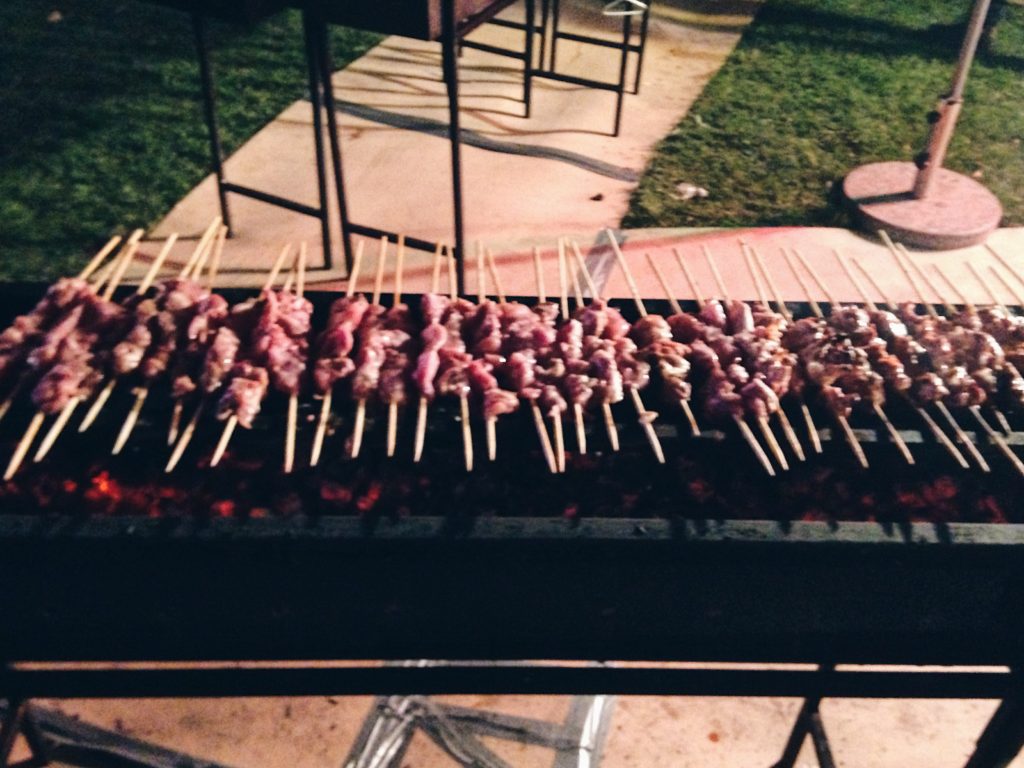 Momo Said (Nepalese): Chicken Momo Dumplings
These aren't my favourite, but not bad either. I've no idea what chicken momo even is, and now I can at least say I've tried it.
Another round of Crab & Cream Cheese Wontons, because they are the bomb.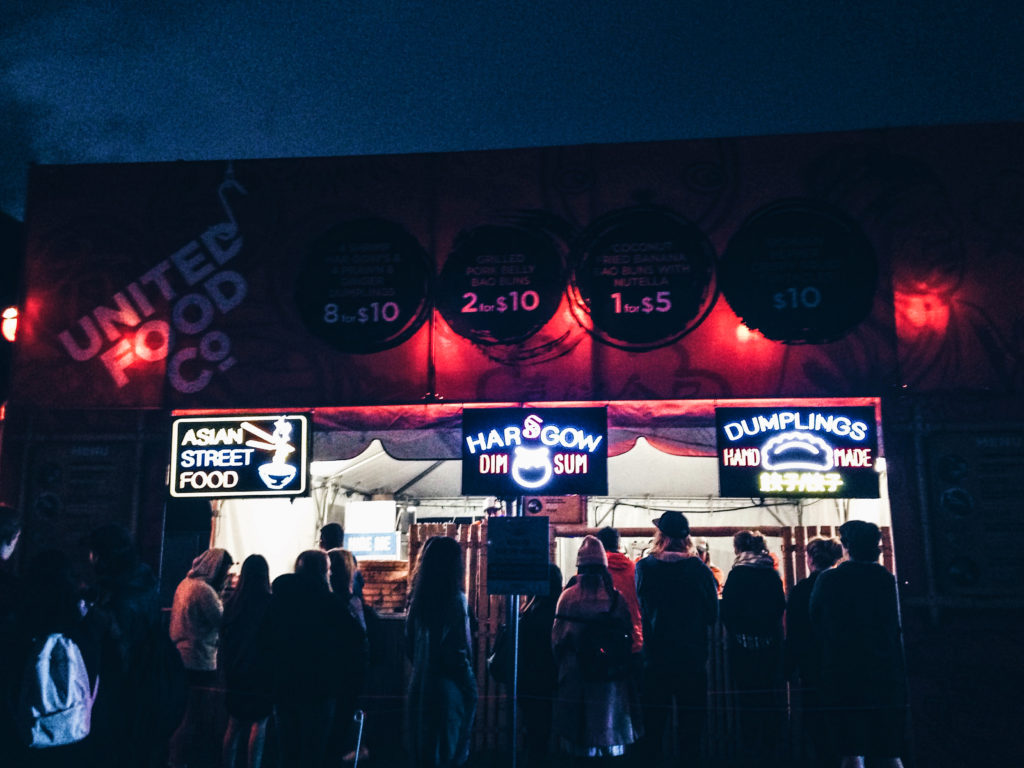 We go back to the car, watch Whiplash and then pass out, extremely satisfied by our level of overindulgence. Also super weak, because we don't know how to say no to food, even when we clearly don't need it.
The next morning we are somewhat rested and ready to take on another day. We drive out to Kawary Bungy Centre, where commercial bungy jumping originated. No, we're not here to jump off a bridge, but to zipline. I've ziplined once back in Singapore in 2014 and I have been wanting to do it again ever since. It's an adrenaline rush that doesn't take that many guts, which is perfect for me. We choose this zipline because not only is this specific location very beautiful, it's also the cheapest zipline in Queenstown. The alternative is a 3-hour tour at almost $200. Sure, it's a longer and steeper line, but fuck that. $50 to zipline over a pretty, crystal blue river is good enough for me.
We both decide to do the "Superman" pose, which makes me a little more nervous. An English girl puts on my harness and I wait for a bunch of kids to zipline before me. If kids can do it, so can I. Then another English girl straps me into the pose. The guy who has worked on Craig comes over to adjust my harness, while trying to scare me by saying my harness doesn't look very well strapped on and whatnot. At this point I'm pretty nervous and just laughing at everything he says while secretly hoping that if I die, The Rock will know I loved him. Finally, he sends us off and we are flying through the air like superheroes until we reach the end of the line, then awkwardly hang out until we are turned around and transported back to where we came from. Waiting for me is the guy from before and another dude who's kinda cute. They ask me how I feel and what I'm up to now and all I can say is "good… I survived… I need a drink." After they've hovered around my butt for long enough to undo the straps on my legs, a third guy comes in and takes my harness off and he is like Andrew Taggart from The Chainsmokers but heaps hotter and he asks me the exact same questions the two other guys just asked. So far I have been touched by 5 people, 2 of them are very attractive, and it's not even 10.30 yet. I guess my day has already been made.
Instead of getting a drink to celebrate being alive, I get another Fergburger. Then, only then, do I get a drink, because priorities. But let's get back to the burgers.
It's around 11 o'clock and there's barely a line outside Fergburger, so Craig and I take it as a sign. We wait 5 minutes, turn down the girl offering us a menu on the street, 'cause "we already know what we want", which she has never heard before. I get a Fergburger with brie, and my life hasn't been the same since.
We get a chair right by the kitchen, so I can really make intense eye contact with the guy toasting the buns if I want to. I concentrate on the impressive meat station instead. While enjoying my tasty burger, I accidentally take a big bite out of my lip instead, because why eat a world-renowned burger, when you have a perfectly delicious lip right on your face?
There's still a bit of energy left in me, so we go back to Pub on Wharf. Luckily, the bartender remembers me and my order from the other day, which makes for the first time I haven't had to show my passport since I arrived in this country. While having a couple of pints, I'm starting to feel drained, but I am enjoying making fun of golf players on the TV and listening to two American guys talking at the table next to us. I don't know what they're talking about, I'm just enjoying their accent. After that, it's time to lie down for a bit, and me and this guy in the car parked behind us do this cute thing where he changes clothes in the car and I watch. I've got this flirting thing down. Then we head back to the noodle market, because why not make dinner an experience again. This time we try a few more things, but we still fill up way before we've gotten to try everything, which is a shame. Anyway, here's what I eat for dinner (note that I still have yet to eat noodles at the noodle market):
Hoy Pinoy's BBQ Chicken & Pork Belly Skewer. Again.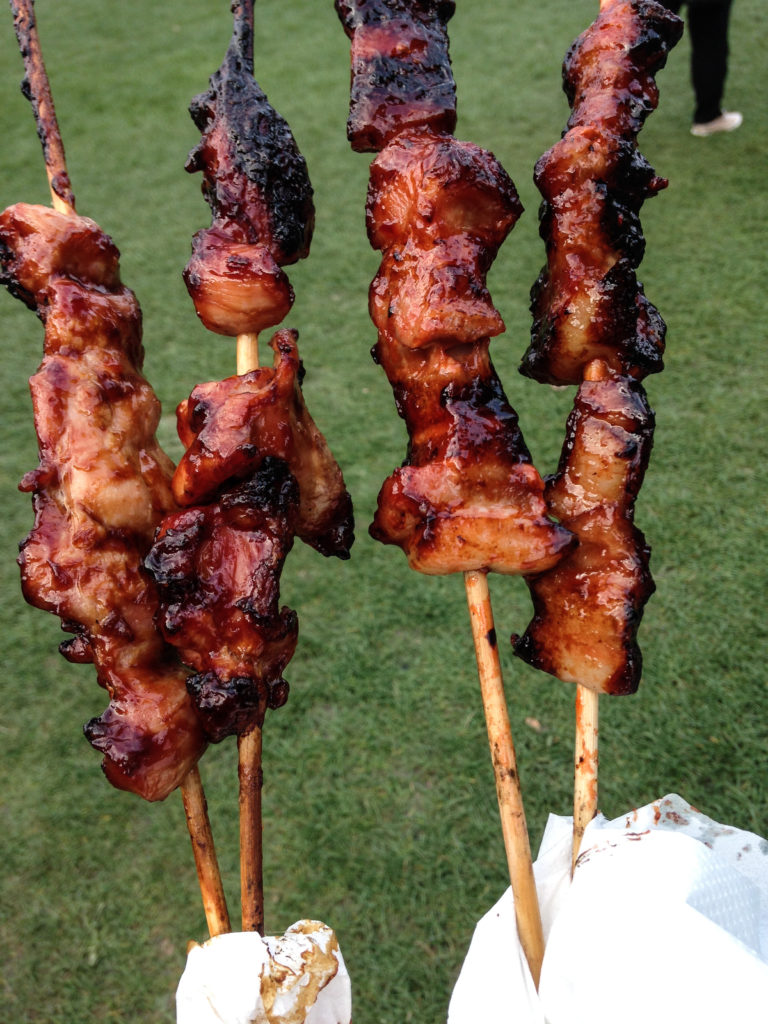 United Food Co (Chinese/Taiwanese): Shrimp Har Gow's, Prawn & Ginger Dumplings.
The dumplings are a bit dry on the outside, but I still really enjoy the filling.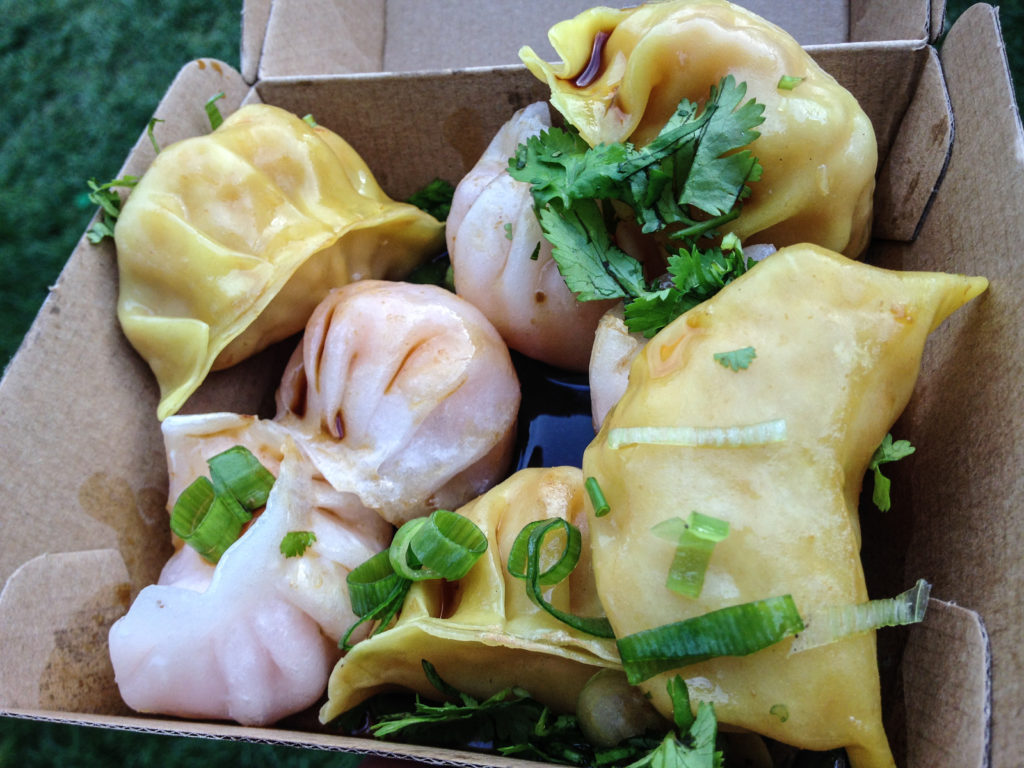 United Food Co: Crispy Pepper Squid Tentacles with Lime & Banana Ketchup
I usually love squid, but I should've known what I was getting myself into. It's too lemon-y and pepper-y for me. The tentacles are also way too chewy and the banana ketchup much sweeter than the one on the BBQ pork belly skewer. I don't finish my portion.
Luvit Gelataria: Mango sorbet with the lot.
Whipped cream, pink waffle, vanilla wafer, pineapple chunks, mint and a little kiwi flag. It's so cute and refreshing after all those dumplings.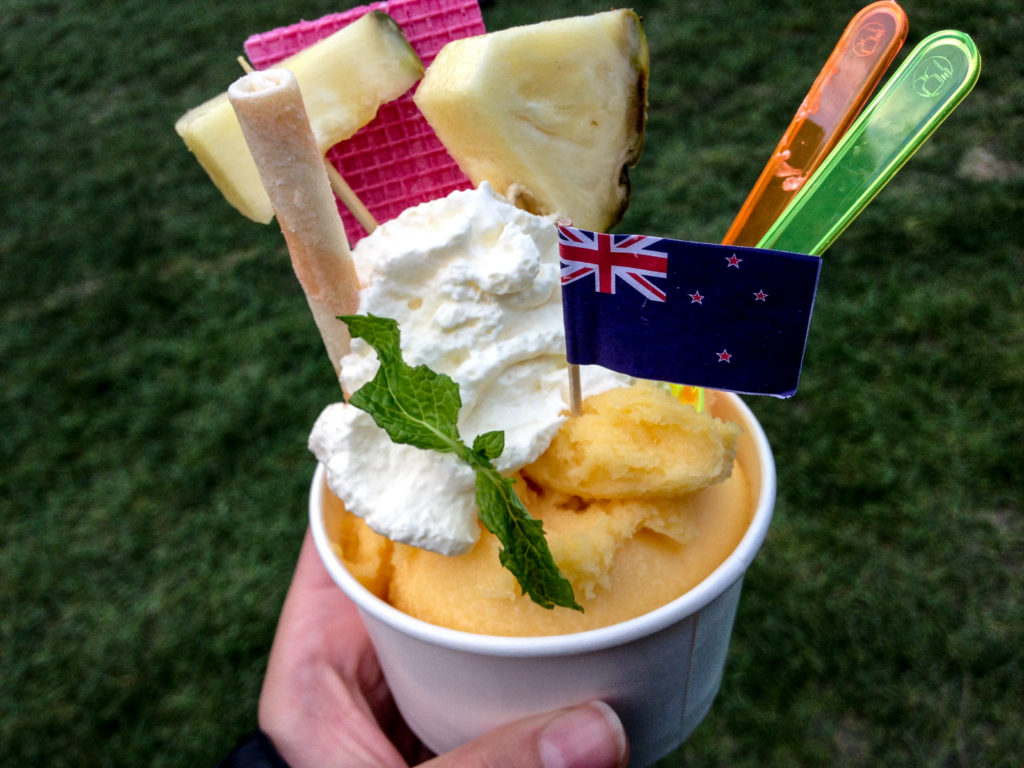 Sauv Blanc, because I AM THIRSTY and we're trying to distract ourselves from eating a little bit.
Bombay Canteen (Indian): Vada pav.
It starts out pretty good, but mine gets a bit spicy in the middle, which I can't really handle, so I give the rest to Craig. Who am I kidding, I am just really full and don't want to waste space on anything but…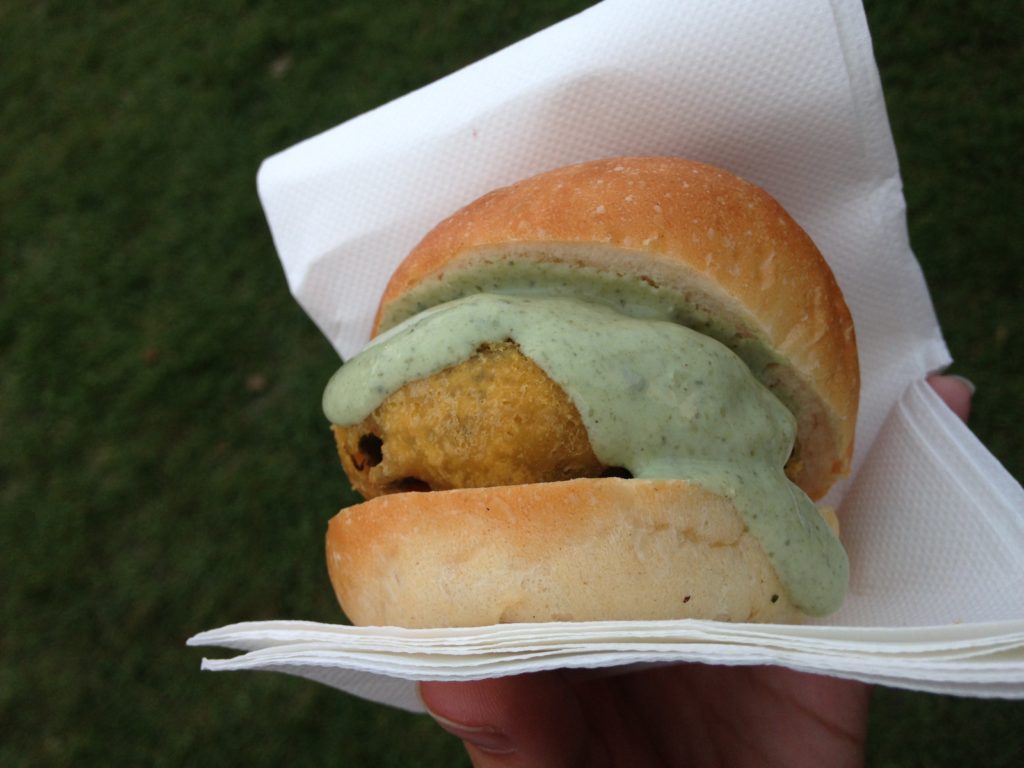 …Crab and cream cheese wontons, along with the rest of Craig's Tiger beer. Yep, I'm all set.
The walk uphill back to the car is a struggle, so at one point I just lie down on the pavement, right in front of a medical centre, begging Craig to leave me. I do snap out of it though and we grab our membership card to the ice bar and walk downtown to see if they'll fit us in. They will.
I get a bunch of pictures, a drink and a cold, red nose, and we have to warm up at Surreal, where they don't ask me for ID either, so I have a pint of cider and feel so incredibly full and antisocial, there's no point in sitting across from Craig at a bar, except for the fact that it's warm and there's WiFi.