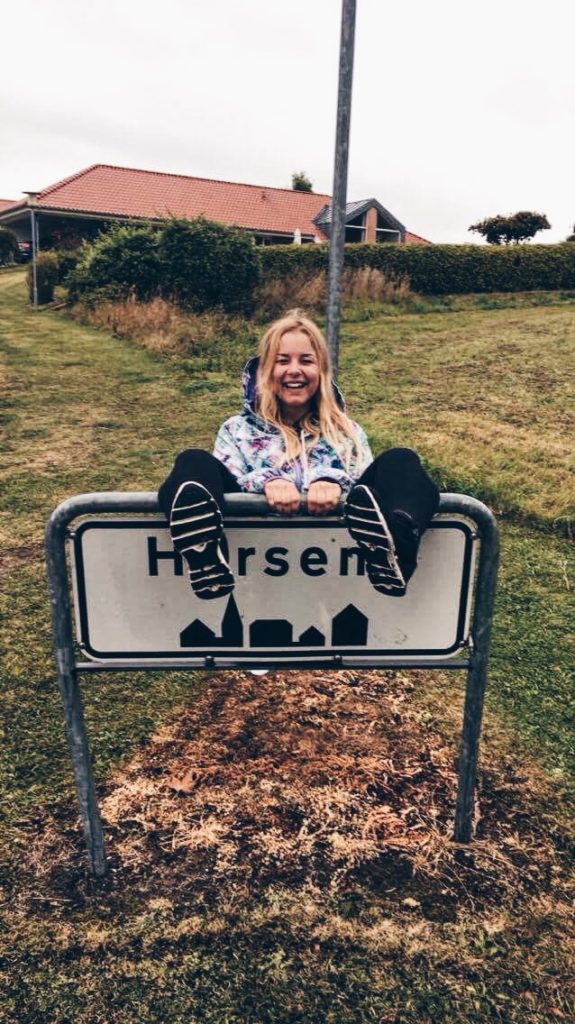 Sydney, Australia, Horsens, Denmark and Alanya, Turkey: Somewhat joke-free post about seeing my friends and family for the first time in ages.
After a year and a half of being away from my friends and family, I am finally returning home for a brief visit.
Unfortunately, being gone for 2½ weeks, my job is being passed on to someone else, and I am left with no income and a shit ton of bills to pay – while on vacation, which we all know is pretty costly as well. I spend a lot of time leading up to my trip worrying and stressing out about money, jobs and trying to make enough time for everyone once I get back home.
With a less than half full suitcase I get an Uber to the airport – boy, do I love Ubers – and before I have time to think about it, I am on a plane, sitting next to a fat Lebanese guy, who keeps giving me gum and reading my books with me. After 14½ hours I land in Doha, Qatar, where I spend 8 hours wondering around and napping in various places, before I find an actual nap room. Then it's onto another plane for 6½ hours, where I luckily get my own row of seats – and I take advantage of it, big-time.
After almost 40 hours of travelling with all the possible delays you can think of, I finally roll my suitcase and myself out in the arrival hall of Kastrup Airport. My sister has been so nice, driving 3 hours to pick me up, so I won't have to wait several hours for a train. Problem is, I don't see her anywhere in the crowd of people awaiting the return of their loved ones. I slowly walk past the crowd and wait around somewhere where I can get a good look. Yep, she's nowhere to be found. Until I see her best friend walk by with a brunette, who then turns out to be my sister. We hug and I start sobbing uncontrollably. It's actually kind of embarrassing. We then get to the car and start a long drive home late in the evening, but the girls have enough candy, soda and Disney music to make time fly.
We get to Horsens around 1 am and my sister has cooked spaghetti Bolognese for me, which is one of my favourite dishes of ALL time. I haven't forgotten about you though, Halal snack pack. We eat, chat and then go to sleep not long after.
Jetlag is apparently not something to worry about, as I get up at 7 the following morning and go for a 12 km walk/run around Bygholm park and lake. It's raining slightly, but I'm enjoying the beauty of nature in Autumn. Nothing like my coastal walk, but I appreciate the nostalgia.
We then drive up to see my grandparents, who have planned to surprise my mom with my return. Around dinner time, my sister picks up my mom from work and tells her some lie about having to go drop off their dogs at my grandparents' or whatever. When she walks through the door, grandpa tells her he has a surprise for her and goes to get me from the guest room. My mom's phone rings in the meantime and she picks up, so when I greet her in the kitchen, she's on the phone, but she's still very excited to see me and we keep hugging… while she continues to be on the phone.
We have Christmas dinner, basically, and then my aunt and cousins with S.O.'s and kid drops by as well for coffee and dessert. I am pretty tired by then. Maybe all the goon my grandparents served me (yes, really) isn't doing much to boost my energy level.
On the 1st of October, I get on another plane, heading to Konakli, Turkey and I bring along my bestie Albulena and some family. We have a long day of travelling, says I, who should be used to this by now, and arrive at our super fancy hotel late in the evening. All we have energy for is a snack and some wine before passing out.
We spend a full week under the sun, trying to tan and swim and eat as much from the breakfast buffet as we can. There's also an open bar, so we go down for dinner earlier than everyone else every evening to have a couple of glasses before we start on the bottles. When we're bored of tanning (or getting a bit sunburnt), we go to the bazaars in Alanya and Konakli and I basically end up with a suitcase full of shoes, even though I don't even care about footwear.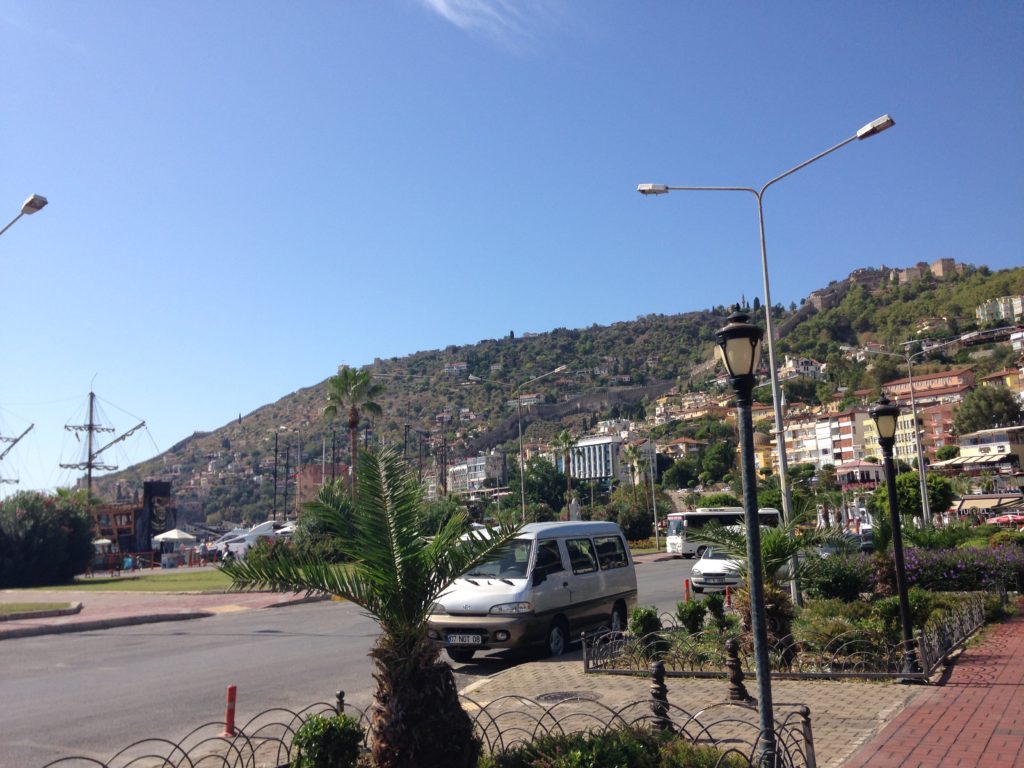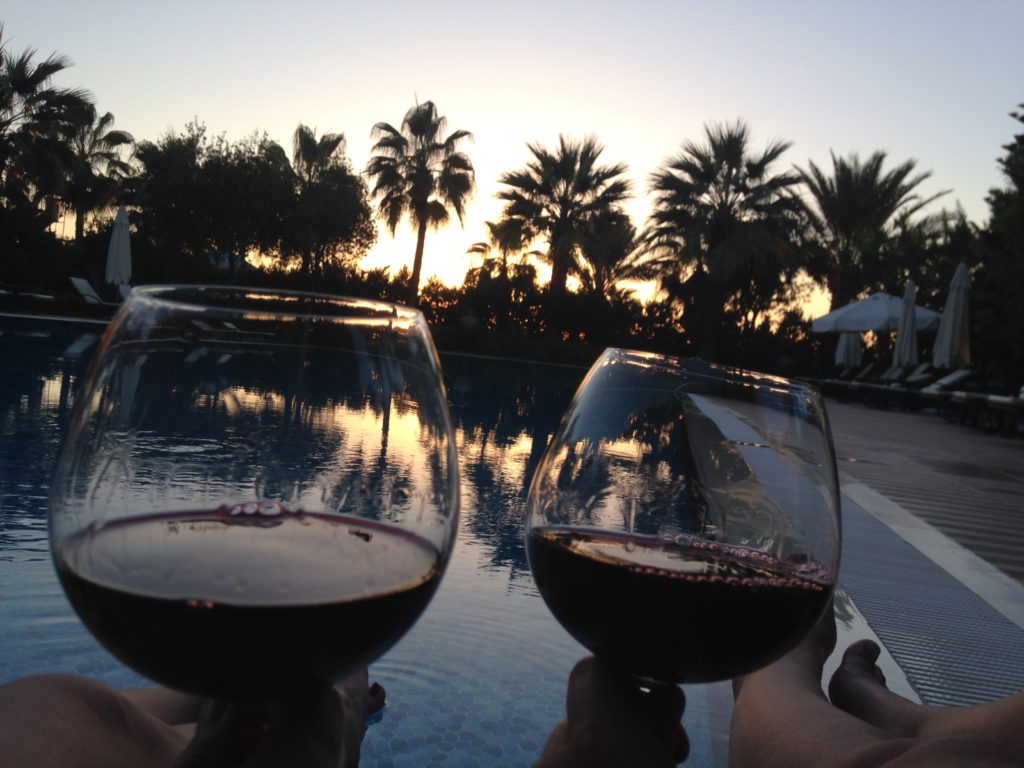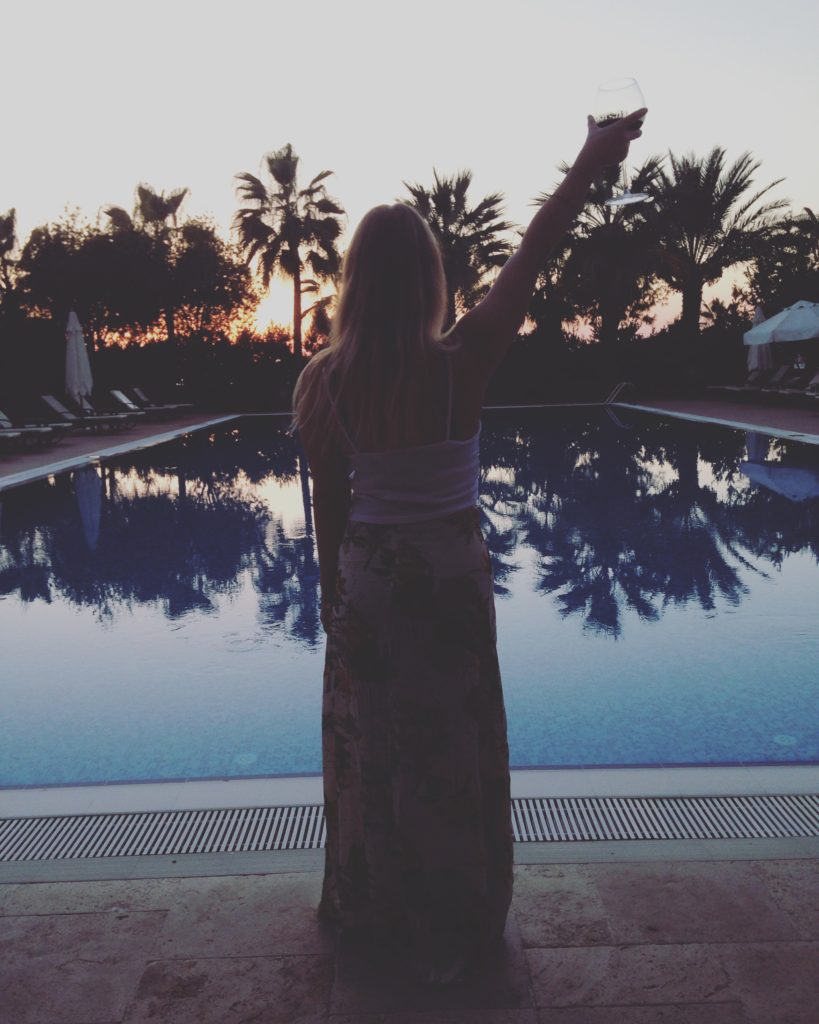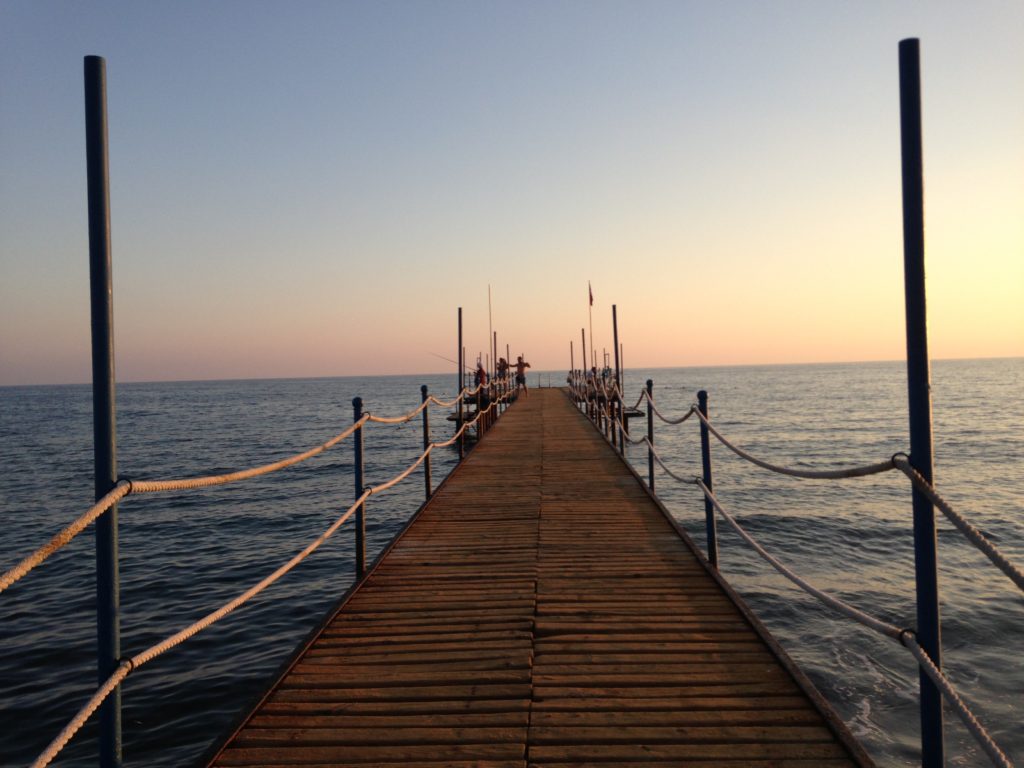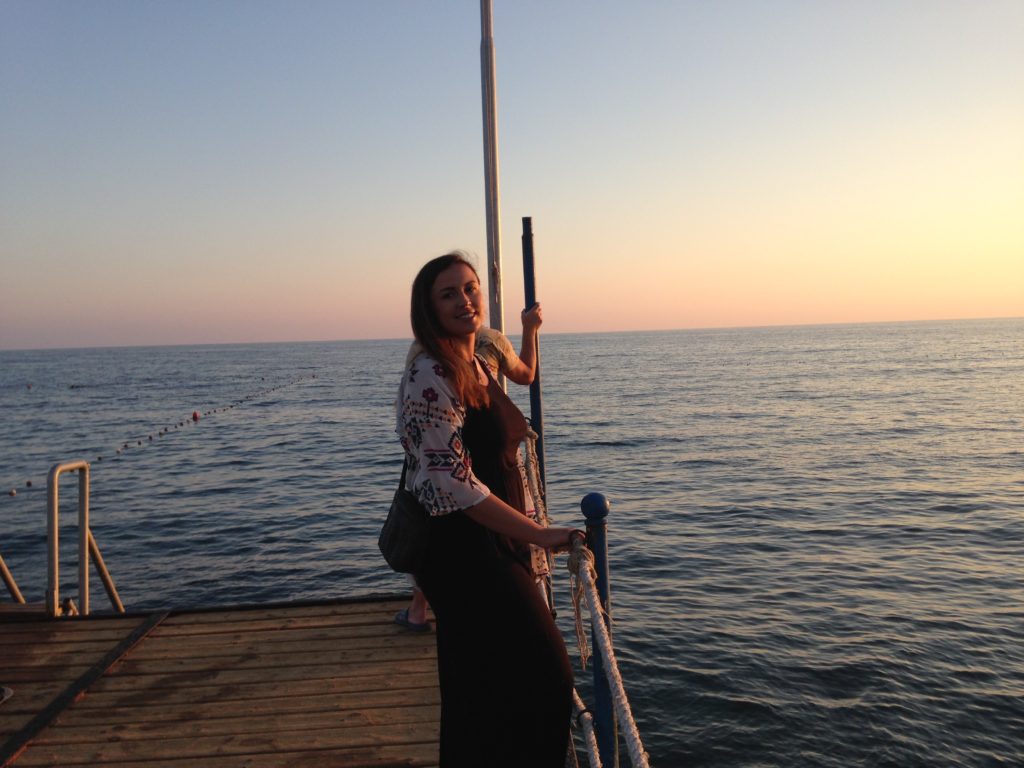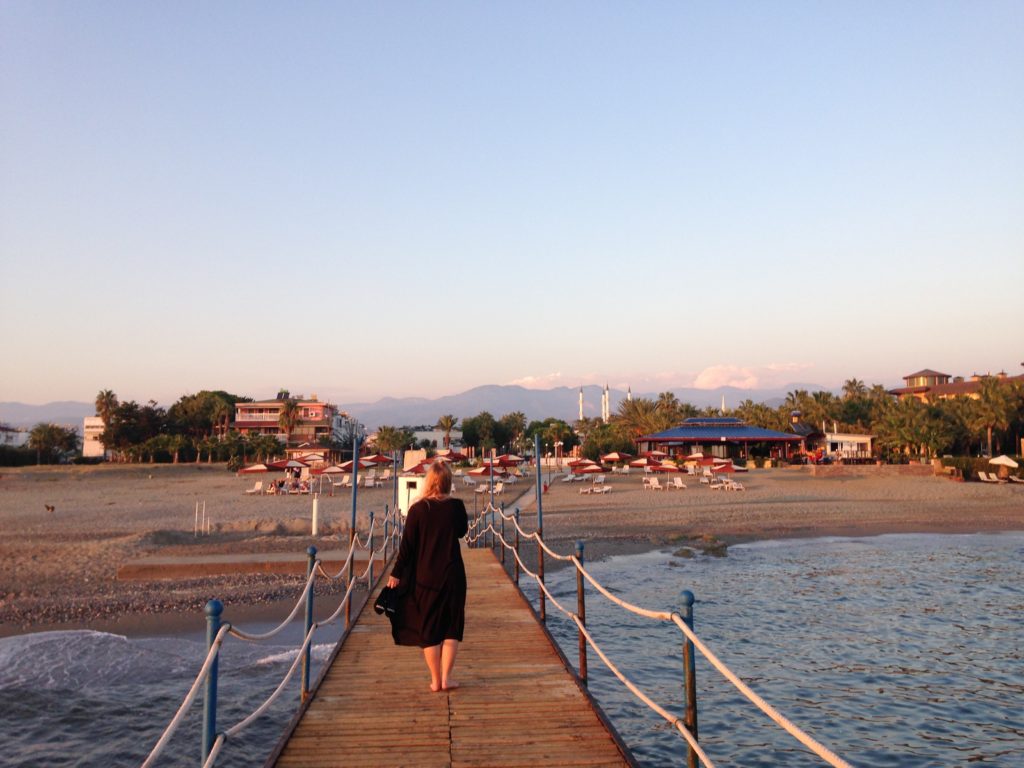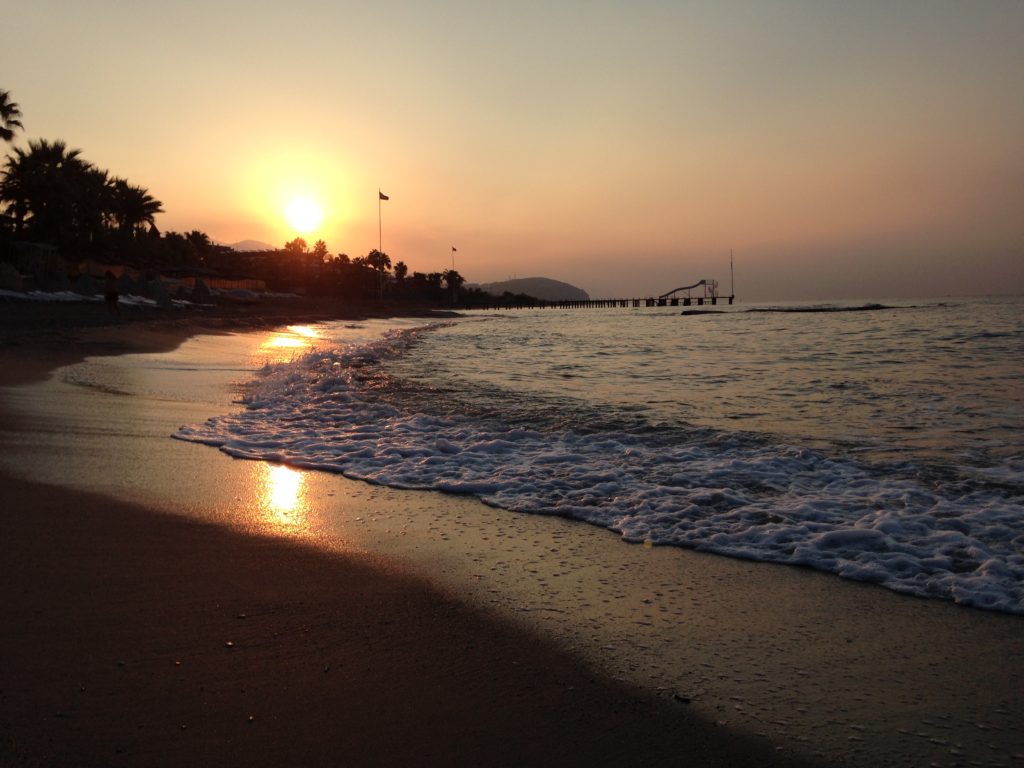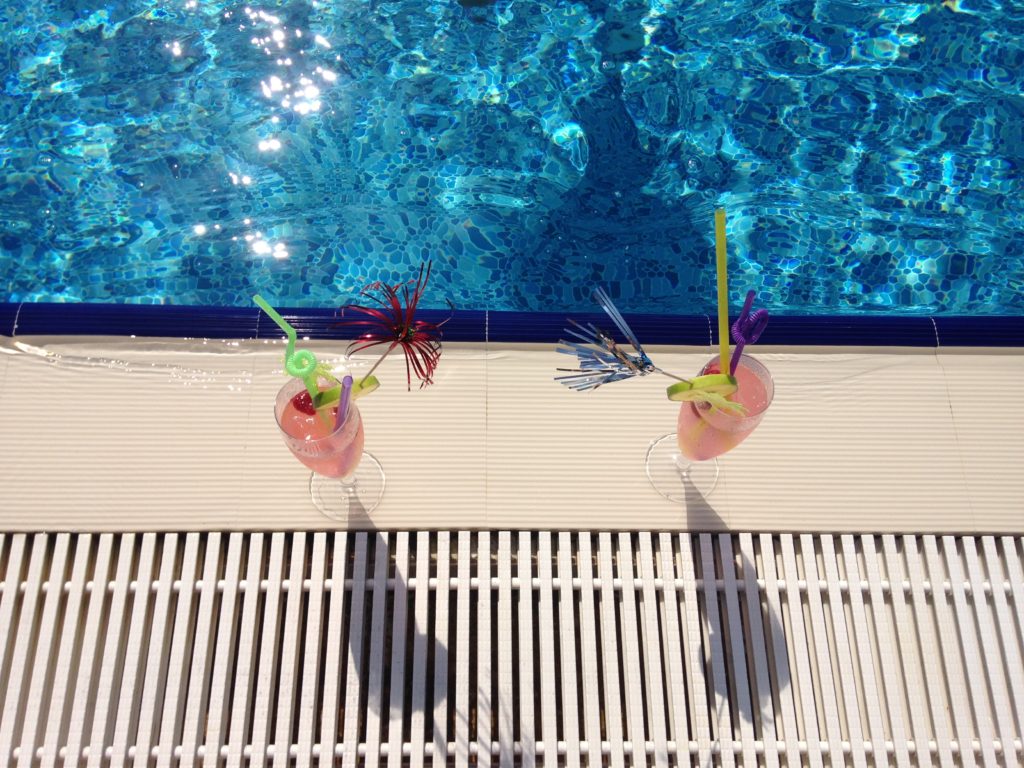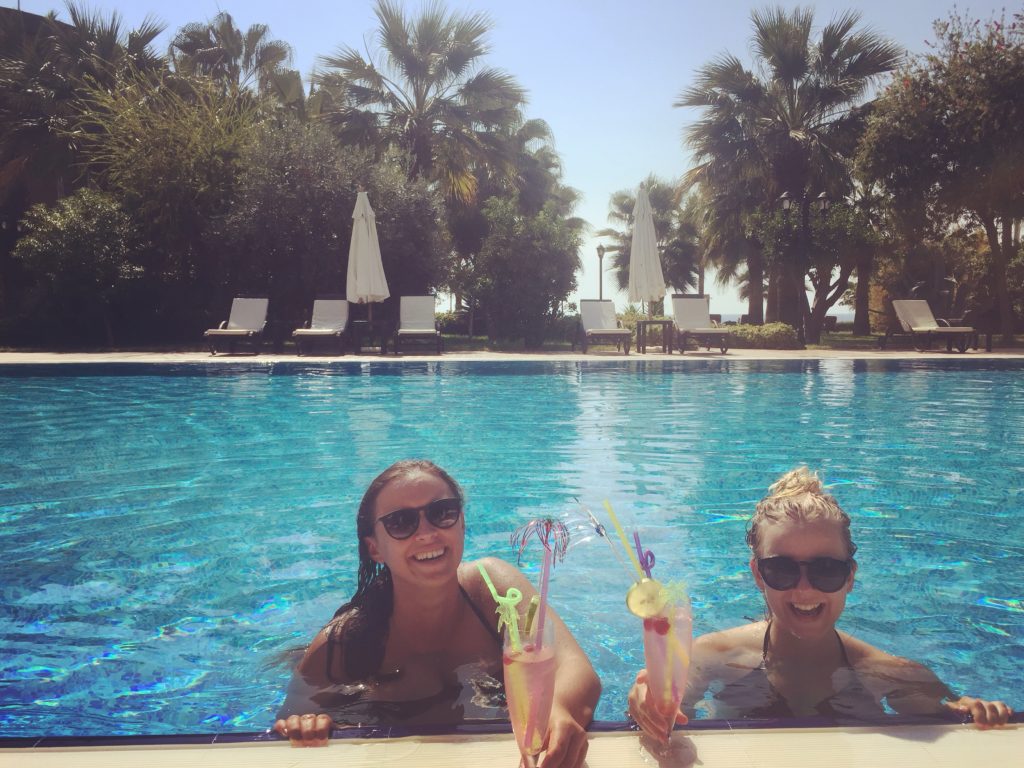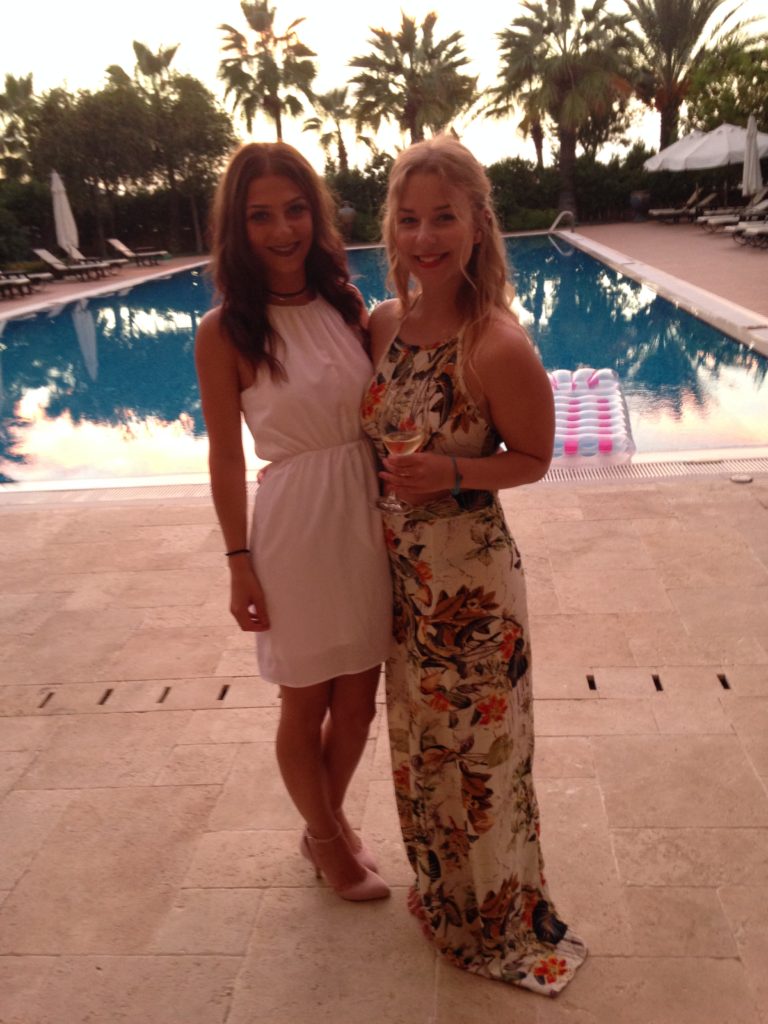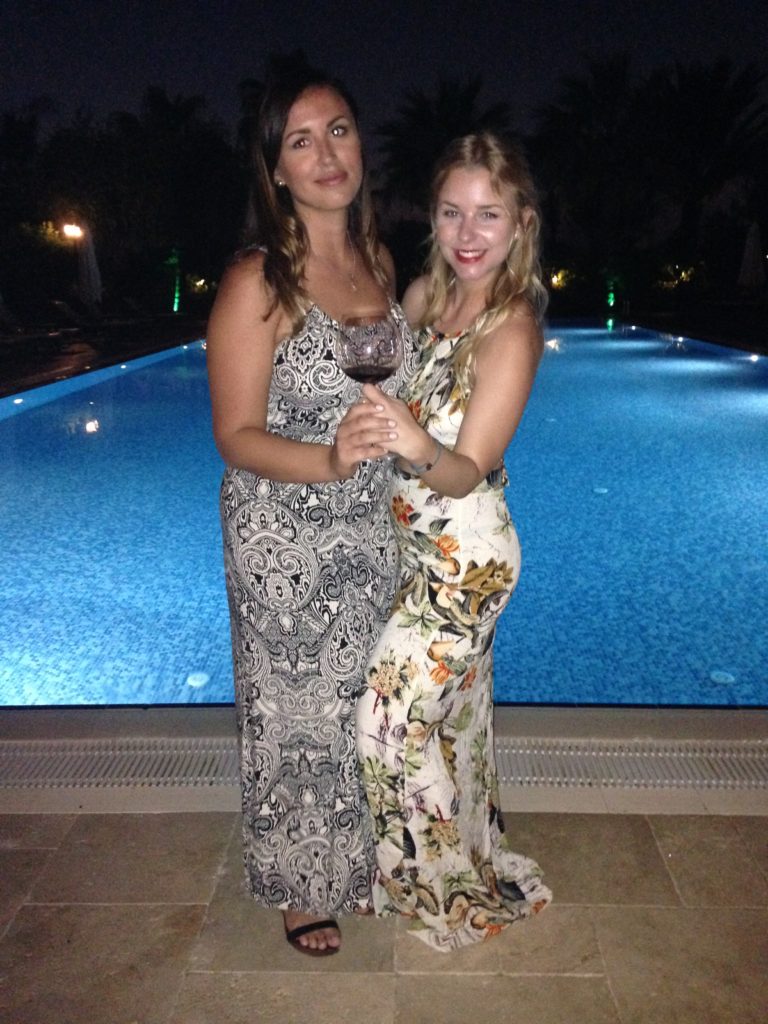 Obviously clutching to the wine glass a bit much these days, hey.
Wearing Budgy Smugglers like a boss.
It's great hanging with Albulena after so long, catching up on everything that's happened, which is a lot. She is getting married next year and I haven't even met her fiancé yet! Unfortunately we (and by we, I mean me) are too tired to stay up drinking most of the nights, only going out for drinks and hookah with my sister and her boyfriend once. On the plus side, I learn magic tricks that I have since forgotten all about.
After a luxurious and relaxing weekend, I get back home to Denmark to hang out with my family a bit more and eat all the food I've missed so much – there's a lot. My mom and her boyfriend fulfil my biggest wish and make me ryebread with all the toppings you could possibly imagine, which I live on for almost a full week.
I also get to hang out with my besties Aga and Terese, who gives me sweet presents like their company, wine (that's an important one), clothes and a mug with their cute faces on. Thank you, malakas! <3 Also, Aga goes on a nice long walk with me and takes pictures of me falling off signs and stuff like a true friend.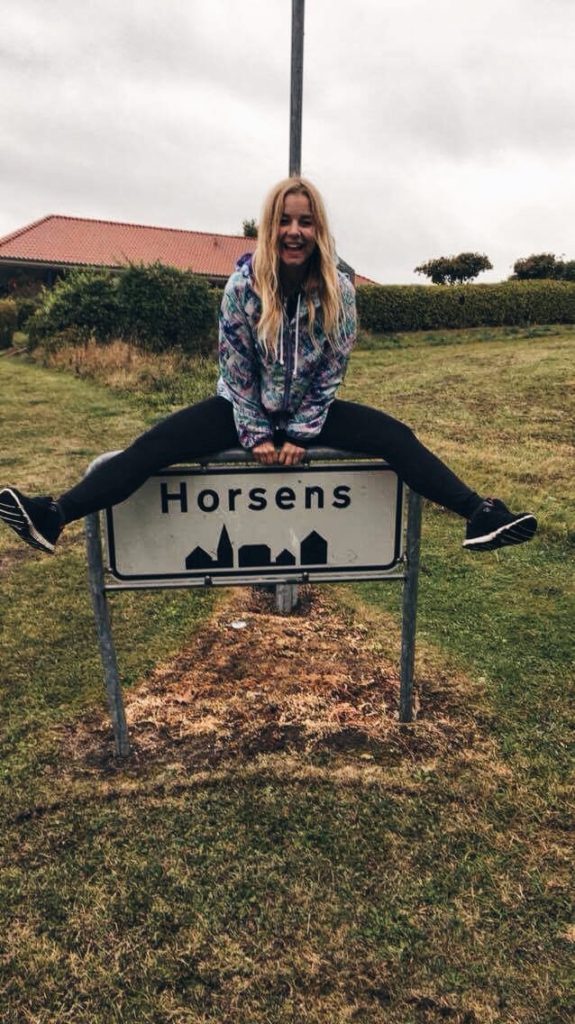 Just before I fell off.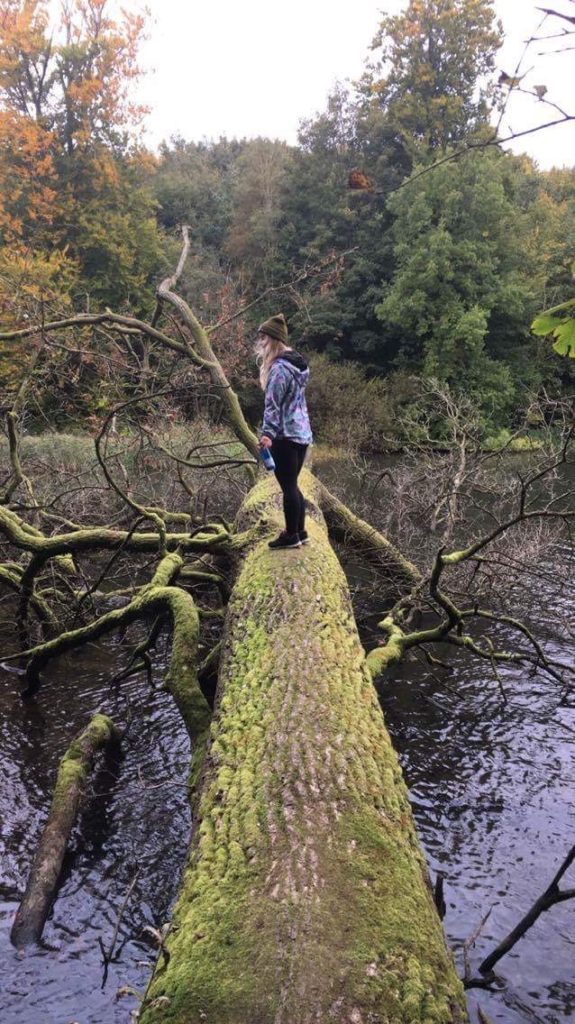 Saying goodbye isn't that hard this time around, but it's surprisingly difficult for me to leave my sister. She drives me to the train station and we both cry and hug a lot, which is odd, 'cause we never usually do that. I get on the train, cry a bit more, end up at the airport, and begin another long trip. I'm so excited to come home!
Jetlag hits me hard when I land in Sydney. I down a bottle of wine as soon as I enter the apartment and pass out after a long and hyper-energetic rant about my trip, but I wake up at 2 am in the morning and fall back asleep at around 10 am, and this continues to happen for a good week or so. I am so lucky to have gotten my job back in the meantime, as well as a full week off before starting, so I try to get on the treadmill and read a lot during my time off. No, not at the same time. The weather is getting better – at least a lot nicer than in Denmark – but I'm not super motivated to get outside and move around.
Alright, end of boring post that kinda makes me sad to write.