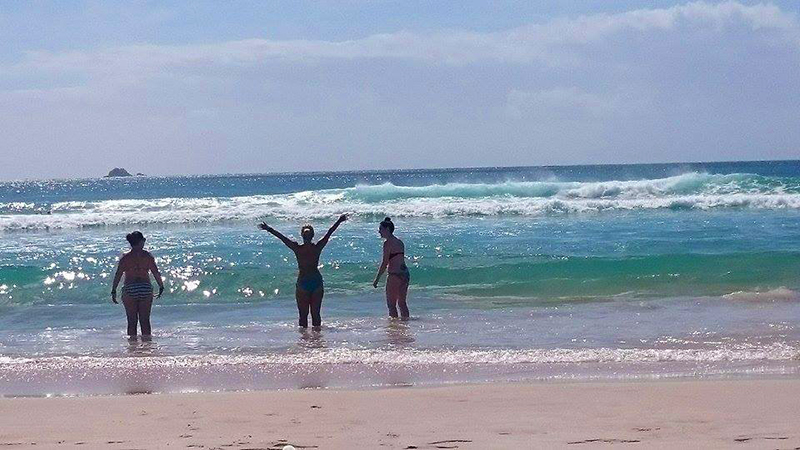 Byron Bay, Australia: What was supposed to be two relaxing (read: boring) days on the beach, became so much more than that.
It's early morning and we get off the Greyhound bus in Byron Bay, a small hippie town, after 13 hours. A female staff member picks us up at the bus stop and drives us to the beach, then to the hostel, Backpackers Holiday Village, where we check in. We stay in a 4-bed dorm with our own common area with TV and a kitchen. We are exhausted after our bus ride, so we unpack and go back to sleep.
In the evening, we decide to go to Cheeky Monkeys across the street for a $5 dinner and a free drink. We're absolutely starving, waiting outside for 40 minutes before the place opens. We get talking to Hannah and Sarah from England while queuing up, and we end up sitting at the same table. Immediately, we realise that these girls are just as disgusting and filthy-mouthed as we are. Score! For dinner, Sharon and I order pasta carbonara. Bad choice. After that, we get our free drink, and since there's face painting happening on stage, we line up for that, too. People keep skipping the line, despite the four of us being next, which annoys us. When my turn comes, I am stuck with the new girl on the job, so she takes around 40 minutes painting my face. I tell her to make me look like a mermaid and this is what I end up with: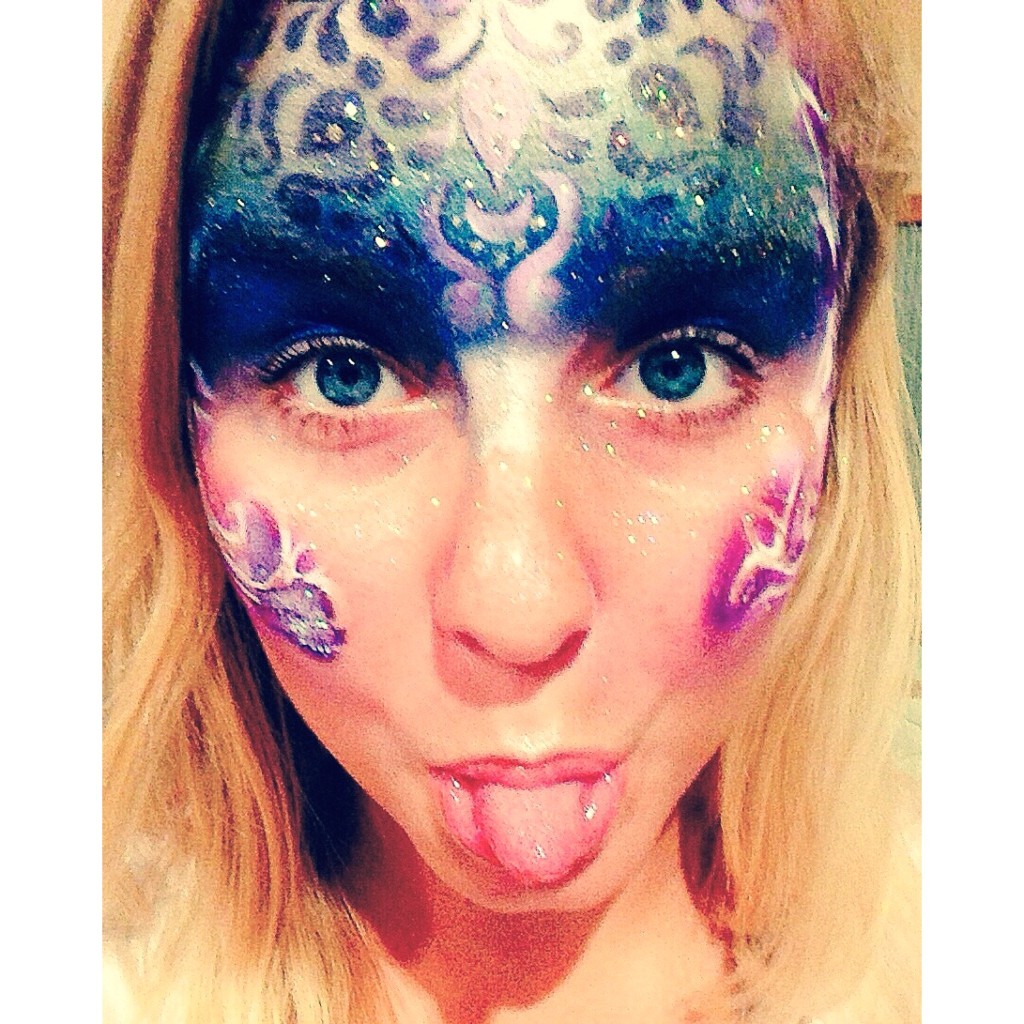 Over-saturated, because the colors looked really shit 
Sharon asks another girl to paint her pink and purple, but instead, the girl says "I am going to make you look like an intergalactic fairy!", so she also gets some bright green on her face.
Sharon, Hannah, Sarah and I leave Cheeky Monkeys after being harassed about not donating to the paint girls, and we head to The Northerner, where a guy is playing a set on his guitar. We get some more drinks, and Sharon and Sarah, who both celebrated their birthdays on Monday, convince the guy that it's their birthday, and he dedicates a song to them. A very drunk girl comes over to take photos with the Scissor Sisters on Tour (that's the four of us) and says she "loves" us.
We decide to move on from the bar, and Hannah and Sarah drags us in to Cocomanga, which is more of a nightclub. While Sarah is talking up all the guys to get a free drinks, we are all standing around with our drinks, laughing at her. I decide she is my inspiration in life. The nightclub isn't really our scene, so we quickly tire from it, and decide to just go to bed. It's 1.30 AM.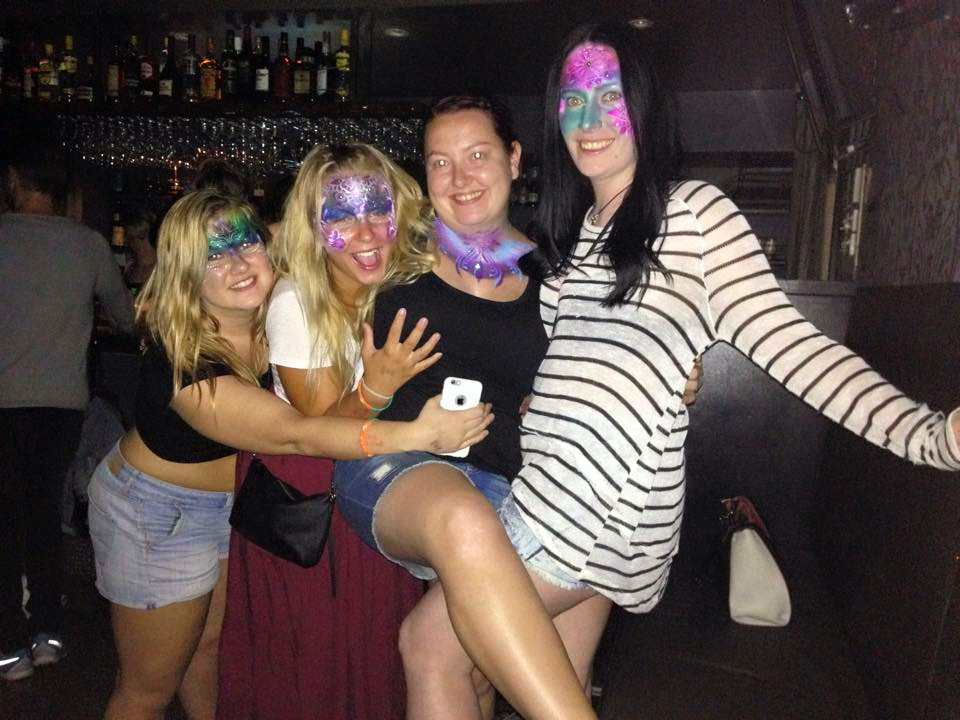 The next day, we all go to Wreck beach together. It's right next to Main beach, and has parts of an old shipwreck partially submerged not too far out in the water. People occasionally swim out to climb the rudder tiller (that's what Wikipedia says it is), so of course I want to do that too.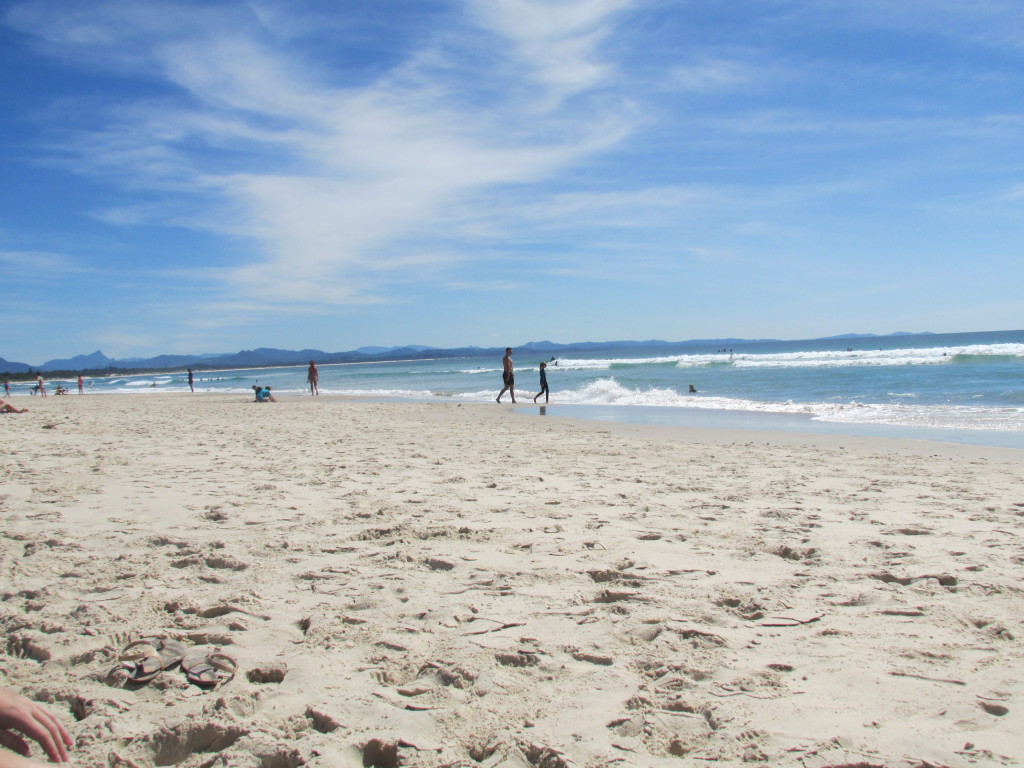 I convince Hannah to come with me, as I am really scared of shipwrecks. They're scary! We swim out, thinking we'll never make it because of the big waves pulling us back in, but eventually we make it out to the ship. And we can't climb it. A lifeguard passes us by to tell us to come back for high tide tomorrow.
Me, failing at life
Bummed out, we swim back, and find out that Hannah has cut her wrist on the rudder tiller. It's quite a big cut, so we go to the lifeguard tent and get it cleaned up.
For lunch, we go to Hog's Breath and wait ages for food that isn't even that good. We are very disappointed with our lunch, so we just head to the bottle shop and buy some goon (Sarah's never had it before!), so we can redeem ourselves later.
We all go to Domino's for dinner, as the pizzas are $5! We eat them at the outdoor common area at the hostel, when it starts to rain. I feel a few drops on my hand and says "Guys, I think it's starting to rain", and right then, it starts to pour down very heavily. We move in to a more covered area, and start playing Wham Bam Slam!, and of course Sarah really sucks at it and has to drink a lot of goon, and she gets so drunk that she falls asleep in her chair.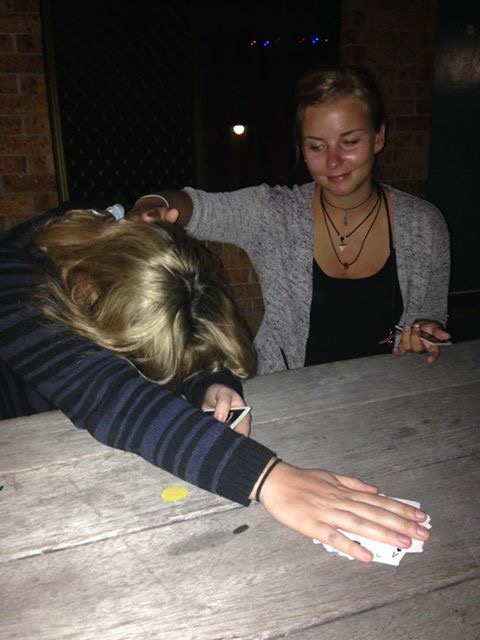 There, there
More people join in on the card game – a bit too many – but it's still fun nonetheless. I convince everyone I'm from Kenya, and I don't know how.
As the staff tries to get us to go out, we retreat to our common area by our room. We talk a bit to our Swedish room mates, before going to bed. Extremely early.
We wake up early the next day and go to Wreck beach again. Of course, the sea is being super rough today, so the beach is closed for everyone but the surfers. The four of us just lay out to get some sun, talk about Sarah's inability to poop over the last few days, and check out all the Lances (hot guys) on the beach. We keep having to move our stuff further up the beach, as the waves come closer every half hour-fifteen minutes. We go out in the water and try to jump over the waves, and I lose my sunglasses. We find them, but then another wave washes it away, and they're gone forever. Time to go shopping!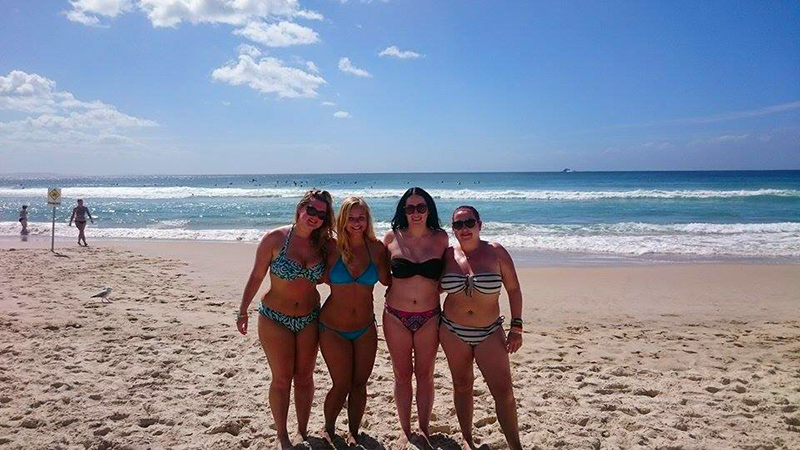 After buying new sunglasses, we go back to the hostel and fix up some lunch. We find a "dragon" that we name George under one of the tables, and me and Hannah climb over to investigate.
We say goodbye to Sarah, who's on to her next destination, and we have a nap. For dinner, we have mac and cheese, which on the box says it's supposed to serve 4 people, but we are left feeling hungry even after devouring the whole thing. We run to Woolies and buy more food, which we eat while having a few beers. We all decide to have a quiet night, so we head to bed after watching some of season 18 of South Park in the TV room.
The next day, the weather is really shitty, so we don't bother going back to the beach. We're bored, so we decide to go to the Cinema right next to the hostel, and watch Cinderella. We sit in this small, really smelly room full of kids and munch on popcorn and watch an amazing movie. After it's done, the weather is a bit better, and we go to Miss Margarita for lunch. It's a Mexican place that's always packed, and the food there looks amazing. We sit down and have 3 soft tacos each, and must admit that the food tastes amazing, too.
At night, there is a $10 BBQ at the hostel, that we all join in on. We wait for ages, but it's worth the wait. After that, we play some cards until we get kicked out and have to go to Cheeky Monkey for our free drink. We end up dancing for quite some time with Harry (who reminds us of Alex from the Palace), until we finish all our free drinks. I decide to go home, while Sharon and Hannah stay until they've finished their beers.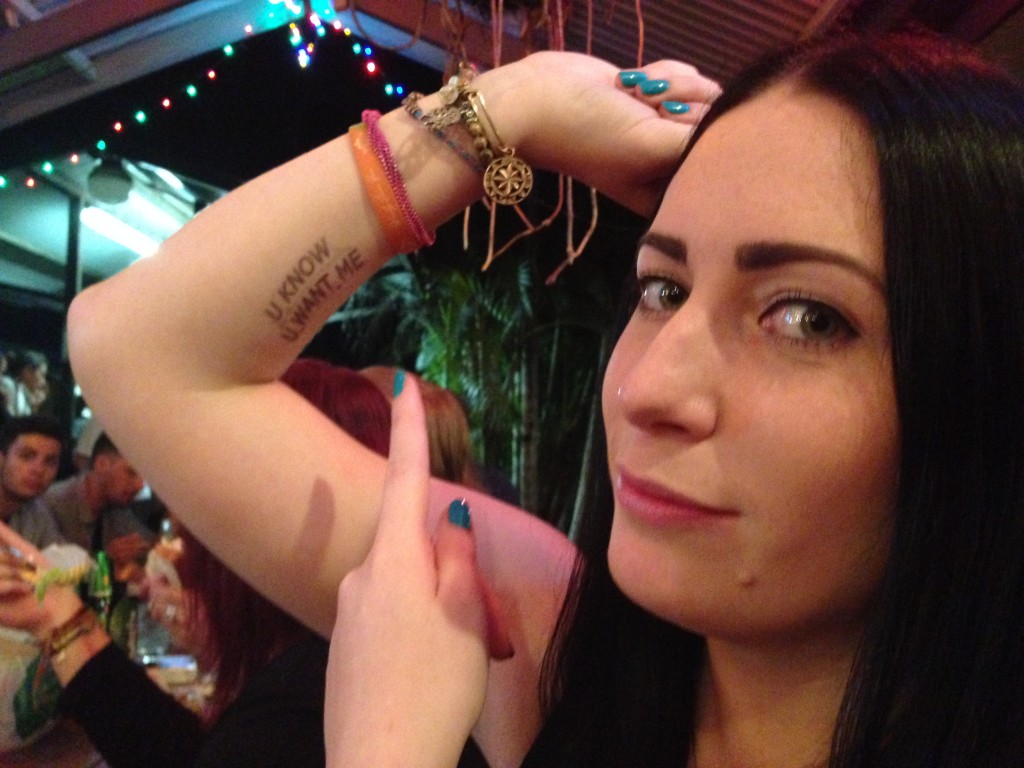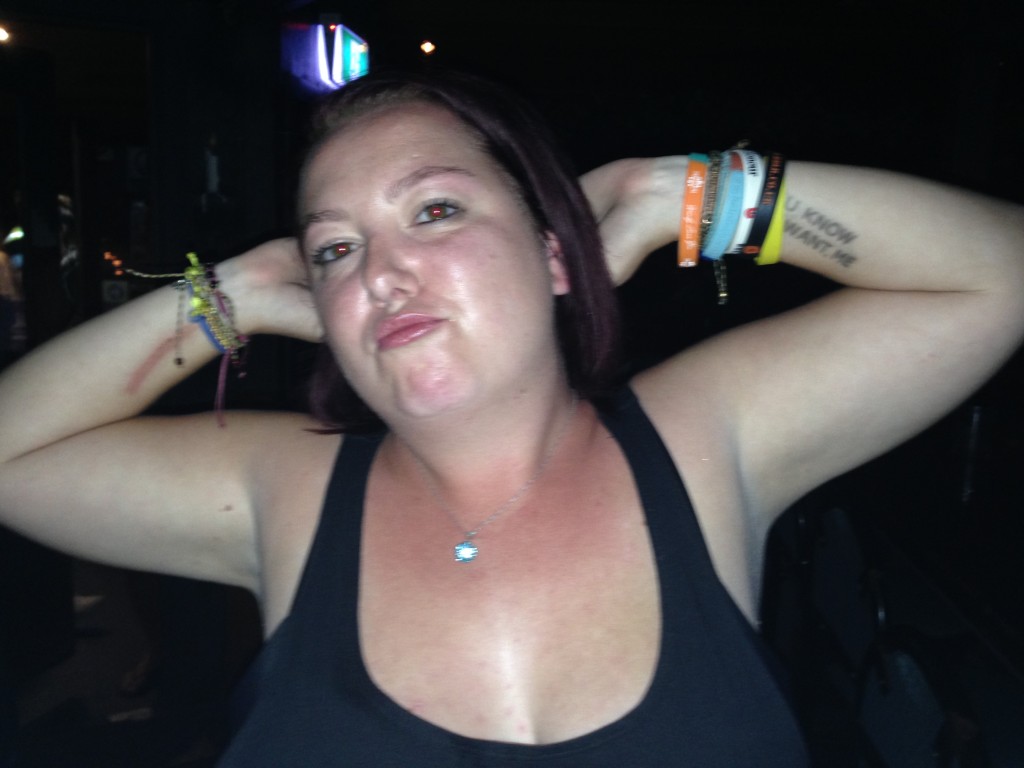 On our very last day in Byron Bay, we have Miss Margarita for lunch yet again – their nachos and sangria are amazing, too! – and we finish our South Park season 18 marathon, before getting on our bus to Surfer's Paradise and seeing the most amazing sunset.