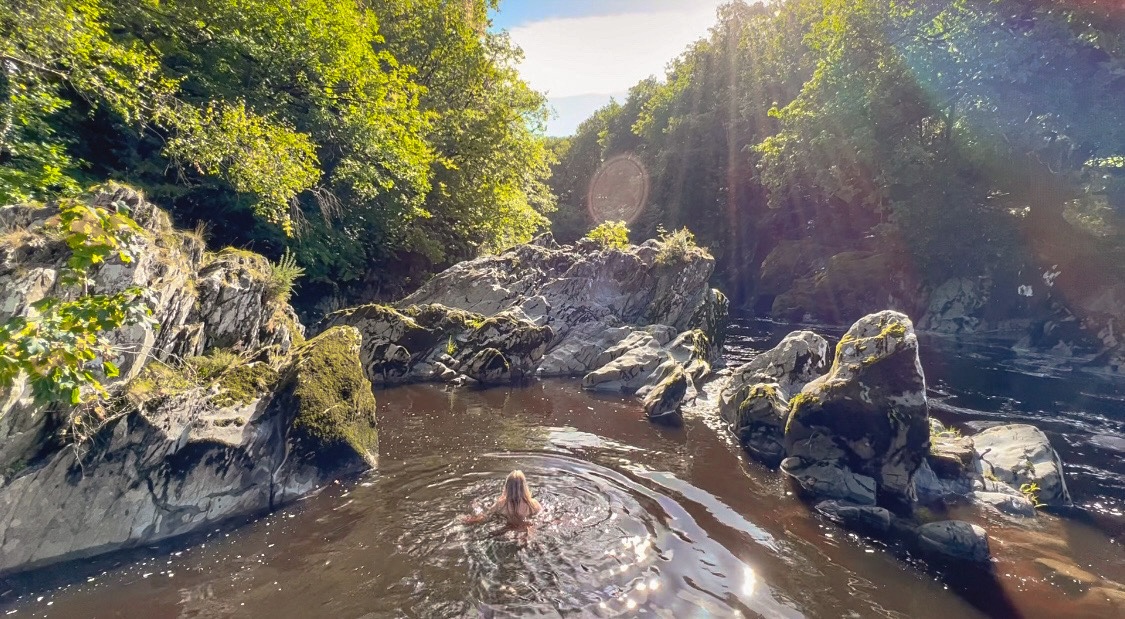 Wales and England: Driving through the UK searching for a bottle opener.
2022's been quite a year. In January I bought a house, which I moved into in May. At the beginning of the year I was also offered a position in a different team at work, which I accepted, and thus began six months of insanity that led me to taking several months of sick leave due to stress. That, paired with the process of buying and moving into my first house and having a lot on my plate socially over the summer took a great toll on my health. So I needed to get away, badly. Due to Aga's work commitments, travelling wasn't possible until September, and so here we are, going on the first and only trip I'm taking in 2022.
Perhaps it's the calmness of the quaint villages and great landscapes of the Cotswolds that attracts me so much to the UK this year – God knows I need calmness. There is something cozy and romantic, even fairy tale-like about the waterfalls, rolling green hills, cobblestones and pubs that have outlived generations.

After a long and chaotic trip, we end up in Cardiff, Wales, my 36th country! We have a very expensive lunch of fish & chips (because duh) and a cheeseboard paired with a bottle of Pinot Grigio at Culley's to make up for the fact that we've been up since 2 AM and we're exhausted.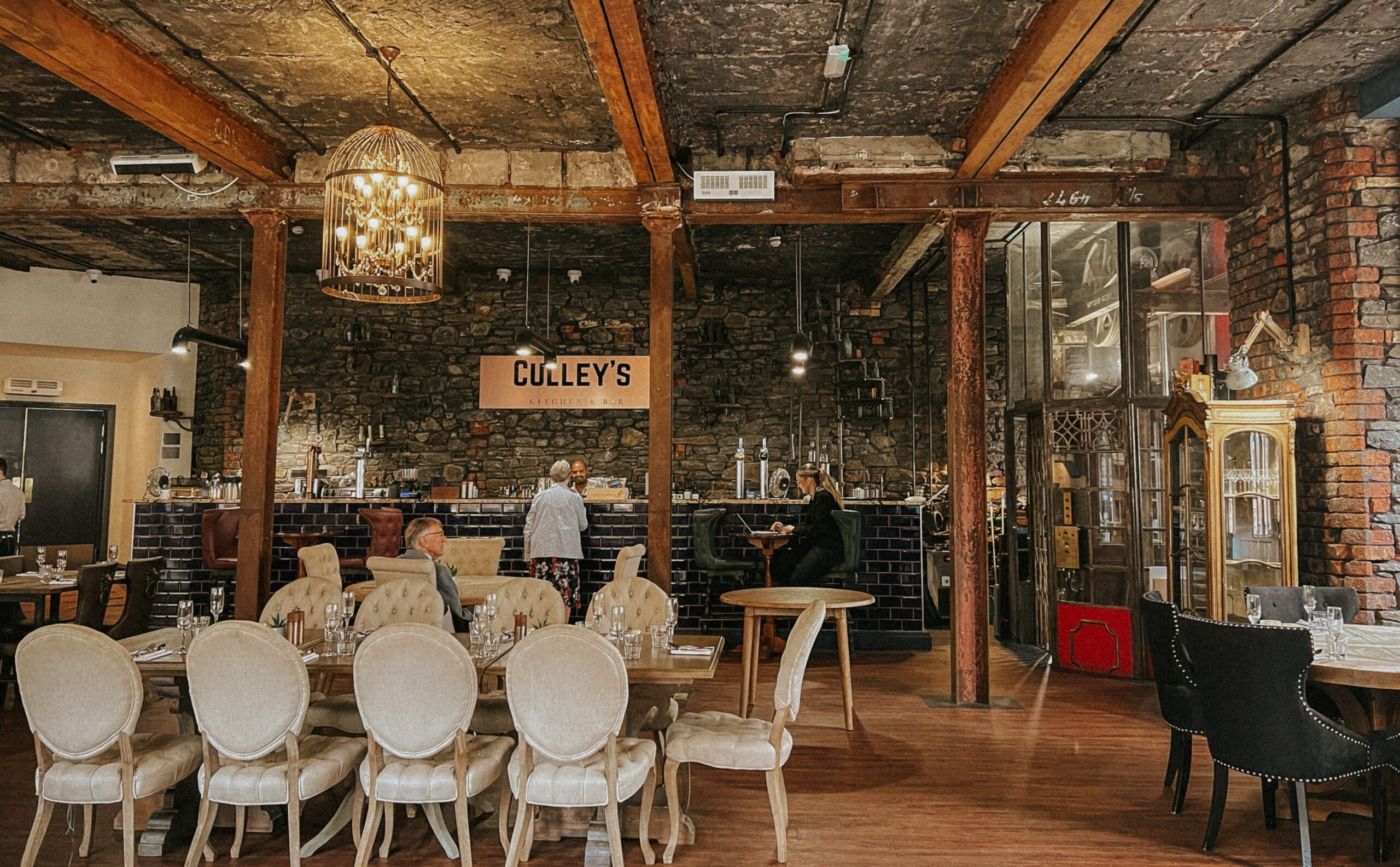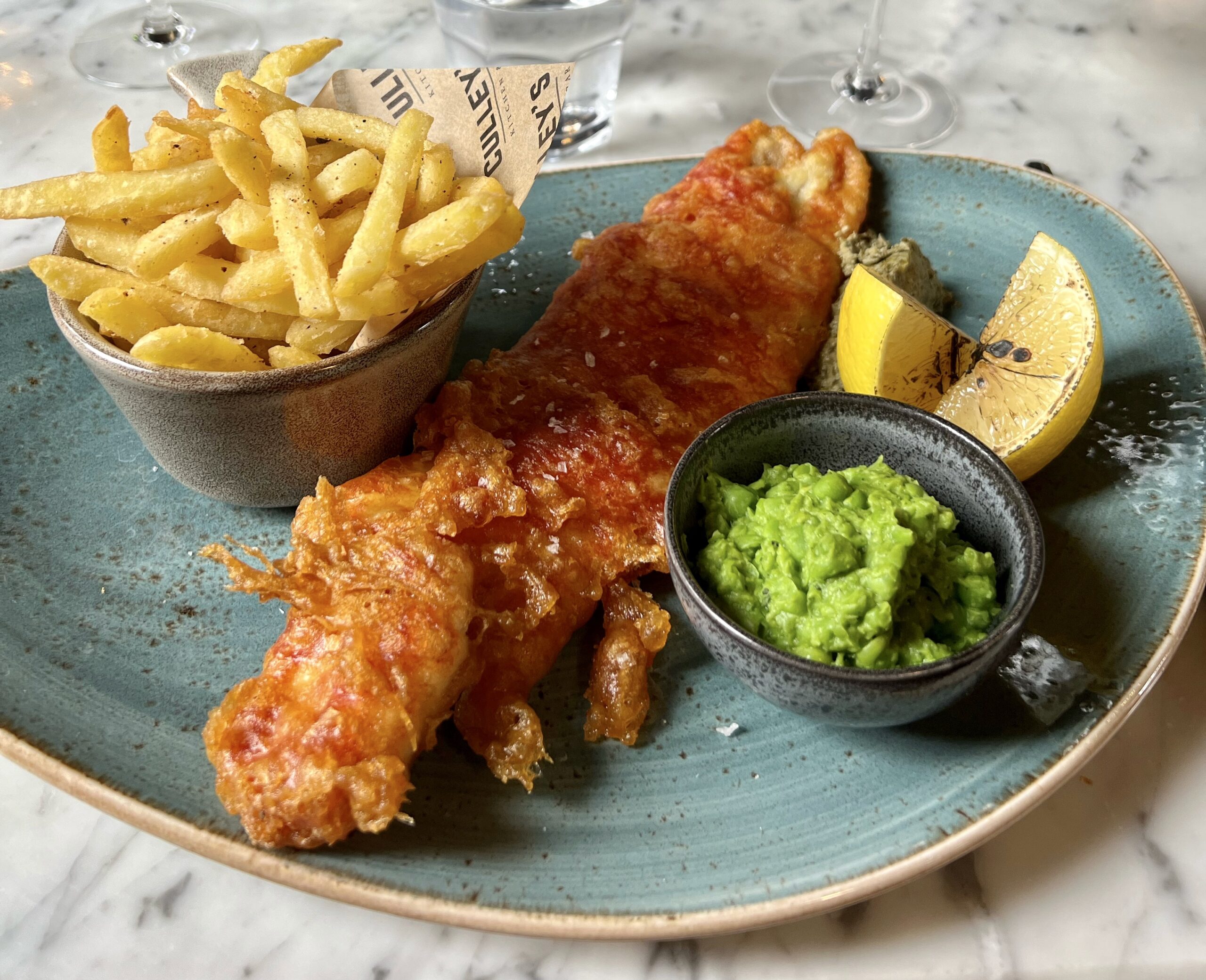 Afterwards, we take a stroll around Mermaid Quay and Roald Dahl Plass, then buy wine at a Tesco to bring to the room for later. I guess we've finally accepted that we're at that stage in life where we can't be bothered to be out wearing pants after 8 PM, but refuse to compromise our need for a glass of wine or two at night. Also, Tesco's cider selection is intriguing, but we can't find any bottle openers, so screw cap wine seems like the obvious choice.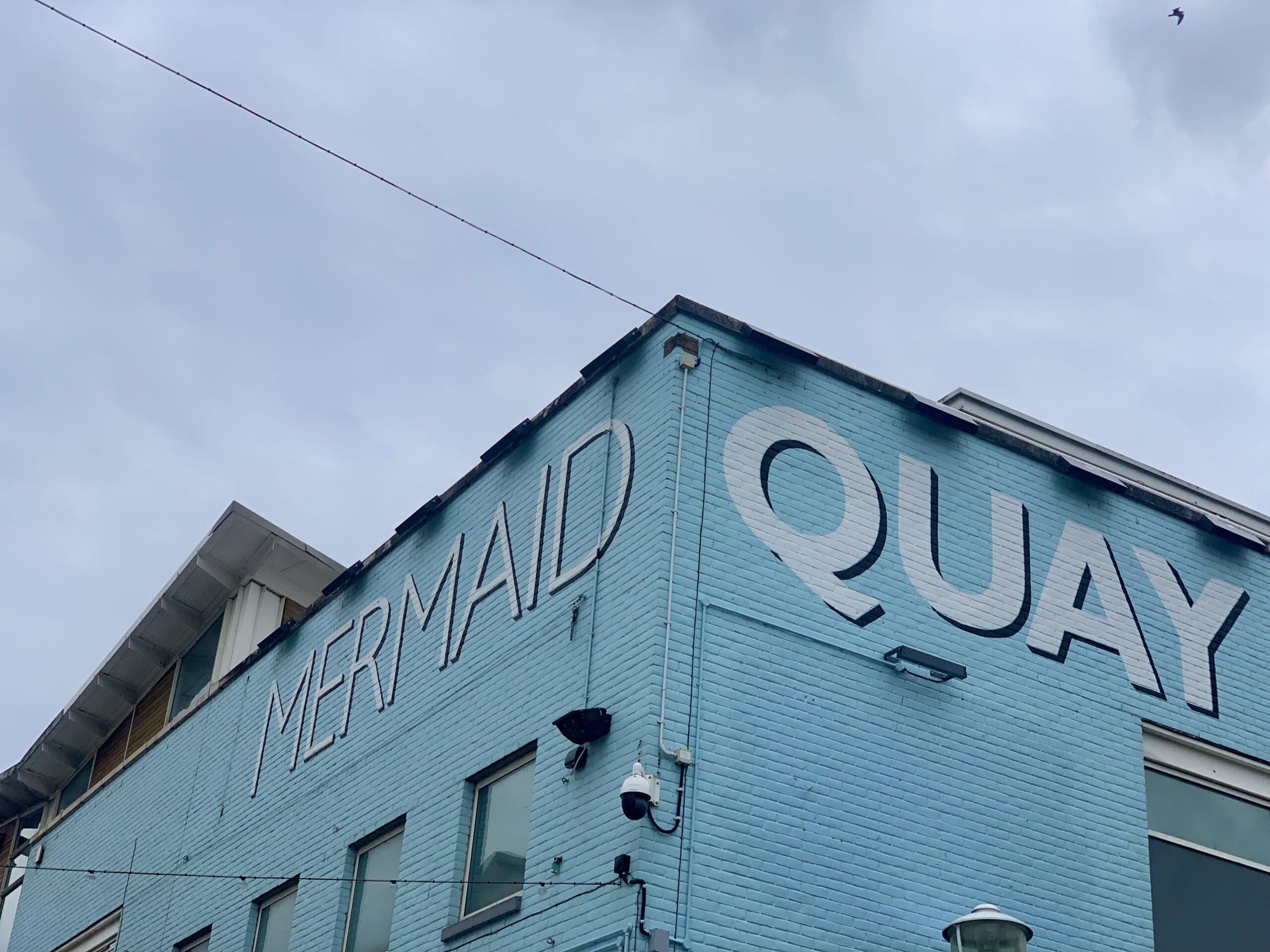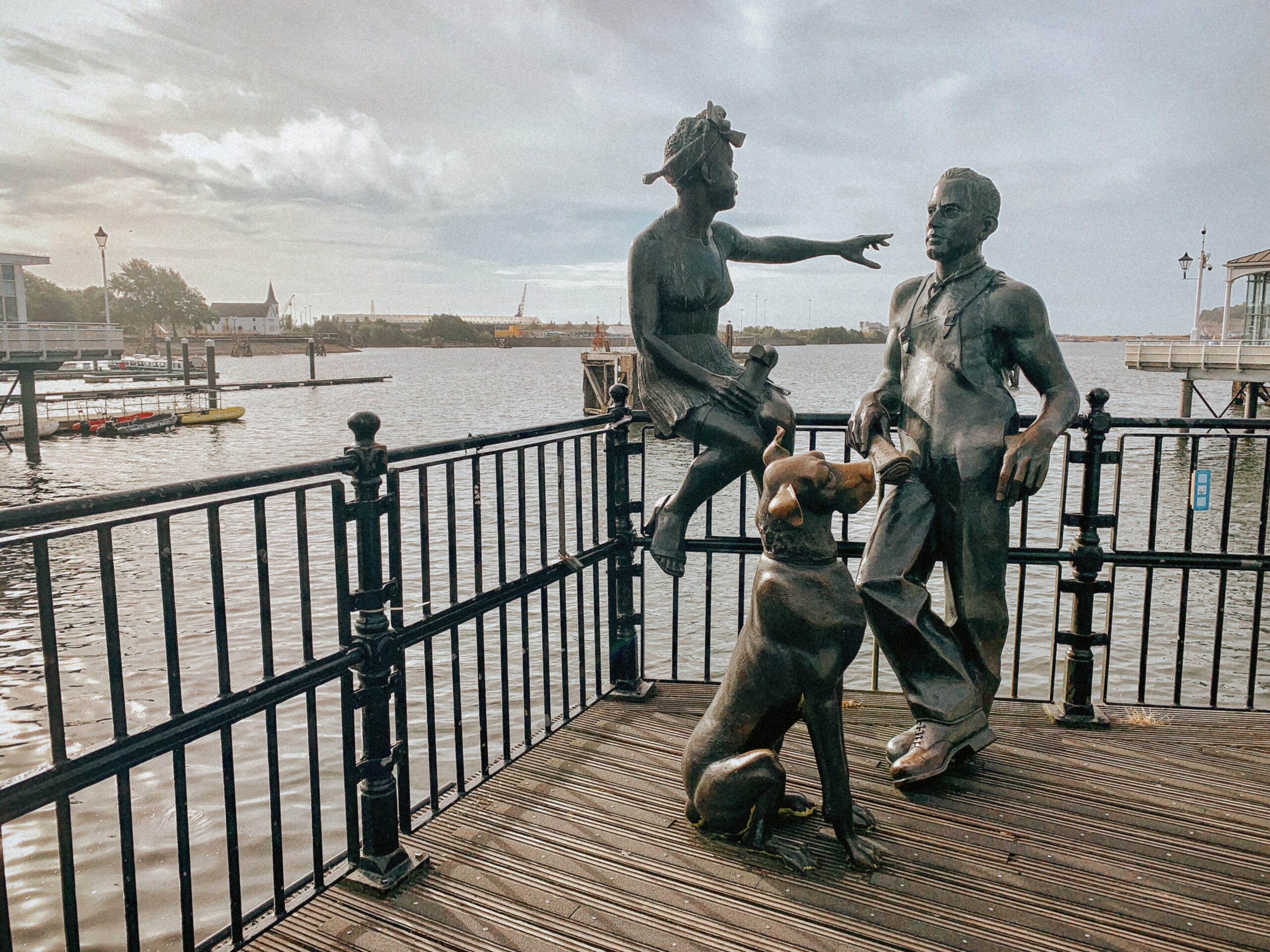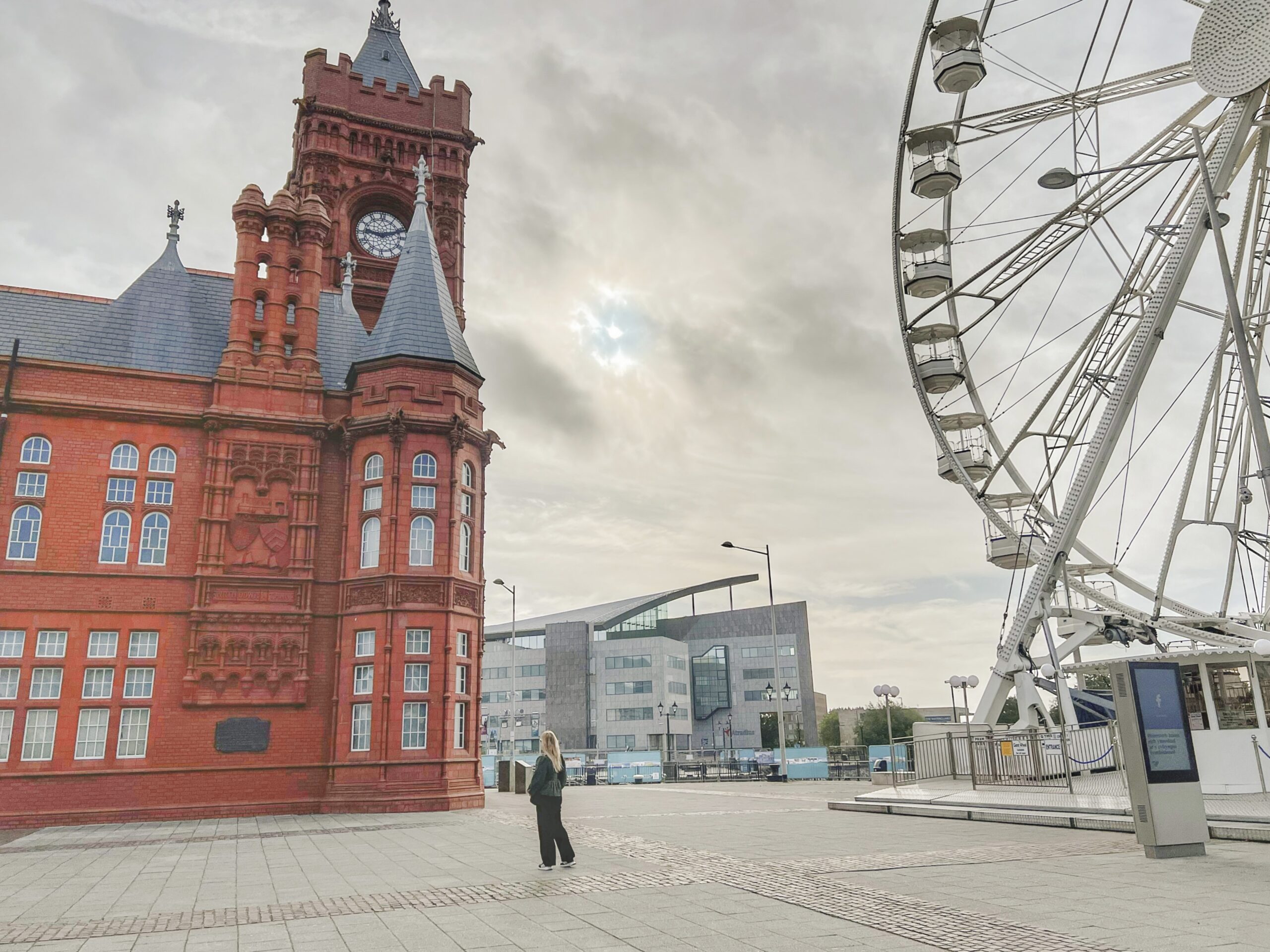 We check into our hotel, Hotel Coal Exchange, then nap for 2 hours. The hotel is a beautiful historic building, having served as a coal and shipping hub from 1888-1958 and a music venue from 2001-2013, when it was closed due to building safety issues. Today, both the interior and exterior of the hotel looks frozen in time, while a walk around the building reveals signs of decay. It's been blocked off with construction fences and plants have overtaken the interior of the building, its branches reaching out the windows.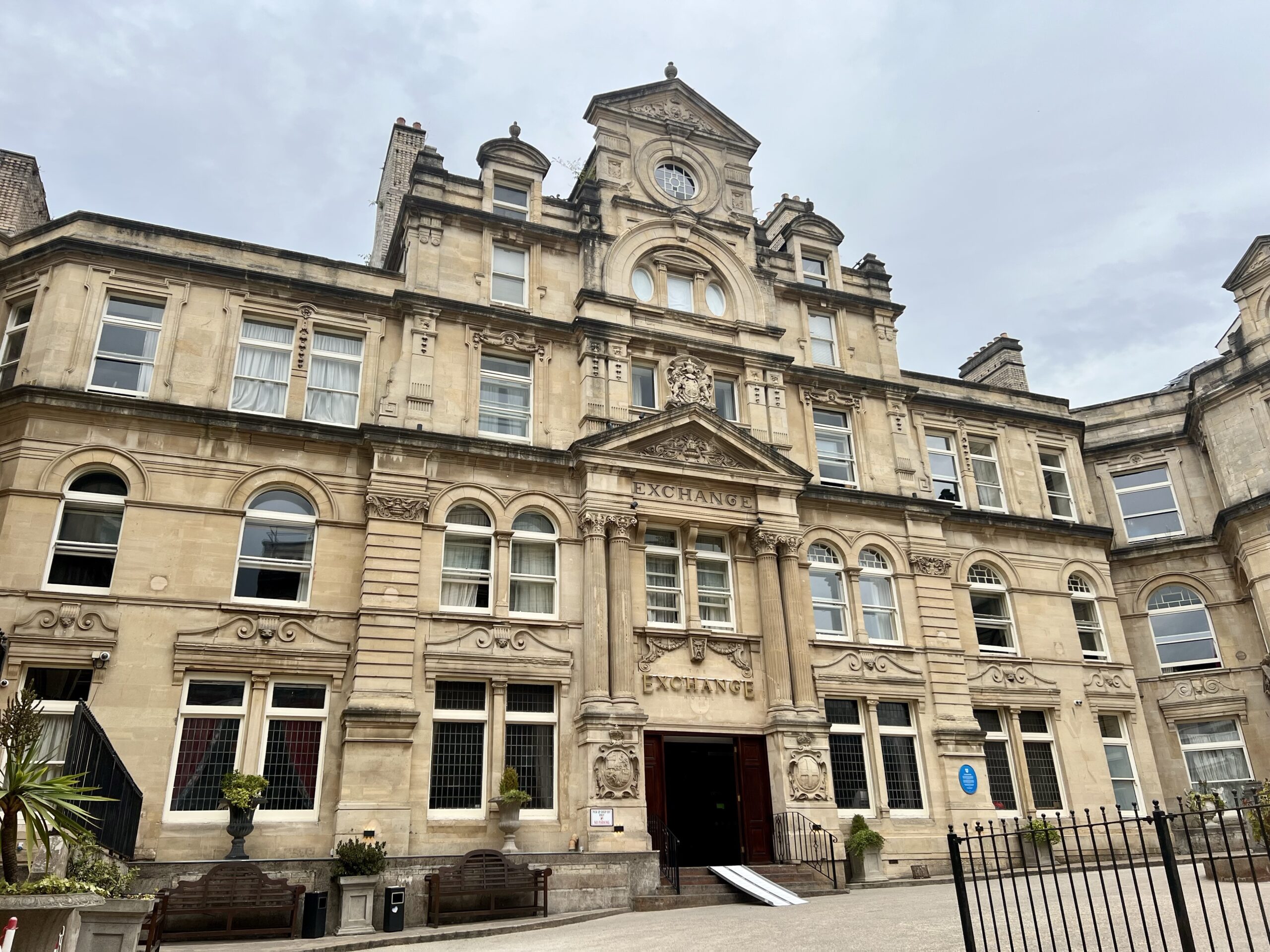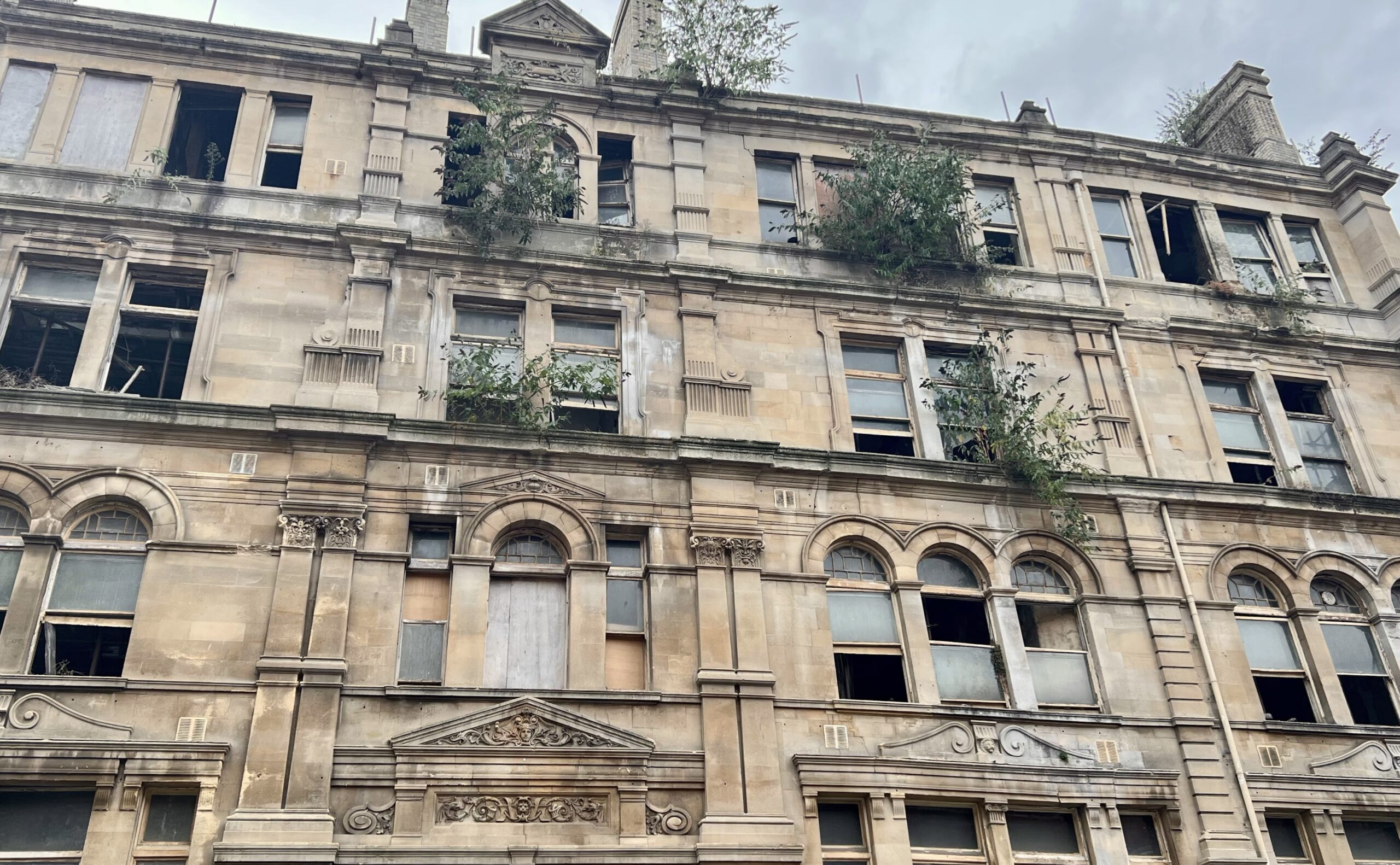 In true Lazy Tourist fashion, we awake from our nap to go to Primark and check out their stuff. We have trouble deciding what to eat for dinner and end up with the safe choice, burgers, and then walk around Cardiff city center and take it all in. We head back to the hotel and drink the wine from earlier while watching Netflix in the giant bathtub in our room.
The next morning we get up early to head out for the day. We get in our rental car that I've named Blue Whale and drive to Broughton Bay with the intention of finding the blue pool. Of course, we take the wrong path and end up walking the opposite way through high grass for a long time, but the views don't disappoint.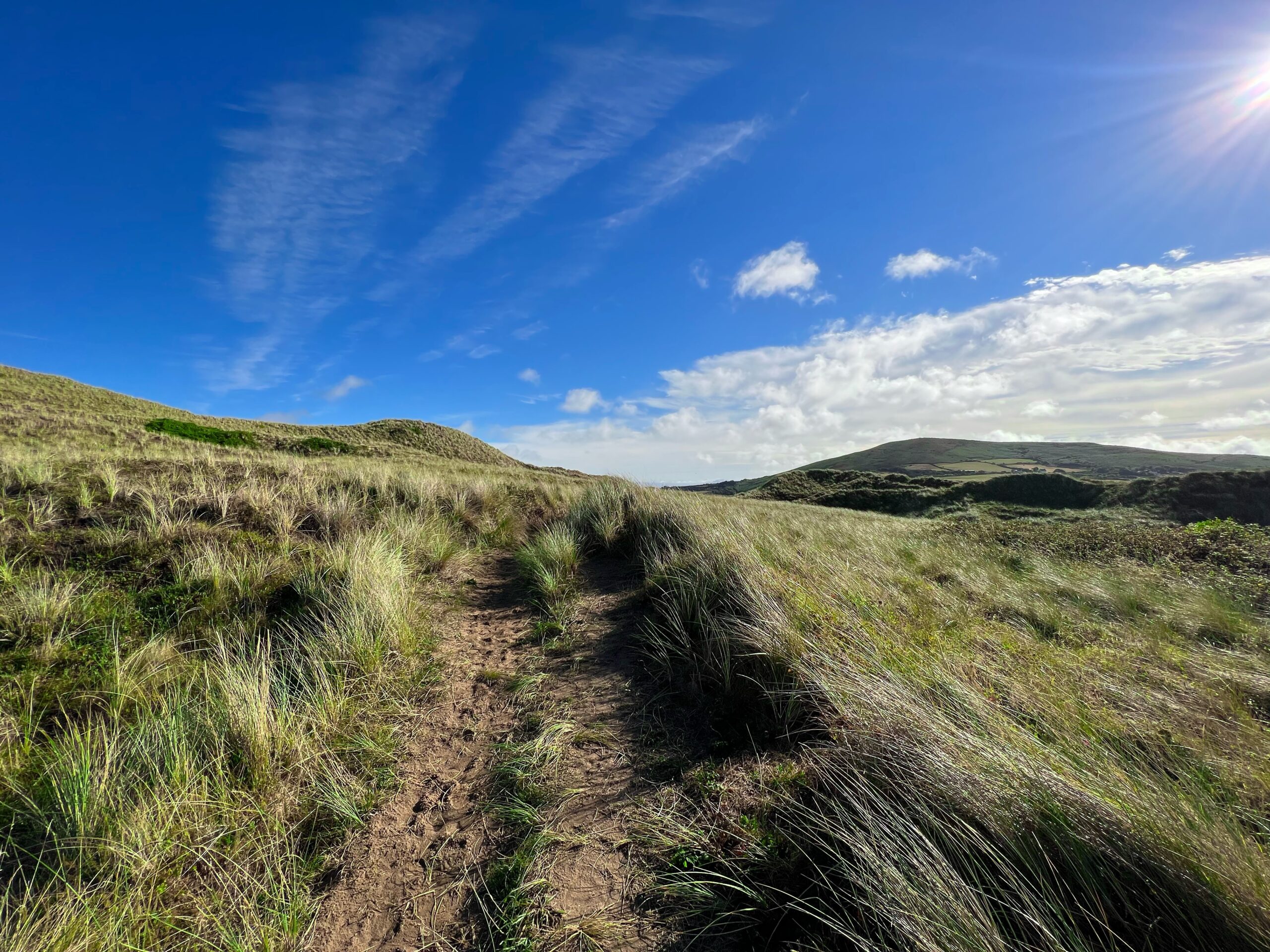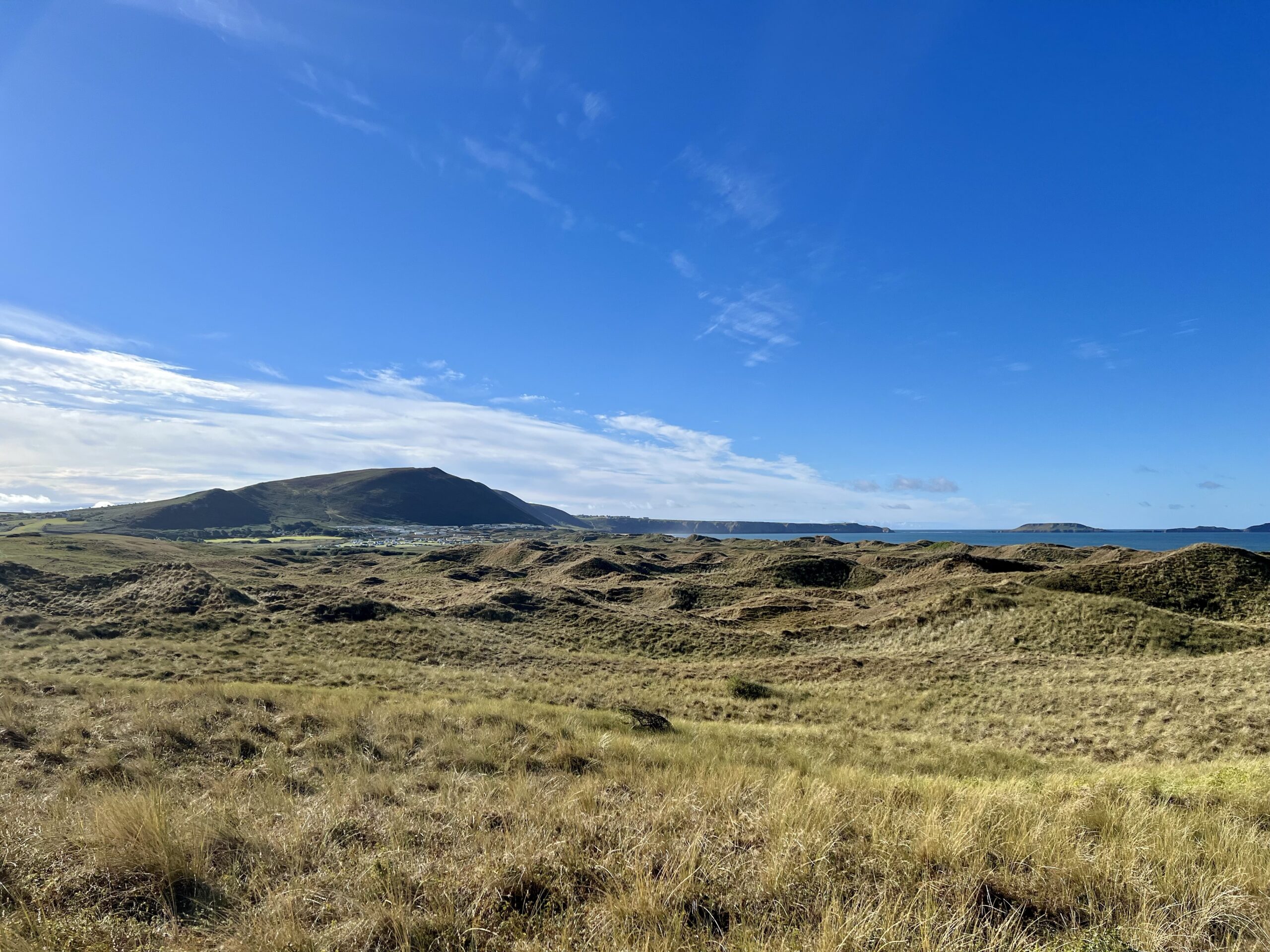 Eventually we realize our mistake and head back, finally finding the right path which is even more beautiful than the first. The path wraps around a tall hill from which you can see beautiful private beaches and clear water. As we approach the blue pool, we meet a few guys that inform us of the steep climb down and advise against jumping in the pool, as the water's pretty rough. We give up on the climb pretty quickly and instead snap a few photos of the bay and its beauty before heading back to the car for our next destination. We're pretty satisfied so far and excited about the rest of the day.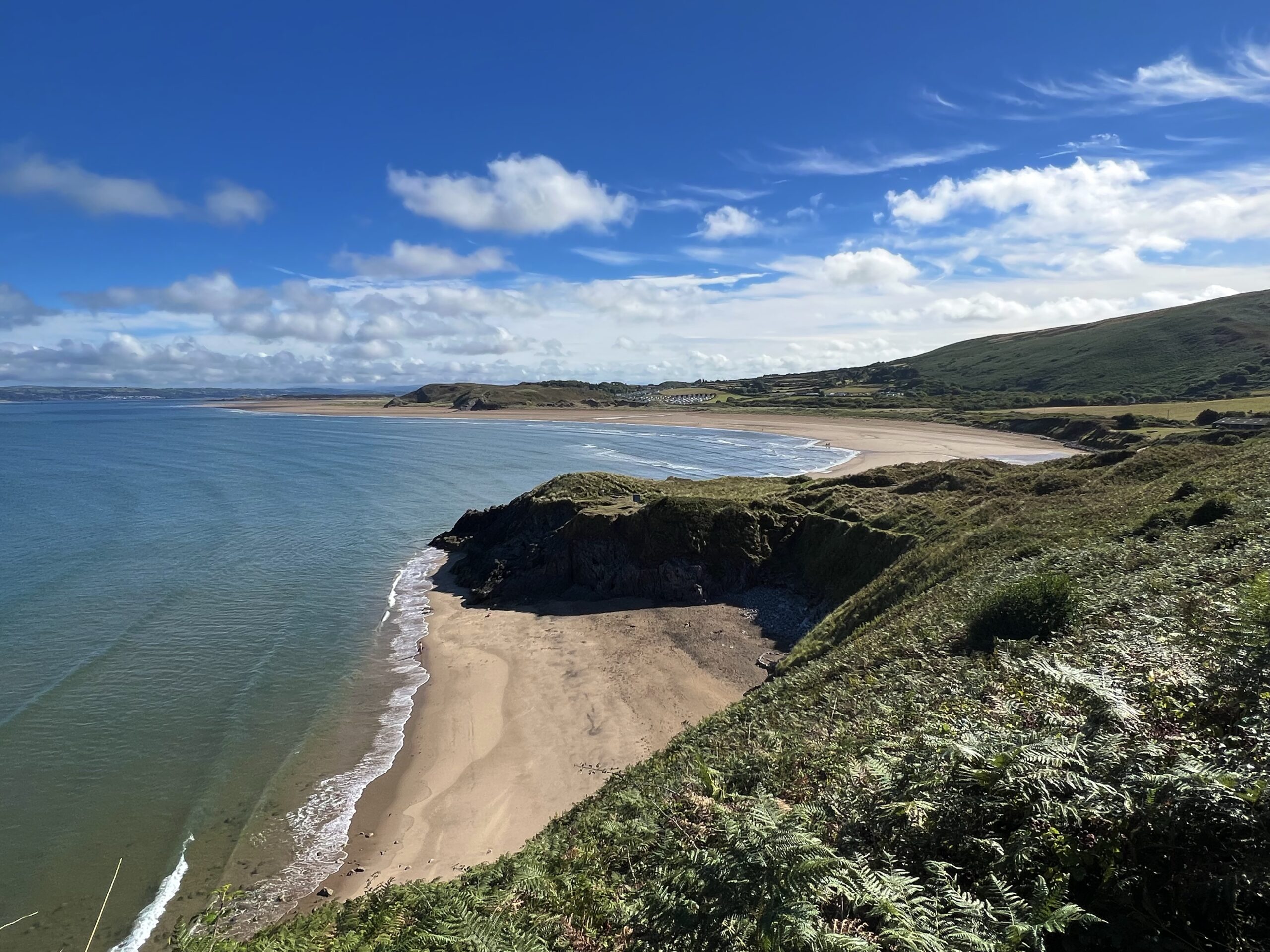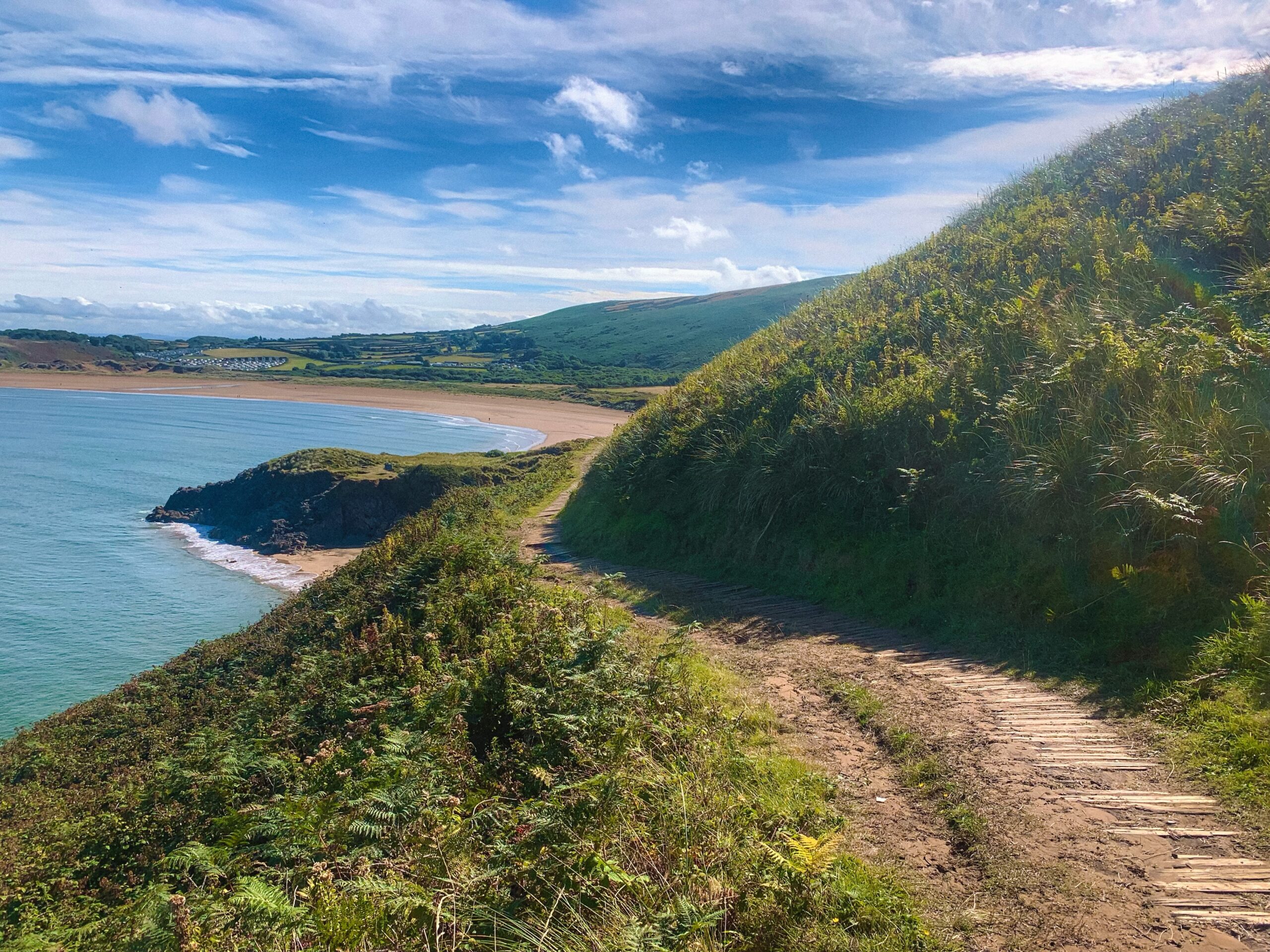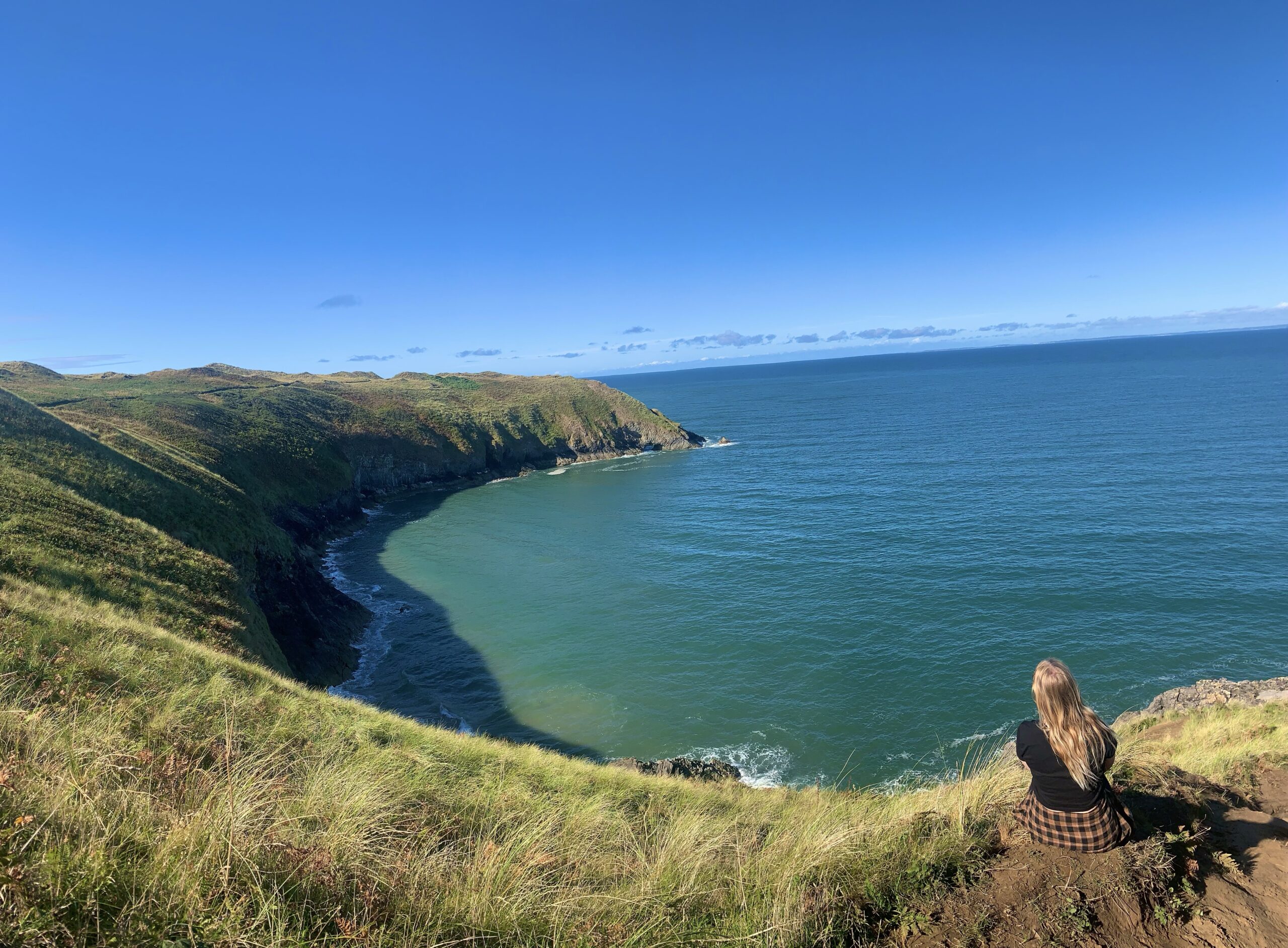 While Aga is driving – and crushing the whole driving on the left side of the road! – I curate a playlist consisting of only Welsh artists. It's mostly Bonnie Tyler's Total Eclipse of the Heart on repeat, as it's already a favorite singalong on our worn-out road trip playlist:
For lunch, we stop at The White Hart Inn/Coles Family Brewery in Llanddarog, one of the oldest inns in Wales. According to their website, the inn was built in 1371 and has been running as an inn for over 600 years.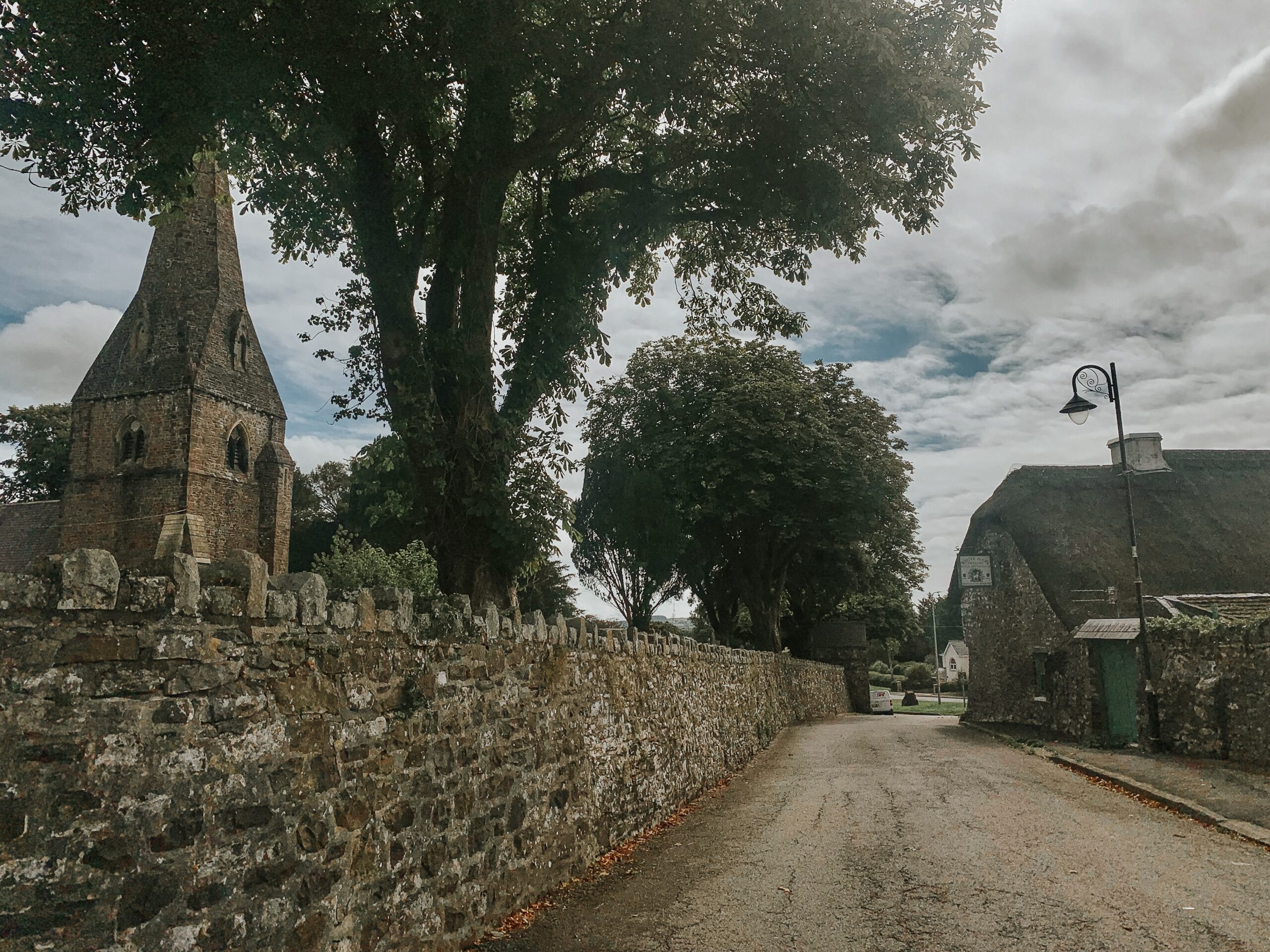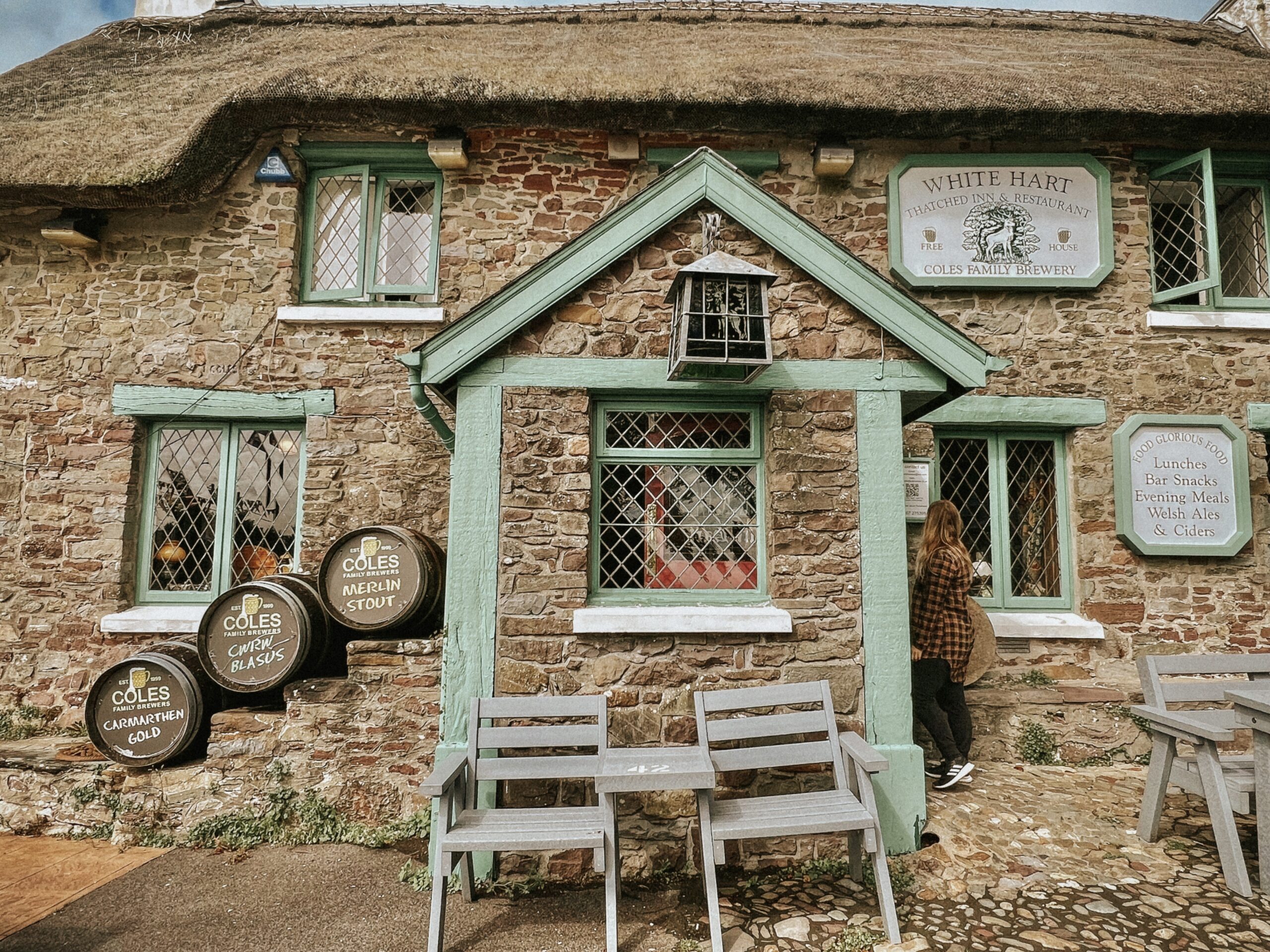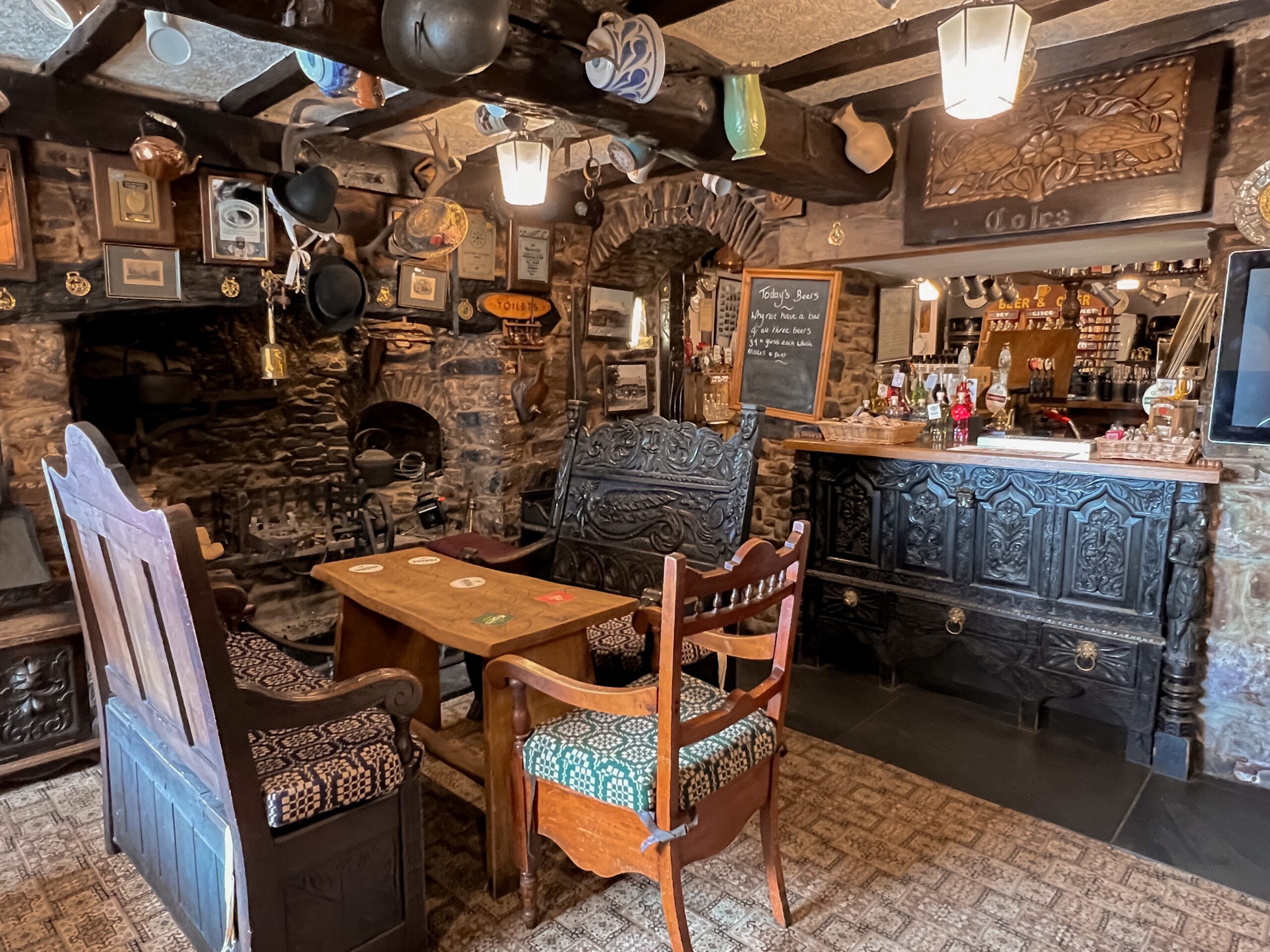 We order some traditional Welsh meals consisting of cawl, a stew with lamb and vegetables, and a meat and potato dish slow-cooked in a hot pot, which we enjoy with freshly brewed apple ciders. I love a dry and crisp cider, which is hard to come by in Scandinavia, but even harder to avoid in the UK, which is honestly part of the appeal of this place. The inn is cozy, clearly very popular, and the staff is super friendly. This is exactly what a pub should be.
As always, we have loads of items on the itinerary, but can only make time for one more stop: Solva stack rocks and the Green Bridge. We park the car at the stack rocks car park and head straight to the cliffs. The Green Bridge is an insanely beautiful sight, which reminds me a lot of Gatklettur in Iceland, which I visited for my 30th birthday. We follow the cliff edge till we reach the viewpoint of Solva stack rocks. This has been the perfect day with so much beauty and I feel truly happy.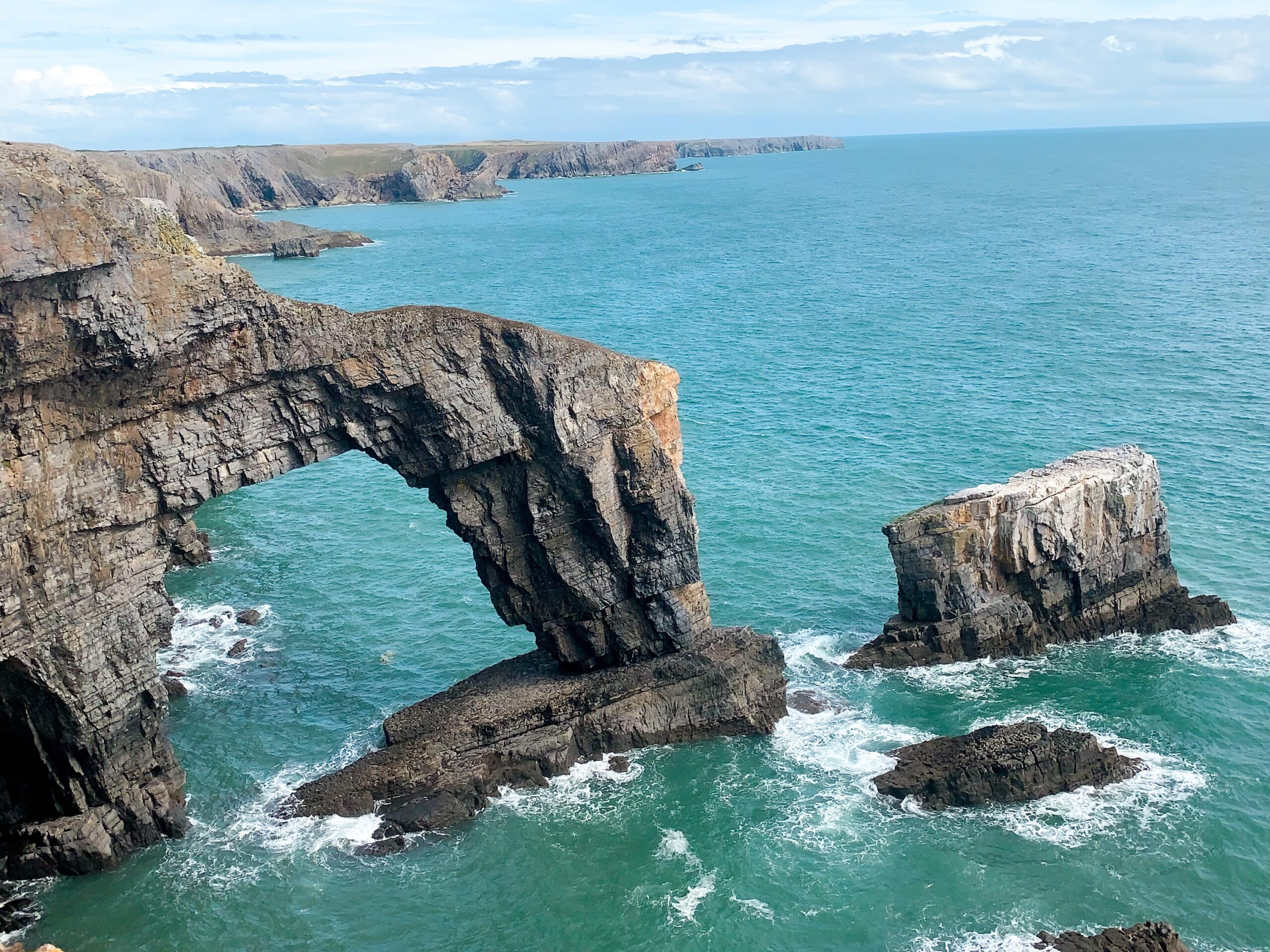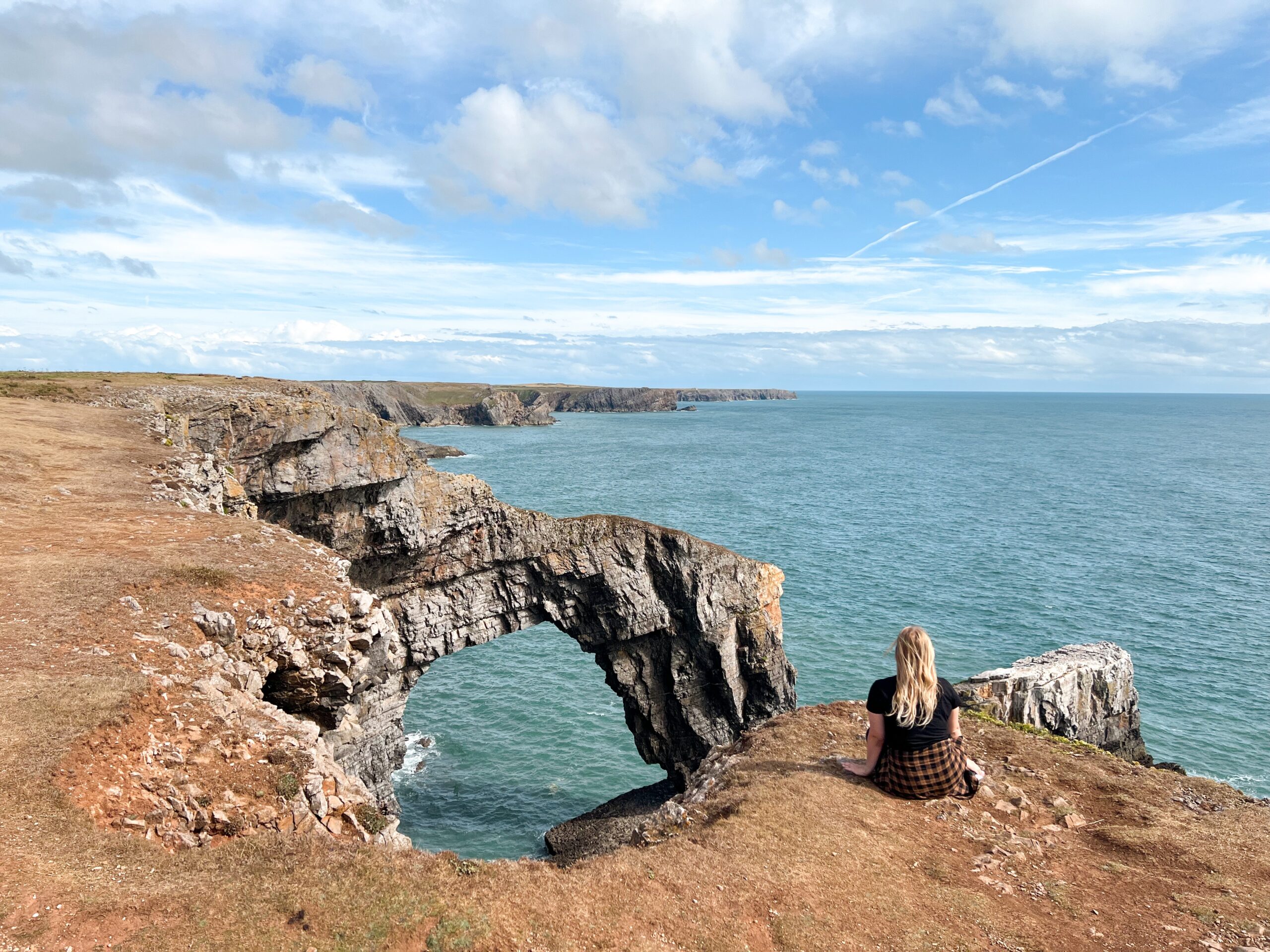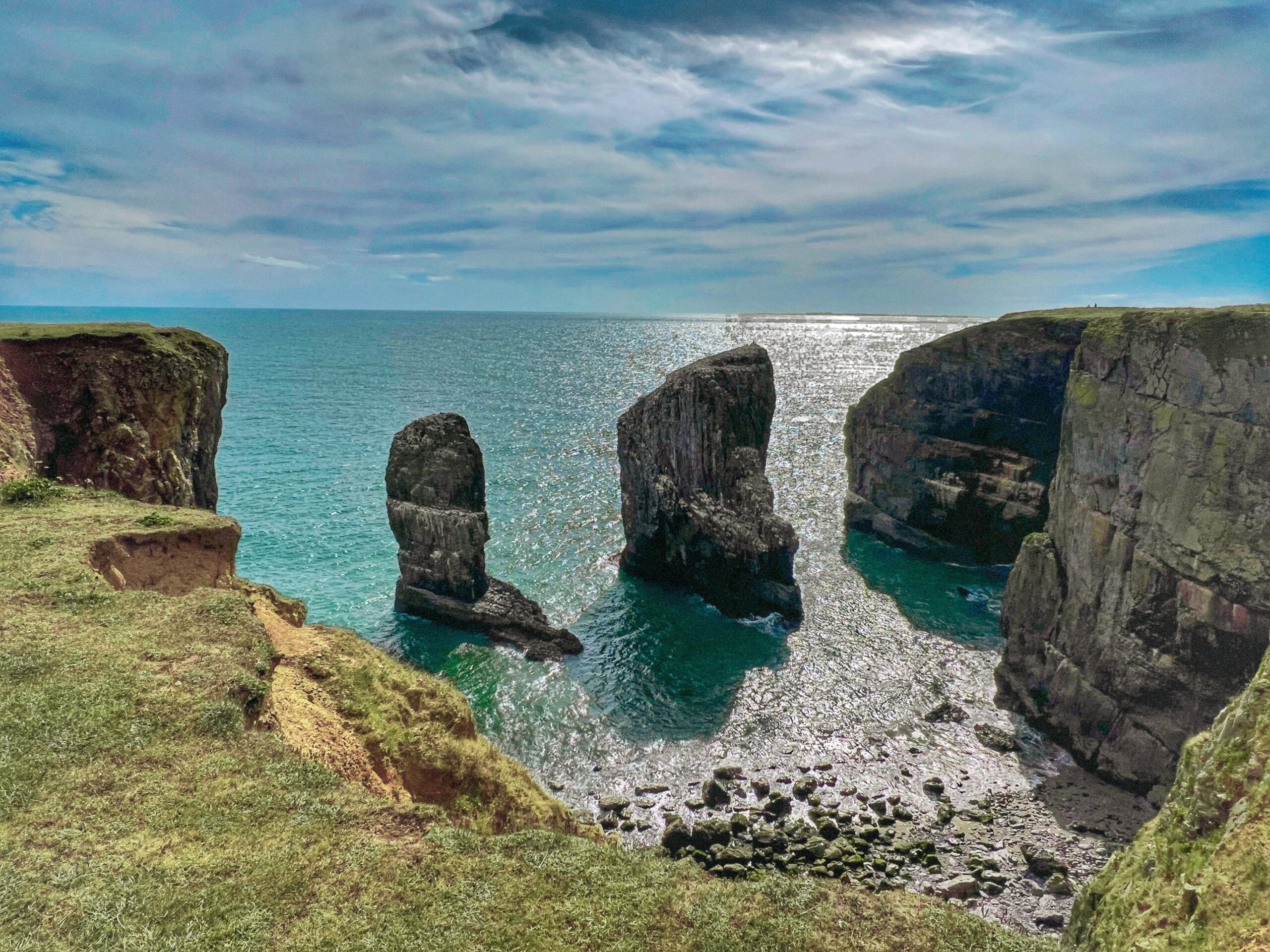 We drive back to Cardiff, have dinner at a pub and then walk home in the rain to have another cozy night in our room. We try another Tesco for a bottle opener, but no such luck, so wine it is. I wake up in the middle of the night, feeling sick. You've got to be kidding me. This is the first time in months I'm doing something nice for myself and I get sick? Of course, travelling while sick is problematic, especially after two years of a widespread pandemic. Covid has honestly been the furthest thing from my mind, as I have been regularly tested and vaccinated and have yet to catch it. Talks of Covid have quieted down over the past few months as well. I am convinced I have a cold, but I'm still in a dilemma: is it okay to be out among other people, going into shops, eating and drinking at the pub, when I'm sick? It's hard to avoid doing these things and only stay in the car and in the rooms we check in to, and I feel bad for Aga who has to deal with either dragging a zombie around or be completely alone for most of the day every day. I decide to make the most out of it while I can, but take the necessary precautions and keep my distance from people and use hand sanitizer liberally.
I borrow some painkillers from Aga, which temporarily soothes my pounding headache and sore muscles, and then we head out for the day. We check out at 8, which makes the receptionist ask us if we're heading to work, as she can't believe we would get up so early while on holiday. Per Sydney-roomie Sharon's recommendations, we decide to splurge and have a delicious brunch at Bill's on Mermaid Quay. I have a green juice in the hopes that the vitamins will cure everything. Then we check out Cardiff Castle (from the outside, because we're lazy).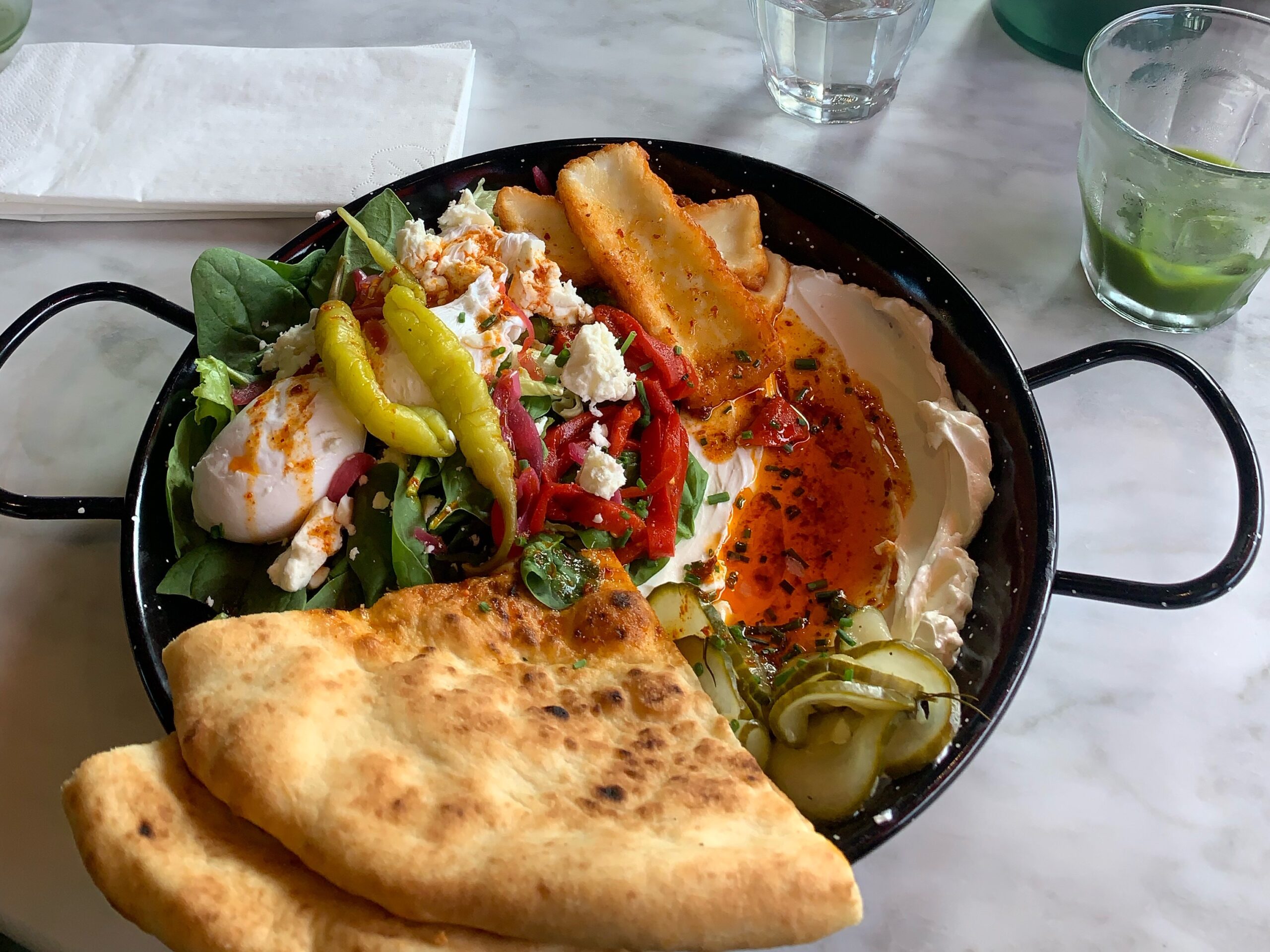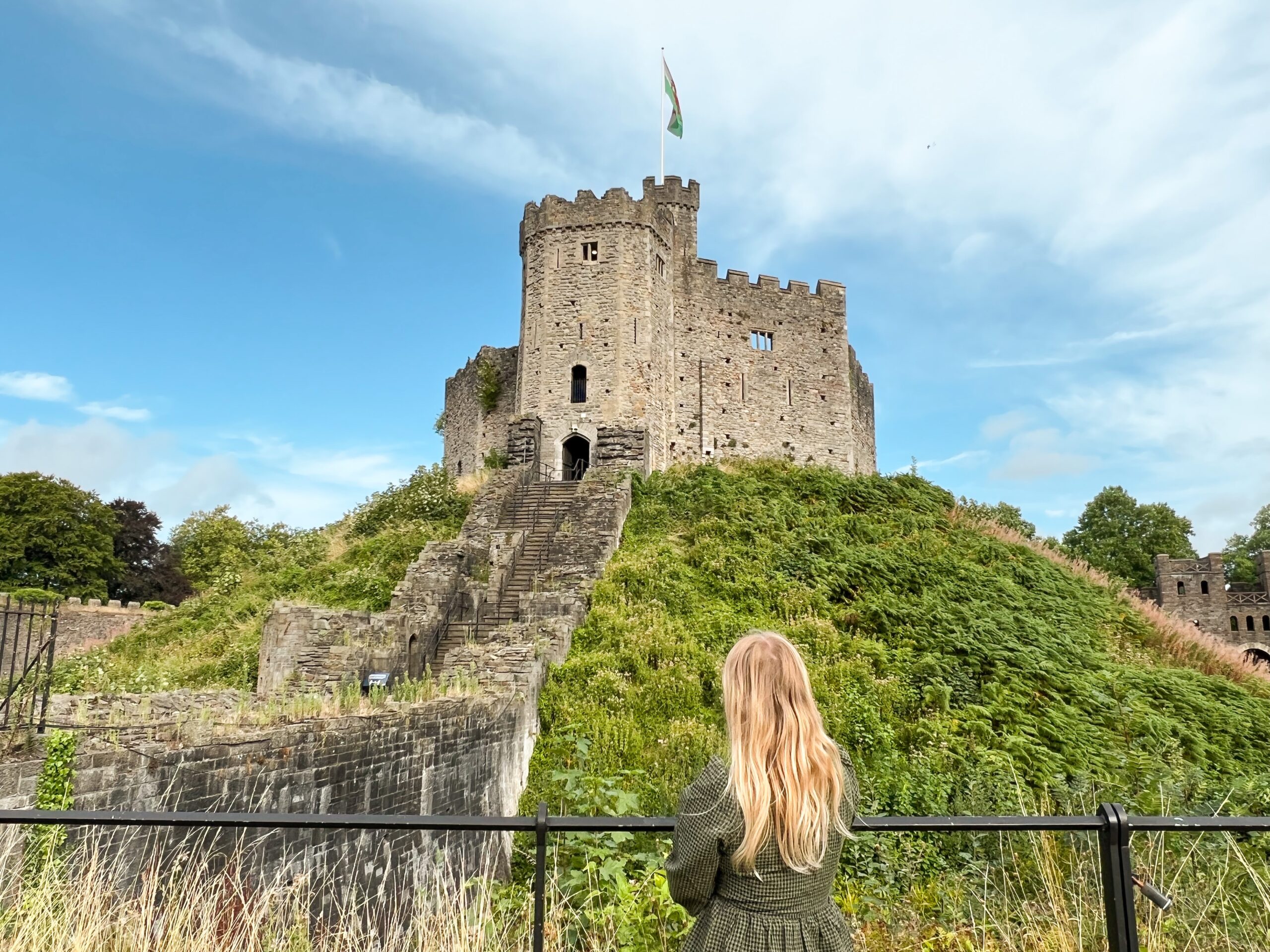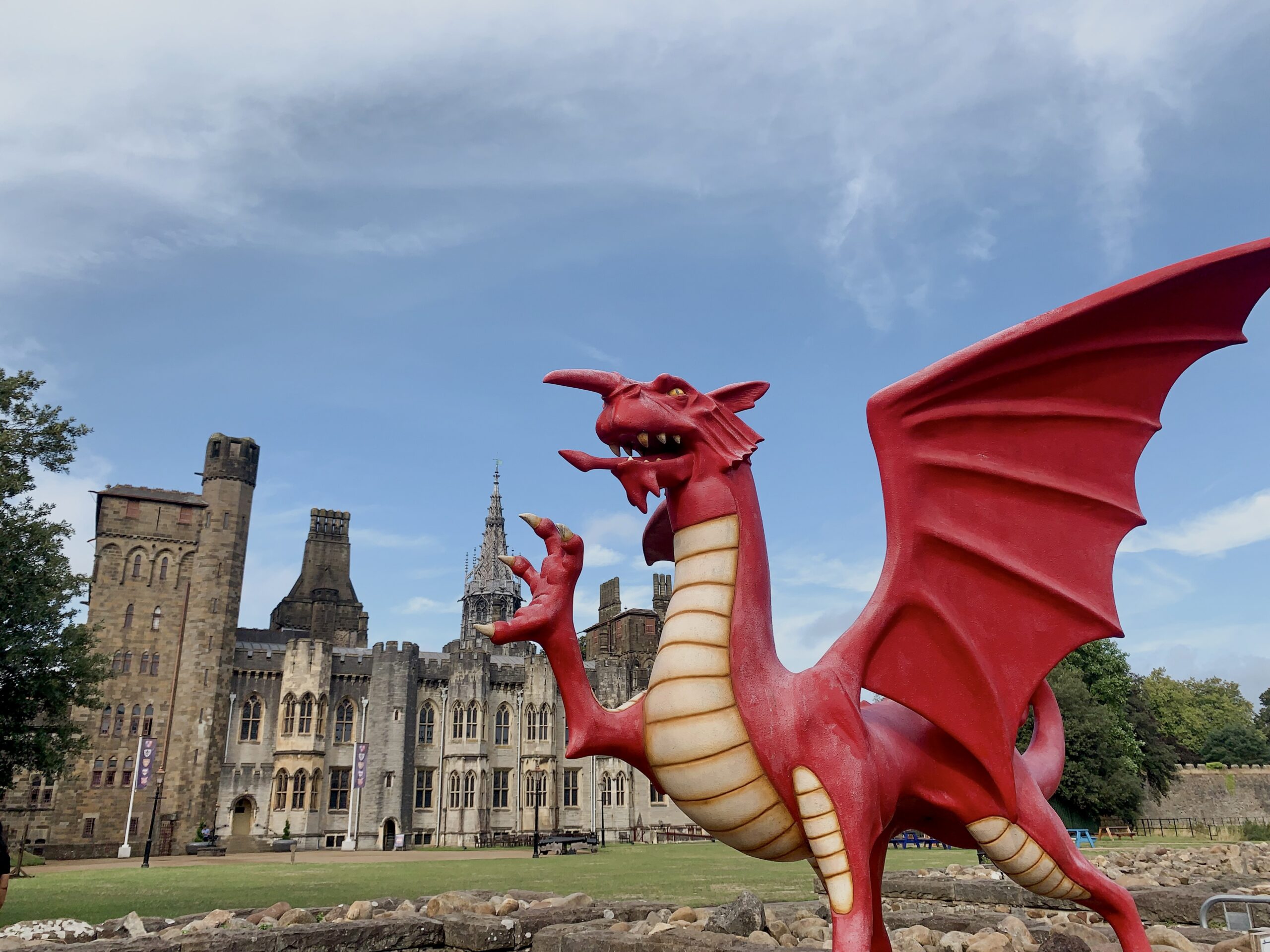 Next stop is Waterfall Country in Brecon Beacons National Park. As waterfall enthusiasts, we have quite a few that we intend to check out, but as we pull up to the car park and get some information from the park ranger, we realize we only have time for one. We start the hike and eventually reach Sgwd Clun-Gwyn, and on the way back to the car we take a wrong turn and end up on a long path towards a different waterfall, which we don't realize for a while. Due to being sick, I feel ill and dizzy and what Jonathan Van Ness would call "struggs to func", so this little detour isn't very welcome.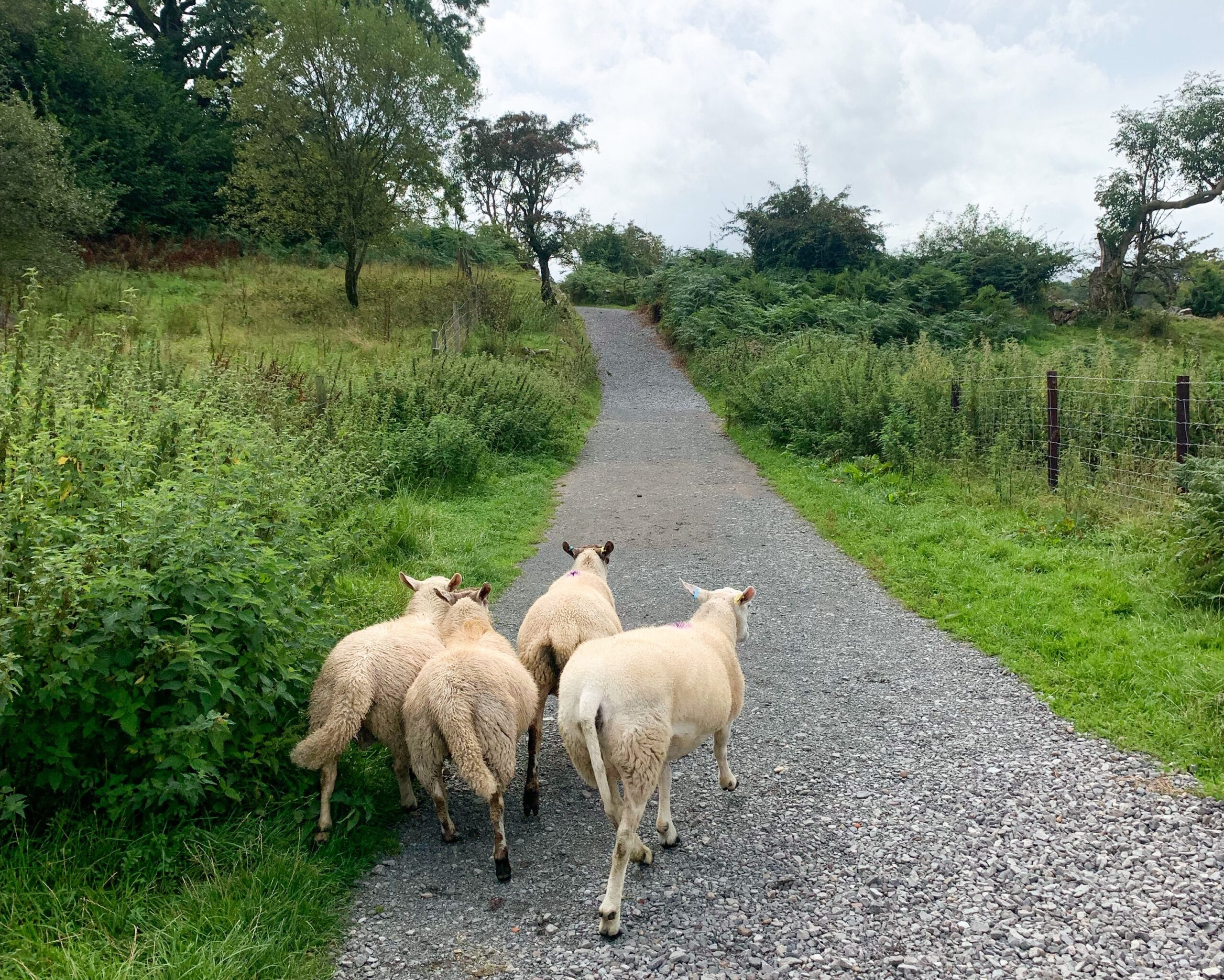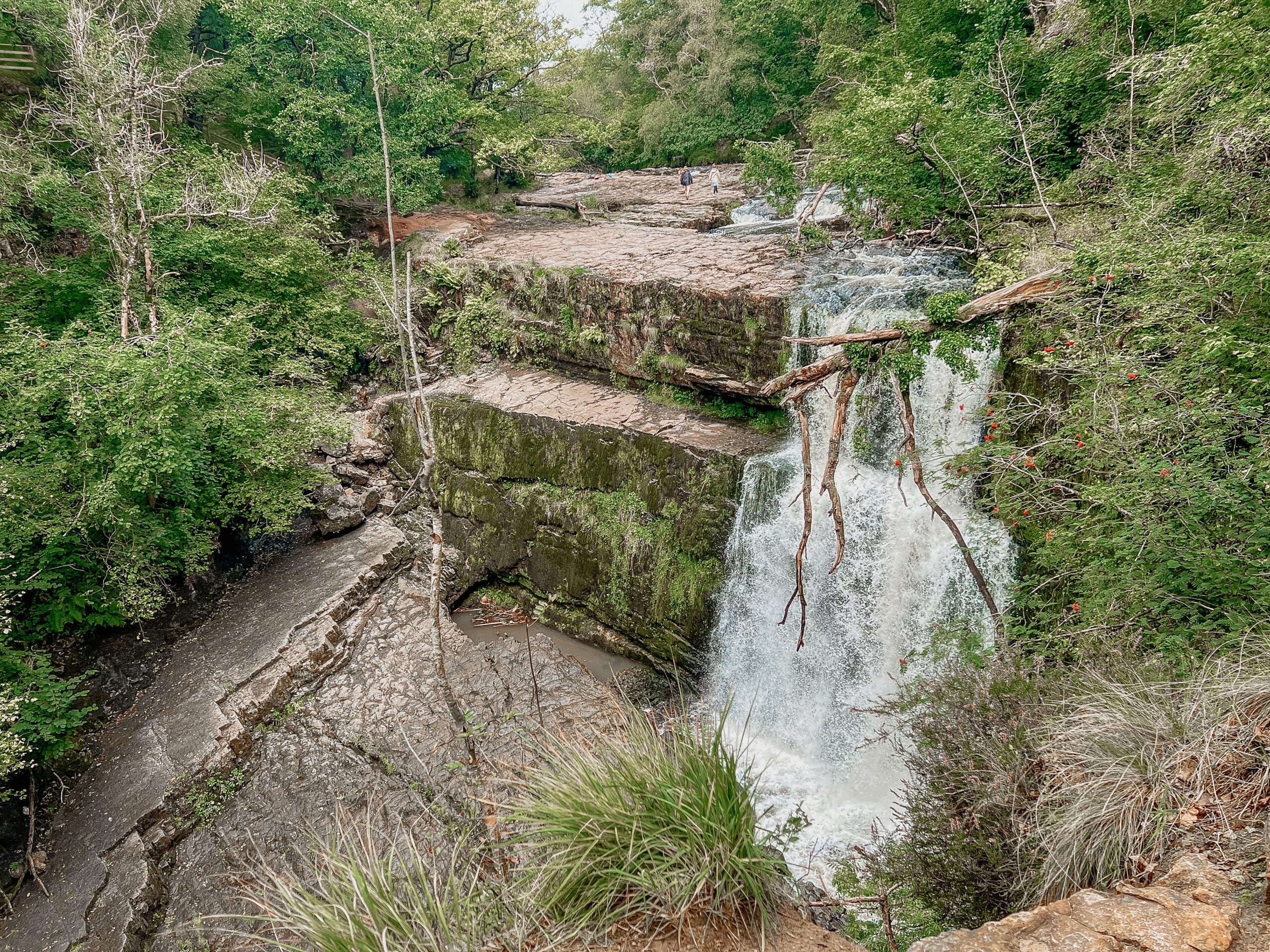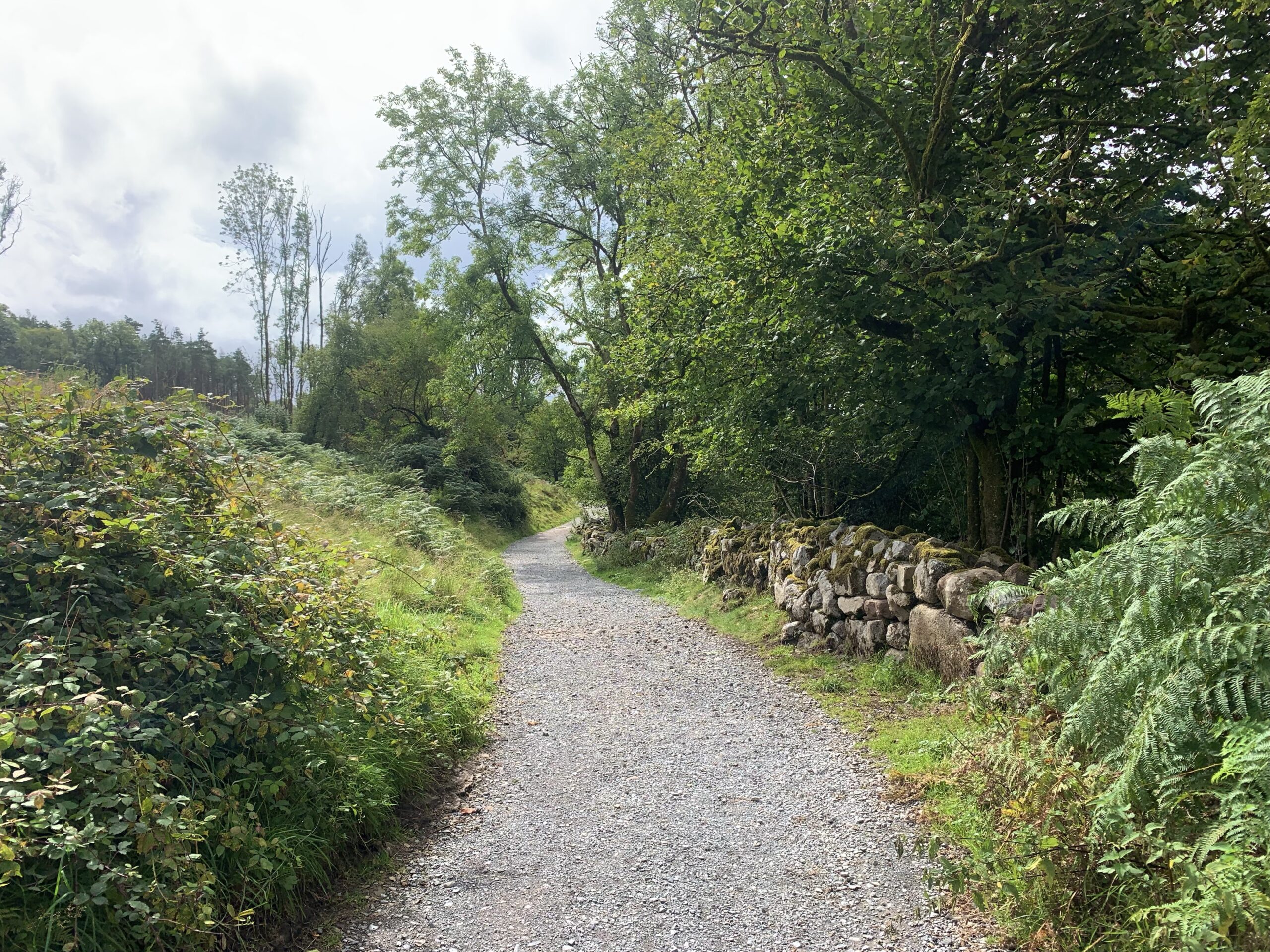 As lunch time approaches, we stop at Hay-On-Wye, The National Book Town of Wales with over 20 bookshops, where we have soup at Blue Boar Pub. We then walk around town and stop at a local shop to buy wine and breakfast for tomorrow. We ask for a bottle opener, and they don't have one either. Hay-On-Wye is a beautiful place with old buildings, colorful signs and quaint bookshops, and yet it's so hard for me to capture its essence in photographs. I really wish that whoever reads this could see what I see. Well, on to the next.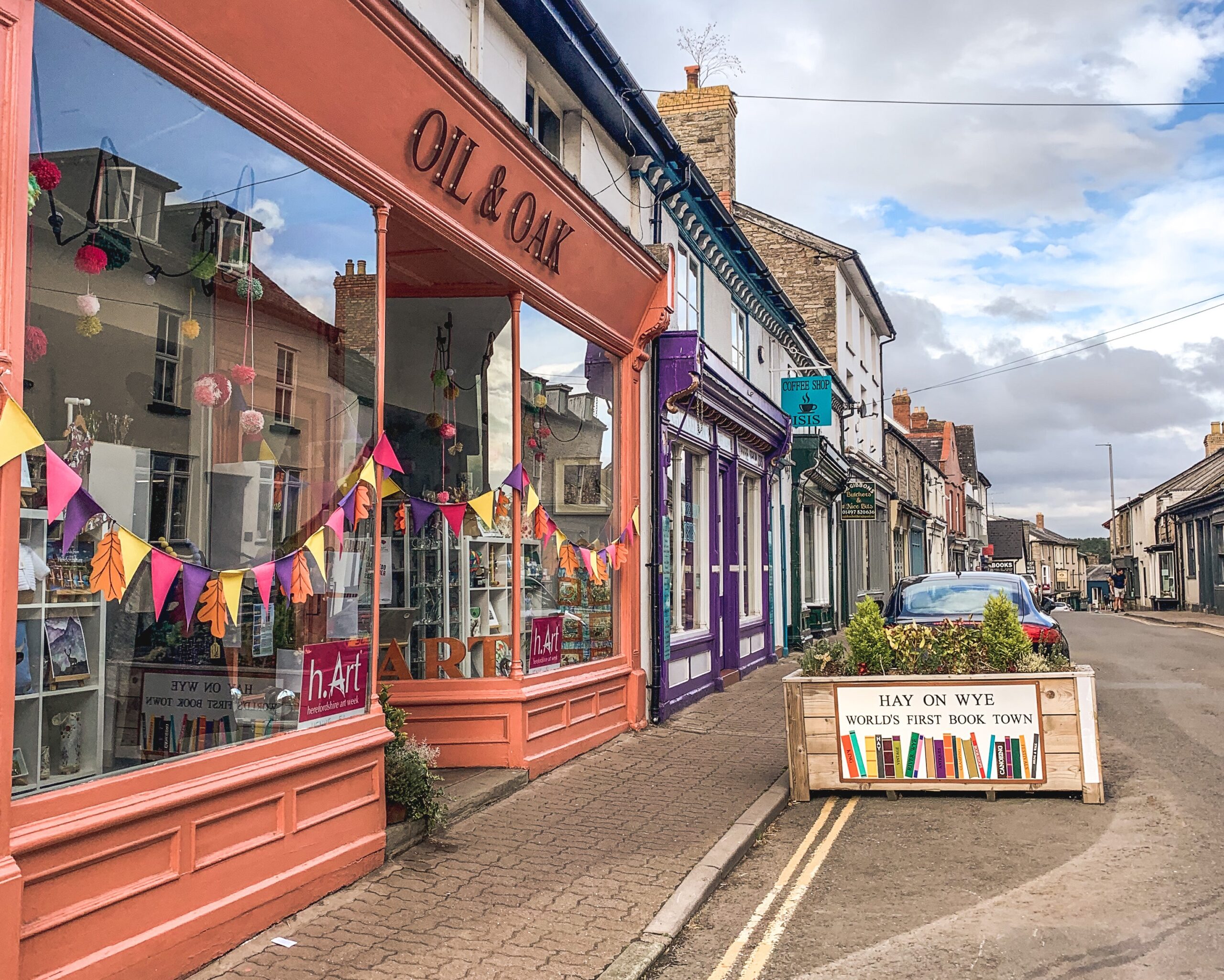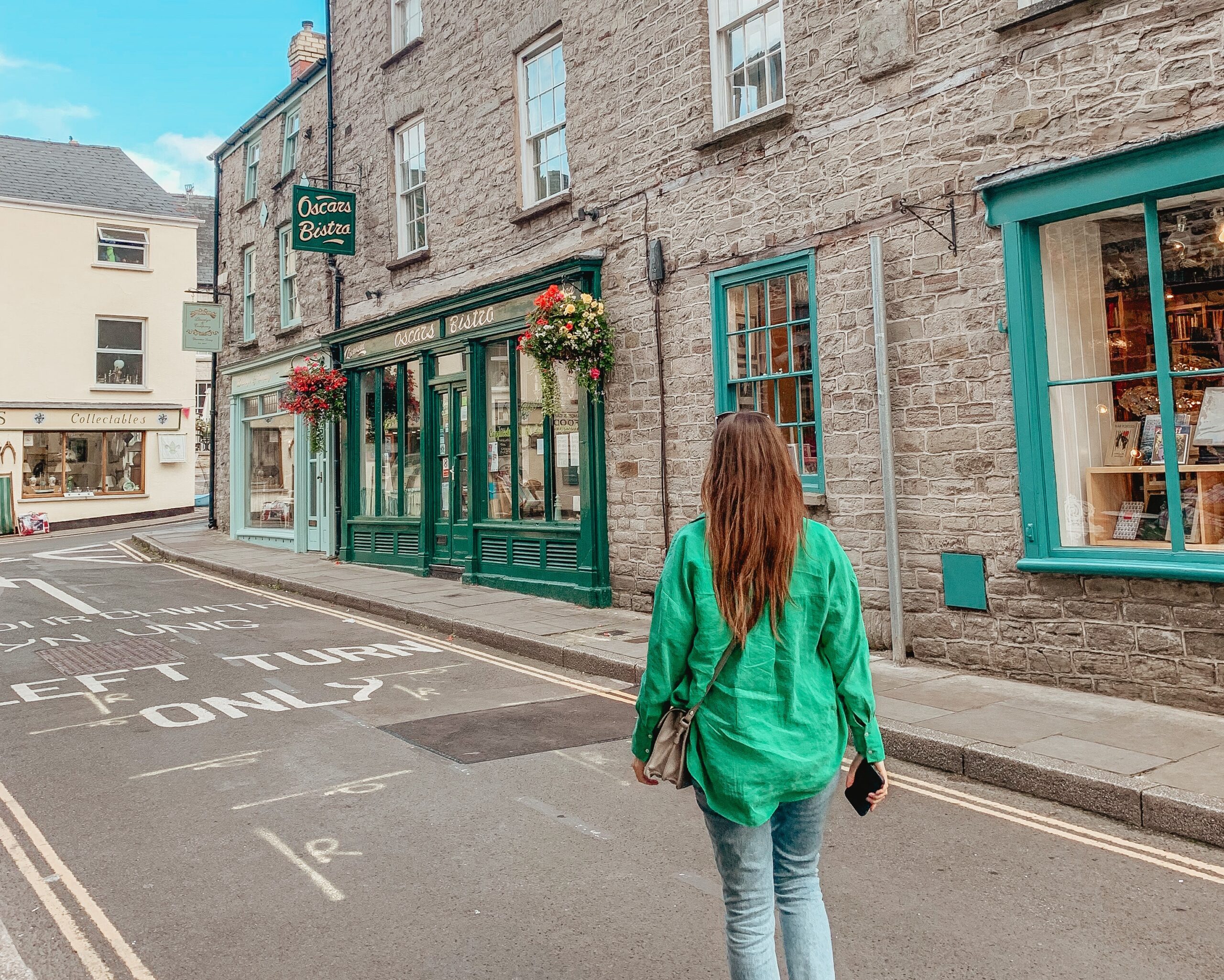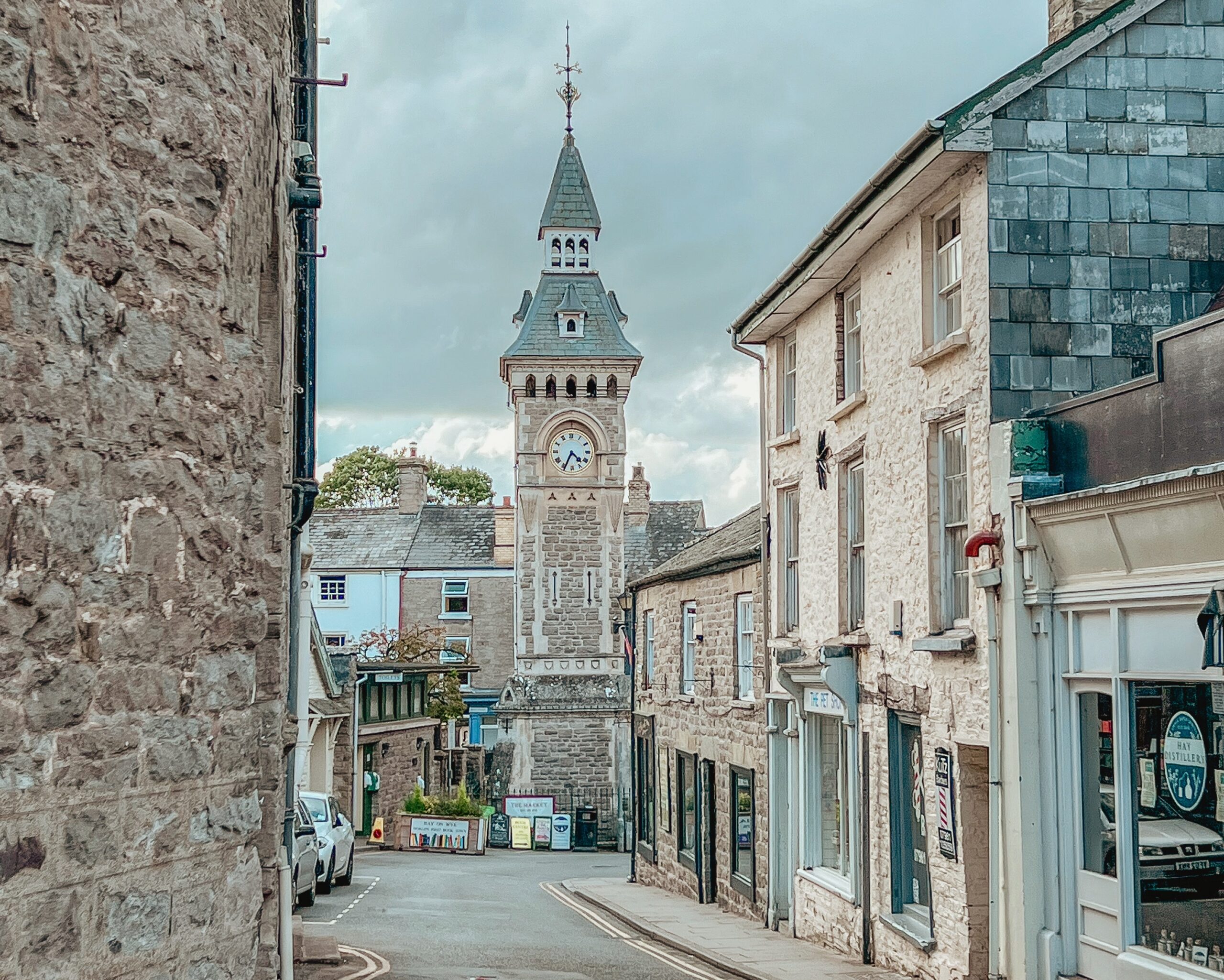 The landscape as we drive through Wales is exactly what we expected: narrow roads and constant fear of oncoming cars, sheep scattered all over green fields as far as the eyes can see, and little villages, whose names we can't pronounce or even spell, with cobblestone houses and chapels decorated with colorful flowers. It's a place that feels almost untouched by modern civilization, in that the nature is so vast and signs of humans are infrequent, and whatever buildings and structures we encounter are from a different time, long long ago. As it gets dark, the narrow roads seem even more frightening and then it starts to rain and thunder.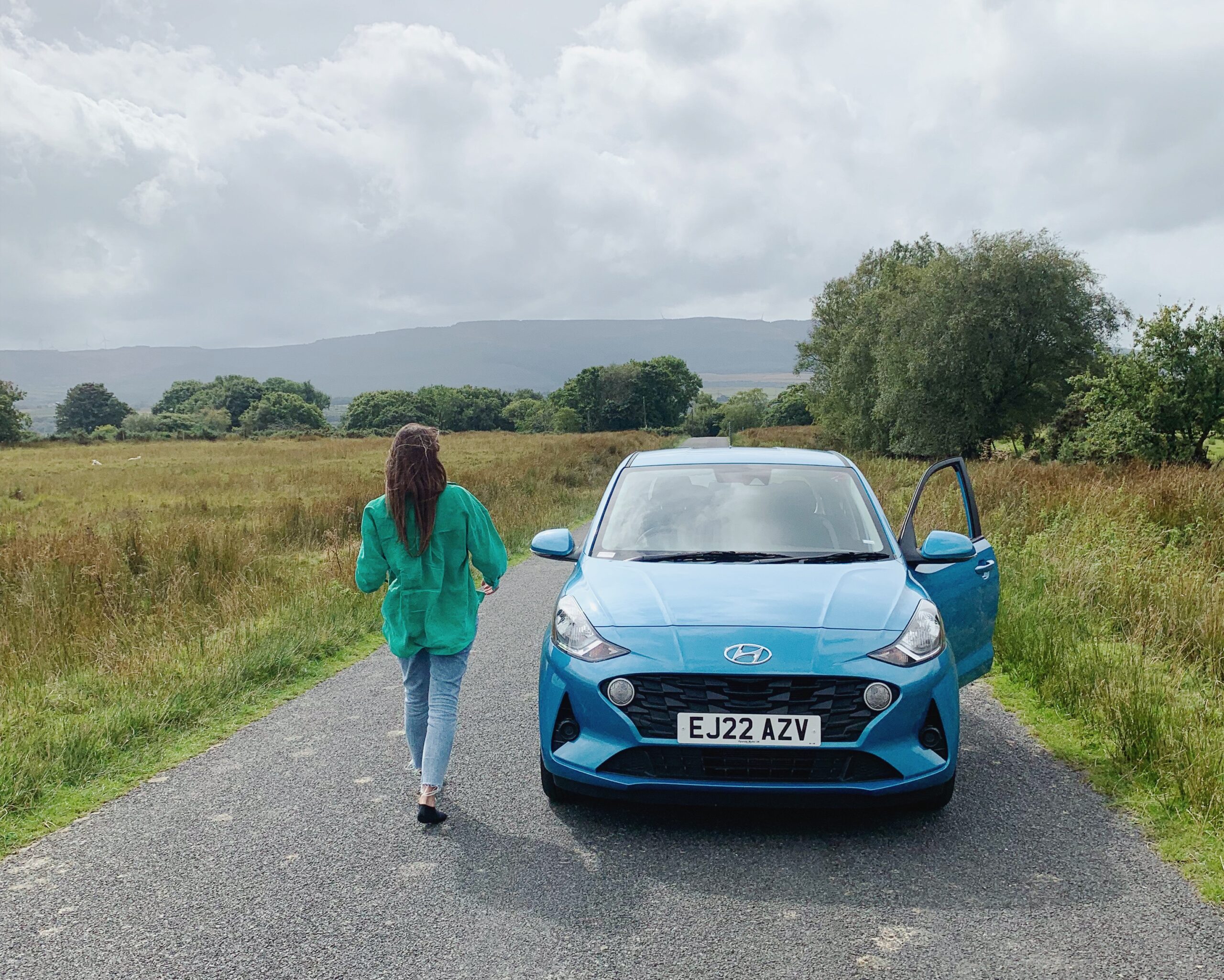 We settle in for the night at Dolgun Uchaf Guesthouse and one of the last things I remember thinking before closing my eyes is that I really want a pet sheep. Then I wake up, because Aga has fallen asleep with a glass of wine in her hand and spilled on me.
In the morning I feel a bit better and excited about the day. We eat the pancakes we bought in Hay-On-Wye and drive towards Snowdonia National Park to experience Fairy Glen or Ffos Anoddun, a secluded gorge on the Conwy River that's been the subject of many poems about fairies.
According to Folklore Thursday,
"Fairy Glen, a chasm between two worlds, steeped in Welsh folklore where, it is said, 'wild' Merlin hermitted himself away to recuperate after the magical exertion of facilitating the birth of Arthur.
(…)
In the twilight, when it is neither day nor night, the fairies may sing a variety of songs, each with a different meaning or outcome. Their sweetest evensong can seduce the visitor into staying long after sunset when the glen becomes a passageway to Annwn, the Celtic underworld, home of Gwragedd Annwn, the Welsh lake maidens. To hear their most mournful madrigal means impending doom, but if one stops and listens respectfully, they may change their tune to one of cheer and good fortune. If any lyrics can be discerned, they may even share magical secrets (yn Cymraeg, of course) or foretell the name of one's true love."
The glen is on private property with a small car park, so it feels urgent to get there early to ensure a parking spot. We pay a small fee and chat to the property owner, who informs us that last night's shower was the first rain they've had in three months. It's a beautiful hike to the glen from the car park, which passes through a sheep enclosure, the river bank and a forest of tall trees. Just before entering the woods, we find a formation of rocks that create a small pool, a sight that worth writing many poems about too. This fairy tale pool calls to me, so I jump in for a swim.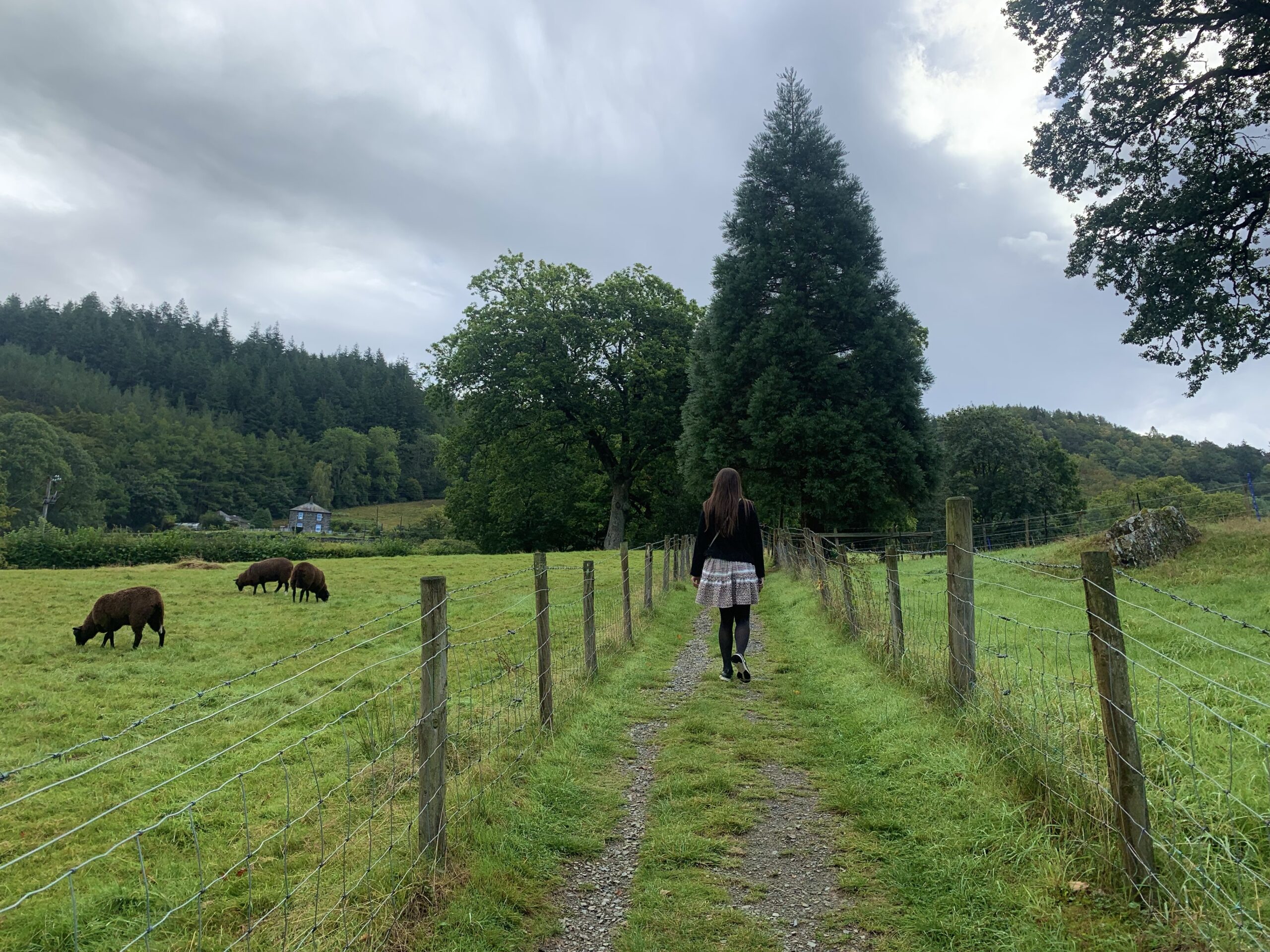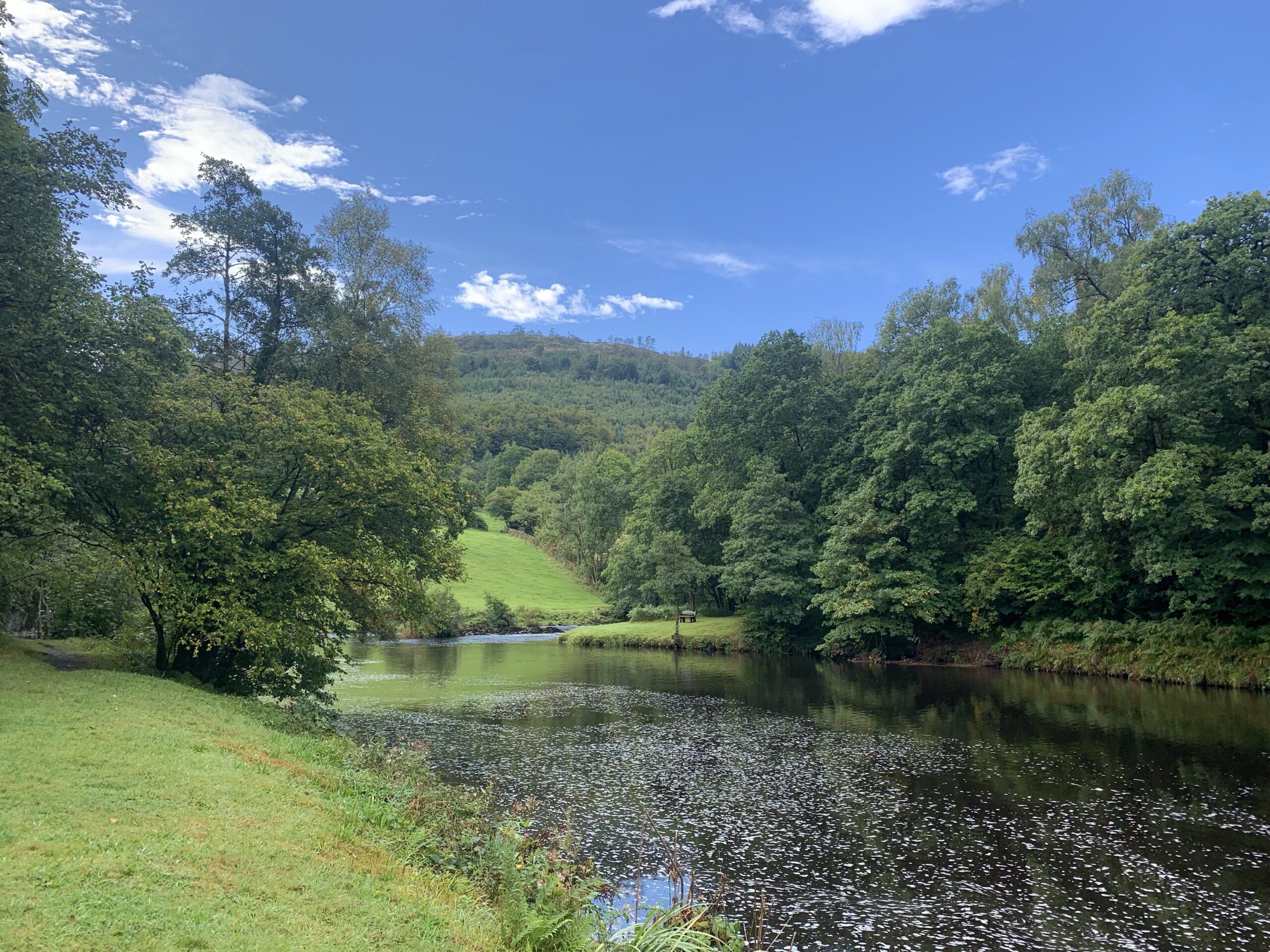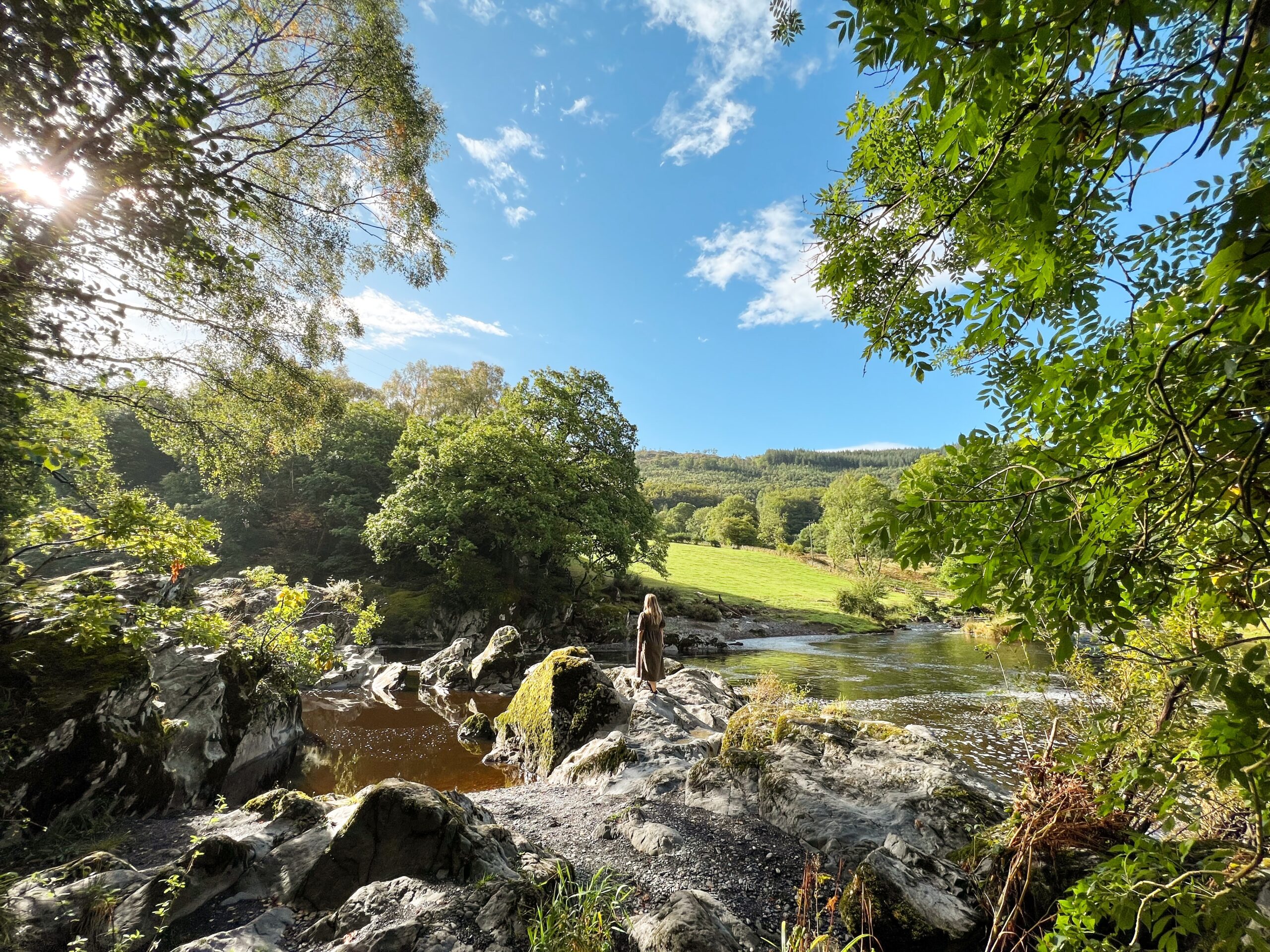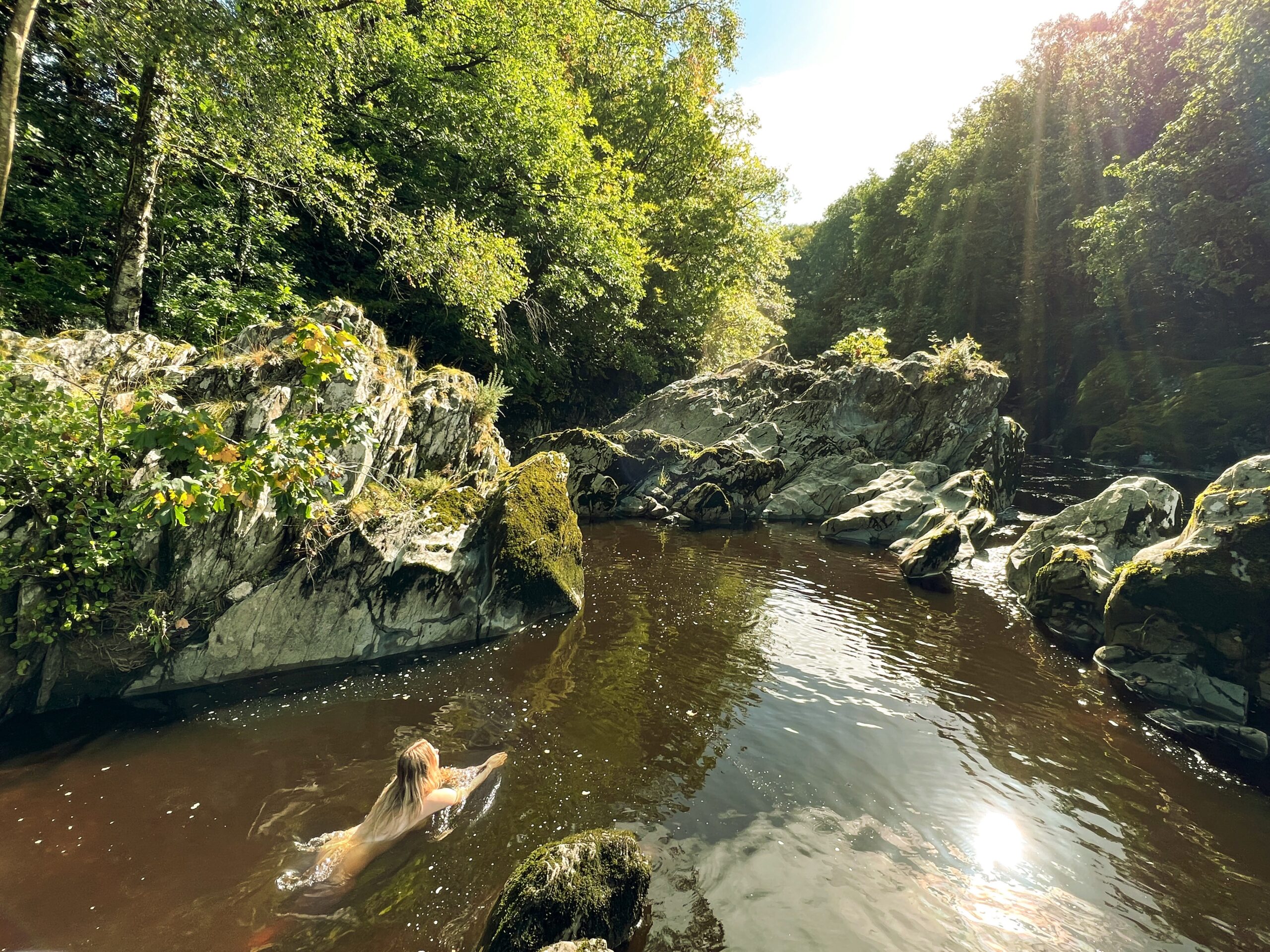 In the forest we encounter some very steep steps down to the glen. A few people are heading back as we arrive, leaving the Fairy Glen to ourselves.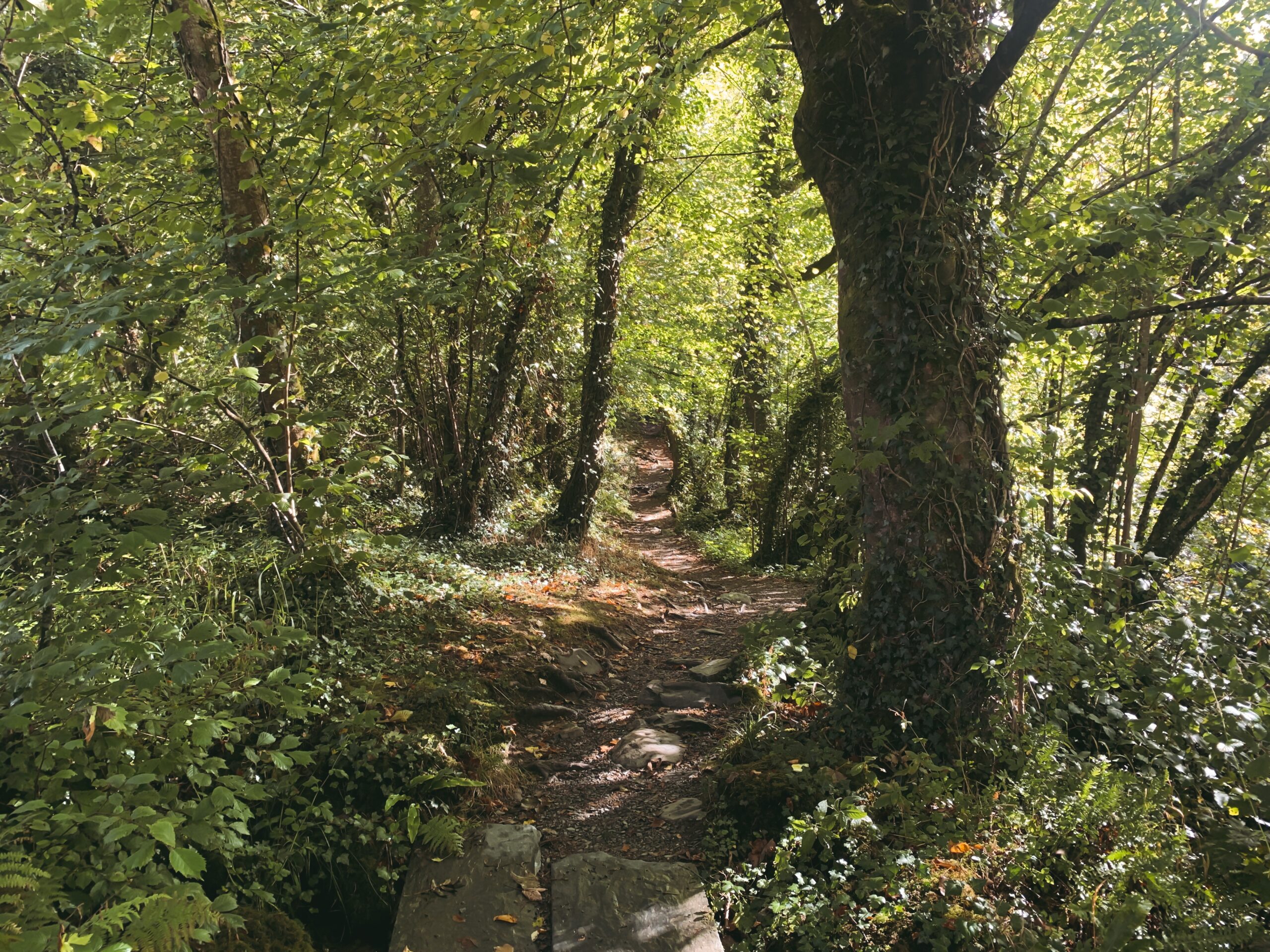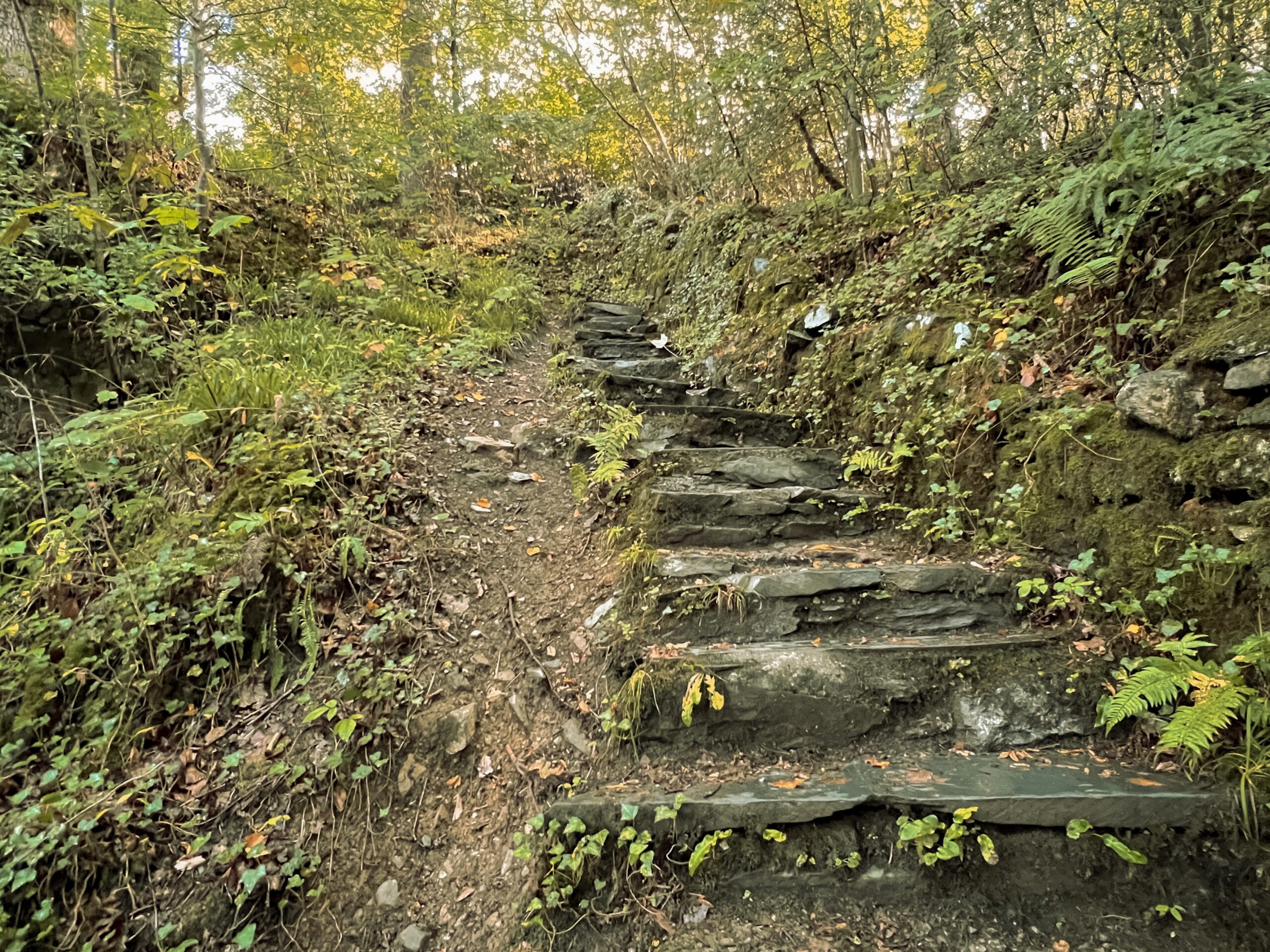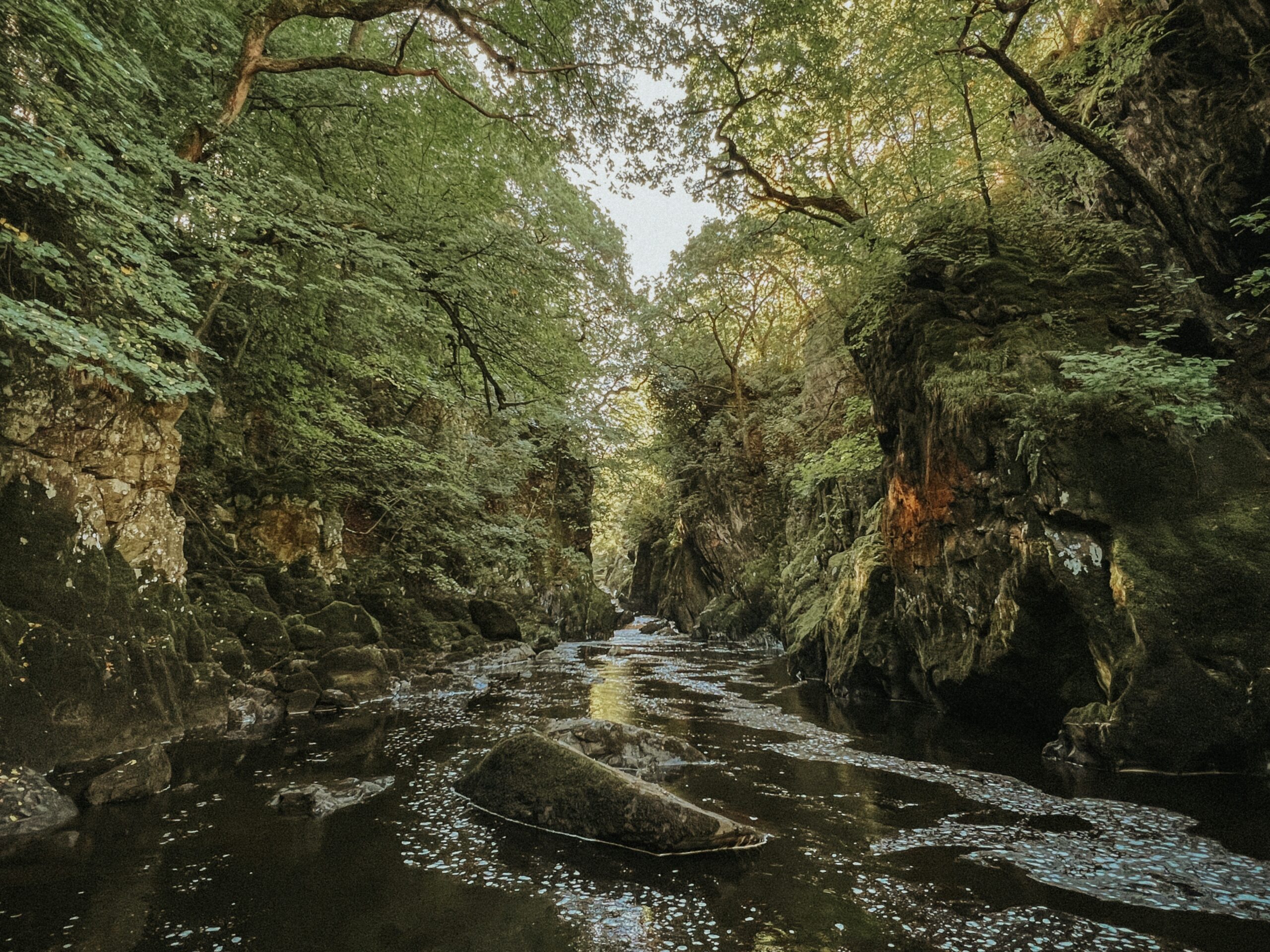 This is truly a place out of this world, where words fail me. The Fairy Glen is an emerald ravine, where water flows calmly and rays of light peeking through the trees are dancing in the mist rising from the creek. It seems appropriate to instead quote this poem about the Fairy Glen:
"That mist-clad land of whims and spells,
Floating music and tinkling bells;
A door lies hid beyond night's pale,
Wrapped in a glimm'ring, shifting veil."
– Leila Sen
We snap (a lot of) pictures, climb some big rocks to get a different view and I almost convince myself to climb onto a different rock further out in the water, but the risk of slipping and falling into the water is too great.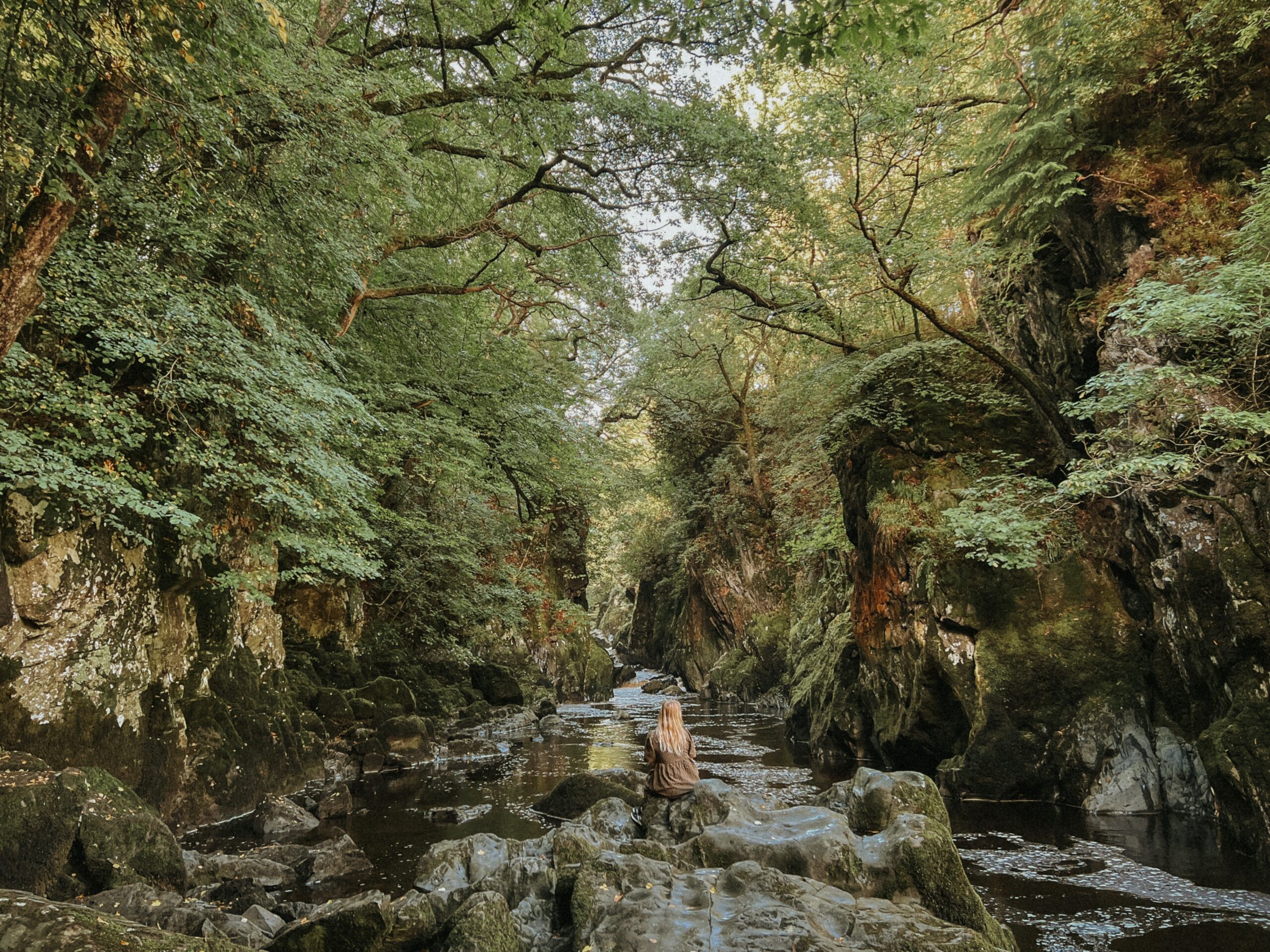 What happens next is a lot less magical, as we stop by three different supermarkets, asking the staff about bottle openers. It seems like an impossible task and leaves the question: how do people open their ciders and beers around here!? Is a bottle opener something that's passed down through generations? Or are they especially adept at using other tools, like shoes and their teeth, to remove bottle caps? WHAT IS THEIR SECRET, I MUST KNOW.
We have lunch in Bewts-y-Coed, another very cute little town, but with a lot of tourists getting in our pictures. It's a struggle to figure out lunch, as I have no appetite but obviously need something to eat, and Aga is feeling indecisive today. We have a little Hangry Hassle, but as soon as we find a place to sit down and have a cider, we're all good.
As we cross the border to England for our next destination, it starts raining again in a big way. I don't know what we expected, it is known to be a wet country after all. Liverpool, here we are!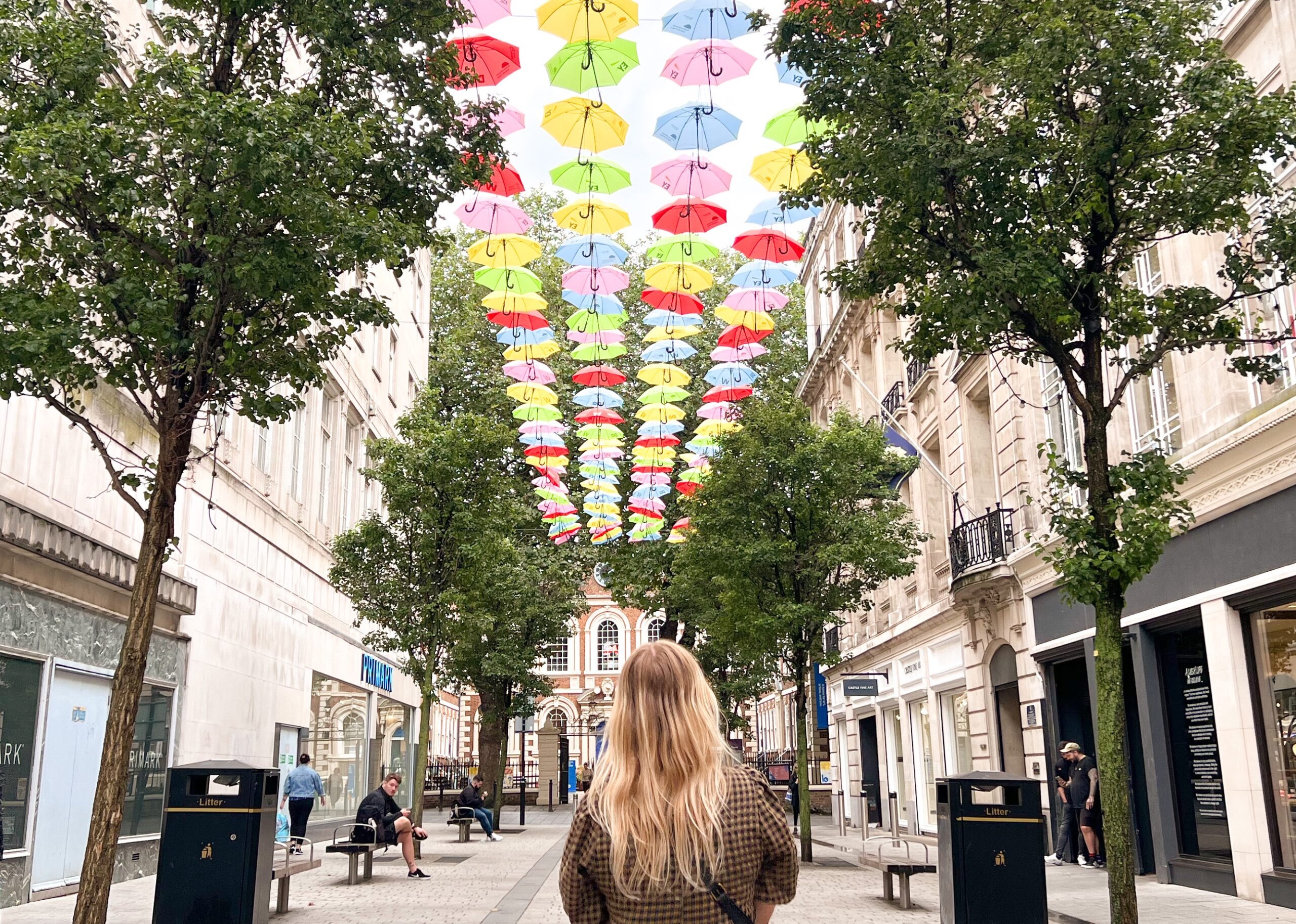 By the time we've reached YHA hostel from the car, we're soaked and in need of a comfort-cider. Due to the weather and our lack of energy from a long day of driving, we head out to buy souvenirs and Chinese food that we bring back to the room and eat on the floor. We manage to get ourselves together long enough to head to Cavern Pub for live music and another cider. The pub is part of the Cavern Club, a legendary music venue that's especially known for being The Beatles' first gig.
At the pub, two Welsh guys sit down next to us and start chatting, but we're not feeling particularly social due to exhaustion and the loud music. One of the guys tells us that he builds sets for movies and TV shows like Peaky Blinders. Failing to impress us, they move on to their next pub for the night and we head back to our room at 11 to finish the so-bad-it's-good show we're watching on Netflix.
In the morning I feel very sick again. We've planned a Cider-seeing today, which means that we're gonna spend all day sightseeing and for every landmark we've checked out, we're gonna stop by a pub for a cider. While this is certainly my idea of fun most days, it's a struggle today. We walk 5 km to our first stop, which is also the furthest from our hostel: Penny Lane. First, we have brunch and mimosas nearby at Leaf, then with full bellies, we reach the street sign, which is heavily graffitied.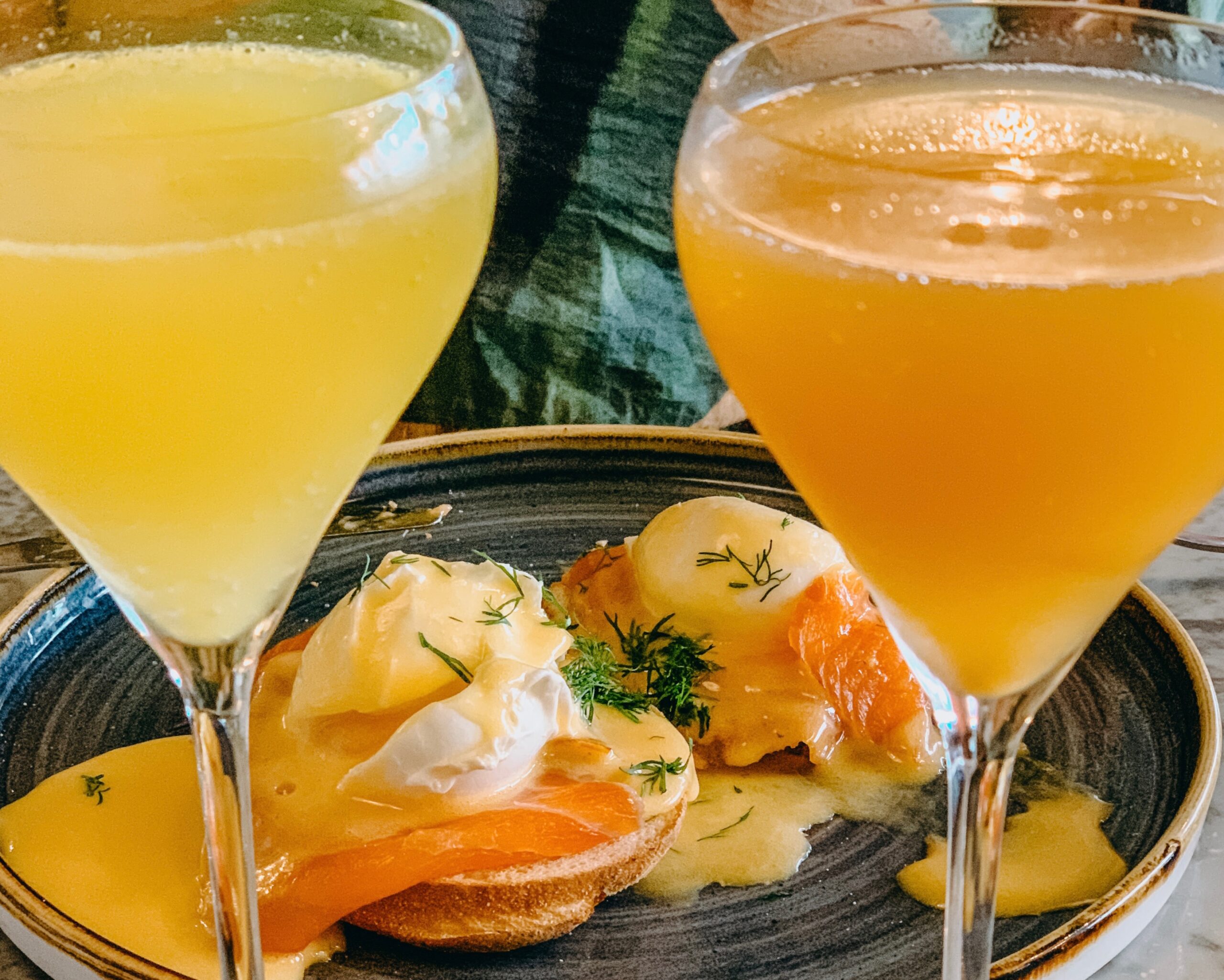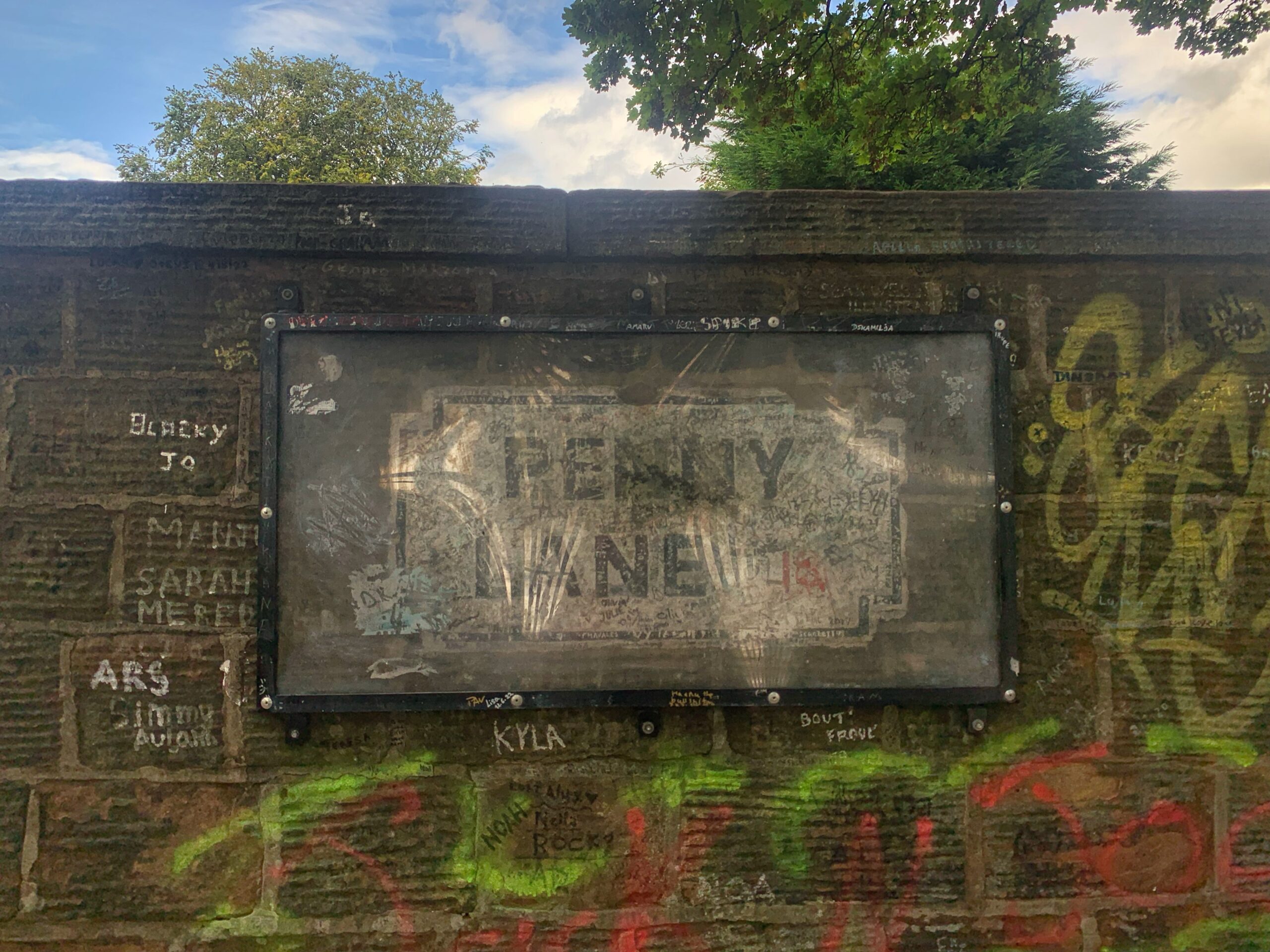 We head back towards city center and pass St. Luke's Bombed Out Church, then head to Peaky blinders pub to reward ourselves for visiting our first landmarks. It starts to rain, so Aga grabs another cider, while I get a coke to wash down my cold medication.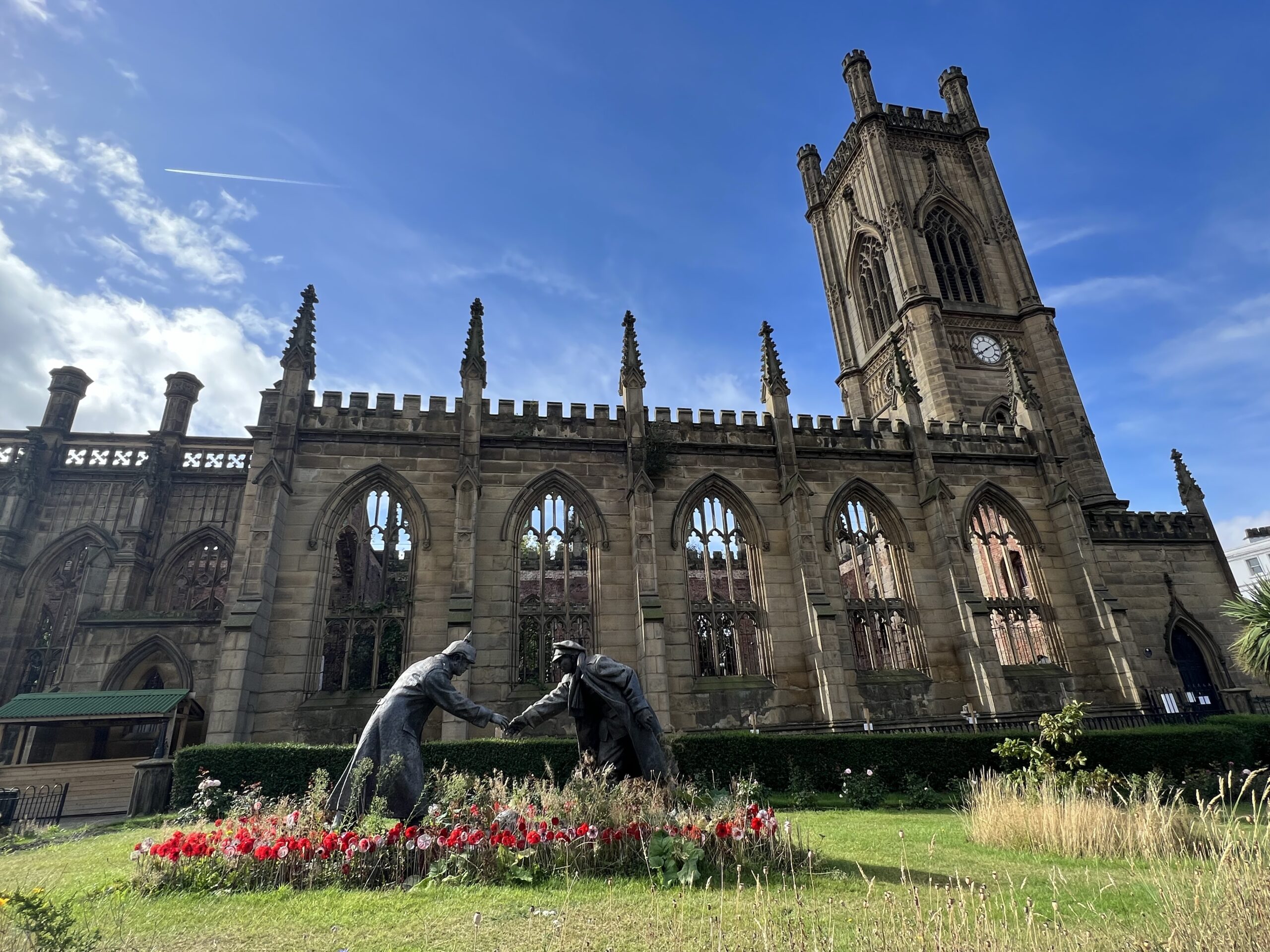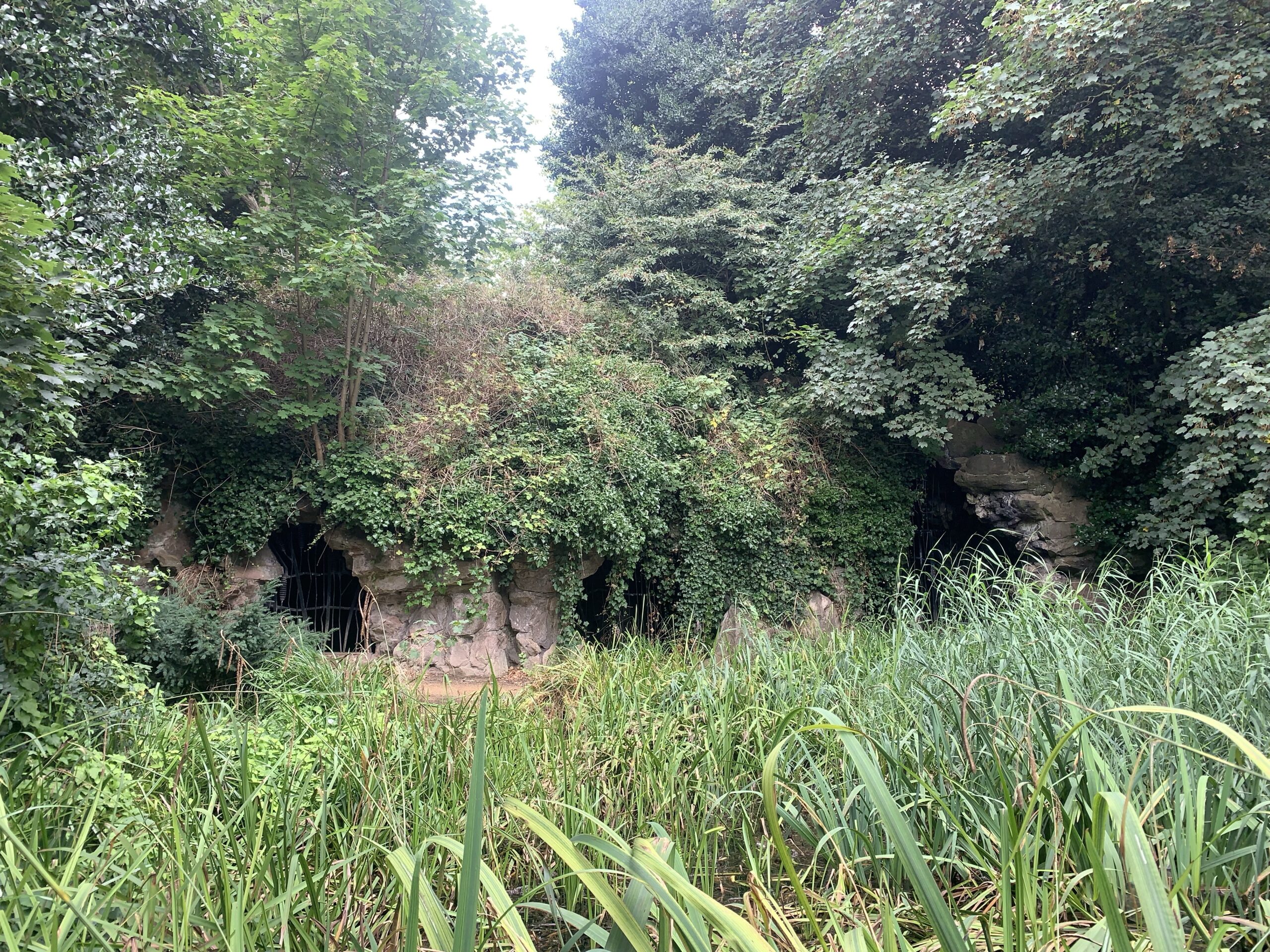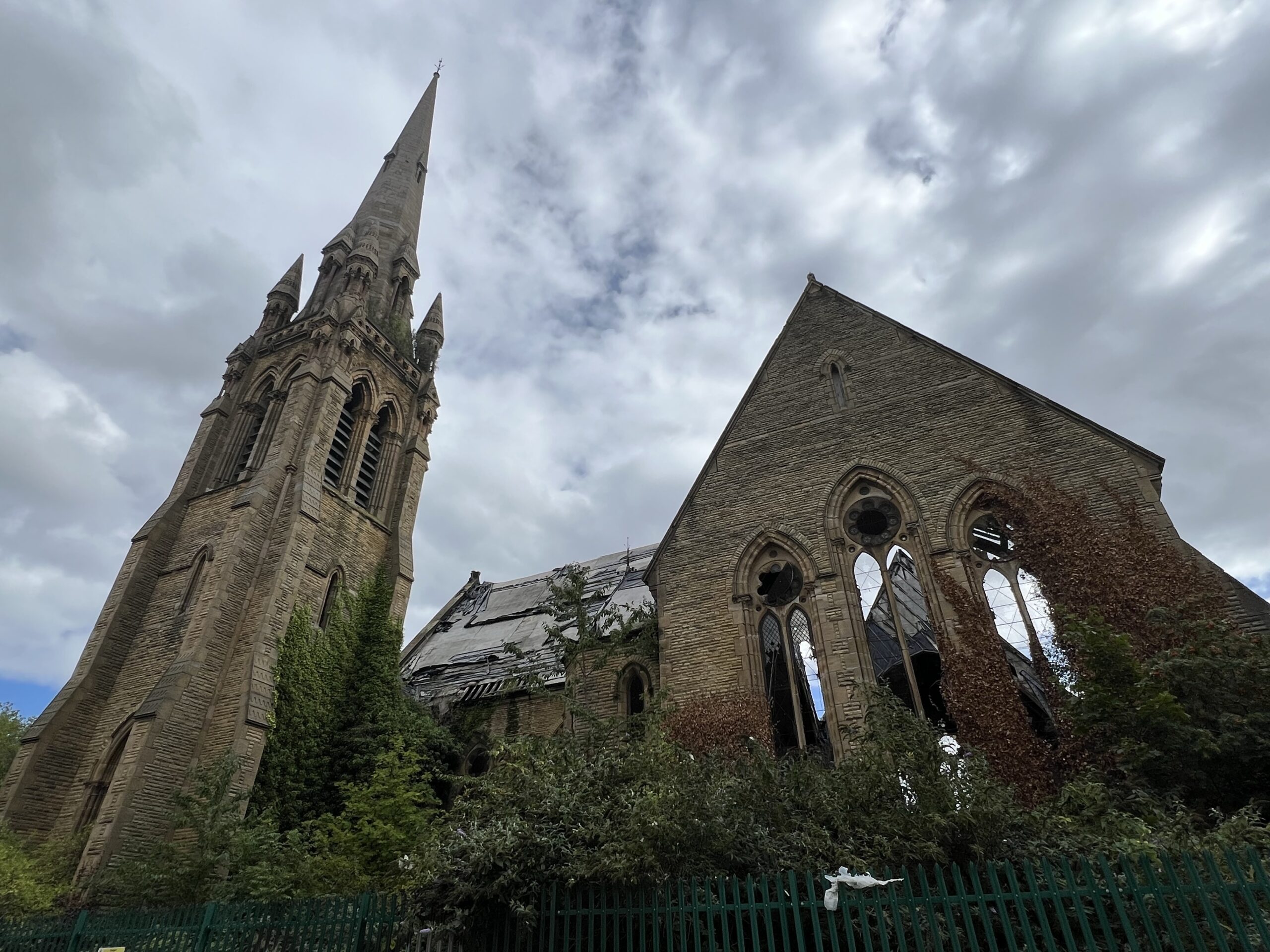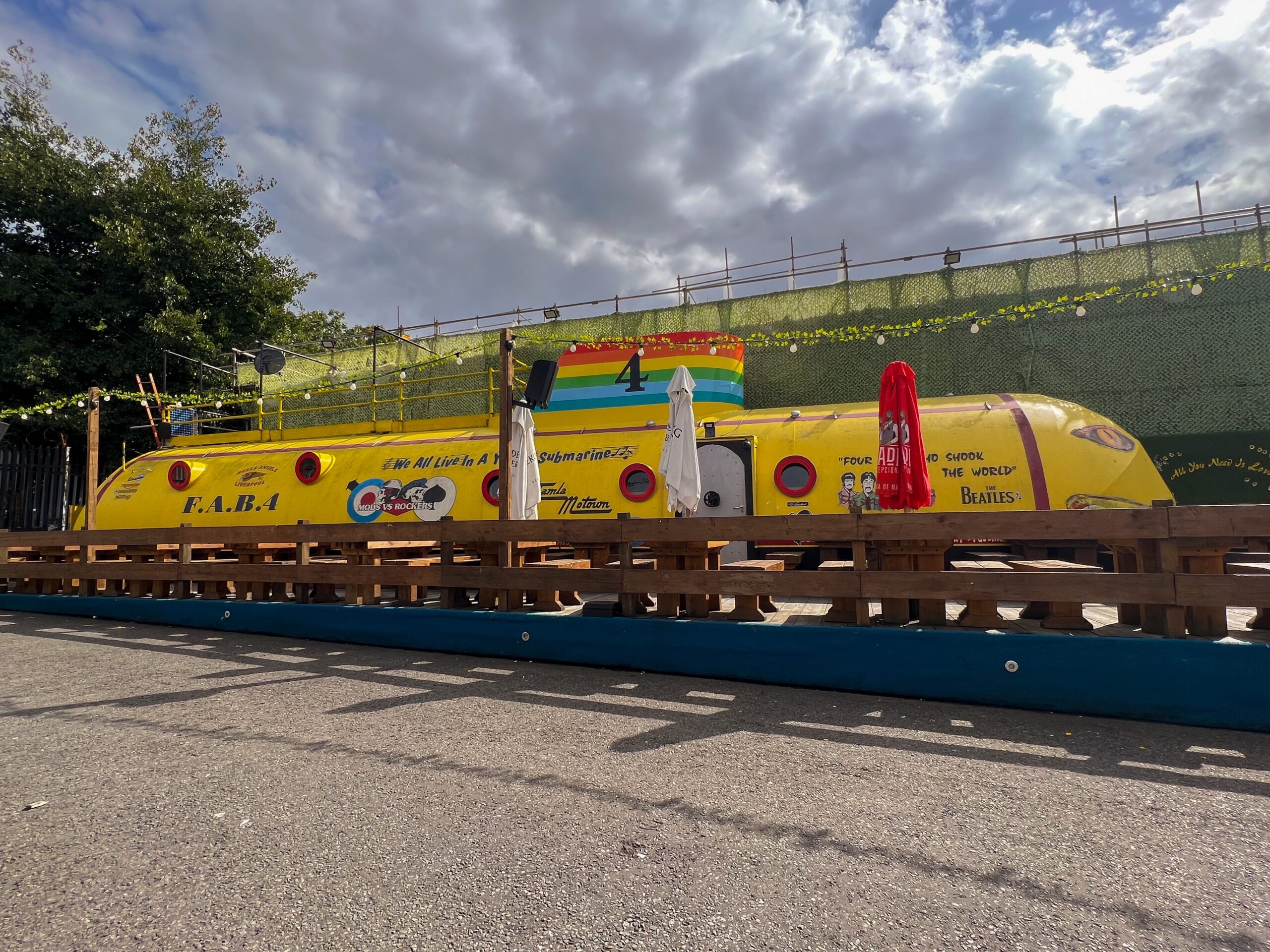 The rain temporarily stops and we head towards the Liverpool Cathedral, when it starts to come down again, hard. We try to seek shelter under some park trees, then a tunnel to the cathedral, and eventually we just run towards the church steps, where a small congregation has assembled. OK, they were probably just seeking shelter from the rain too.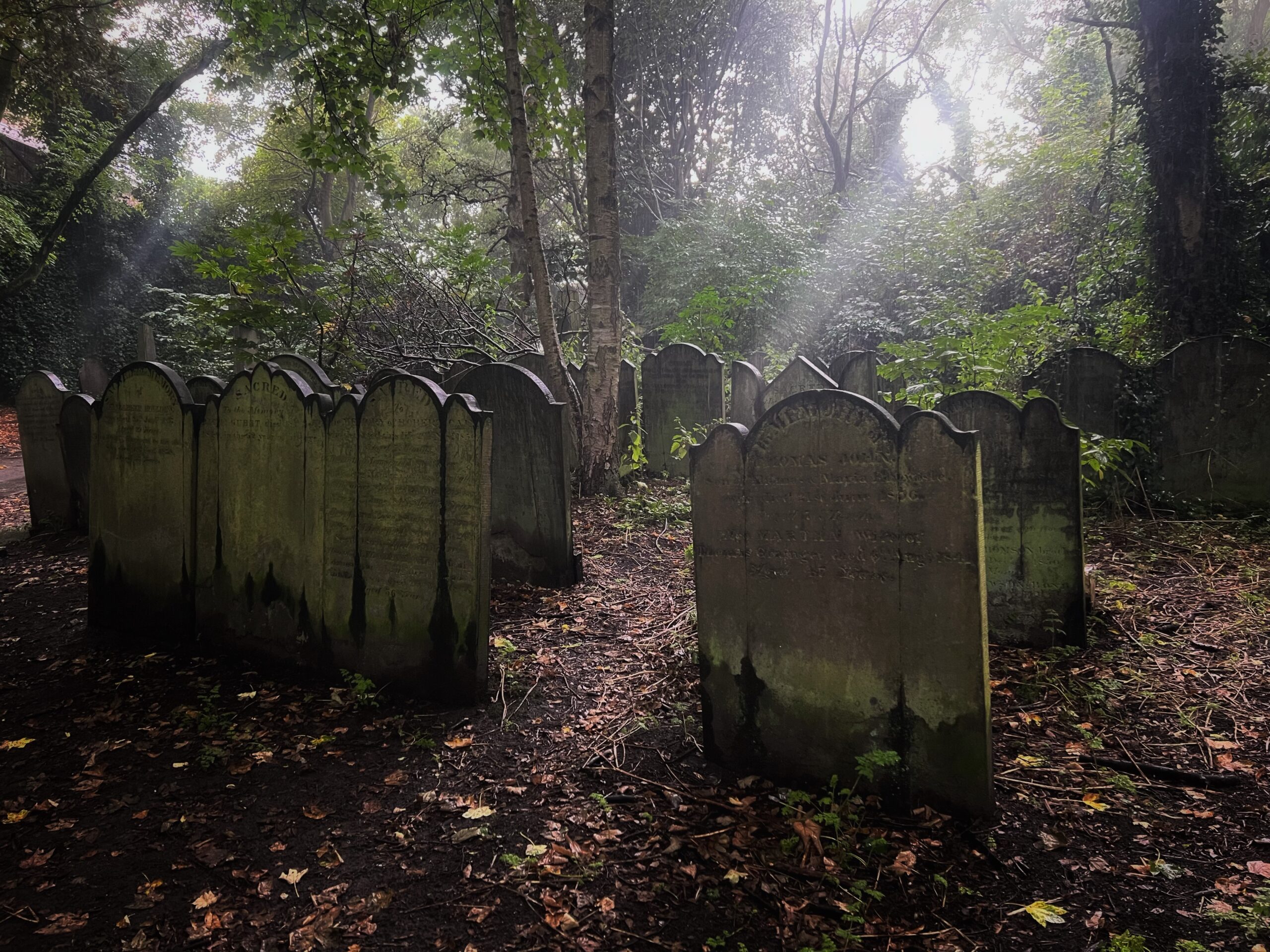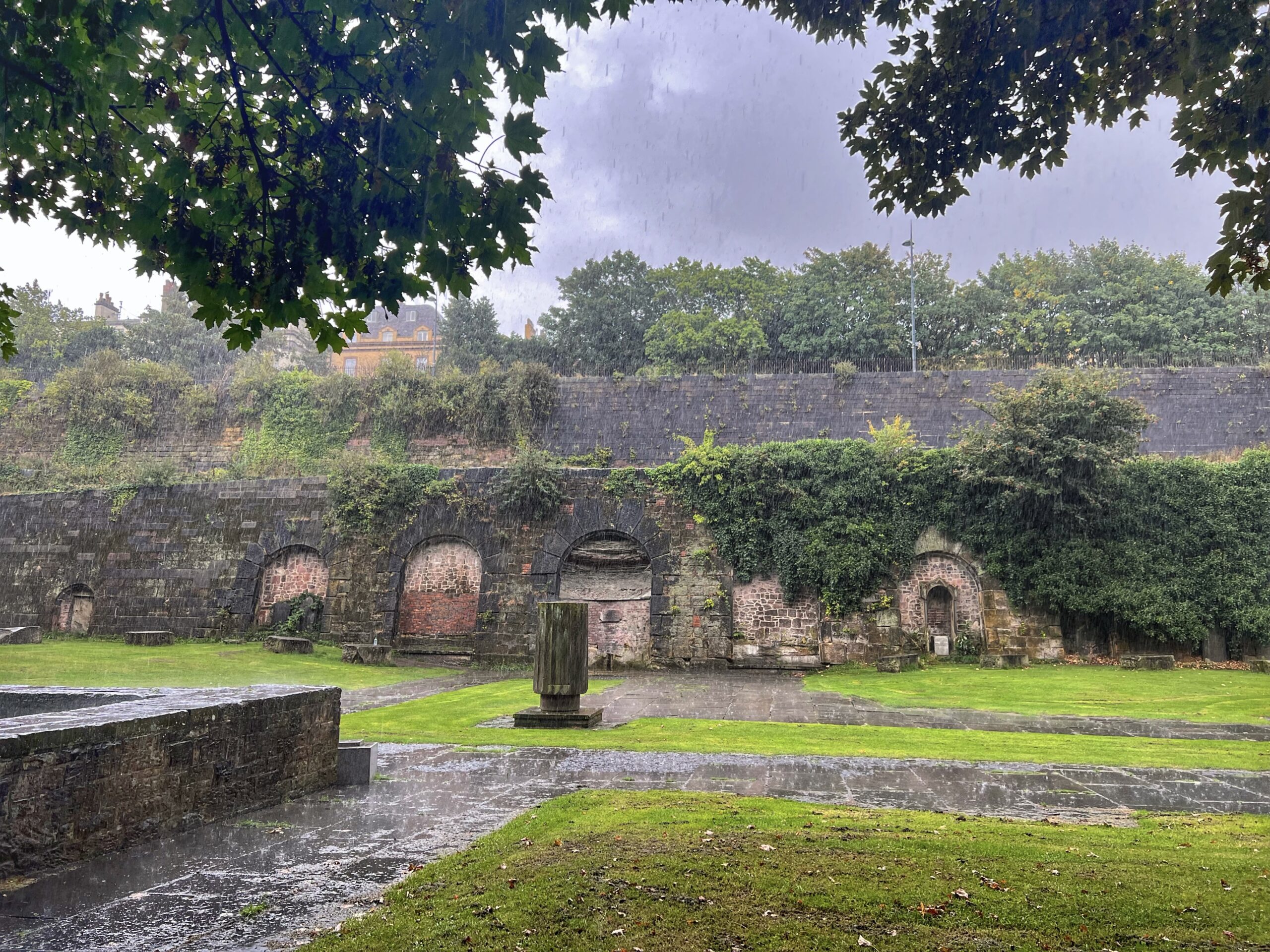 We feel like we are too soaked to enter the cathedral, so we just head back to the hostel. Our only pair of shoes are drenched, so we stay in for the rest of the day as we let them dry by using a hairdryer and a radiator. Instead we bring some beers from the hostel bar into the room and watch a John Lennon documentary before going to sleep.
When our shoes have dried and the sun has come out to play, we head to Royal Albert Dock where we take pictures with The Fab 4 – now The Fab 5 – and the Titanic Monument. We buy some food and snacks for the trip ahead of us and then it's time for more small villages.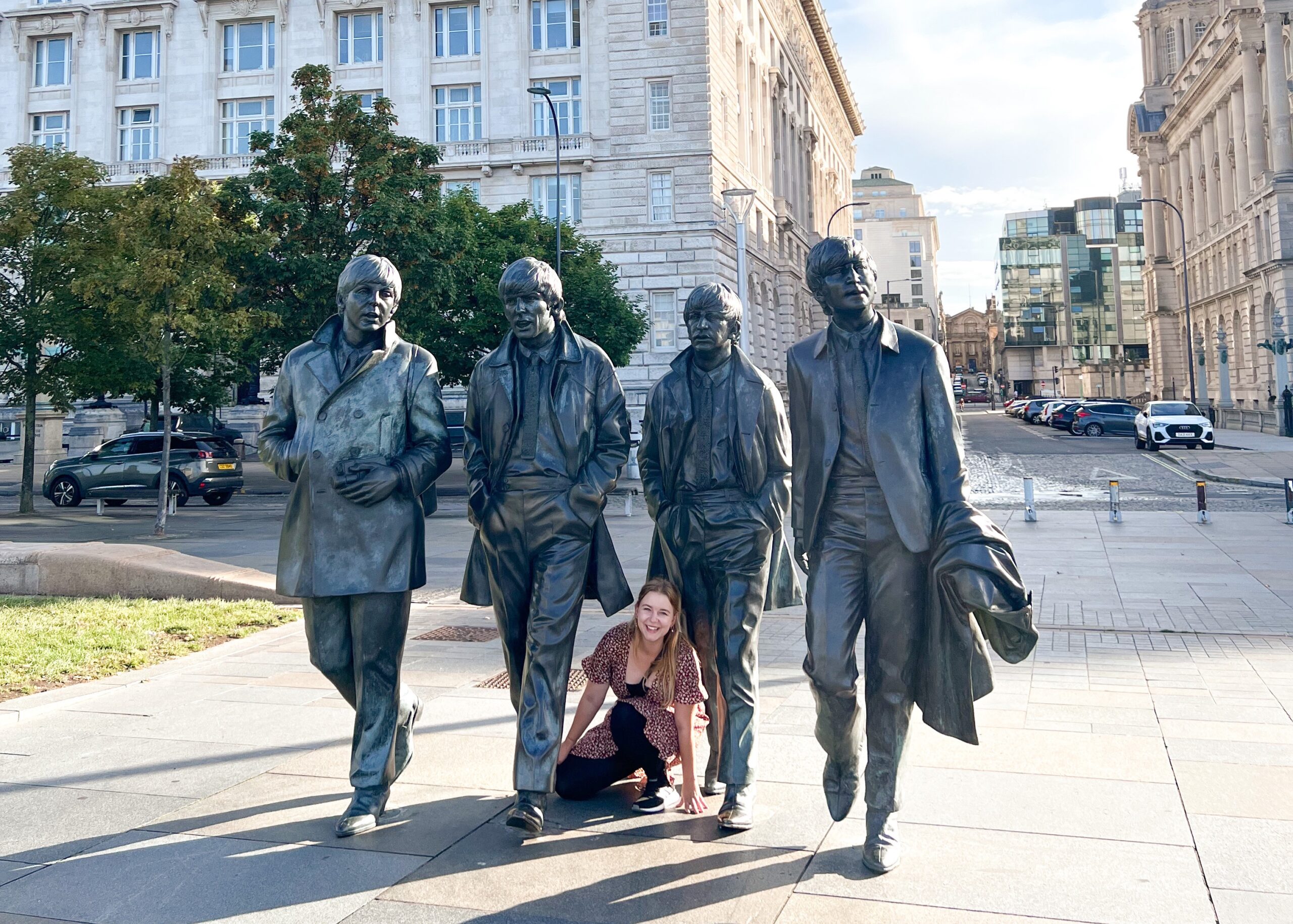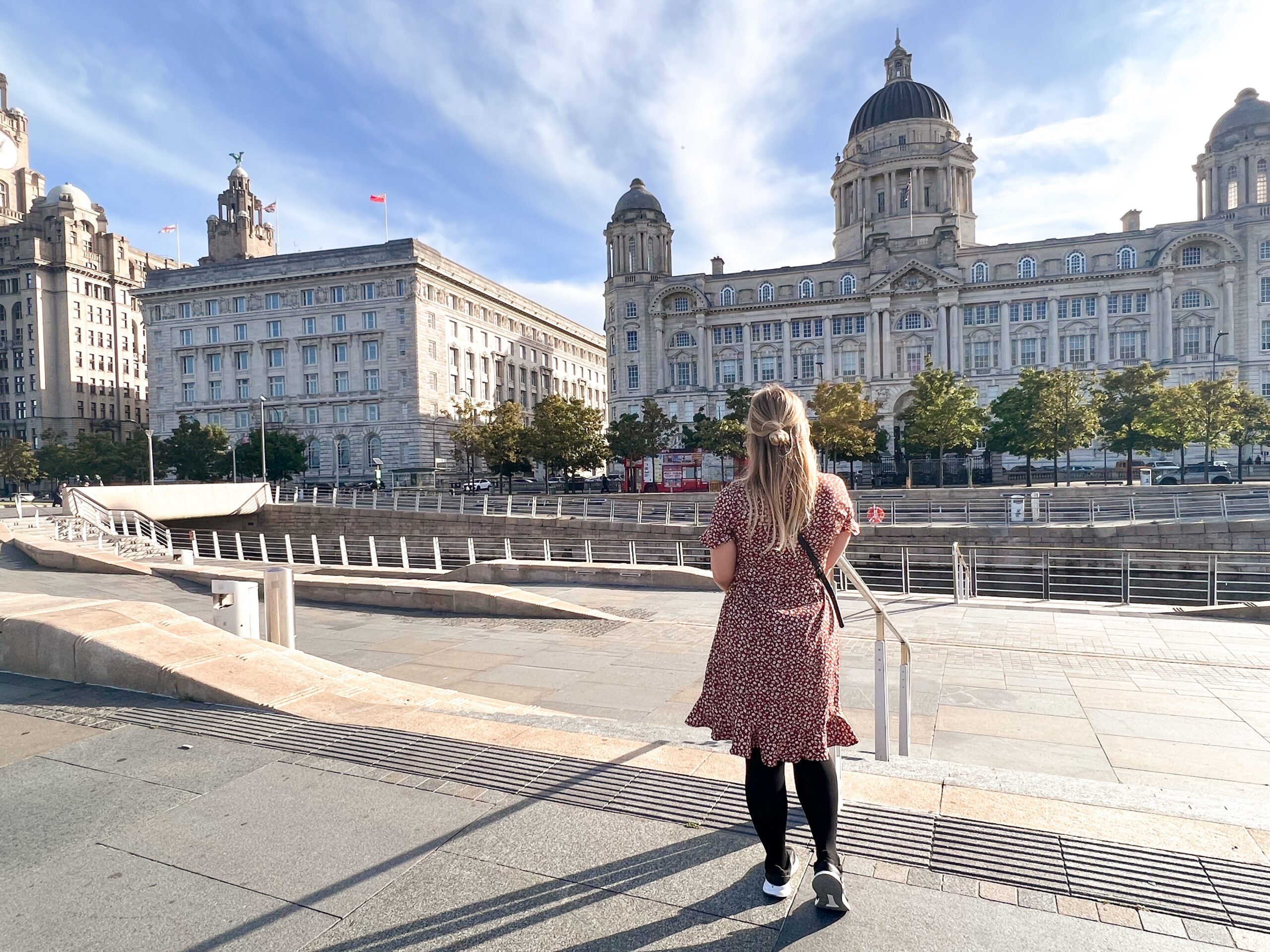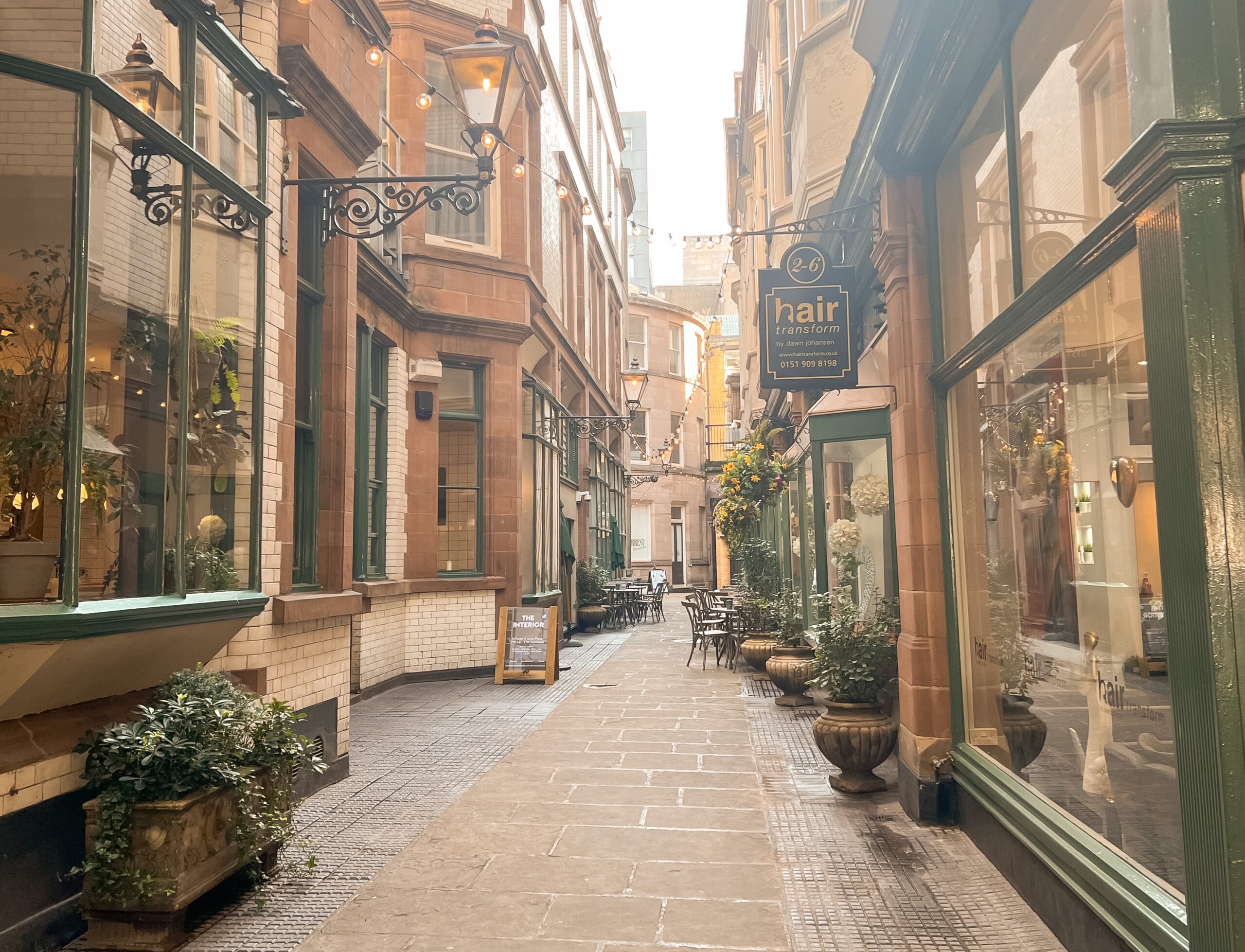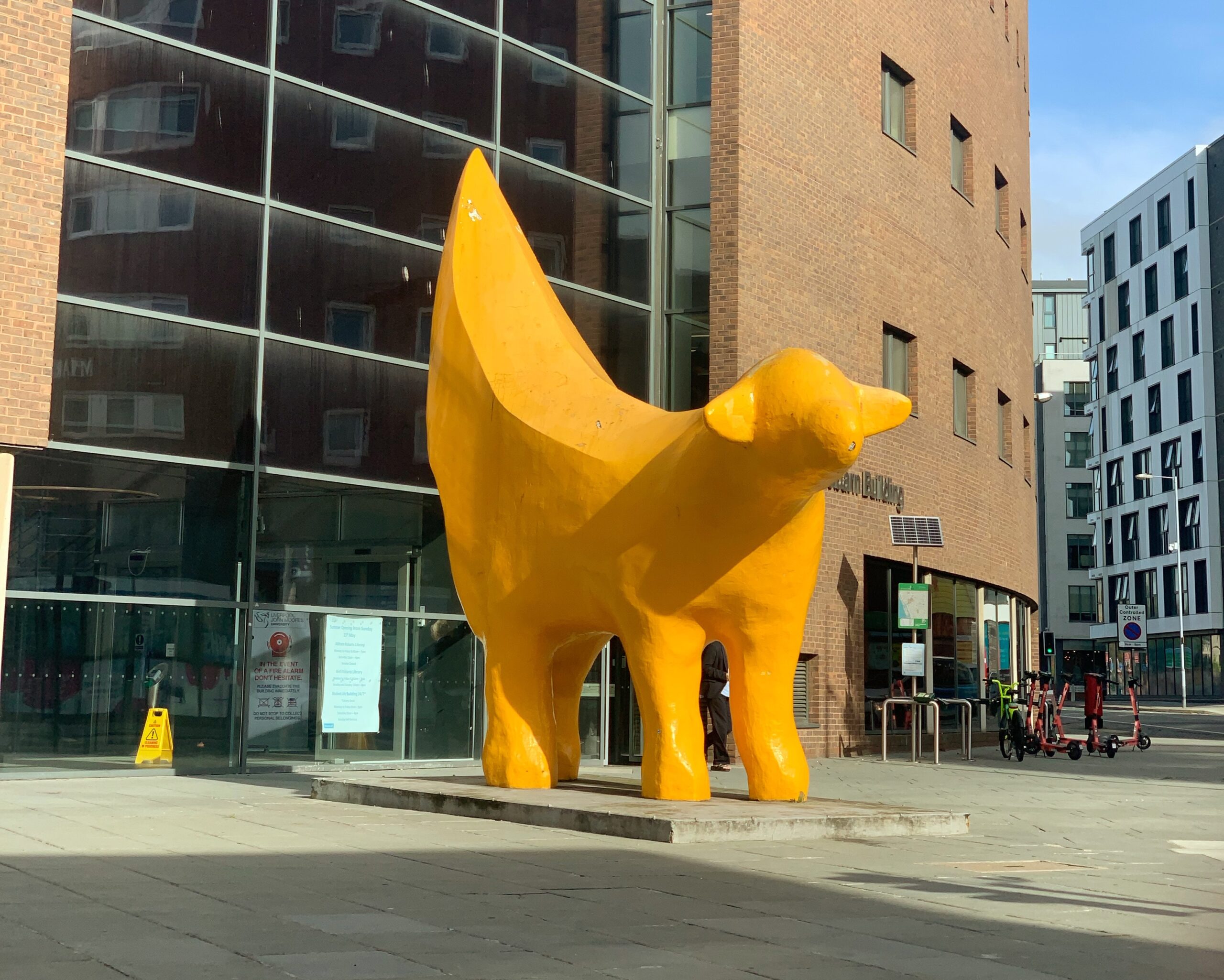 First up: Stow-on-the-Wold, which I am actually in love with. After walking around in the rain and checking out their landmark, a church door, we have lunch and a cider at The Queens Head In. I have a fucking salad, that's how bad it's going with my appetite.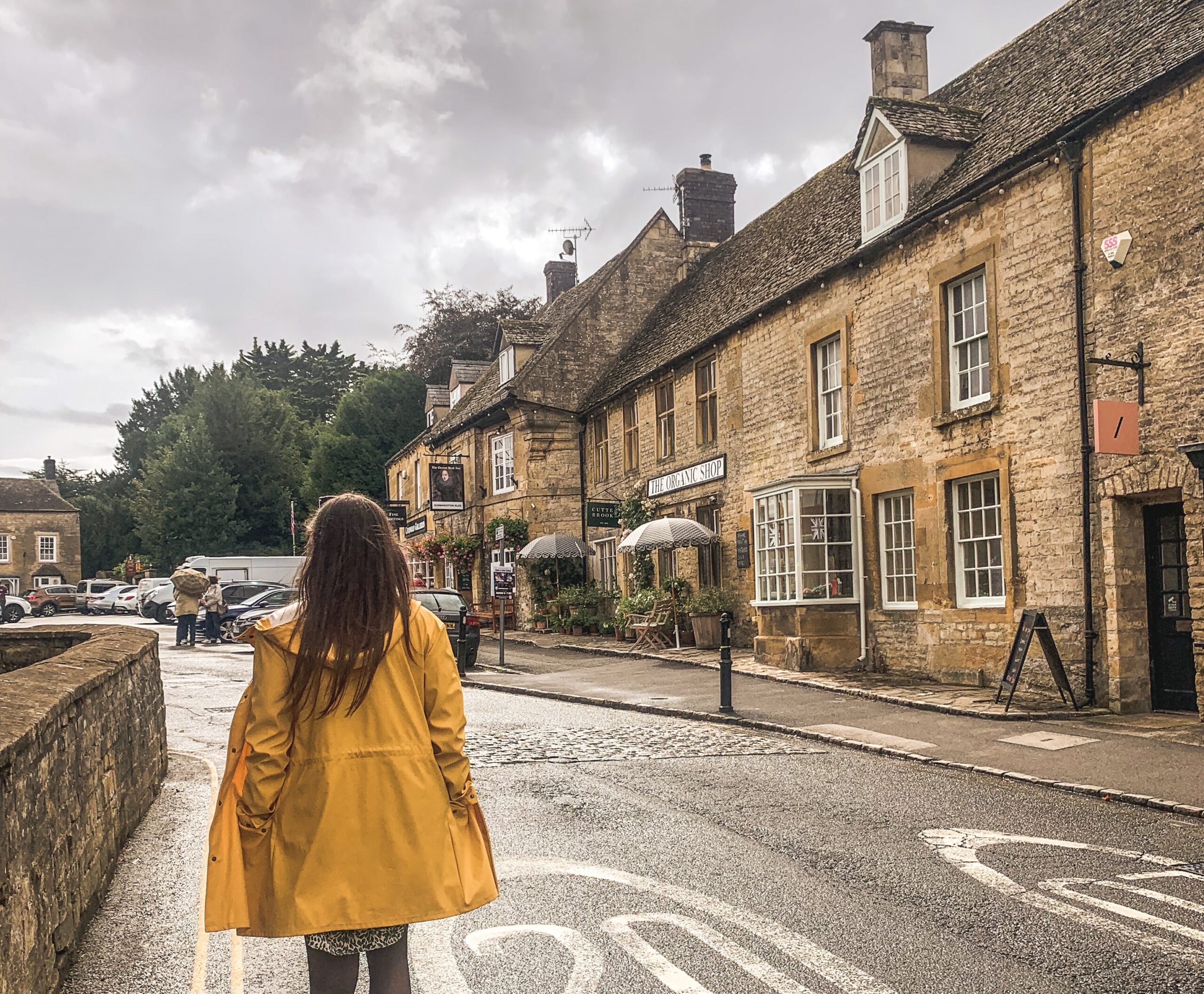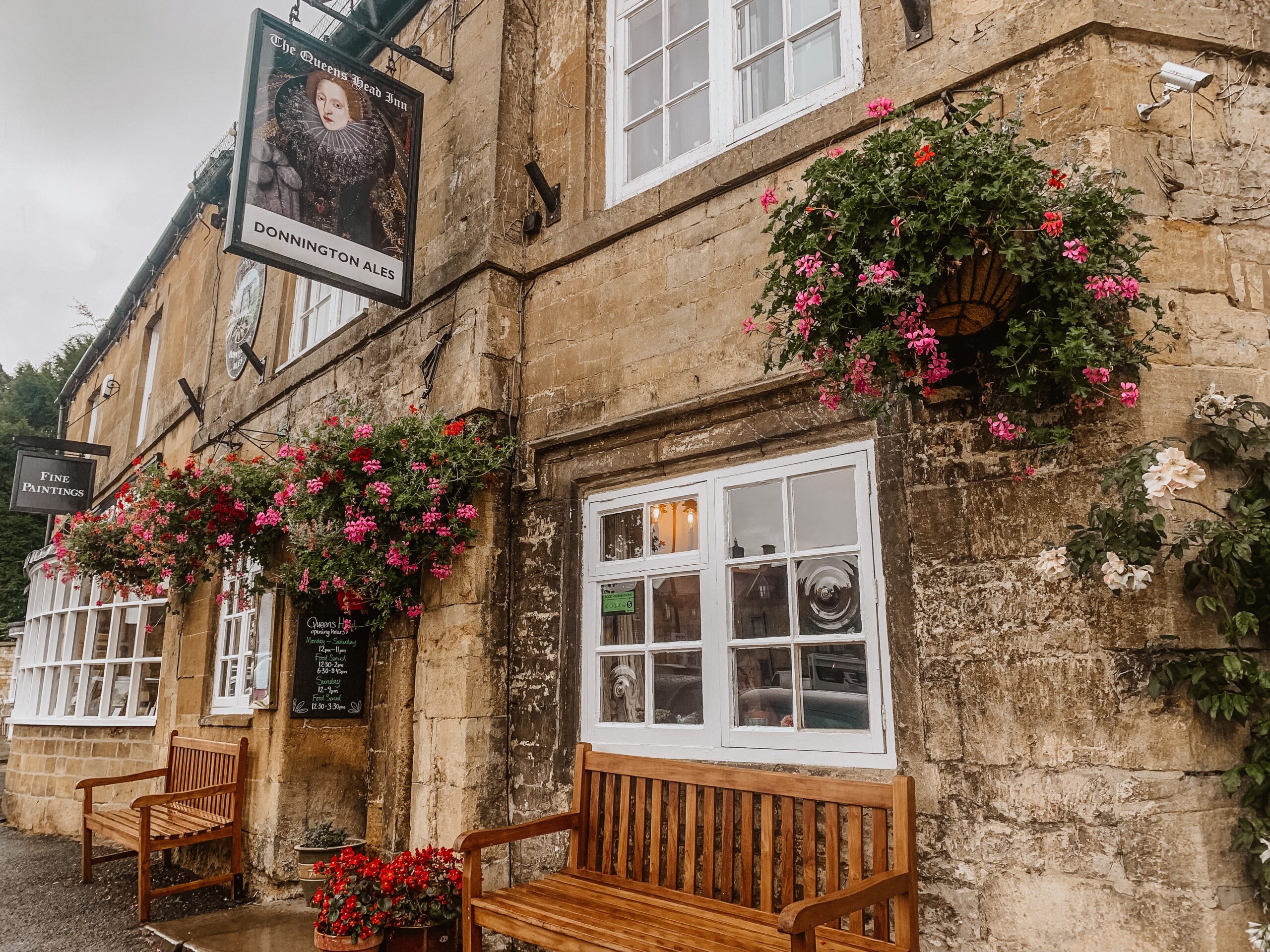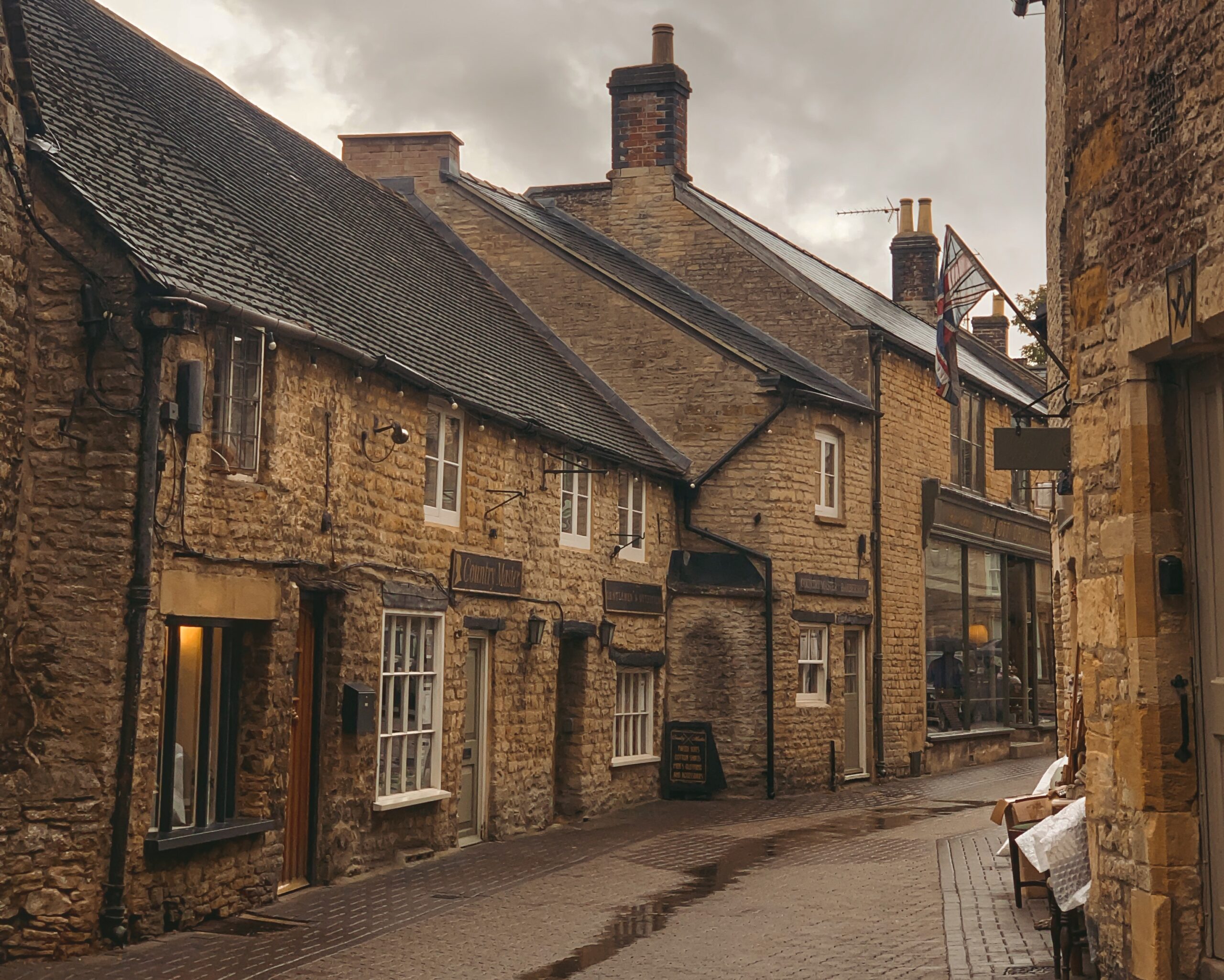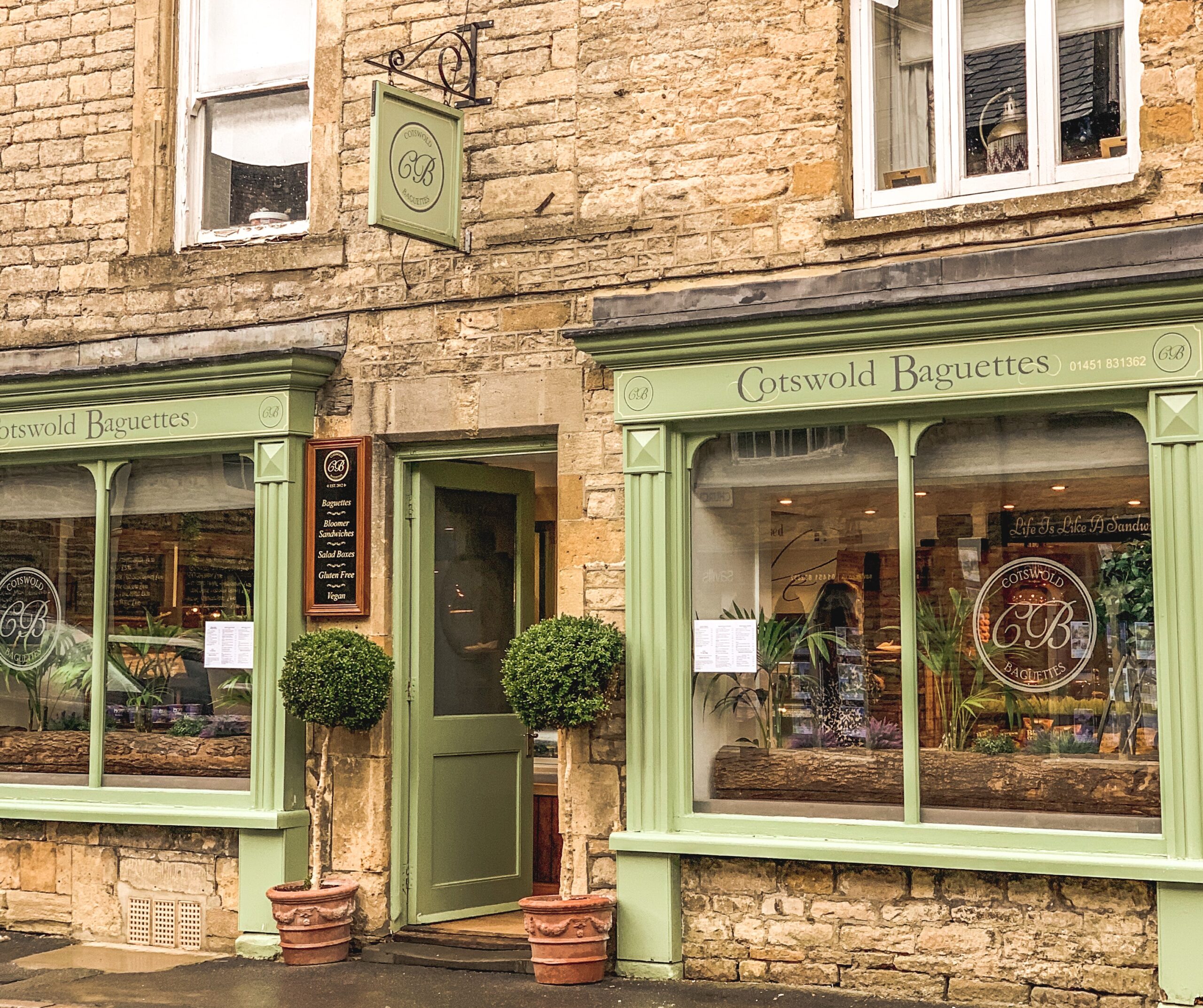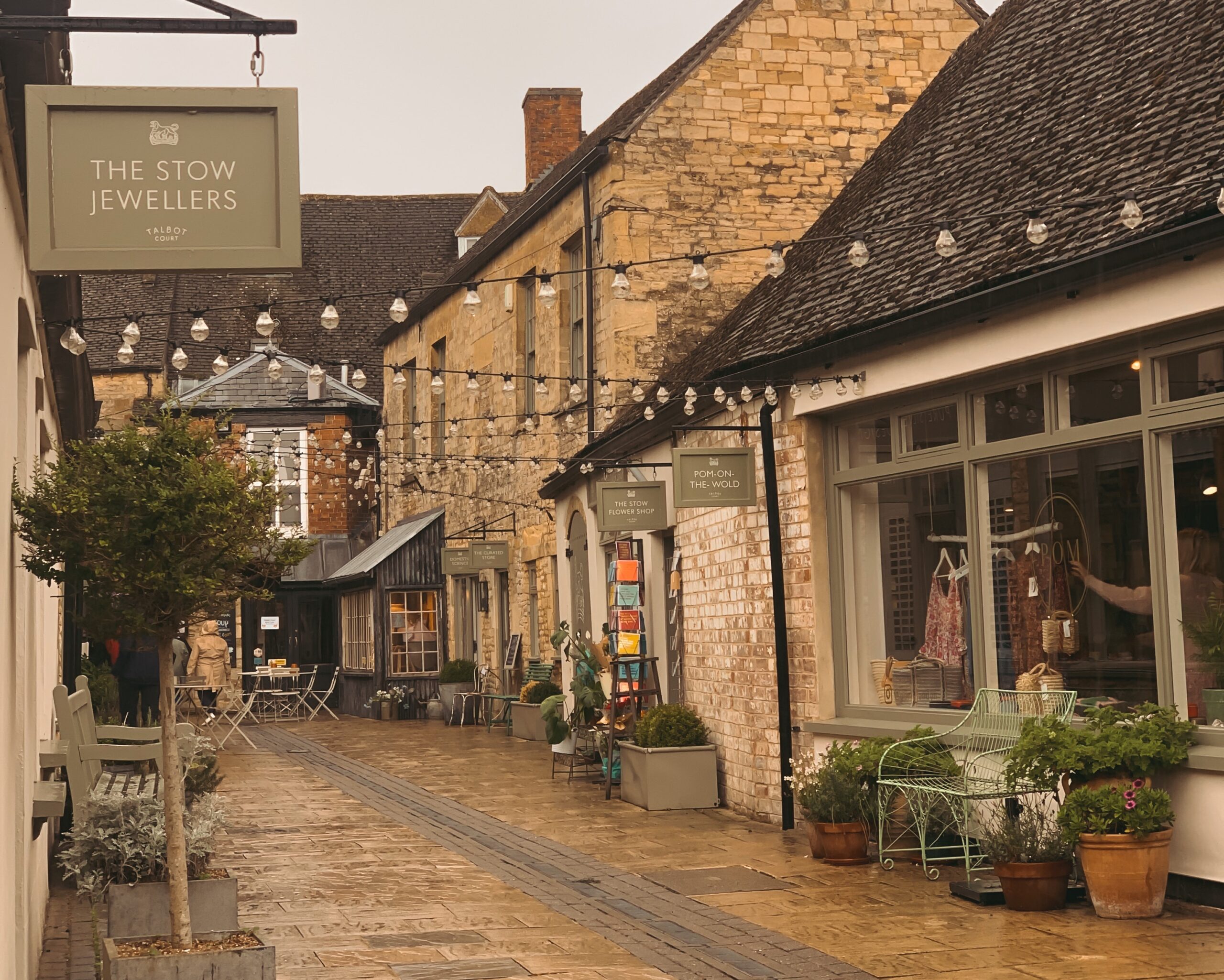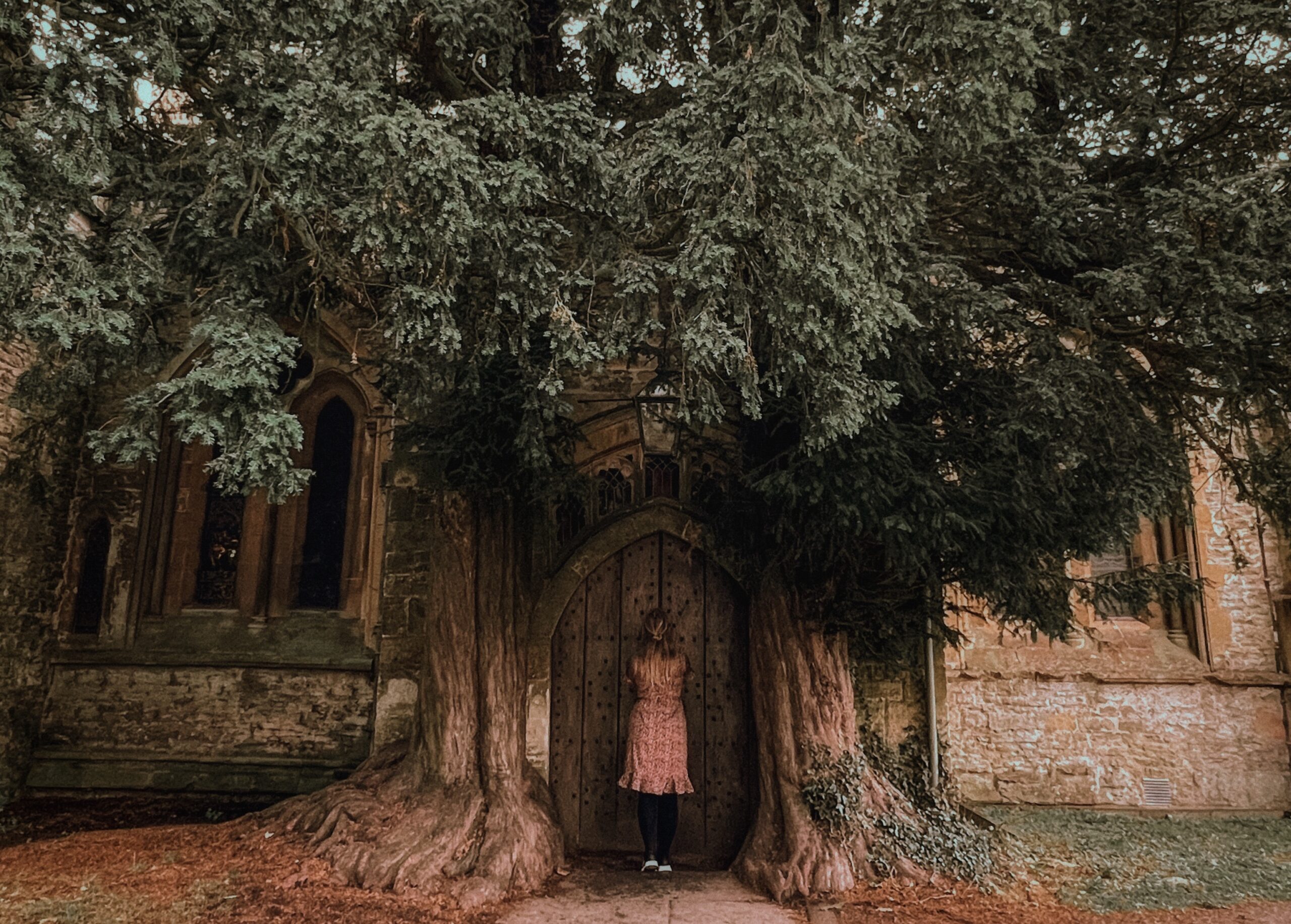 Next stop is a rather spontaneous trip to Arlington Row in Bibury, then we drive to Castle Combe in search of our hotel, The White Hart, which is a bit of a challenge. Turns out there are many White Harts.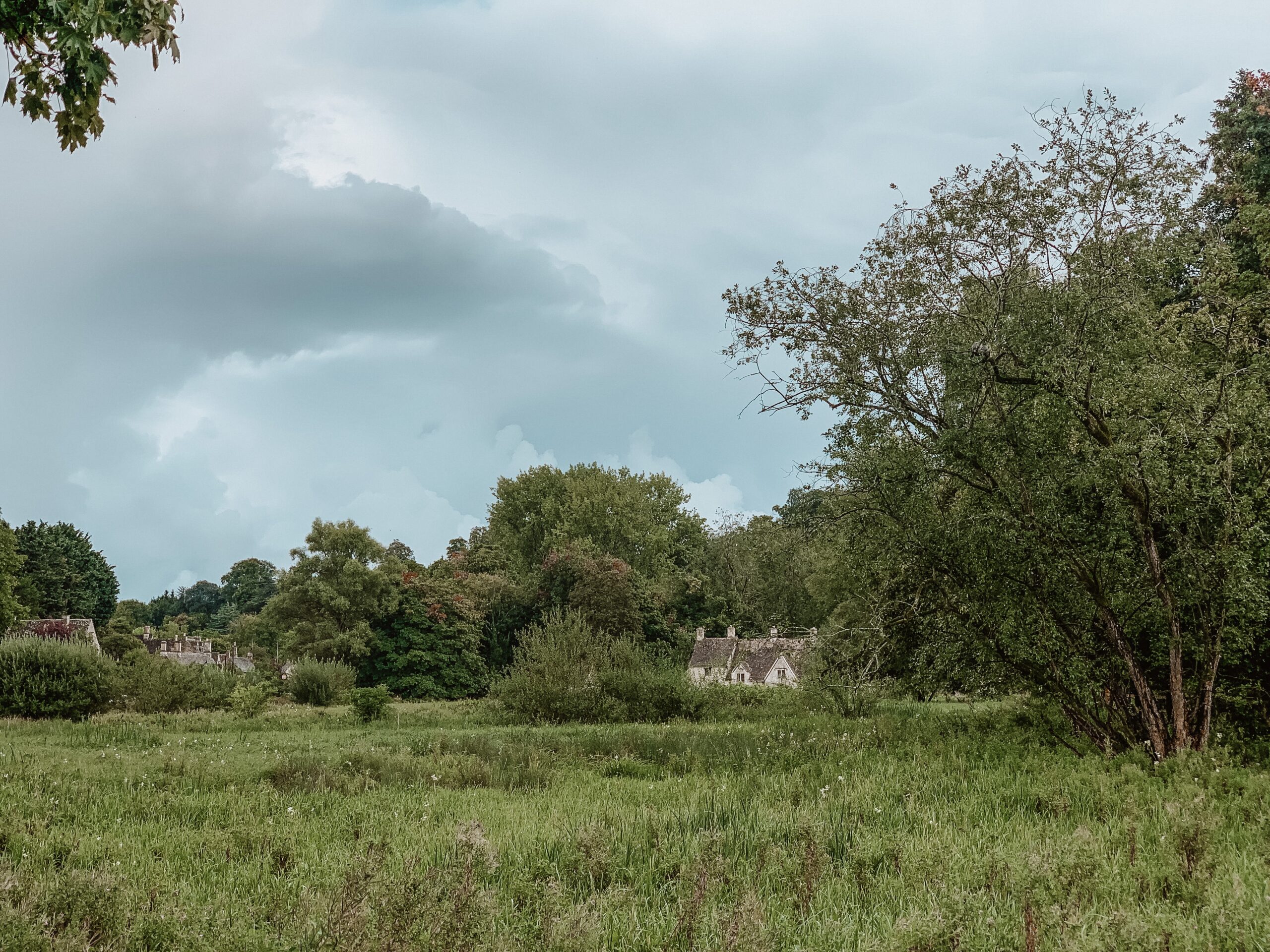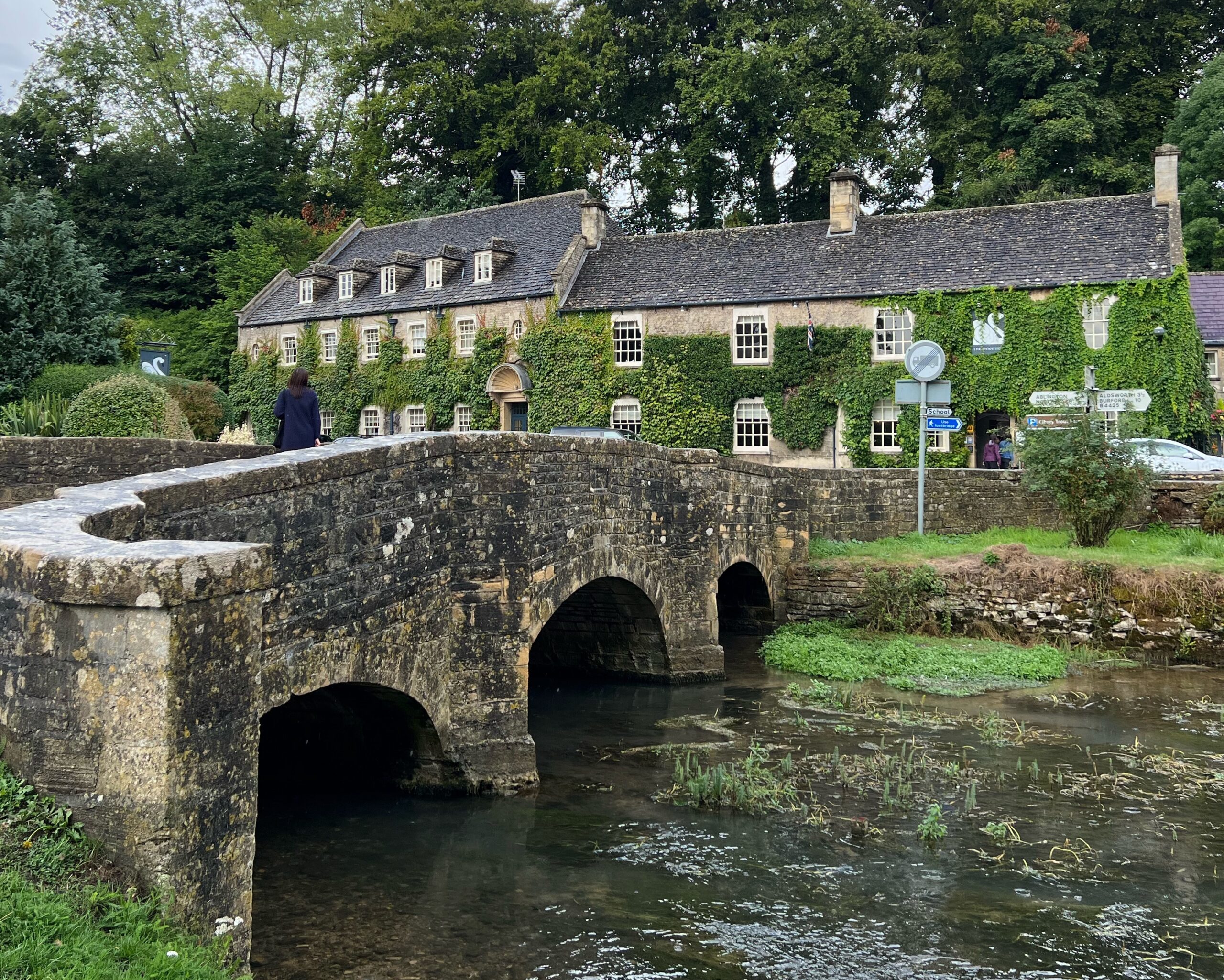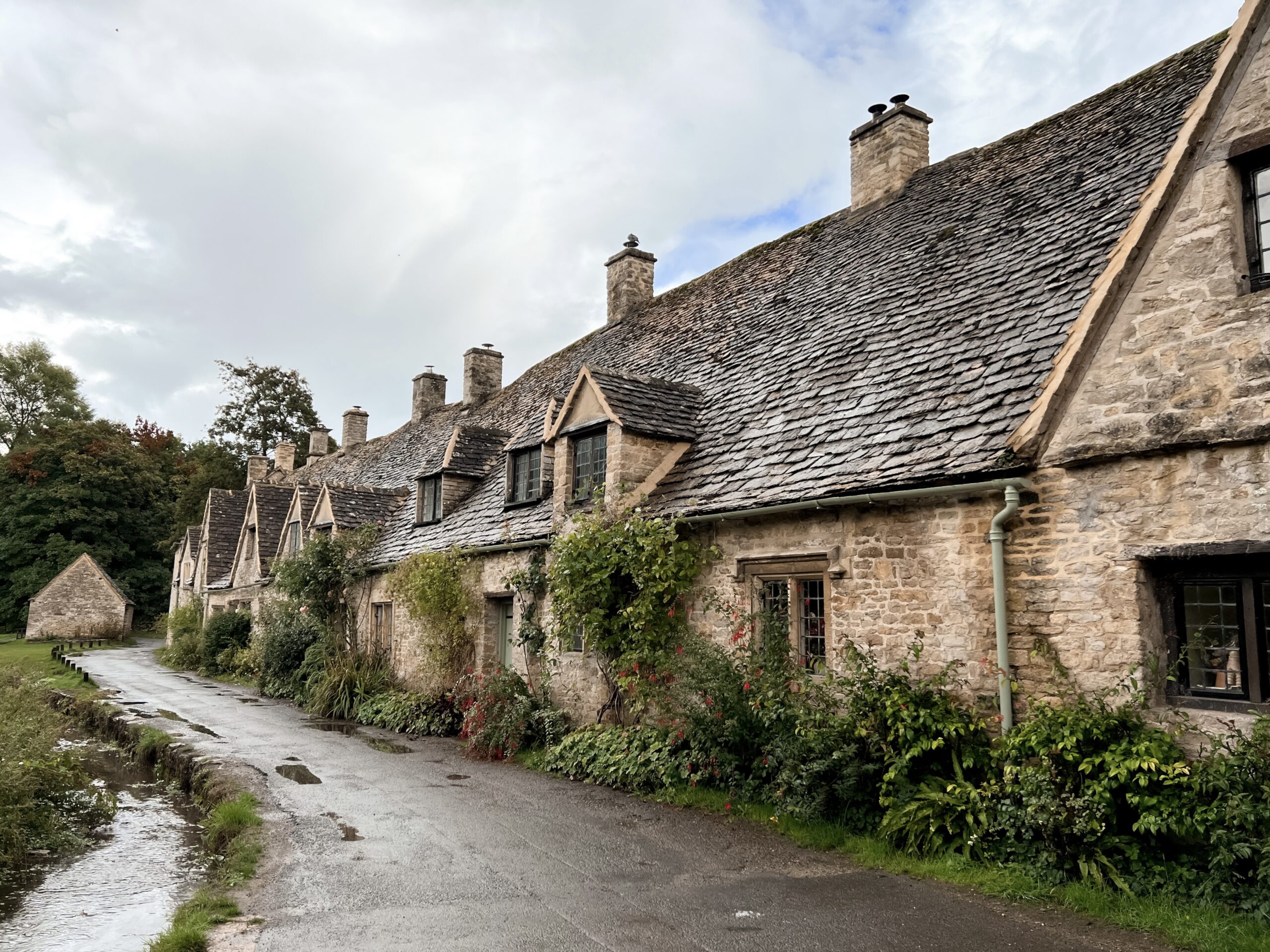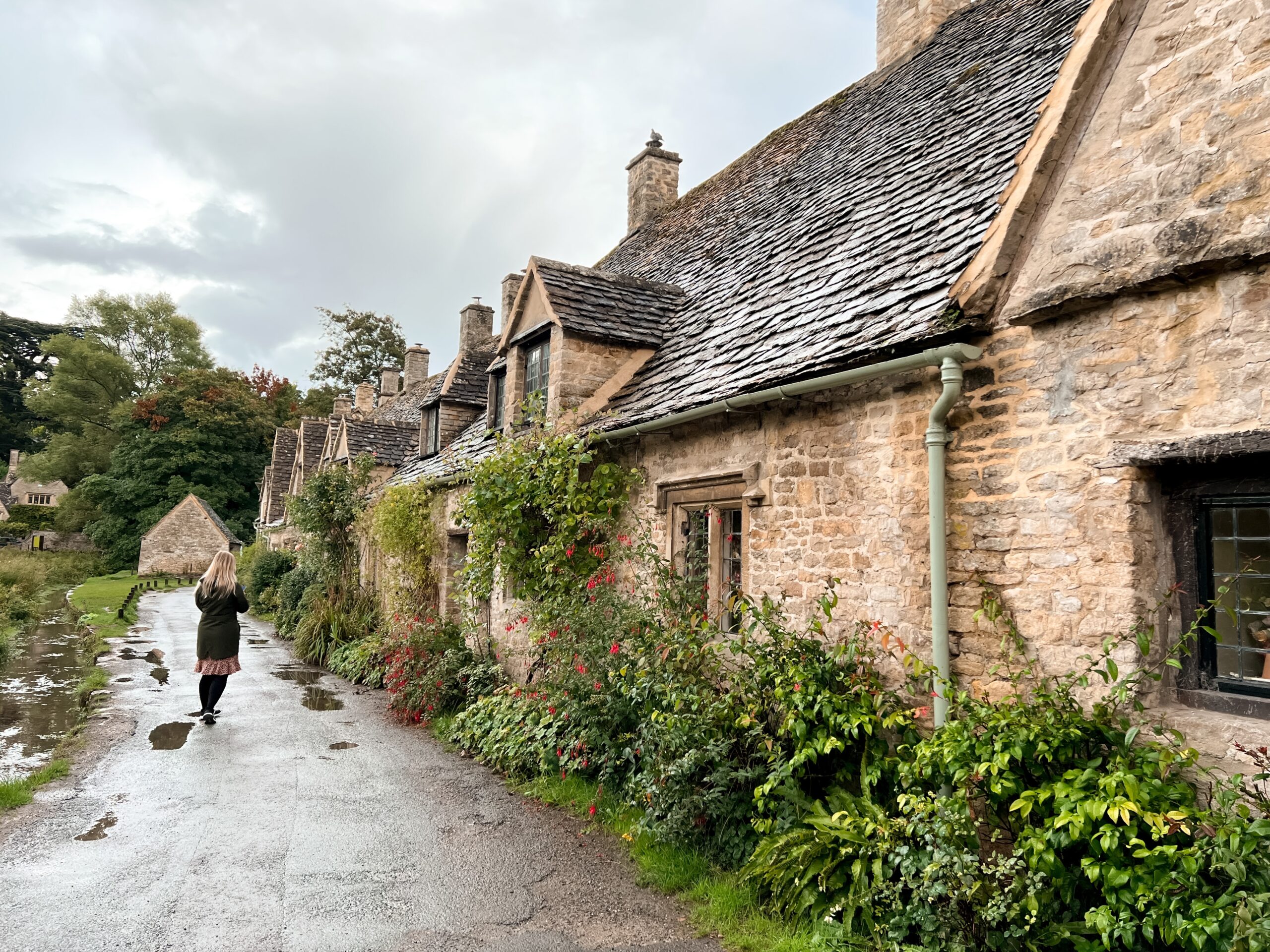 Eventually, we reach the right one, and start drinking wine while waiting for a table for dinner at their restaurant. At this point, my taste buds disappear. Still convinced it's the flu. At this point we also learn that the Queen has died. For what seems like a very long time, we look around the restaurant, hoping to observe the moment the locals realize that their Monarch has died. No reaction whatsoever. I eventually ask one of the young waiters if he's heard, and he replies "yeah, she was pretty old though". With the sad news, we head to bed and watch more Netflix.
Our last stop of this trip is Bristol and by now there is no energy or effort left in me. On top of that, we have to deal with the fact that every road leading to a car park near our hostel is blocked off, so we have to find an alternative parking spot and walk further with our luggage than expected. Nothing huge, just a minor inconvenience. We walk around town, passing The Arcade, St. Nicholas Markets and Castle Park, while trying to and failing to find a souvenir shop, a must-do in every town we visit.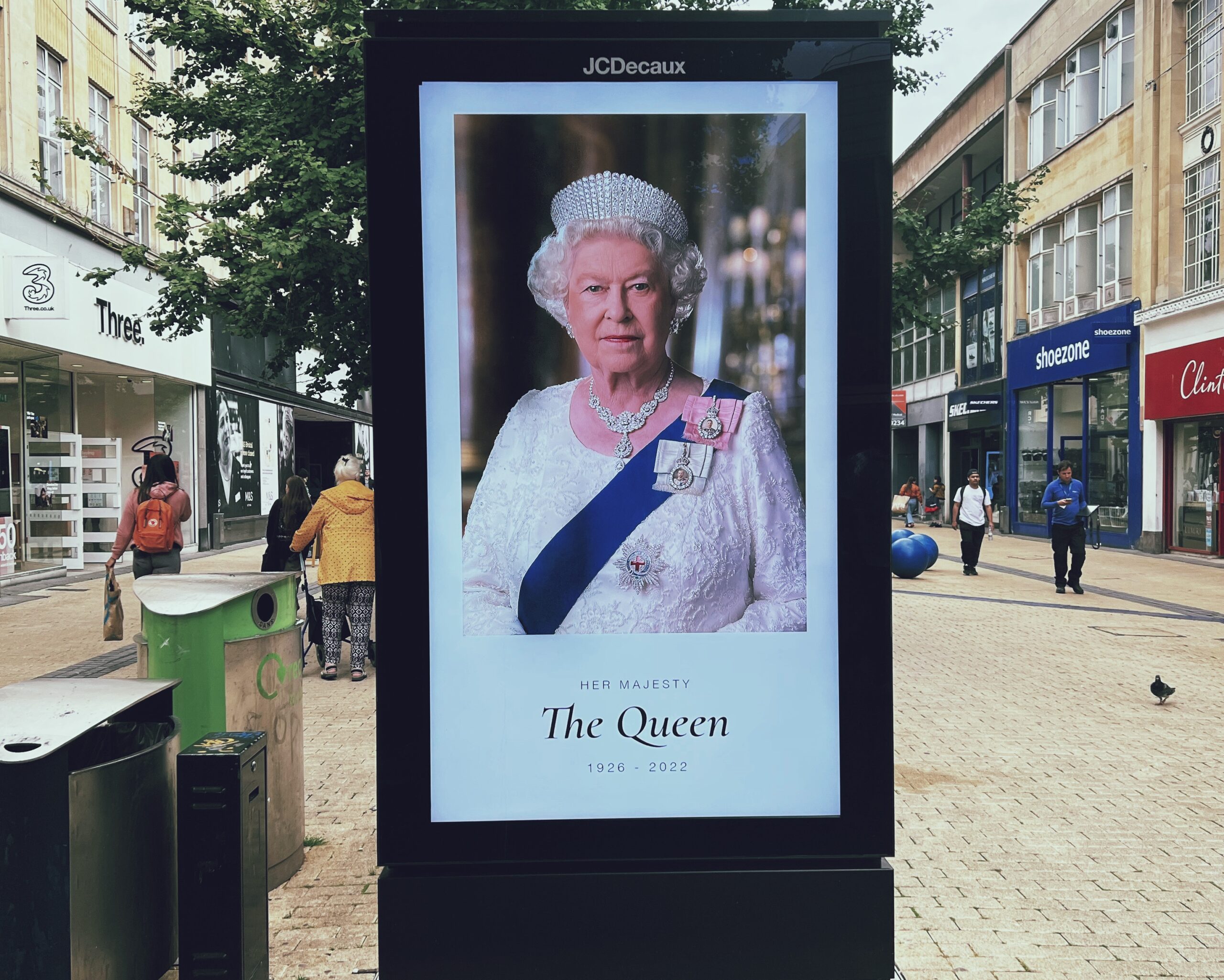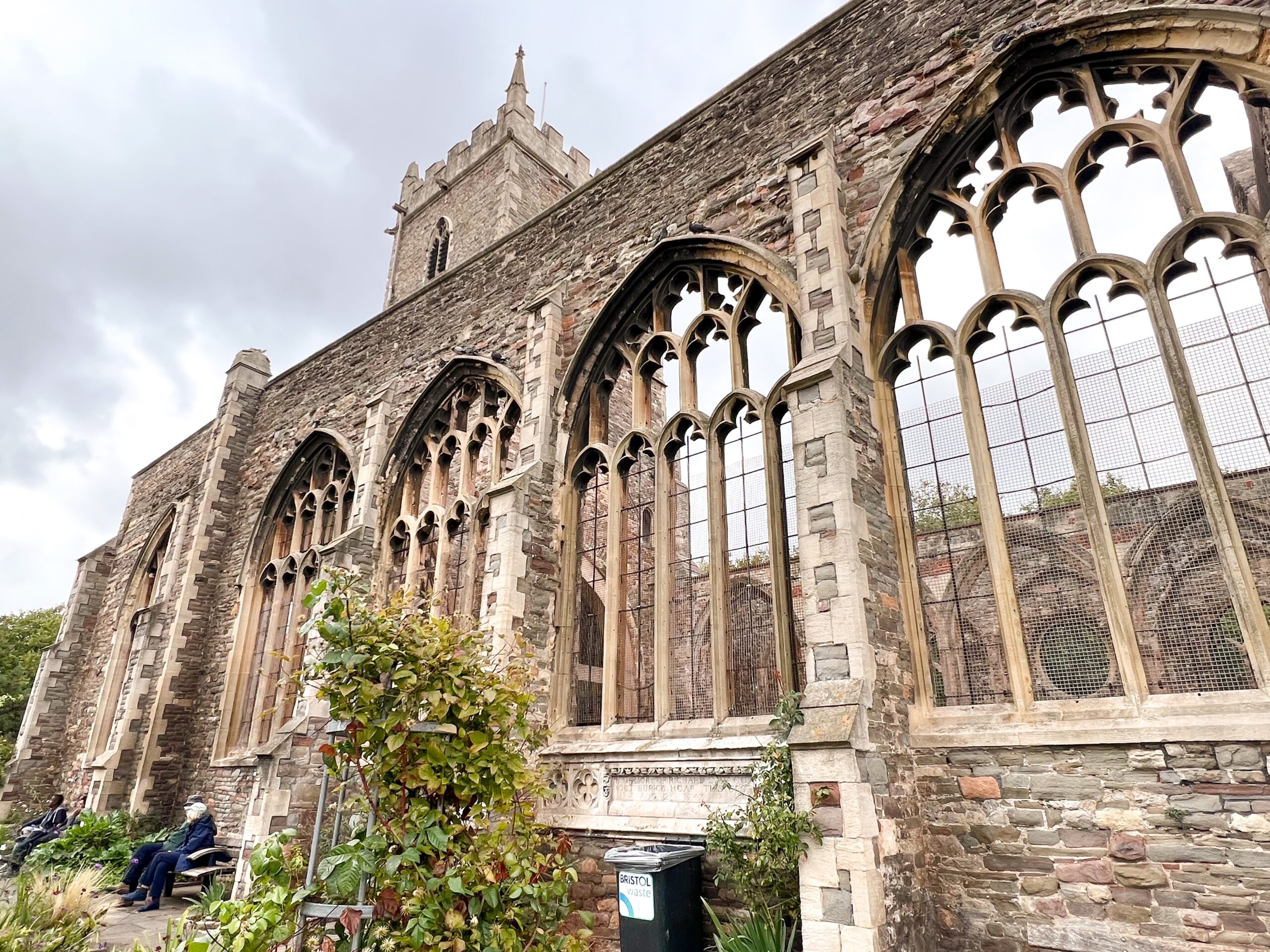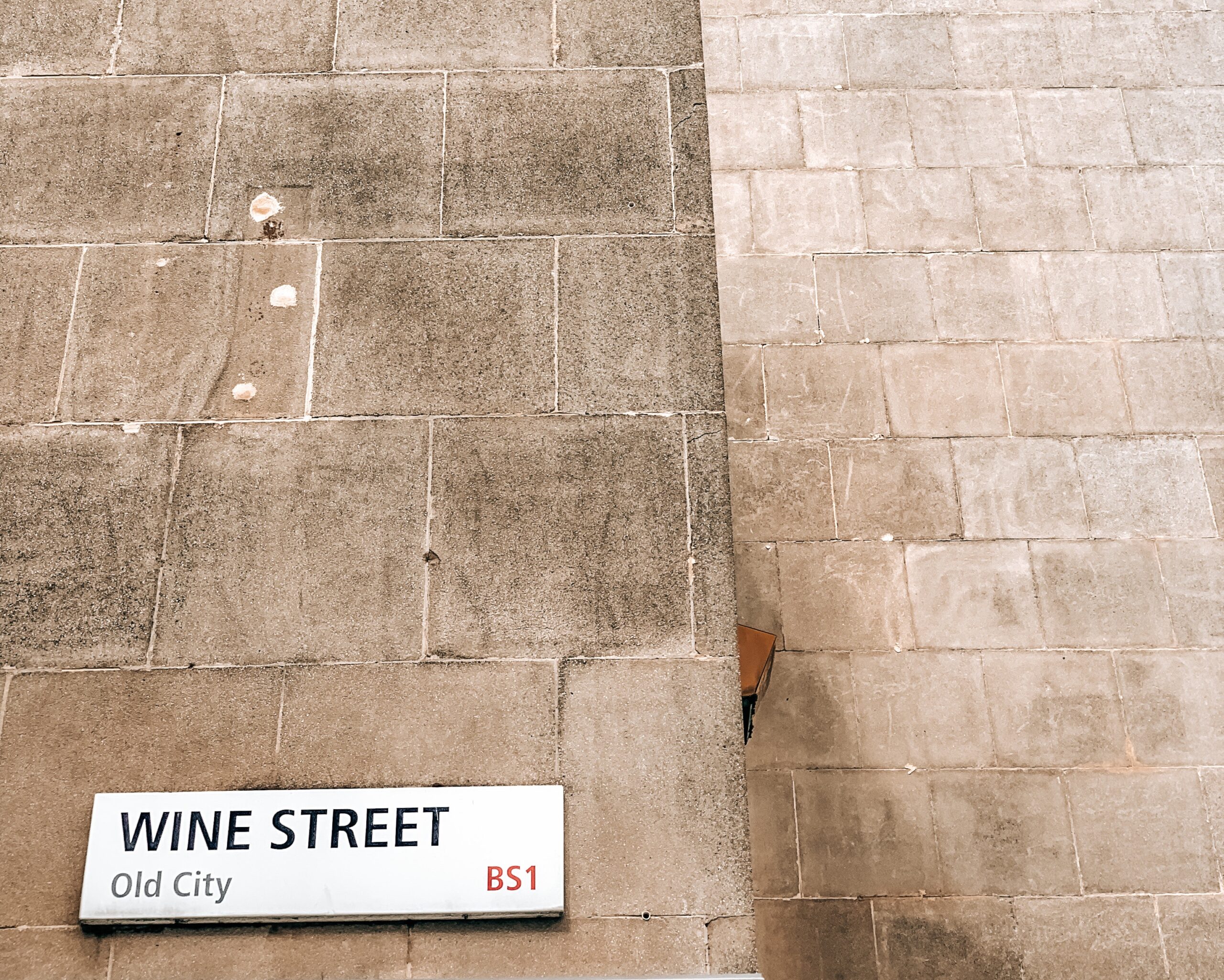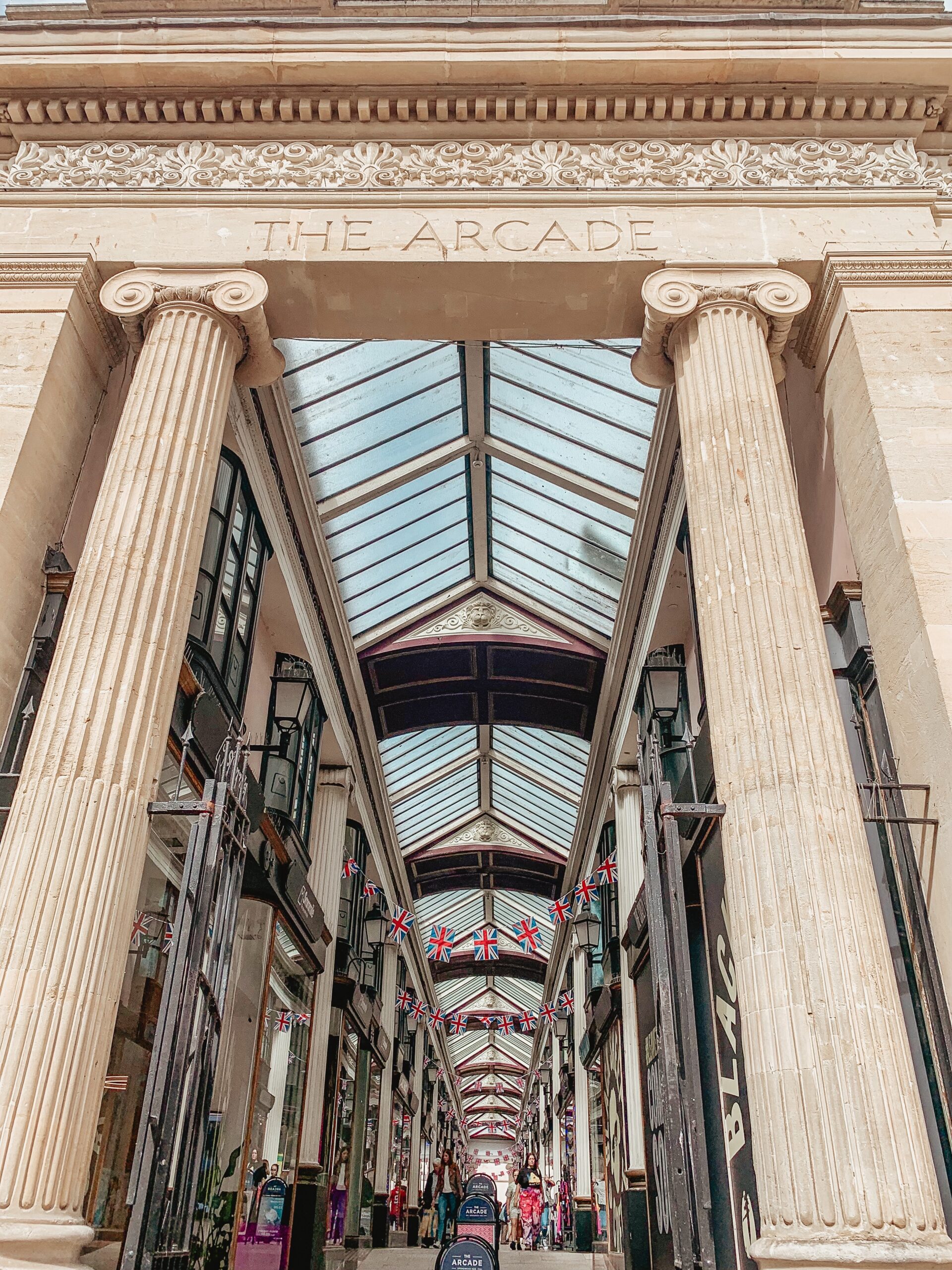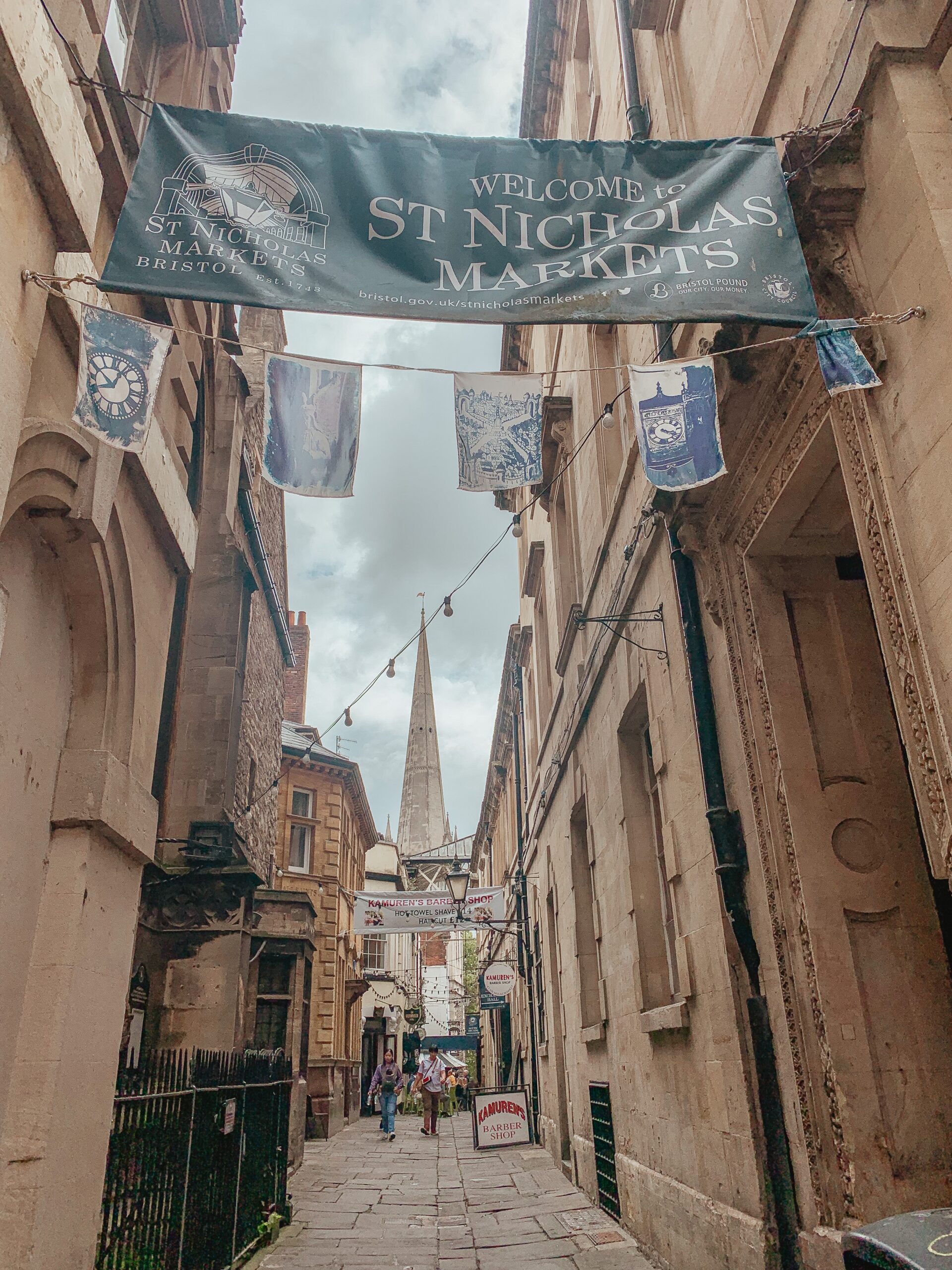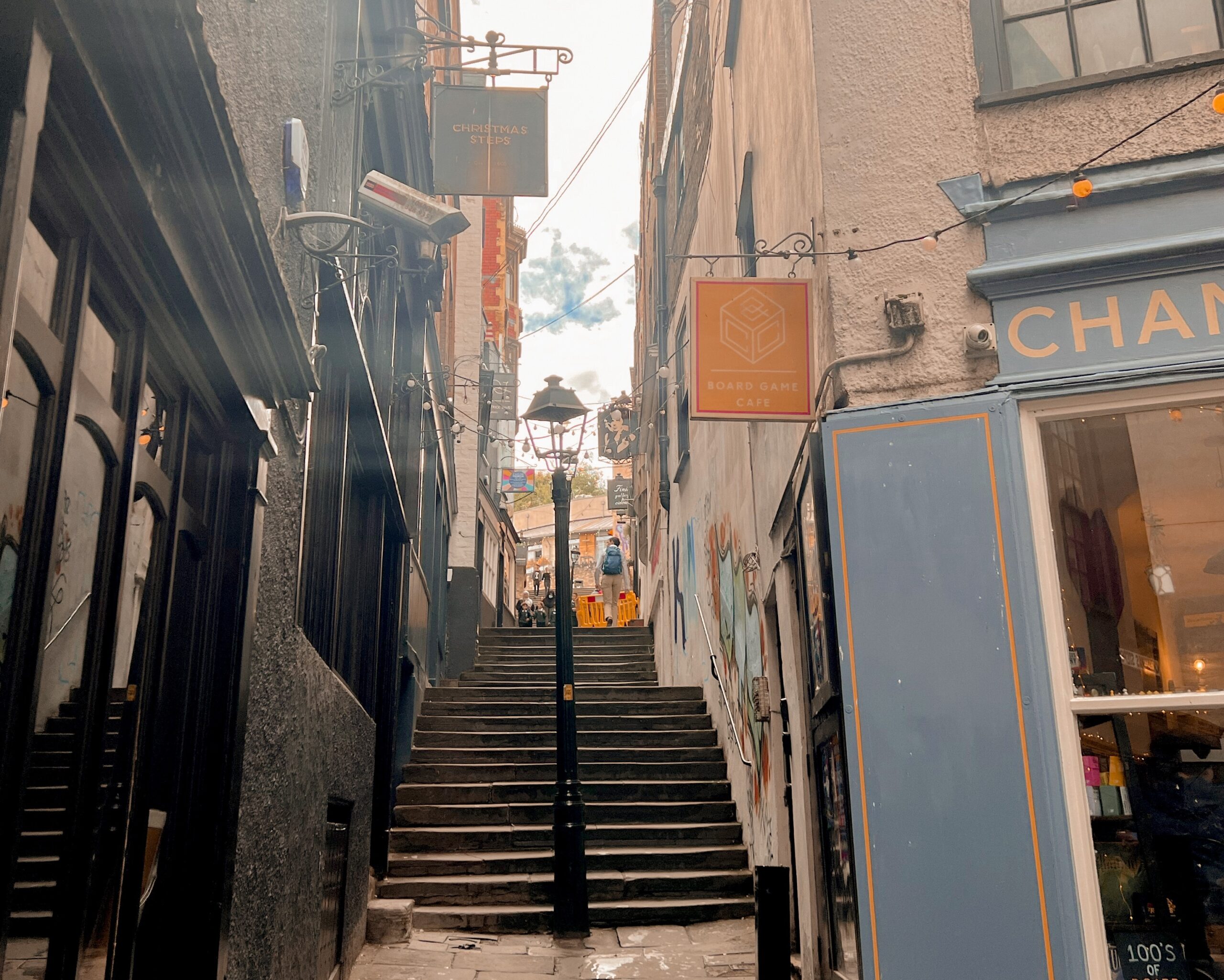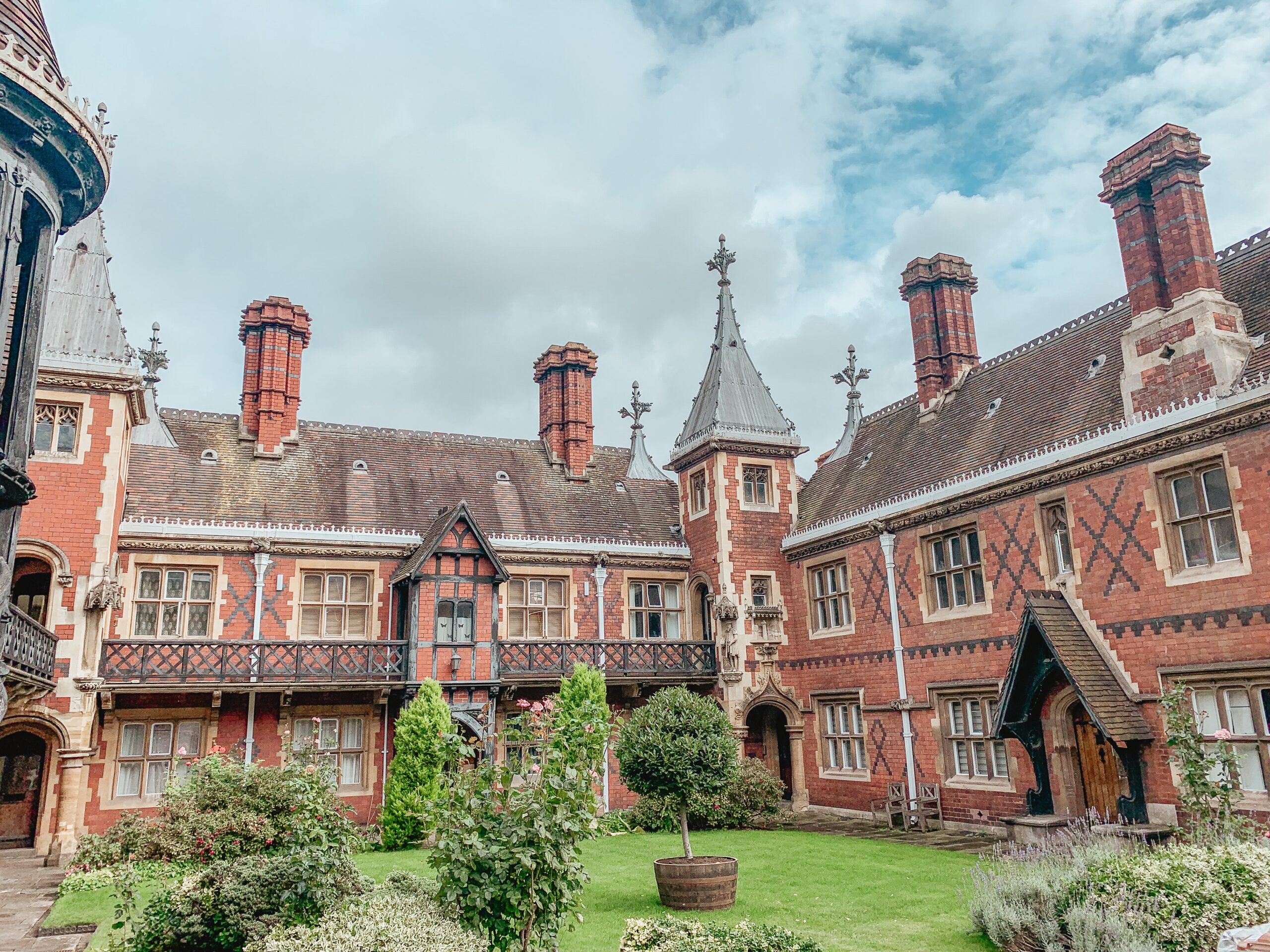 After a boozy lunch, we head up the Christmas steps to see Fosters Almshouses and then back to the harbor near our hostel. After a nap we have dinner at a nearby pizza place and go to bed, as we have an early morning.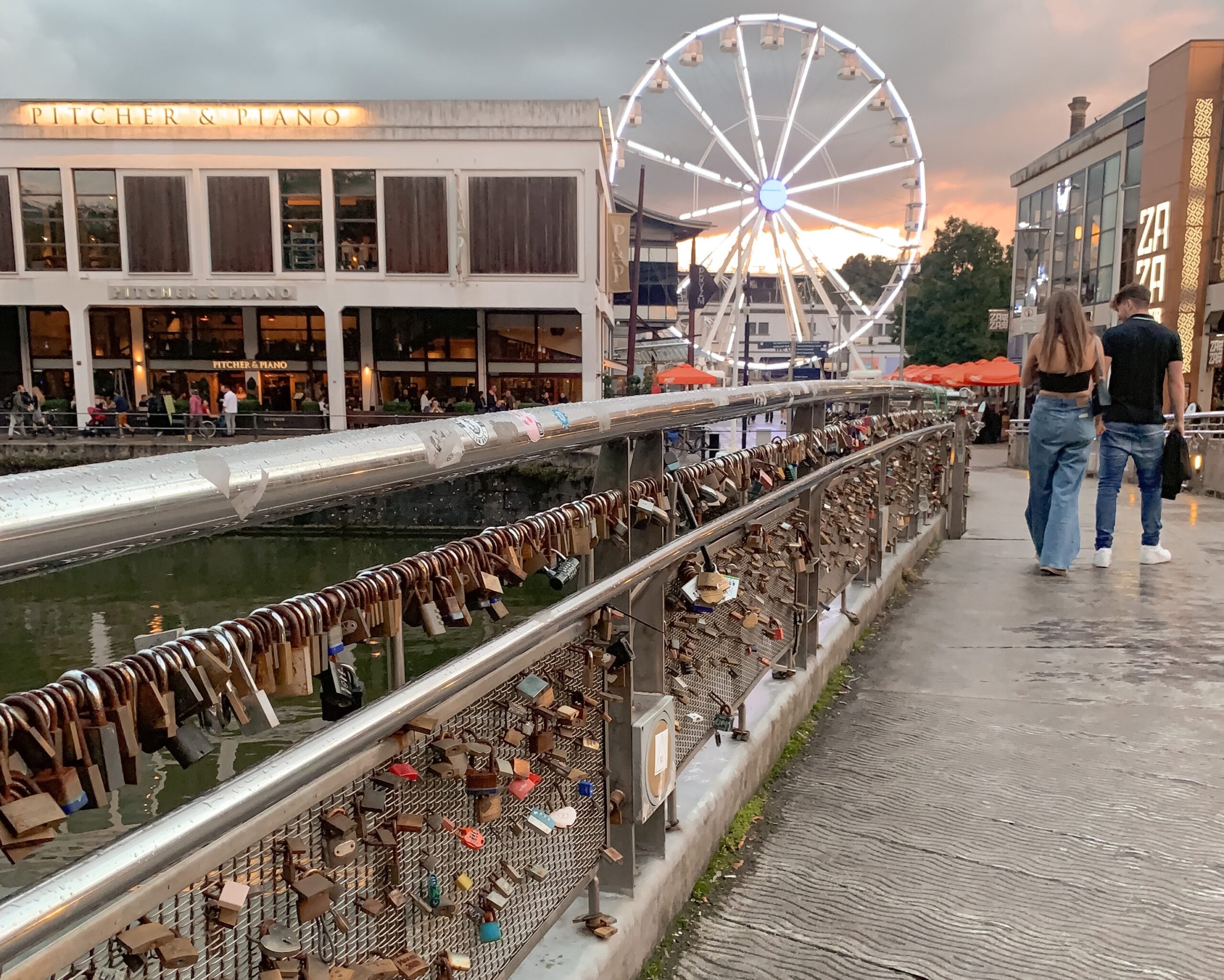 In the morning, we arrive at the car rental to return Blue Whale and realize that we forgot to stop by the gas station first. We get back in the car and drive for a while, as it turns out the first two gas stations we pass are closed. When we finally reach the airport, our plane is delayed due to the airport being short on staff, and we miss our connecting flight in Amsterdam. When we finally arrive in Amsterdam, our flights have been rebooked, which means we have to wait almost 5 hours in the airport. Turns out most flights have been delayed or cancelled the past few days, so the line at customer service is so long, it's more of a crowd gathered by the stage at a concert rather than a line and thus impossible to get through to someone for answers. KLM has given us a coupon for a meal, which we decide to spend on a glass of wine, along with buying some lunch. We grab a table at the seafood bar, where I try to cash in my coupon, which gets declined. Staff tries to scan the coupon for like 20 minutes before directing me to the impossible customer service line. I'm frustrated and hungry, so I of course start to cry because the world is unfair or whatever, and I pay for my lunch and they throw out the glass of wine. I get into the impossible customer service line a while later, where a woman is arguing with the staff and defiantly sits on the floor so they can't remove her from the line. Eventually I get another coupon and head straight to the bar to cash it in. Several hours later we arrive at the last airport of our trip, grab our luggage and get in Aga's car, ready to go home. At the very first roundabout heading from the airport, Aga senses there's something wrong with her front tire and she pulls in to the side of the road. The tire's flat. So we wait half an hour outside in the cool September air while the sun is setting, before we get some road assistance. Aga wants to convince the mechanic to fix the tire rather than giving us a lift home, so as a joke, she suggests we put on make-up while standing on the side of the road. By now we're just laughing at how ridiculous this day has been, and luckily, the mechanic fixes the tire and we get to go home. Finally.